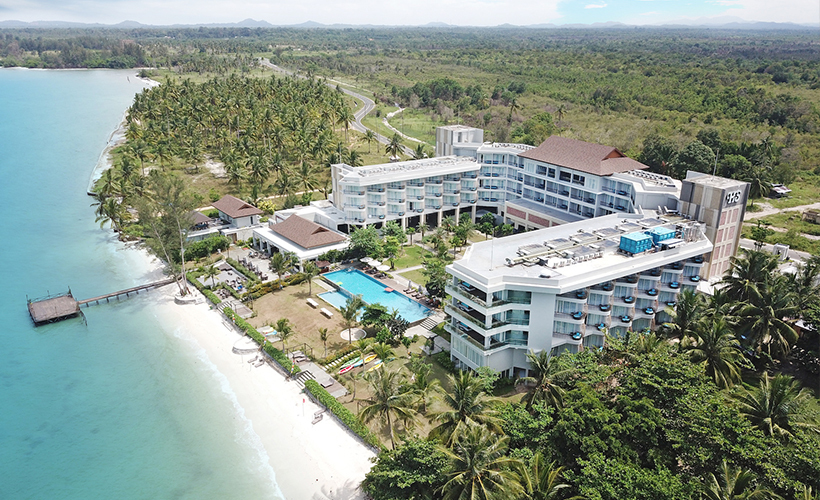 Nestled on the northern shore of Belitung, a small tin-mining island on the east coast of Sumatra, Indonesia is Hotel Santika Premiere Beach Resort Belitung. This 128-room, one-villa resort is the embodiment of tranquillity on what is already a very calm and peaceful island.
Located 45 minutes from the airport, Hotel Santika Premiere Beach Resort Belitung (also simply called Santika Belitung) is the perfect spot for both business and leisure travellers who are looking for up-market comforts while enjoying the simplicity of island life.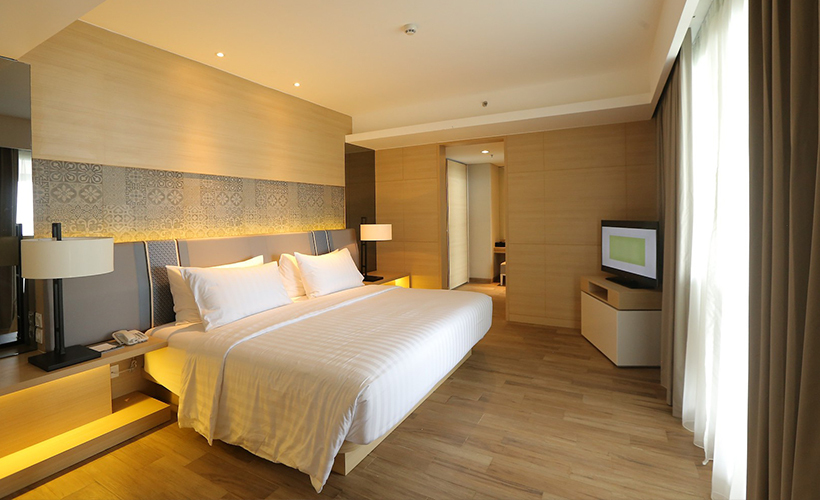 The rooms
Santika Belitung offers six types of rooms for guests – Deluxe Room Hollywood, Deluxe Room Twin, Executive Room King, Executive Suite Room King, Premiere Lagoon Queen, and the Premiere Suite Room King.
The Premiere Lagoon Queen rooms have their own little lagoon pool for some in-room fun and relaxation for kids and adults, while the Premiere Suite Room Kings are the largest suites they have available. They have a decent-sized living room, a spacious bedroom area, and best of all, large balconies overlooking the hotel's private beach with their own private hot tubs. The bathroom in this suite can also be accessed from the balcony as to avoid getting the room wet after your soak in the hot tub.
The hotel's one and only villa is an ultra-spacious, double-storey building that also faces the ocean. Along with private staff service, there is a sun deck for occupants to lounge on, as well as a private swimming pool. In the evenings, enjoy a cocktail or two at the rooftop gazebo while you watch the sun go down over the blue-green waters of the South China Sea.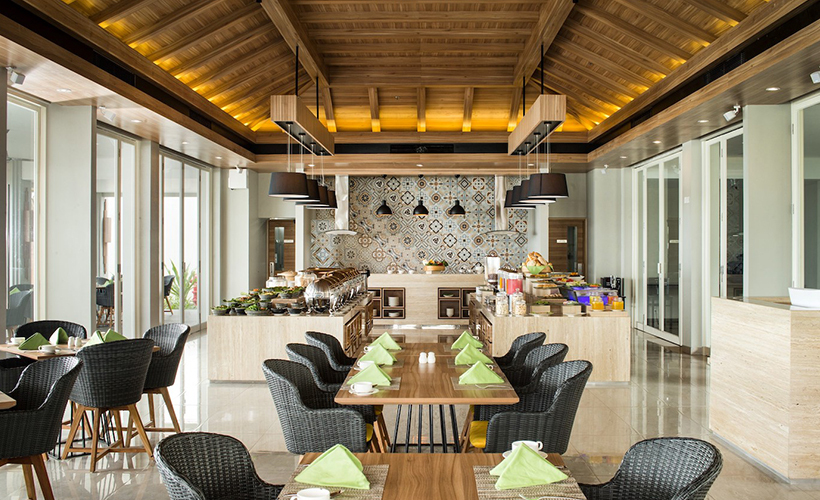 The food
Seeing that Santika Belitung is quite removed from the busy part of the island, food choices are scarce, but decent all the same. At the hotel itself, there's the Daun Simpur restaurant that serves a mix of local and western fare. This is also where breakfast is served to guests buffet-style, and there is no better way to start your mornings because the restaurant overlooks the water. If you're looking to leave the hotel grounds and explore the surrounding area for food, there are a number of restaurants nearby you can dine at. Keep in mind that they serve mainly Indonesian fare, so be prepared for a lot of flavours, spice, and some delicious heat!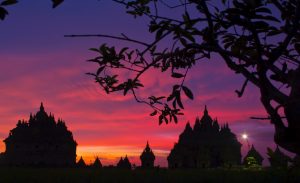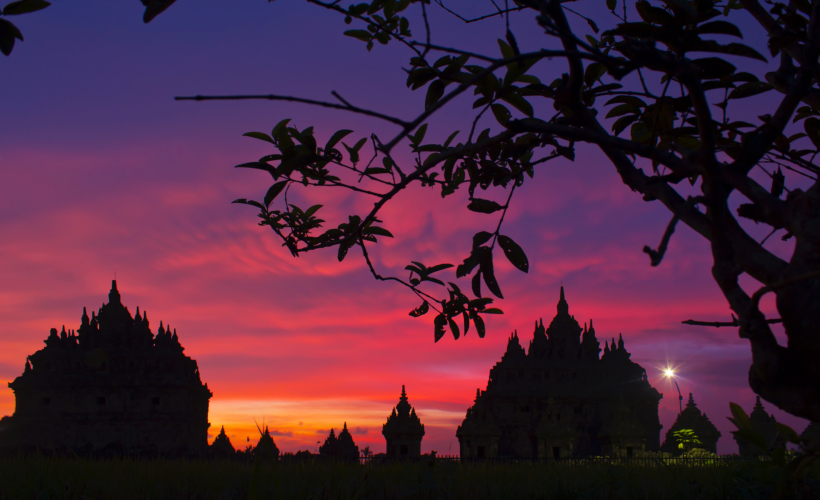 If the laidback, simple life vibe isn't enough for you, here are lots more reasons why you should plan a visit to Indonesia as soon as you can: 10 Reasons Why Your Next Holiday Destination Should Be Indonesia
The amenities
We feel the most important thing to point out is that Santika Belitung has a kids club, where you can leave the little ones to play while you enjoy the glorious sun, sea, and sand. There is also a spa that offers a range of facial and massage treatments should you want further relaxation. The hotel's infinity pool is a great place to lounge in the sun if you want to avoid getting sand in all your bits and work on your tan, and the poolside bar will keep you well hydrated in the heat. Santika also has a mini garden where you can stroll through lush lawns and take in the beautiful lotus flowers floating in giant terracotta pots.
The area
Santika Belitung is located a mere three-minute drive from Tanjung Tinggi, which is one of the most beautiful beaches on Belitung. Because this island is so small, you're able to make day trips exploring different sides of the island. Should you want to go island hopping, you can head to Tanjung Kelayang, a 15-minute drive away, to get on a boat that will take you to explore the tiny neighbouring islands.
Belitung Timur, or East Belitung, is the cultural hub of the islands and a 90-minute car ride. Albeit long, it is an interesting journey that takes you through small village roads. We think it's the best way to see the people and local lifestyle on the island.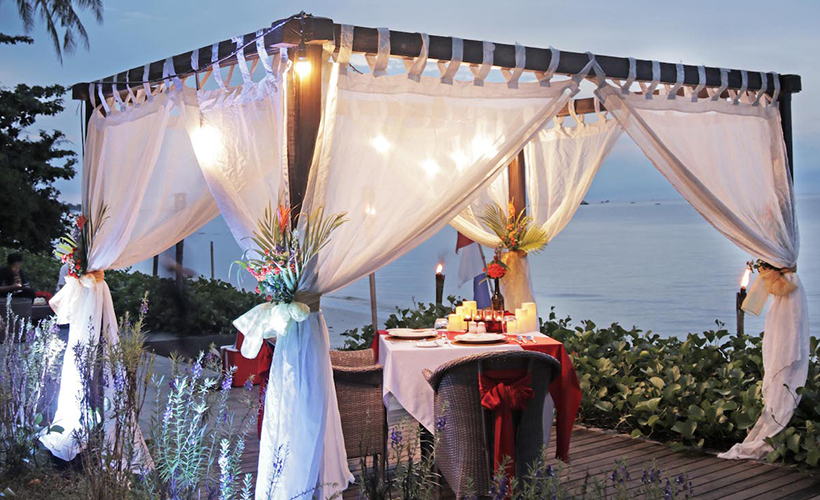 We recommend that your tour of Belitung Timur include the Andrea Hirata Museum of Words; Lenggang, where they have built a replica of the school featured in the Laskar Pelangi film; the East Belitung Cultural & Tourism Center to learn about the local history and see a few of their local animals; the Vihara Dewi Kwan Im, the island's oldest temple; and Manggar, the town of 1001 coffee shops.
If you have the time, we suggest that you add Burung Mandi Beach to your itinerary. Finally, before you leave for the airport, make some time for a pit-stop at Kaolin Lake, one of Belitung's prettiest attractions.
Checking out
Belitung makes for the perfect long-weekend getaway, and there's no better place to do it than at Santika sort Belitung. Three or four days here will definitely rejuvenate your spirit, and give you the rest and relaxation you need before you head back into the noise of your everyday life.
*All photos courtesy of Hotel Santika Premiere Beach Resort Belitung unless stated otherwise.
Follow Zafigo on Instagram, Facebook, and Twitter. Sign up to our bi-weekly newsletter and get your dose of travel tales, tips, updates, and inspiration to fuel your next adventure!
33515, 34415, 27870