Bachelorette? Annual girls-bone-wild trip with your faves? Group travel with female friends can be a fun experience no matter the destination. But if you want a more exciting trip, consider an island-hopping adventure in Greece. Island hopping is a fantastic option for female friends who want to discover more of Greece without the hassle. It offers a chance to explore many islands in one trip while trying out fun activities. But with so many beautiful islands to see in the country, deciding what to include on your island-hopping trip can be daunting.
Here are some suggestions on the best Greek islands for an island-hopping adventure with your best gal pals.
1. Santorini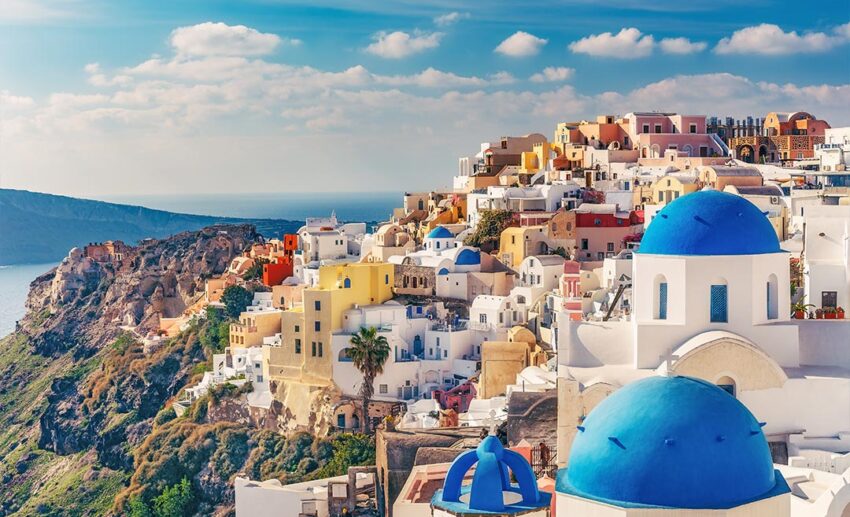 A Greek island holiday often conjures images of dreamy Santorini villages, with breathtaking sunset views in the backdrop. Indeed, Santorini is one of the most beautiful islands to visit in Greece and should be on top of your list when going for a Greek island-hopping trip with friends.
Santorini delights visitors with plenty of fun water sports and outdoor adventures. If you and your friends are thrill-seekers, you should book an ATV ride to explore the island's natural beauty. You'll love the feeling of the wind blowing through your hair as you zoom past rugged roads.
Another fun activity to try with friends is to hike from Fira to Oia, passing along cliff paths with stunning views. The hike is about 11 kilometres, taking around five hours, although expect it to take longer as you'll surely be making several stops for photographs.
The best way to end your day is to hit the beach bars of Santorini. Famous for its vibrant nightlife, you and your friends will have a blast sipping on your favourite cocktails while dancing into the night. The beach bars of Santorini are also perfect for hosting special occasions, such as birthdays and bachelorette parties.
2. Mykonos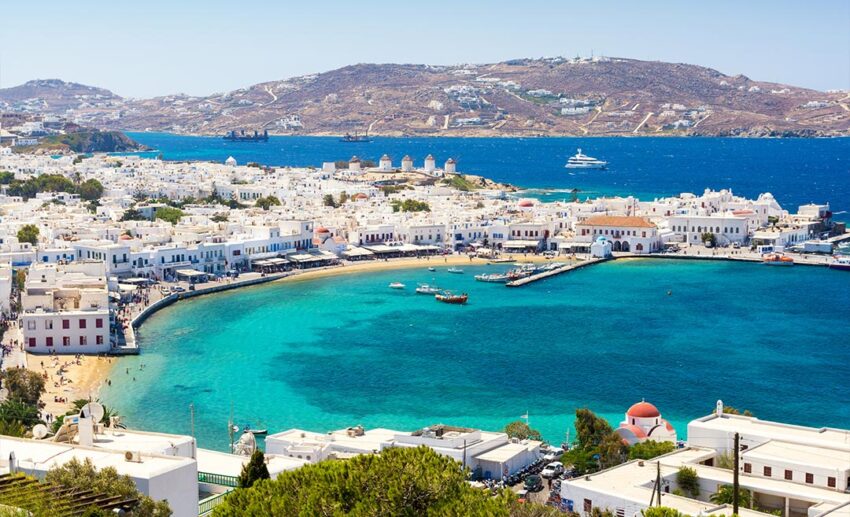 Mykonos is an island that seems to be always full of life, making it a top destination for your Greek island adventure with friends. It's well-known for its beach parties, luxurious resorts, and gorgeous sandy beaches.
If you don't already know, Mykonos' beaches are famous worldwide for being pristine and beautiful. Their soft sandy shores are comfortable for walking barefoot, and the translucent blue waters will lure you to take a dip. Some of the best beaches to check out are Platys Gialos Beach, Super Paradise Beach, and Psarou Beach.
The best thing about Mykonos is that there's never a dull moment on the island. Some of the beaches on the island offer fun water sports activities, from water skiing to windsurfing and flyboarding. Ftelia Beach is the best place for windsurfing. You can engage in other water sports activities on the beaches of Platys Gialos, Agrari, and Elia.
3. Corfu
Corfu offers the perfect setting to bond with your best friends. It's a relaxing respite that will delight you and your friends with its unique rock formations and pristine coastline.
Begin your adventure in the UNESCO-listed Corfu Town. Ruled by the Venetians from the 14th to the 18th century, the town has numerous stunning buildings you can see for yourselves on a sightseeing tour. Aside from Venetian-style buildings, you'll also come across ancient fortresses and picturesque cobblestone streets.
If you want to get active on your visit to Corfu, go on a mountain biking tour around town. Rent a mountain bike and follow the scenic trails to the beautiful beaches and dreamy villages. Mountain biking is a fantastic way to explore the island's lush green interiors while having fun with friends.
On your island-hopping trip in Greece, consider spending a night or two in Corfu to make the most of your visit. There are many great accommodation options in Corfu, including lavish beachfront villas with infinity pools. These villas have multiple rooms to cater to groups of friends, and some have amenities for hosting parties — perfect for celebrating a special occasion.
4. Crete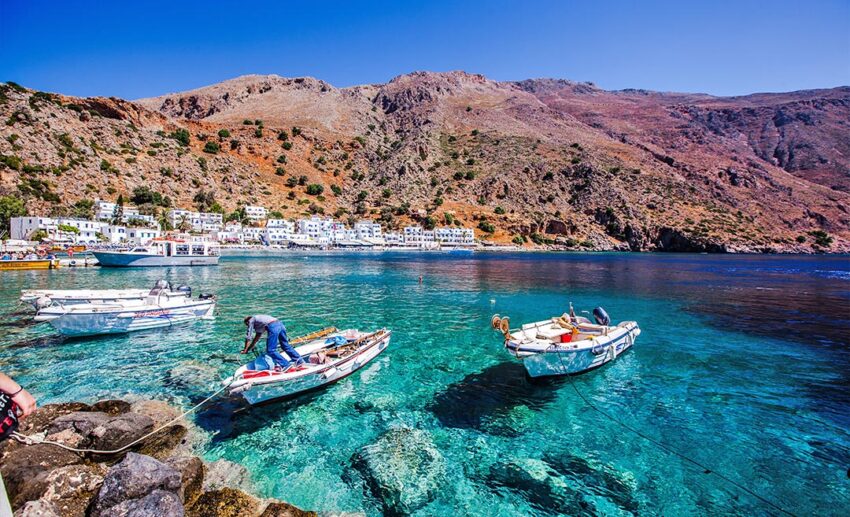 As the largest of all Greek islands, Crete offers numerous attractions. It boasts historic sights and beautiful scenery you and your friends will love to discover. Since the island is massive, you may want to spend a night or two here before heading to your next island destination.
Begin by exploring the lovely fishing village of Loutro. Perched on the island's southern coast, it's inaccessible by land, so you need to head there by boat. Upon arrival, take the time to explore the village, enjoy the views, indulge in mouth-watering seafood, and relax on the waterfront.
Be sure to check out Chania, Crete's capital city. Wander around the picturesque Venetian harbour, check out the old lighthouse, and discover the beautiful Agora marketplace.
If you and your friends have worked up an appetite after a day of exploring, it's time to feast on delectable Greek cuisine! Sample tasty Cretan cheeses, fried snails, and other local delicacies.
5. Naxos
The diverse island of Naxos offers plenty of fun adventures with friends. Take the time to explore Hora, the island's capital city and home to ancient architecture and picturesque whitewashed villages that are a joy to explore. Check out the 13th-century citadel of Kastro, which sits right above the town and discover the fortified Venetian mansions and monasteries.
If you want to chill out at the beach, visit Agios Prokopios, one of the most beautiful beaches on the island. It's a Blue Flag beach about 5 kilometres south of Hora and is renowned for its transparent turquoise waters.
Finally, visit the Old Market of Naxos, which sits within Hora's old castle walls. Wander around its maze of stone-paved streets, boasting a variety of little shops selling souvenirs and arts and crafts. Even if you don't intend to shop, the market will delight you with its lively atmosphere.