[vc_column_text]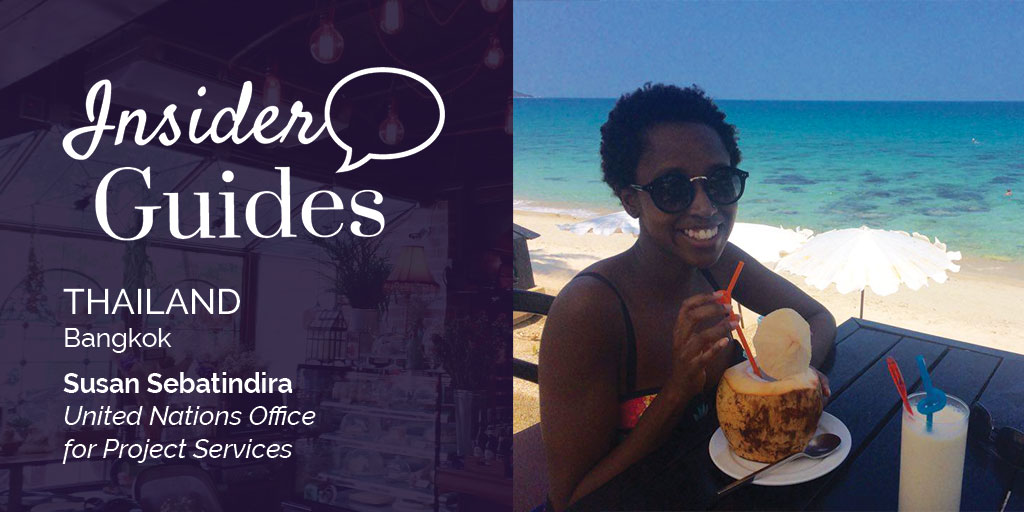 Susan Sebatindira is a Kenyan-Ugandan who has been living in Bangkok, Thailand for just over half a year. Having made the leap to Southeast Asia for a year-long contract working with the United Nations Office for Project Services, Susan gets to go deep into Thailand's diverse business scene in her work, which focuses on increasing opportunities for vendors worldwide to do business with the UN. She has lived in multiple countries in Africa and Europe, and had a brief stint in the United States but Bangkok was her first ever Asian destination. She decided to make the Ratchatewi area home because "In a bid to cut down being stuck in Bangkok's infamous traffic as much as possible, I chose to live in a neighbourhood that was closest to my office but also located right next to the Skytrain, a godsend for getting around the central area of Bangkok.
Ratchatewi ended up being the perfect choice." As food always plays a large part in whether she enjoys a neighbourhood, Susan shared with us her favourite food haunts in Ratchatewi:
1. Relax over a quiet meal at Di Cafe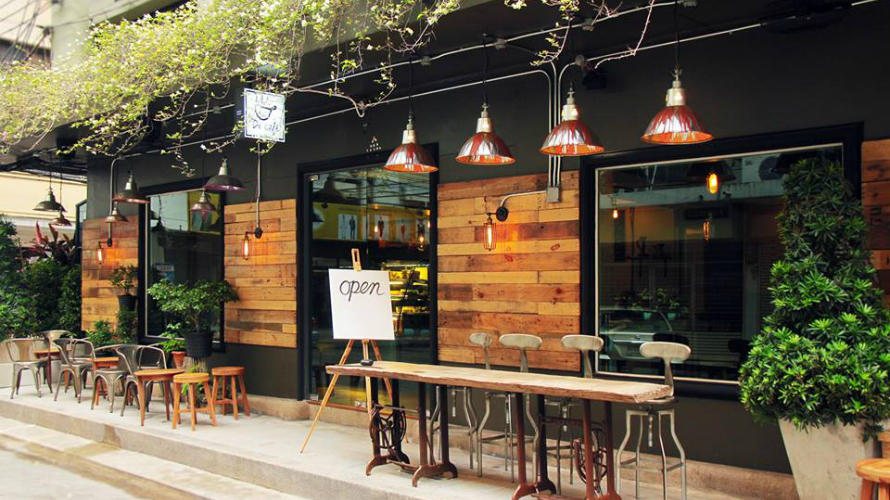 "Tucked away on a side street opposite the Ratchatewi BTS station, is a cute, small café with minimalist design. The café is linked to Monomer Hostel; it is worth noting that if you are staying in the hostel, you are eligible for discounts. Featuring a range of Thai and Western cuisine, this is the perfect spot for a quick snack or a leisurely coffee. If you're feeling social, there are numerous travellers bopping in and out, always up for a quick chat. Their Thai basil chicken dish is highly recommended."
Next to the Ratchatewi BTS, exit 3 on Phaya Thai Road, attached to the Monomer Hotel
Opens: 8.30AM – 8PM daily | Facebook: fb.me/DiCafeByMonomer
2. Get a selfie at B-Story Café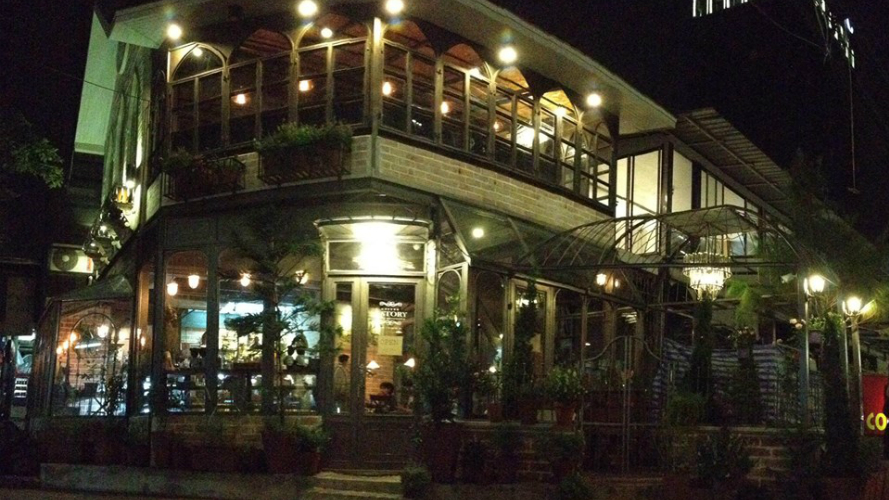 "Just opposite Di Café is B-Story Café. Unlike Di, B-Story seems to be a Thai bloggers' dream as it is constantly filled with local teenagers taking well-posed selfies. This only adds to the quirk of the place, especially as it is decorated with one-of-a-kind trinkets and small accessories, which seem to be lovingly curated by the owner of the café. B-Story has quite a large selection of food to choose from. Tet the deliciously crispy chicken with cashew nuts. Their fresh fruit smoothies are also a must."
Next to the Ratchatewi BTS, between exit 2 and 4 on Phaya Thai Road
Opens: 10AM – 11PM | Facebook: fb.me/B-Story-Cafe
3. Feat Lab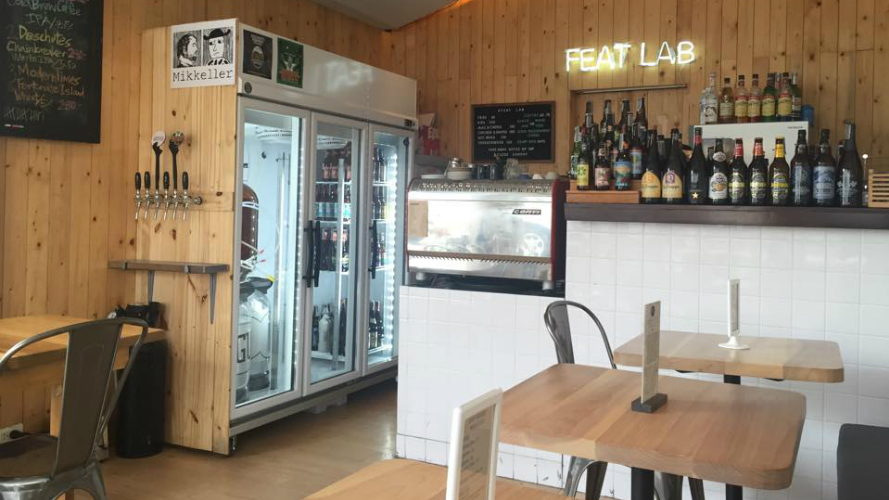 "This tiny restaurant located next to the canal is a family-run business with some of the best selection of craft beers within Ratchatewi. Their selection boasts of both local and international brands. Their biggest draw, though, are their American-style menu of ribs, classic burgers, and spicy chicken wings. Here's an extra tip: After a good meal at Feat Lab, take a 10-minute walk to the Bangkok Art and Cultural Centre (BACC). This is one of my favourite things to do in Bangkok, as you can check out art exhibitions, cultural performances and buy your next coffee table book all under one roof. Entrance is free and lockers are provided for you to drop your bags, leaving you free to meander through the various exhibitions. Also, the Instagram-worthy winding staircase located on the upper floors is a dream to look at."
Walk along Phaya Thai Road towards Siam and you'll see it near the canal before the Hua Chang Bridge and the Hua Chang Heritage Hotel
Opens: 12PM – 11PM | Facebook: fb.me/featbkk
4. Dine on the streets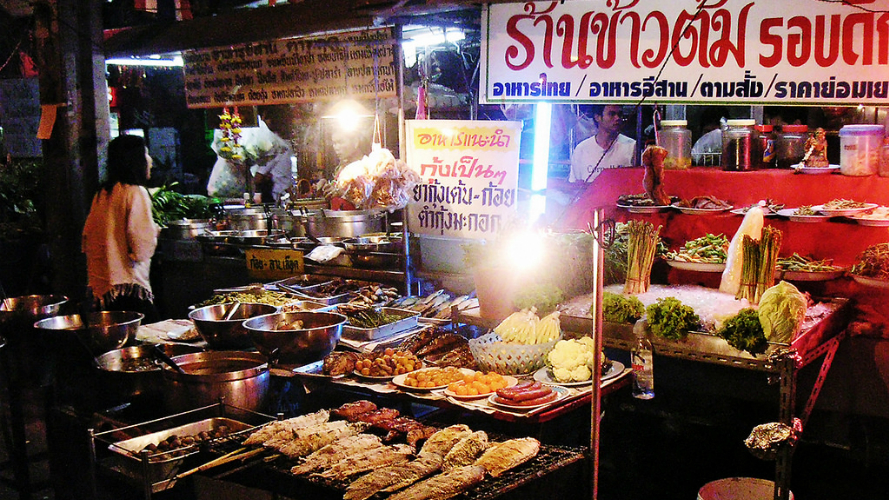 "It is definitely worth checking out the street food alongside Ratchatewi BTS. Numerous vendors line the street offering a wide selection to choose from, at cheap prices that average THB40."
5. Grab a beer at CoCo Walk
"A day out in Ratchatewi is not complete without grabbing a beer at CoCo Walk. Diverse bars, from the sports-centric one blasting football matches to the hipster-filled bar in a corner, fill this place. Most specialise in live music too, with young Thai bands being the main attraction. Despite the music, the area never seems too loud, instead exuding a chill atmosphere that befits an after-work drink. There is rumoured to be a Cat Café located in Coco Walk; I haven't managed to check it out but any cat lovers reading this can now know where to get their daily fix."
Next to the Ratchatewi BTS, between exit 2 and 4 on Phaya Thai Road
Opens: Cafes open late morning and the bars open around 5PM until late
In Insider Guides we ask local women to give us their top recommendations on a particular subject or area of interest in their city. Want to be featured in the next Insider Guides? Drop us an email at editor@zafigo.com with the subject line 'I want to be an Insider Guide for my city'.
[/vc_column_text][zf_post_boxes post_id="12668, 14246, 12229″]