This is Part II of our series on cafes along Bangkok's public transportation lines. Read Part I here: The Best Cafes Along Bangkok's Silom BTS Line To Get Work Done
The Bangkok Sky Train (BTS) Network has two main lines: The Silom line runs from west to south of the city, whereas the Sukhumvit line crosses from the north to the east. The latter also connects commuters to the Airport Rail Link.
Chances are, you'll be using the Sukhumvit line often if you are visiting Bangkok for work or travelling downtown for shopping and sightseeing. If you need a quiet place to finish an assignment or grab a coffee in between appointments, here's our list of workspace-approved cafes within walking distance (under 15 minutes) of the Sukhumvit line.
*Cafes are listed in order from North to South
1. Laliart Coffee at Tokyobike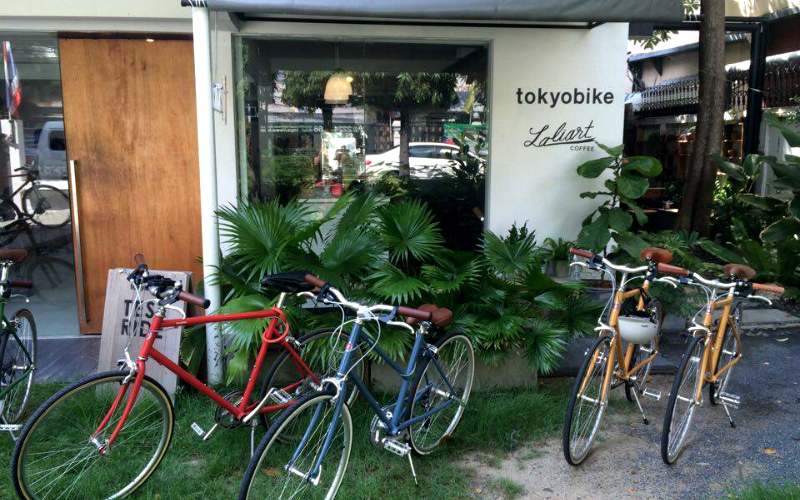 Located in the Tokyobike bicycle shop and repair station, Laliart Coffees' earthy decor is a welcome change from the crowded feel of many cafes in the Ari neighbourhood. Their drink menu is simple but there are a few surprises, such as the Brooklyn Coffee Soda (espresso, soda water, and vanilla or hazelnut syrup) and the Double Chocolate Hazelnut Latte. A small variety of homemade brownies, tarts, and cakes, in addition to roasted beans and coffee accessories, are for sale as well.
Station: Ari (Exit 3)
Address: 20 Soi Ari 2, Phahonyothin Soi 7, Samsen Nai, Phaya Thai | Opens: 11AM – 8PM, Tue-Sun | Tel: +66 089-142-8203 | Facebook: fb.me/Laliartcoffee
2. Kaffe by Library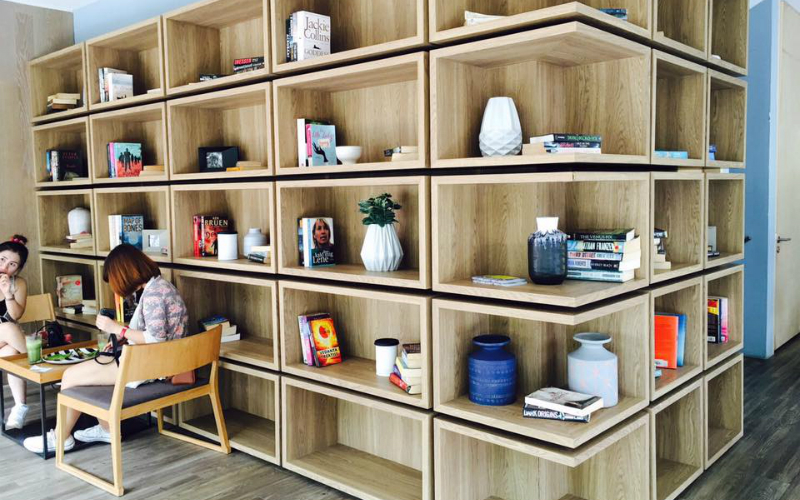 A seven-minute walk from the Sanam Pao BTS station, Kaffe boasts an ultra minimalist aesthetic. There are only a few wooden benches and tables, but you'll find comfy chairs for reading on the second floor. They offer basic hot and iced drinks, fresh juices, and an assortment of pastas and Thai dishes. Try their special green icing waffles if you're in the mood for something sweet.
Station: Sanam Pao (Exit 4)
Address: Pahonyothin Road, Phaya Thai | Opens: 9.30AM – 8.30PM daily | Facebook: fb.me/Kaffe-By-Library-Ari
3. Bean Around
This small cafe is conveniently located just across the street from the King Power Downtown Complex and near the Century Movie Plaza. While their drink menu is geared toward Thai tastes (think milky teas and blended drinks), you can still nestle into a comfortable armchair, order an Americano and use the fast WiFi.
Station: Victory Monument (Exit 2)
Address: 21 Soi Rang Nam, Phaya Thai, Ratchathewi | Opens: 7.30AM – 9PM daily | Tel: +66 089 444 5435 | Facebook: fb.me/beanaroundcafe
4. Factory Cafe and Brew Bar
With everything from full breakfasts and substantial dinner offerings on the menu, to chic cocktails and proper cold brews from their espresso bar, this is the perfect place to finish work before meeting friends for a pre-dinner drink. Besides using whichever coffee beans are in season, they offer coffee beans from around the world including Ethiopia, Honduras and Thailand. Non-coffee drinkers will enjoy their 'slow' Chai tea latte, a deconstructed drink that lets guests pour their own milk over the tea and spices.
Station: Phaya Thai (Exit 4)
Address: 35/18 Phaya Thai Road, Phaya Thai, Ratchathewi | Opens: 9AM – 6PM daily | Tel: +66 085 145 4184 | Facebook: fb.me/factorybkk
5. Starbucks Specialty Store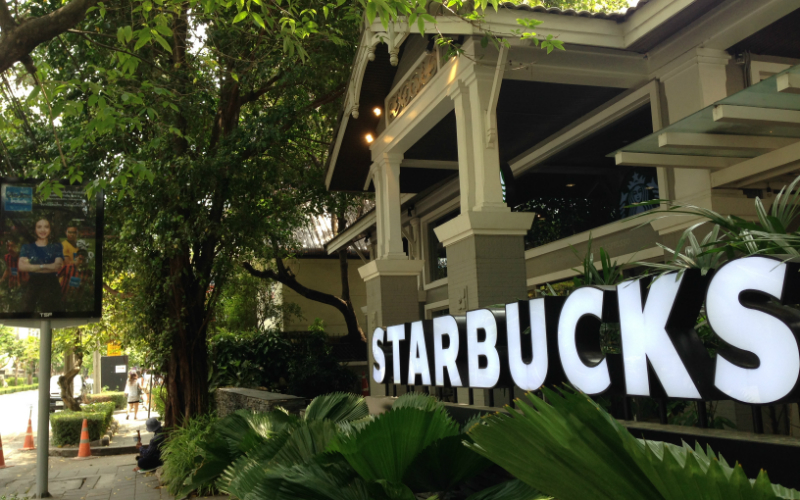 When is a Starbucks not a regular Starbucks? The global chain's first Community Store in Asia has also been hailed as its most beautiful outlet in the region, housed in an elegant bungalow reminiscent of old-world luxurious Thai residences. Its rustic interior is at once cosy and restful, while the al fresco seating area feels like a homey garden. Not surprisingly, it's a highly popular outlet with a constant flow of customers while drawing a steady pool of students and freelancers who favour this as a working space. Moreover, with every drink purchase – it's also a Reserve store, so they serve specialty beans and blends that are a league above the usual – Starbucks donates THB10 to Thailand's coffee-growing community. All in all, it's well worth the 5-minute (or so) walk from Chit Lom BTS station, via Mercury Ville Shopping Mall.
Station: Chit Lom (Exit 4)
Address: 39 Soi Langsuan, Patumwan, Lumpini | Tel: 02 6841 525 | Opens: 7AM – 10PM daily
6. BKK Bagel Bakery
Bangkok's premiere bagel shop offers not only delicious, properly made New York-style bagels, but a small cafe with coffee and free WiFi. Enjoy a lox or Reuben bagel sandwich, a fresh salad, or NY style cheesecake. They make fresh bagels early in the morning and again during lunch, so don't wait too long to stop by.
Station: Chit Lom (Exit 2)
Address: 518/3 Maneeya Center, Ground Floor, Ploen Chit Road | Opens: 7.30AM – 5.30PM, Mon-Fri; 8.30AM – 5.30PM, Sat-Sun | Tel: +66 02 254 8157 | Facebook: fb.me/BkkBagelBakery
7. Dean and DeLuca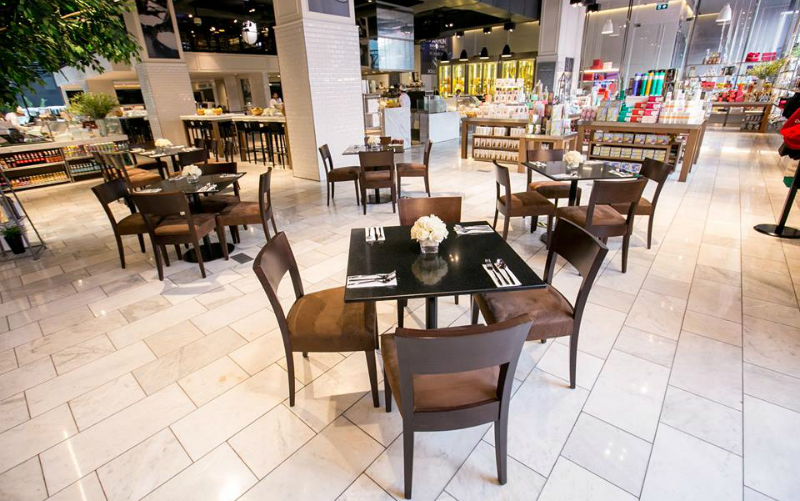 This branch stays true to the Dean and DeLuca brand, with its signature white and bright interior design and in-store grocery. You'll find business professionals having meetings or working on computers any time of day. Grab a stool at the glass window counter where you can satisfy your sweet tooth with a mango passion fruit cheesecake or gelato milkshake. Also available are an assortment of savory quiches and sandwiches.
Station: Ploen Chit (Exit 5)
Address: Unit 104, 1st Floor, Park Ventures Ecoplex, 57 Wireless Road, Lumpini, Pathumwan | Opens: 7AM – 11PM daily | Tel: +66 02 108 2200 | Facebook: fb.me/ddbkk
8. Kuppa
One of Bangkok's premier coffee houses, Kuppa roasts beans in small batches on site. They source their coffees from Brazil, Colombia, Kenya, Northern Thailand, and Papua New Guinea and offer espresso, French press, blended and iced coffee drinks. Try their cheese platter, mushroom quiche or a rocket salad for a savoury bite. All of their blends can be purchased for personal use.
Station: Ashok (Exit 4)
Address: 39 Sukhumvit Road Soi 16, Khlong Toei | Opens: 10AM – 10PM daily | Tel: +66 02 259 1954 | Website: kuppa.co.th
9. Hands and Heart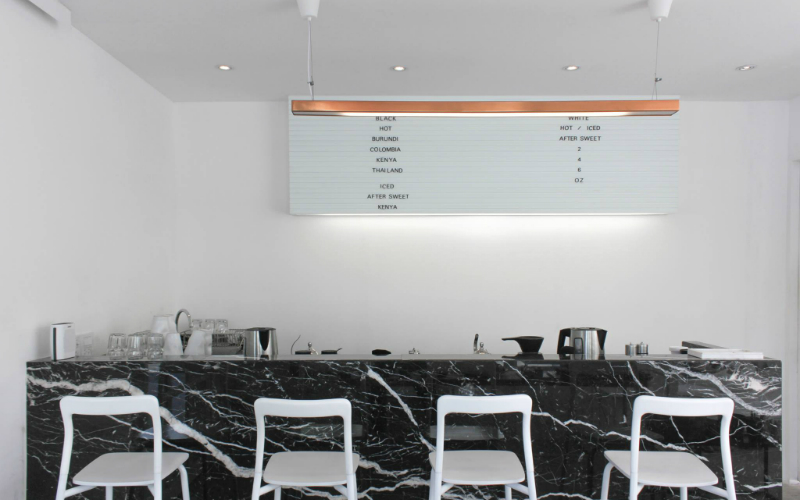 The word 'hipster' doesn't even begin to cover the level of sleek and contemporary chic this local favourite has. Coffee lovers will find themselves tempted to purchase the latest coffee gadget (cold brew on the go, anyone?), while those with a sweet tooth will have a hard time resisting their brioche options. They have a branch near the Siam BTS station too.
Station: Thong Lo (Exit 2)
Address: 33 Sukhumvit Road Soi 38, Phra Khanong, Khlong Toei | Opens: 7AM – 9PM daily | Tel: +66 081 442 7977 |  Facebook: fb.me/handsandheartcoffee
10. 63 Bangkok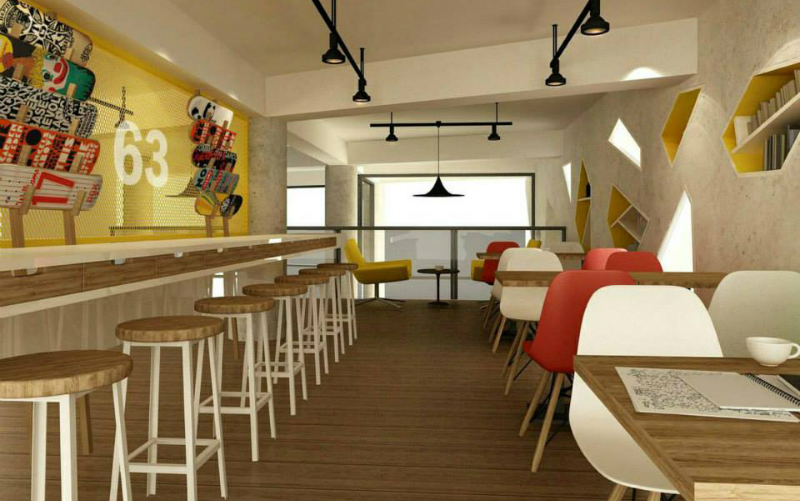 Part-hostel, part-cafe and a co-working space all at once, 63 Bangkok is strategically located directly next to the BTS Ekkamai entrance. For THB220 a day, you have access to the co-working space upstairs that's equipped with free high-speed WiFi, free printing (up to 10 sheets), and free coffee/tea and snacks. They offer reduced rates for weekly or monthly members, and a variety of meeting rooms for rent as well.
Station: Ekkamai (Exit 3)
Address: 1323/2 Sukhumvit Road, Phra Kanong Nua, Watthana | Opens: 8AM – 8PM daily | Tel: +66 02 392 5961 | Website: www.63bangkok.com


Read Next: