Bangkok is rightfully famous for cheap, delicious food – but where do you start? It's easy to get overwhelmed with all the options and end up somewhere less than delicious. Nobody's got time for that, so here's a round-up of 10 spots for tasty Thai food to refuel after your day exploring – without breaking the bank.
Because sometimes you want to dive into preserved eggs and raw crabs, and other days you're craving noodle-y comfort foods, the list is also broken down by a (very subjective) 'Adventurousness Scale':
English-speaking staff and menu, familiar flavours for a Western palate = 

Some English, more distinctly Thai tastes and ingredients = 

Limited English if any, Thai style foods only menu = 

Old Town Bangkok (Khao San, Chinatown, Wang Lang)
1. Thip Samai Pad Thai

 
Adventurousness Scale: 

You've probably had pad thai before, but chances are never quite like this. Chinatown's Pad Thai Thip Samai is famous for offering every variety of pad thai imaginable – so go with friends and order a few different versions to experience the surprising amount of variation you can get in this classic dish. My favorite is pad thai hor kai; pad thai served wrapped in a thin omelette. It's slightly more expensive than what you can get on the street, but at THB70 (about USD2) per plate, you can still afford to sample away.
Directions: A few minutes' walk from the Golden Mount, on Maha Chai Road just across from where it meets Soi Samran Rat
Address: 313, Maha Chai Rd, Khwaeng Samran Rat, Khet Phra Nakhon, Krung Thep Maha Nakhon | Tel: +66 2 226 6666 | GPS: 13.7527725,100.5026128 Google map | Opens: 5PM – 3AM
2. Si Morakot Restaurant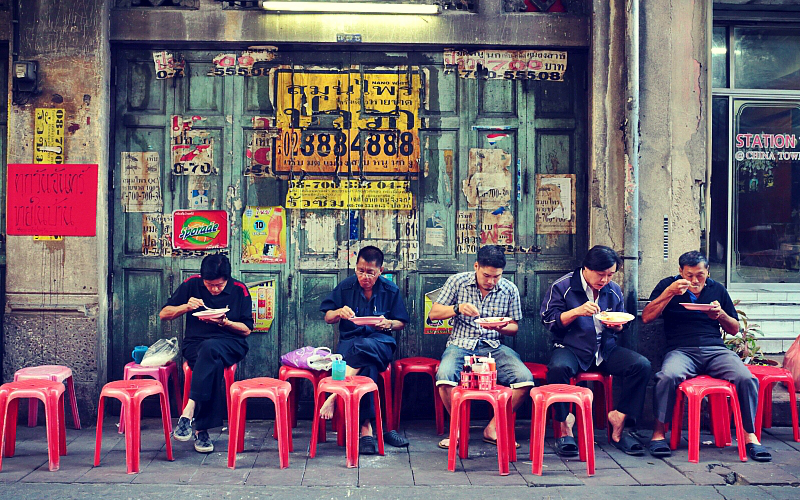 Adventurousness Scale: 
Start off your night exploring Bangkok's Chinatown with a Thai-Chinese classic: Khao moo daeng (red pork and rice) for around THB50 (about USD1.50) per plate. Bangkok legend Si Morakot has been serving this dish for over 50 years, and it's easy to see why – theirs is one of the best versions in the city. It's only open until 7PM, so get there early.
Directions: From Hua Lampong MRT station, exit towards Hua Lampong Junction and follow the pedestrian crossing on Rama IV Road across the canal. Turn left onto Mittaphap Thai-China Road, then left again onto Sukon Soi 1. It is a green restaurant with a red and yellow sign and antique wooden meat cabinet out front.
Address: 80-82, Khwaeng Talat Noi, Khet Samphanthawong, Krung Thep Maha Nakhon | GPS: 13.737044,100.514639 Google Map | Opens: 11AM – 7PM
3. Peeps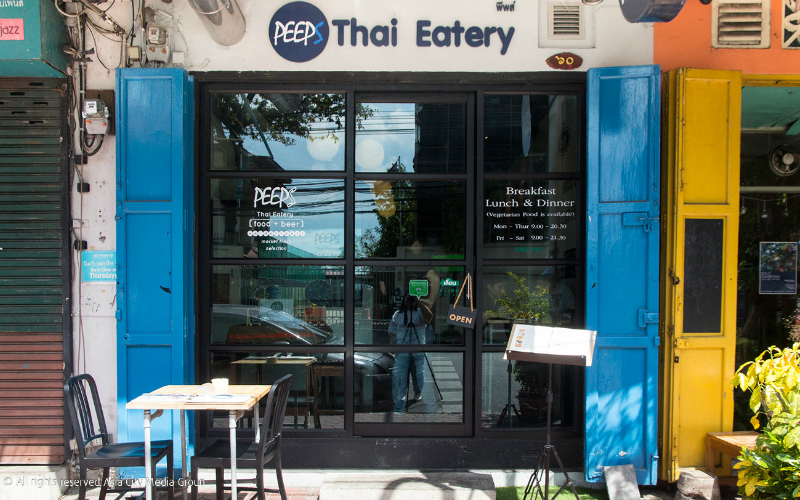 Adventurousness Scale: 

Run by two friendly Thai sisters, Peeps in Phra Atit is a relatively new addition to the Khao San scene and offers classic Thai dishes alongside some fusion and Western meals, as well as a vegetarian menu. For between THB100-250 (about USD3-7) per plate, you can afford to splurge on dinner plus their refreshing mango beer.
Directions: On Phra Atit Road, between Soi Chana Songkhram and Soi Rong Mai. If you're coming from the Chao Praya, stop at Phra Atit Pier and turn right at Phra Atit Road. Look for their blue shutter doors.
Address: 60 Thanon Phra Athit, Phra Nakorn | GPS: 13.7543029,100.4809299 Google map | Tel: 089 674 6309 | Opens: 9AM – 10PM | Facebook: fb.me/peepsthaieatery
4. Phranakorn Bar & Gallery
Adventurousness Scale: 

A short walk from Democracy Monument and Khao San Road, Phranakorn Bar & Gallery is a neighbourhood staple that recently celebrated its 17th anniversary. Check out the art downstairs and then head up to the breezy rooftop bar and restaurant for a relaxed dinner. Expect tasty Thai standards and some atypical bar snacks – I'm a fan of the cheesy potato wedges – to go with their cocktails and beer list with many options under THB150 (about USD4). With views over Democracy Monument and the Golden Mount, it's a place to sit back and enjoy the slow life, including the live bands that play most evenings.
Directions: Between Democracy Monument and Sanam Luang on the corner of Soi Damnoen Klang Tai, between Thanon Tanao and Burana Sat Road.
Address: 58/2 Soi Damnoen Klang Tai Ratcadamnoen Klang Road | GPS: 13.7561045,100.4980672 Google map | Tel: +66 2 622 0282 | Opens: 6PM – 1AM | Facebook: fb.me/Phranakornbarandgallery
5. Som Tam Sida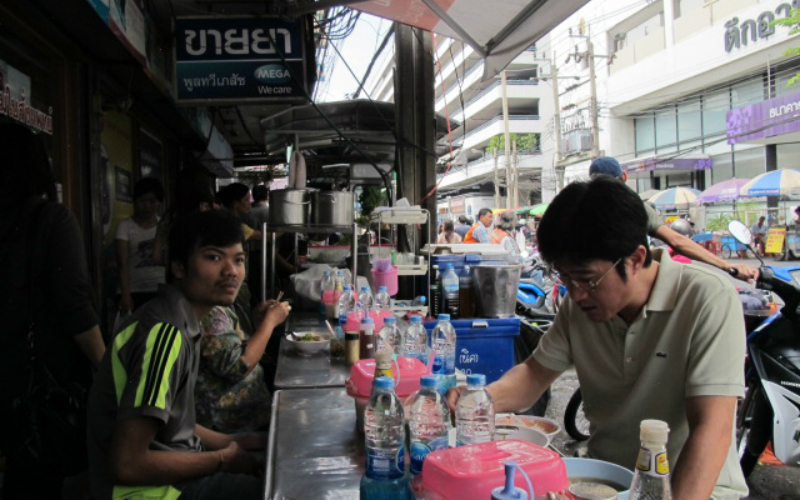 Adventurousness Scale: 

Getting to Som Tam Sida is half the fun: Based in Wang Lang Market, it's easiest to access by Chao Praya river boat. But once you're there, this multi-generational family-run restaurant is worth the trip. They serve excellent Isaan food from the northeast of Thailand. There isn't an English menu, so I'd recommend ordering som tam (green papaya salad), sai krok Isaan moo (small round Isaan sausages), and yam makua (eggplant salad with minced pork and shrimp), all at around THB50 (about USD1.50) per dish.
Directions: Take the Chao Praya river boat to Wang Lang Pier, and Som Tam Sida is in the walking alley that runs parallel to the road.
Address: Trok Wang Lang Alley, Siriraj, Bangkok Noi | GPS: 13.7552231,100.4847796 Google map | Opens: 9.30AM – 6.30PM
Sukhumvit
6. Saeng Chai Pochana
Adventurousness Scale: 
Looking for a late-night spot? Saeng Chai Pochana is open until 4AM, so you can stop by before and/or after hitting up Thonglor's excellent bars. A classic shophouse style restaurant with both an air-conditioned indoor dining area and sidewalk tables, it's a favorite with locals and tourists alike. Their extensive menu – in Thai, English and Japanese – covers all the seafood you've dreamed of and probably a bit more (raw crab with roe in fish sauce, anyone?) with many dishes between THB100-200 (about USD3-6) as well as whole fish or crab options upwards of THB400 (about USD11.50) if you're dining with a group. If you want to ease into Thai seafood, you can't go wrong with their fried fish with garlic or steamed snow fish with soy sauce.
Directions: On Sukhumvit Road between Thonglor and Phrom Phong BTS stations, near Soi 32. Look for their big red sign with yellow lettering.
Address: 762/5-6 Sukhumvit Rd, Khwaeng Khlong Tan, Khet Khlong Toei, Krung Thep Maha Nakhon | GPS: 13.7265479,100.5727841 Google Maps | Tel: 081 376 0150 | Opens: 6PM – 4AM
7. May Veggie Home
Adventurousness Scale: 

Just a few minutes' walk from the busy Asoke intersection is May Veggie Home. Their double-page menu has vegan options of all the Thai classics, but even though the meat is imitation, the flavors are original. I love their "chicken" cashew (yam sapp gai grob) for about THB160 (about USD5) and fresh juices, pressed to order from your selected mix of fruits and/or vegetables. It's a great way to refresh and take a break from what can often feel like a carbohydrate- and meat-heavy diet.
Tip: Finding vegetarian curries can be pretty challenging in Bangkok because most curries are made with shrimp paste or fish sauce and therefore cannot be 'made vegetarian' at non-vegetarian restaurants. Be sure to try their massaman or panang curries for under THB220 (about USD6) while there.
Directions: A 3-minute walk from BTS Asok (exit 4) on Ratchadaphisek Road (or follow their thorough photo directions).
Address: 8/3 Sukhumvit Soi 16, Asoke Sukhumvit Intersection, Ratchadapisek Roak Klong Toei | GPS: 13.731074,100.56114 Google map | Tel: +66 2 118 2967 | Opens: 11AM – 10PM | Website: mayveggiehome.com
8. Eathai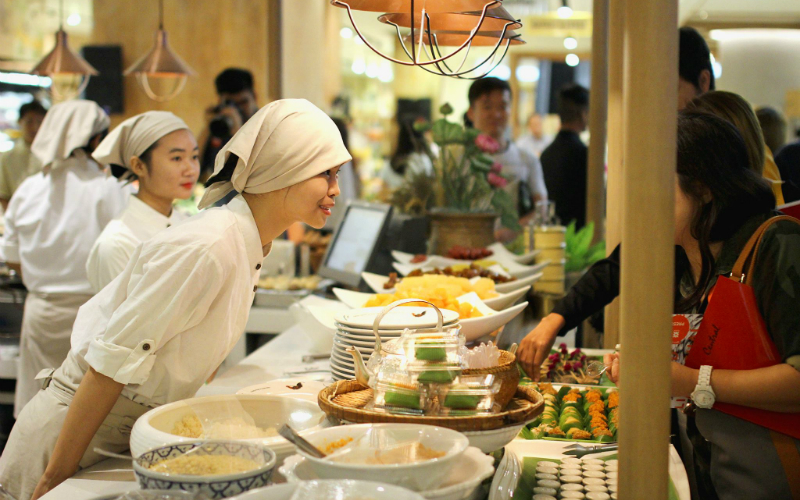 Adventurousness Scale: 

Eathai takes its name seriously – they offer a culinary tour of Thailand in a single food court. Mall food courts are an art in Bangkok and this one, in the basement of swanky Central Embassy Mall, may be the best of the best. It's definitely more upscale than your street-side cafeterias, but the prices are still reasonable enough atTHB100-400 (about USD3-11.50) per dish, that you can try dishes from several food stalls that represent different Thai culinary traditions.
Directions: Take the connected skywalk from BTS Phloen Chit (exit 5) to Central Embassy Mall. The food court is in the basement.
Address: Lower Ground at Central Embassy 1031 Ploenchit road, Pathumwan | GPS: 13.7437631,100.5466726 Google map | Tel: +66 2 119 7777 | Opens: 10AM – 10PM | Facebook: fb.me/EathaibyCentral
North Bangkok
9. Boat Noodles at Victory Monument
Adventurousness Scale: 

Very cheap (THB10 (about USD0.30) a bowl, though servings are small) and delicious, boat noodles are a street food classic and Victory Monument is one of the best places in Bangkok to sample them. The classic boat noodle contains slippery rice noodles, beef or pork, a pork meatball, and a sprinkling of fresh pig's blood – don't worry, the blood is cooked instantly by the heat of the broth and just adds a meatier flavour to the soup. The vendors may speak limited English, but there's generally at least one staff member who can take your order, and the bustling atmosphere is not to be missed. It's also a great place to grab a quick meal before a day trip outside the city as minivans to destinations like Ayuthaya, Koh Samet, Kanchanaburi, and Khao Yai all leave from Victory Monument.
Directions: Exit the Victory Monument BTS and walk all the way around the skywalk to Fashion Mall, then walk through the market to the canal. Boat noodle alley is across a small bridge.
Address: 2 18, 16 Phahonyothin Soi 13, Khwaeng Samsen Nai, Khet Phaya Thai, Krung Thep Maha Nakhon | GPS: 13.7656997,100.5395586 Google Map | Opens: 12PM – 9PM
10. JJ Green Weekend Night Market
Adventurousness Scale:
Wrapping up a long day of shopping at Chatuchak Weekend Market? Head over to the night bazaar at JJ Green for dinner. Though there are plenty of food options within Chatuchak itself, it's worth the couple minute walk to JJ Green for the atmosphere – a local hipster haven – as the large variety of street food is tastier and cheaper than what you'd find at the former. At less than THB150 (about USD4) per dish at most stalls, this is a great place to get experimental and order whatever you see the locals eating. Just point to what you want at a stall if there isn't an English menu. After dinner, be sure to try some of the trendy Thai desserts (my favorite is the frozen Thai ice tea slushy in front of Green Vintage for THB60 (about USD1.80)).
Directions: From Chatuchak, exit Gate 2 and cross the road towards Jatujak Public Park. Turn left and follow the road as it curves around the back of the park and you'll see a large green sign saying JJ Green. From the BTS, take exit 1 and cross straight across the park to JJ Green.
Address: Kamphaeng Phet 3, Chatuchak | GPS: 13.8051982,100.5497053 Google Maps | Tel: 086 567 9959 | Opens: 5PM – 2AM, Thu-Sun


Read Next: