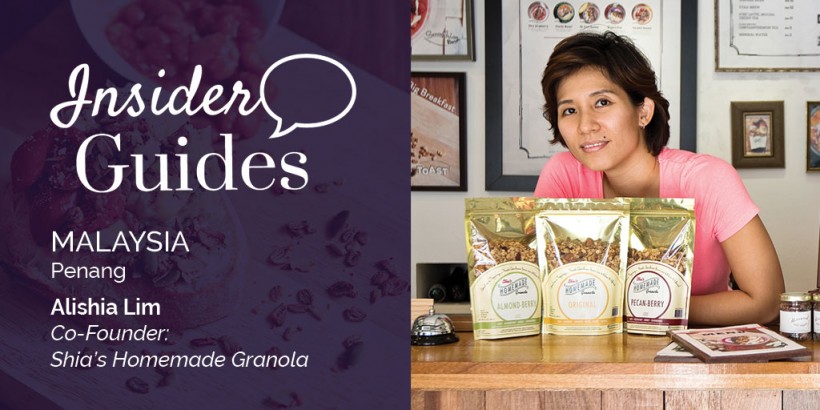 Nutrition and fitness has been a part of Alishia Lim's life since her athletic school days, leading to her previous career as a personal trainer. Now, the mother of one is focused on the café she started with her husband, Ke Wynn, also a fitness trainer, called Shia's Homemade Granola in her native George Town, Penang. Besides heart-healthy, low-sugar and high-fibre granola, Shia's also offers cold-pressed juices, smoothie bowls, wholesome breakfasts and a retail corner that stocks healthy, homemade nibbles produced by local food artisans.
Eating clean may be all the rage these days, but for Alishia, it's not just a buzz word but a lifestyle. So where does one go for guilt-free eats when in the mecca of Malaysian food?
"It's so hard to find really good healthy food here, most of them are either vegetarian restaurants or organic shops, which is not exactly what I fancy," says Alishia. "In fact, though some local vegetarian shops may not serve meat, the food is laden with MSG and artificial colouring in order to make the dishes tastier." Alishia prefers to dine at regular restaurants that offer healthier options in their regular menu, which also makes it easier and more flexible when dining with friends and family. "After all, eating healthy has to be practical too."
Here are Alishia's top 5 recommendations for healthy dining in George Town:
1. Shia's Homemade Granola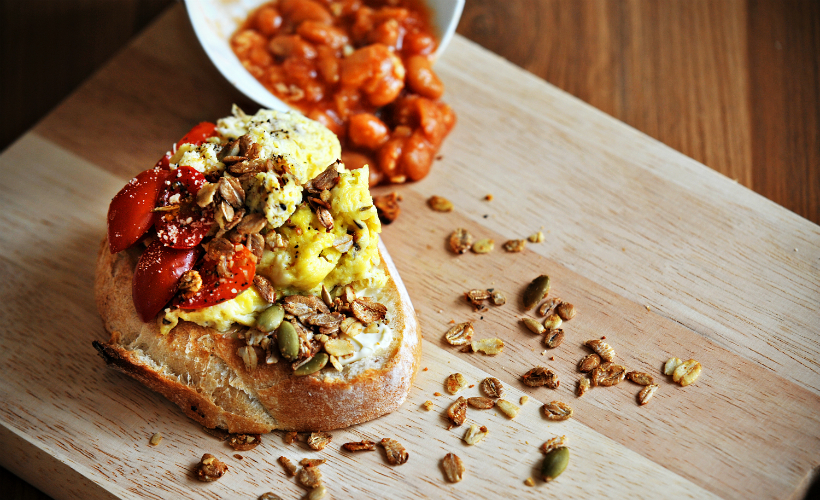 We only use natural and real ingredients in all the food we serve, which are homemade with no preservatives and flavouring. Or recent best-seller, which is also one of my favourites, is the Power Salad: Green salad served with avocado, edamame and garnished with up to three super seeds and nuts that customers get to choose themselves. The dressing is kept to its minimum – there's a choice of extra virgin olive oil or balsamic vinegar. It is so clean and filling, all of our customers say they feel like they cleanse their bodies simply by eating it! We also serve healthy desserts, and if you want something to binge on minus the guilt, try our smoothie bowls and granola with almond milk.
Address: No.1, India House, Church Street Ghaut, George Town | Tel: +6012-455 6769 | Open: 10AM – 5PM (Mondays, Wednesdays – Saturdays), 10AM – 6PM (Sundays), Closed on Tuesdays | Website: www.shiasgranola.com | Facebook: fb.me/shiasgranola
2. The Healthy Food People
The Healthy Food People deliver really healthy food that uses good ingredients, and are tasty. They have a different menu for each day of the week, all interesting dishes. Conveniently, they deliver to your doorstep and don't cost a bomb.
Pick-up Points: The Swagger Salon (37, Jalan Gurdwara) and Shia's Homemade Granola | Delivery Chargers: MYR3.00 flat rate per trip | Tel: +6019-420 2047 | Facebook: fb.me/thehealthyfoodpeople | Instagram: @thehealthyfoodpeople
3. Blue Reef
Blue Reef specialise in fish and chips but also offer other healthy options like grilled fish and chicken. What I like about them is that they are able to take customer requests, such as more salad without the fries. And their side salad uses a good mix of leaves, dressed in balsamic sauce – not the typical cucumber, carrots and onion salad that you get at most places. Prices are also affordable, and service is friendly.
Address: Elit Avenue (Block 1-01-38, Jalan Mayang Pasir 3, Bandar Bayan Baru, Bayan Lepas and Straits Quay (3A-G-20 Ground Floor, Jalan Seri Tanjung Pinang, Seri Tanjung Pinang | Tel: +6016-405 9182 | Open: 10.30AM – 10.30PM | Facebook: fb.me/bluereef.fnc
4. Sri Ananda Bahwan
I love Indian food because they use healthy herbs and spices. I usually order the tandoori chicken with plain naan at Sri Ananda Bhawan – I share the naan with my husband or daughter to watch the carbs. Tandoori chicken is healtheir compared to curry or fried chicken, plus it's tasty and has all the protein I need. They also serve vegetarian dishes made of peas and lentils.
Address: 25, Penang Street, George Town | Tel: +604-331 0781, +604-323 6228 | Open: 7AM – 10.30PM | Website: srianandabahwan.com.my | Facebook: fb.me/srianandabahwan
[box color="#89c44c "] Read: Chef Yin Shares Her Top 5 Raw Food Restaurants In Kuala Lumpur [/box]
5. Sushi Zento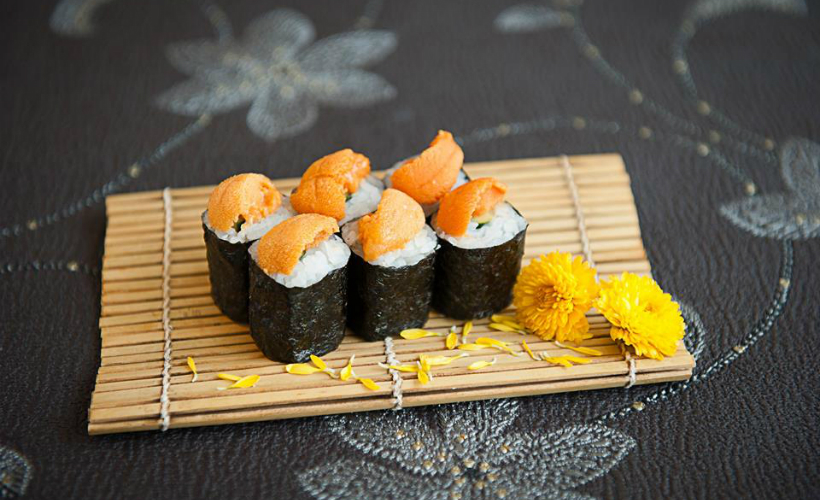 I love the signature salad at Sushi Zento, all fresh ingredients topped with salmon. If I am very hungry after a hard workout, I will order extra sides of grilled salmon or unagi. They are one of the better Japanese restaurants in Penang that offers quality and fresh ingredients, and is not overly pricey.
Address: 10-A-11 & 12, Jalan Precinct 10, Seri Tanjung Pinang, Tanjung Tokong | Tel: +604-899 2725 | Open: 11.30AM – 2.30PM, 6PM – 10PM (Mondays – Thursdays), 11.30AM – 10PM (Fridays – Sundays) | Website: www.edoichigroup.com | Facebook: fb.me/SushiZento
[box color="#89c44c"] On our last Insider Guide, The co-founders of Queer Manggo share tips for women of all identities visiting Thailand, whether looking to meet people or just to check out the social scene. Read: An Insider Guide To A Queer Women-Friendly Holiday In Thailand [/box]
In Insider Guides (formerly known as Voices of Zafigo) we ask local women to give us their top recommendations on a particular subject or area of interest in their city. Want to be featured in the next Insider Guides? Drop us an email at [email protected] with the subject line 'I want to be an Insider Guide for my city'.

Read Next:
Get all the latest travel stories from Zafigo. Follow us on Facebook and Twitter.