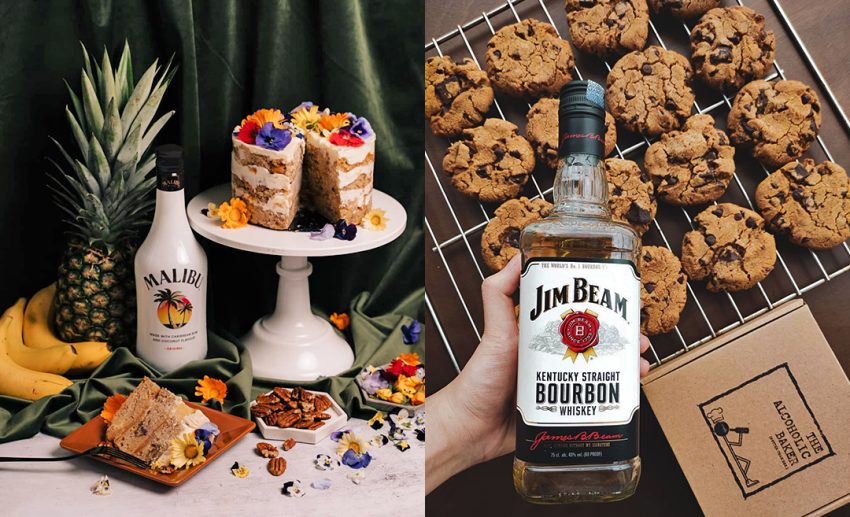 Subscribe to our new

Telegram

channel for the latest updates.



We all need a dash of adult in our desserts once in a while, and desserts with a pinch of alcohol are the perfect way to treat ourselves over the weekend (or even on weekdays), in our opinion. Pair that with tea and a cosy environment, and you're all set for relaxation. Here's a list of some cafes and businesses that add a sprinkle of boozy fun into their menus.
1. Gatsby Mansion
Have you ever heard of gin-infused tea? Gatsby Mansion is the only place in Malaysia where you can have TWG tea infused with Hendrick's Gin! Sip on premium gin-infused tea under their gleaming luxurious setting. At the same time, you get to enjoy their hi-tea set, which comprises a variety of sweet and tangy delicacies.
---
2. The Alcoholic Baker
The only artisanal alcoholic cookie baker that offers you cookies 'better than sex'. They promise you (naughtily-named) treats like Or-Gasms (classic chocolate chip cookie topped with milk and dark chocolate, drizzled with Jim Beam bourbon-infused salted caramel sauce), Jack-Offs (cranberry raisins cookies with ginger-infused marmalade reduction sauce, bathed in Jack Daniel Sour Mash whiskey), and Nut Jobs (cinnamon and nutmeg spiced s'mores chocolate cookie paired with dark chocolate glaze, infused with Bailey's Irish Cream). We're not making these names up, by the way, and the cookies certainly live up to their cheeky monikers!
---
3. Drunken Gelato
Based in Penang and the Klang Valley, their gelatos can get you drunk, as they stay true to their tagline — 'Made with lots of love and alcohol'. Their three flavours are Drunken Rum & Raisin, Absinthe Mint Chip, and Milo Guinness Bomb, all ranging from 40% to 55% ABV (alcohol by volume).
---
4. Spread Cheers
These alcohol-infused artisan jams are made to tantalise your senses. You can have them on sweet pastries or savoury dishes. Sine they go both ways, you can now easily elevate your breakfasts and home-cooked dishes with a serving of their spreads!
Their sweet spreads include crushed pineapple in whiskey-infused marmalade, mixed berries bathed in brandy, luscious plums in mulled wine, and rum-soaked raisins in apple jam. They also have a line of savoury series — Drunken Bacon Jam with Irish stout, Hot Drunken Bacon Jam with Irish stout, and Drunken Bacon Jam with whiskey-soaked cranberries.
---
5. Whimsical
Winner of Gelato World Tour (Asia Pacific), Whimsical offers both alcoholic and non-alcoholic gelatos. They rotate around 12-16 flavours weekly, which means the alcoholic ice cream flavour may change each week. Some of their alcohol-infused gelatos include Rum & Raisins, Chocolate & Whiskey, Red Sangria, Guinness & Chocolate, Baileys & Coffee, Smoked Whiskey & Butterscotch, Strawberry Bellini, and Burnt Butter Whiskey. Yum!
---
6. Dena's Bakehouse
Made to order with rich flavours and high-quality ingredients, Dena's Bakehouse does not disappoint. Tried and tested by our team are the Moist Chocolate Kahlua Cake and Moist Chocolate Kahlua Cupcakes. These are decadent and moist chocolate cakes topped with smooth chocolate Kahlua cream cheese icing and a Belgian Dark chocolate drizzle. If there were ever such a thing as 'the right amount of sweetness', Dena's Bakehouse specialises in it!
---
7. The Ice Cream Bar
Aptly named, The Ice Cream Bar offers alcoholic ice-creams (naturally), pints for delivery within Klang Valley, alcoholic and non-alcoholic ice cream cakes, and their most recent — canned ice-cream series in collaboration with top cocktail bars in Kuala Lumpur.
---
8. Chew My Booze
Rum Brownies, Rum Balls, Chocolate Bailey's Cookies, Mojito Cookies, and Bailey's Tiramisu are just some of Chew My Booze's extensive alcohol-infused menu items. They're crafted by the founder, Lois Lau, herself, who also plans on experimenting with new recipes and product ranges. Something she recently did during the mooncake festival with her alcoholic mooncakes range. DM her for orders!
---
9. Thirty One Fine Bakes
Offering boozy cakes (contains alcohol) and virgin cakes (alcohol-free), Thirty One Fine Bakes' cakes are irresistible to the eyes and palate. Their selection of alcoholic cakes are the Malibu Hummingbird Cake, Kahlua Tiramisu, Cointreau Orange Butter Loaf Cake, Bailey's Chocolate Cake, Rum Raisin Bundt Cake, Adult Carrot Cake, and their latest addition, Burnt Cheesecake with Whisky Caramel!
---
10. Licky Chan
With a cow-to-cone approach and using only natural ingredients, Licky Chan offers a wide variety of unique flavours you never thought was possible or needed. Their menu boasts a pretty extensive list of ice creams and cakes that come in both alcoholic and non-alcoholic versions.
For the naughty versions, we recommend their Boleh, Lah! (coffee, durian, condensed milk, and Dewars 12 whiskey), and as for their cake, give the Dato's Dream (rich roasted chestnut, blonde chocolate, almonds, and Martell VSOP Cognac) a go.
---
11. Caketella
Caketella has alcoholic cakes, ice-cream cakes, and mille crepes that are perfect for birthdays. Their Rum Raisin Chocolate Mousse Cake has been tested and approved by one of our team members!
---
12. Rekindle
Get your coffee and alcoholic cake fix all at the same place! This café has a wide range of alcoholic cakes like Chocolate Bailey's, Tiramisu Kahlua, Java Chips with Rum, and Salted Caramel with whiskey. They have branches in SS2, Damansara Uptown, and Hartamas.
---
13. Cocoraw & Cocodash
Cocoraw makes handmade Malaysian chocolate truffles in two alcoholic flavours — The Rum and The Gin and Limau Nipis. You can order online from their website or drop by their Cocodash physical stores for a selection of alcoholic and non-alcoholic chocolate truffles! Cocodash is available at Jalan Telawi 3 Bangsar, The Linc KL, Midvalley Southkey Johor Bahru, and SS15 Subang.
Follow Zafigo on Instagram, Facebook, and Twitter. Sign up for our bi-weekly newsletter and get your dose of travel tales, tips, updates, and inspiration to fuel your next adventure!