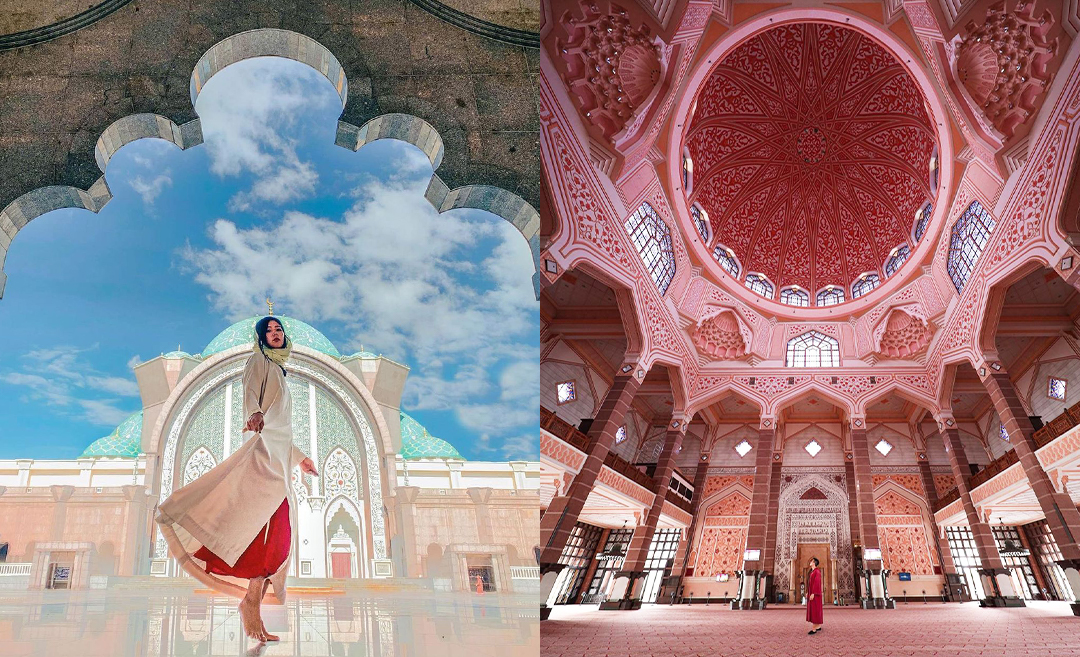 Subscribe to our new
Telegram
channel for the latest updates.
Ultimately, mosques (or masjid, in Bahasa Malaysia) are places for religious worship and prayer. Invoking immense tranquillity and a deep sense of devotion, some mosques are award-winning architectural marvels that please the eye of their devotees as well as the general public. We've rounded up 14 beautiful mosques throughout Malaysia where you can take in astounding design, phenomenal architecture, and incredible splendour. Some of them even attract international tourists. Enjoy!
1. Masjid Sultan Salahuddin Abdul Aziz Shah, Shah Alam
View this post on Instagram
Otherwise known as the Blue Mosque, this is by far Malaysia's largest mosque and Southeast Asia's seventh for its capacity. The construction of this beauty took six years to complete after it was commissioned by its namesake in 1982. Its moniker is no mystery – the blue dome can be spotted from kilometres away! In its early days, it was listed in the Guinness Book Of Records as having the tallest minaret in the world.
2. Masjid Jamek, Kuala Lumpur
View this post on Instagram
This mosque, located smack in the middle of it all, is officially known as the Sultan Abdul Samad Jamek Mosque. Built in 1909, it was the first large mosque to be constructed in KL. Up until 1965, Masjid Jamek served as the capital's main mosque. The designer, Arthur Benison Hubback, designed the building in an Indo-Saracenic style, loosely taking inspiration from the flair of Indian-Muslim Mughal architecture.
3. Masjid Putra, Putrajaya
View this post on Instagram
Suffice it to say, this shot does its interior beauty incredible justice. Acting as Putrajaya's principal mosque, it can accommodate up to 15,000 worshipers at one go. Masjid Putra is located right next to Perdana Putra, the office of Malaysia's Prime Minister. This architectural stunner features nine domes (yes, that's right—nine) and is constructed with rose-tinted granite, giving it that dreamy effect.
4. Masjid Wilayah Persekutuan, KL
Situated near the Government Office Complex along Jalan Duta, the mosque opened to the public in the year 2000, marking it as the 44th mosque built by the government within the capital's city limits. The architectural idea behind the Federal Territory Mosque – its more common moniker – is a marriage between Malay and Ottoman design styles. In fact, its primary influence is the Blue Mosque in Istanbul, Turkey.
5. Masjid Tengku Tengah Zaharah, Terengganu
View this post on Instagram
The first real floating mosque in Malaysia, Masjid Tengku Tengah Zaharah (also referred to as Masjid Terapung) is situated near the estuary of Kuala Ibai River. Just a quick drive from Kuala Terengganu, you won't want to miss a visit to this modern and Moorish-inspired mosque. The white structure incorporates the use of materials such as marbles, ceramics, and mosaic tiling to stunning effect. In the evening, when the sun hits it just right, the mosque is reflected in the water below, making for quite a lovely sight.
6. Masjid Bandaraya Kota Kinabalu, Sabah
This entry is quite the tourist attraction when it comes to international visitors. Check out its tag on Instagram and see for yourself! Based on the Nabawi Mosque in Medinah, the construction of this elegant establishment cost a staggering RM34 million. It's partially surrounded by a man-made but breathtaking lagoon. Besides the capacity to welcome in 12,000 worshippers, this city mosque is also home to a palliative care clinic and a fish farm, a project in partnership with Universiti Malaysia Sabah.
7. Masjid Kapitan Keling, Penang
A visit to Penang wouldn't be complete without paying this historical landmark a visit. It was built in 1801 by Indian-Muslim traders who settled in Georgetown and is listed as one of the city's numerous UNESCO World Heritage Sites. A renovation in 1930 gave Masjid Kapitan Keling its present appearance after its previous design was deemed impractical.
8. Masjid Zahir, Kedah
View this post on Instagram
Masjid Zahir is one of the grandest and oldest mosques in the country. Built in the year 1912, it's even been voted as one of the top 10 most beautiful mosques in the world. Now that you know that, how can you pass up a chance to catch a sight of this award-winning place of worship?
9. Masjid Ubudiah, Perak
View this post on Instagram
Ah, the royal town of Kuala Kangsar – every Malaysian's must-visit location when paying this state a visit. Guess what this mosque and KL's Masjid Jamek have in common? They were both designed by Arthur Benison Hubback, so expect similar touches.
Considered one of Malaysia's most stunning mosques, it's located beside the Royal Mausoleum on Jalan Istana at Bukit Chandan. Constructed during the reign of the 28th Sultan of Perak, it was a thanksgiving for his recovery from an illness that plagued him in his later years. Now, the mosque symbolises the people's pride.
10. Masjid Kristal, Terengganu
View this post on Instagram
We'll let pictures do the talking. Or you can read about it in full detail here.
This grand structure, more commonly referred to by its English name, the Crystal Mosque, looks like it came straight out of a Steampunk universe. All steel, glass, and crystal, you could say that it has a certain edge – pun intended. "Where can I find this" you ask? It's located at the Islamic Heritage Park on the island of Wan Man.
11. Masjid Tuanku Mizan Zainal Abidin, Putrajaya
View this post on Instagram
Going by its street name, the Iron Mosque, this grand building acts as the second principal mosque for Putrajaya. Deserving of that name for its august sophistication, the Iron Mosque is really there to cater to the 24,000 residents and government servants working around the area. Twice the size of Putra Mosque, you'll find this ultra-modern mosque at Putrajaya's Precinct 3, opposite the Palace of Justice.
12. Masjid Cina, Melaka
View this post on Instagram
If you think of Melaka as just another food hub, then you're gravely mistaken. It's one of the country's greatest heritage centres, and Masjid Cina is just one of the state's many treasures. It's the third of the country's Chinese-style mosques, and when you drop by, you'll find that it's not just a mosque. No. In fact, besides being equipped with the main prayer hall, it has a library, multi-purpose hall, offices, koi ponds, and a restaurant! Fun fact: Here, Friday sermons are delivered in Mandarin!
13. Masjid Negeri Sultan Abu Bakar, Johor
View this post on Instagram
You wouldn't expect anything less than glorious when it comes to state mosques. Located along Jalan Skudai, it was built under the direction of its namesake royal, from 1892 to 1900. The mosque's architect set out to recreate colonial Victorian English architecture, and this can be seen in features such as the minaret cum clock tower. Seated atop a hill, overlooking the vista of the Straits of Johor, it would instil the love of God into anyone.
14. Masjid Negeri Sultan Ahmad Shah, Pahang
View this post on Instagram
Situated in Kuantan, Masjid Negeri Sultan Ahmad Shah is named after the first modern Sultan of Pahang that established the present royal family in the state. The original space-age design consisted of a big dome and a rocket-like minaret. Unfortunately, due to its faulty design, the mosque suffered from irreparable leaking. In 1992, it was finally demolished and replaced with a building replete with a more Islamic façade.
This new building was constructed between 1991 and 1993, and the grand reopening was done by the great-grandson of Sultan Ahmad al-Mu'azzam Shah, His Royal Highness Sultan Haji Ahmad Shah Al-Musta'in Billah ibni Almarhum Sultan Abu Bakar Ri'ayatuddin Al-Mu'azzam Shah, accompanied by the former Imam at The Great Mosque of Mecca, Syaikh Muhammad bin Abdullah as-Sabil, on October 1994.