Who doesn't love visiting theme parks? Theme parks are a fun way to inject some adrenaline into your life, and they're not just for children. From water parks where you can get wet n' wild to world-class rides worthy of praise, our country has many theme parks to excite Malaysians and tourists! If you're not adventurous, now's the time to try something new.
We've cherry-picked only the best of Malaysia's theme parks to create the ultimate guide for your holiday planning, so read on below!
Genting SkyWorlds Theme Park, Pahang
Malaysia's most anticipated theme park, Genting SkyWorlds Theme Park, opened its doors to the public after nine years of major renovations just recently. Located within Resorts World Genting, the multi-million dollar park spans 26 acres amidst the cooling outdoors of Genting Highlands and has nine distinct worlds to explore.
Catering to all thrill levels, Genting SkyWorlds boasts over 26 rides and attractions from the big screen. In each world, the attractions, retail experiences, and even food options are thoughtfully designed according to unique themes, ranging from being a galactic recruit at the Andromeda Base Camp to being the size of Thumbelina in the magic forests from the movie Epic. Want some insight on the best rides? Here's our pick of the 10 best rides at Genting SkyWorlds!
Since Genting SkyWorld's soft opening, there have been new additions to the park. The Acorn Adventure ride within Ice Age (a world called such after the eponymous film) is now available. On this thrilling roller coaster, you are Scrat, an unfortunate prehistoric squirrel who has spent his time on countless Ice Age movies chasing an acorn. You'll be riding on a log amidst a strong water current to – you guessed it – chase down an acorn. Bring along a raincoat as you might get wet!
Another shiny addition to Genting SkyWorlds is the Rainy Day Guarantee, enabling you to gain a free return entry to the park if it rains on your visit. Just download the Genting SkyWorlds app, link your ticket, and enable notifications. If the Rainy Day notification gets triggered, you'll be entitled to one free entry into the park within a year of your visit!
Did you know that you can also reserve your rides with the Virtual Queue (VQ) passes that come complimentary with your ticket? We highly recommend booking your Independence Day: Defiance slot, as wait times can get long!
Currently, Genting SkyWorlds is in its soft opening phase, and standard entry tickets start from RM151 onwards. If you want to save some bucks, now's the time to visit! However, take note that Mad Ramp Peak – Full Throttle Racing, Ice Age: Expedition Thin Ice, and Invasion of the Planet of the Apes rides are not operating yet.
Zafigo tip: Download the Genting SkyWorlds app to check the wait times for rides and utilise your VQ passes! Did you know that your entry ticket to Genting SkyWorlds allows for unlimited reentries for the day of your visit? In addition to that, if you're a citizen of Pahang, purchase your entry tickets at the ticketing counter and flash your IC to get a lowered admission rate of only RM113!
Get your tickets here.
Address: Genting Highlands, 69000 Genting Highlands, Pahang
Contact: +603 2718 1118
Operating hours: Daily, 11am to 6pm
Skytropolis Indoor Theme Park, Pahang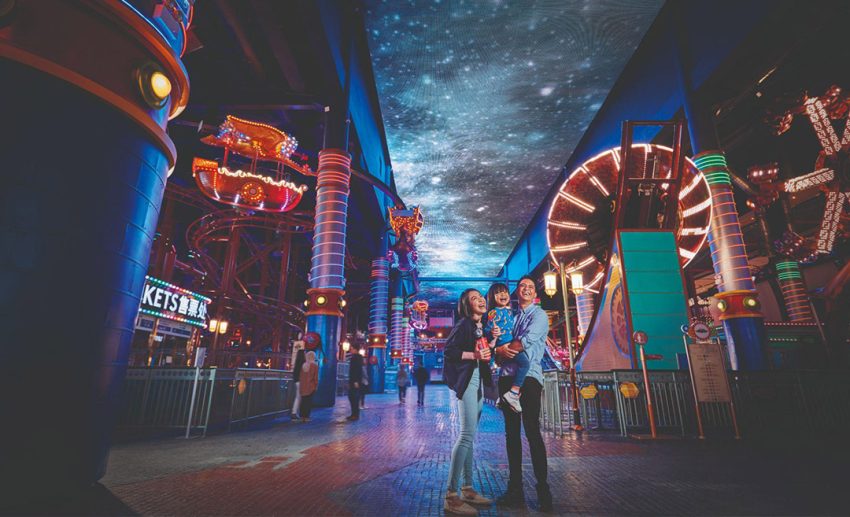 When you've had fun exploring Genting SkyWorlds Theme Park, head back inside to Skytropolis Indoor Theme Park located within SkyAvenue for even more fun. Jam-packed with 20 rides, Skytropolis Indoor Theme Park has a variety of rides suitable for families with younger children.
Of course, tweens or young adults can get their fair slice of adrenaline, too – there's a suspended lie-down coaster called the Super Glider and even a gigantic spinning pendulum aptly named Spin Crazy! The popular family rides at Skytropolis Indoor Theme Park are the Royal Carousel, Soaring Ships, Bumper Boss, and the Jumping Spurs, so you might want to queue up for these attractions first upon your arrival.
As Skytropolis is strategically located within SkyAvenue, a shopping complex, food options are abundant here, and there are various stalls selling snacks. There are over 136 restaurants for you to pick from, so there's no reason to go hungry!
Entry into Skytropolis Indoor Theme Park is free, but a ticket is needed to play at the attractions. To avoid the long queue and high pay-per-ride ticket prices (they can go up to RM17 during peak season), it's best to purchase a 1-Day Unlimited Ride Pass or an Attraction Package.
The unlimited ride pass lets you play your heart out for a day at the theme park, while the Attraction Packages include Ripley's Adventureland Pass (up to five attractions at Ripley's Adventureland located at Level 4 of SkyAvenue) and unlimited rides at Skytropolis Indoor Theme Park.
Get your tickets here.
Zafigo tip: Still a student? On Tuesdays, come with a friend and get a 50% discount for the second Skytropolis 1-Day Unlimited Ride Pass you purchase! Pahang citizens also get to enjoy 40% off on the Skytropolis 1-Day Unlimited Ride Pass.
Address: Genting Highlands, 69000 Genting Highlands, Pahang
Contact: +603 6101 1118
Operating hours: Daily, from 2pm to 9pm
Berjaya Times Square Theme Park, Kuala Lumpur
Berjaya Times Square Theme Park, situated within the Berjaya Times Square shopping mall, makes it one of the many hotspots for both locals and tourists alike to enjoy amusement park activities within Kuala Lumpur.
Spanning across three floors, the theme park boasts 20 rides within two parts of the theme park – head over to the Galaxy Station for adrenaline-pumping attractions or explore the Fantasy Garden if you're young at heart.
One of the most noticeable rides when you enter the theme park is the looping roller coaster called the Supersonic Odyssey. Running at a top speed of 80km/h, the echoing screams of terror (or joy) from thrillseekers can make anyone's knees turn into jelly or have adrenaline junkies all pumped up! There's also the Spinning Orbit – an attraction where riders get hoisted up into the air and spun repeatedly, and the less heart-pounding bumper car attraction, the Robo Crash.
On the other side of the park, a fantastical wonderland awaits! The highlight of Fantasy Garden is undoubtedly The Fantasy Labyrinth — the first and largest crochet playground for kids to climb, socialise, and play freely.
Entry to the theme park is free, but you'll need to purchase tickets to play at the attractions. Your best bet is to pre-book your ticket online for convenience and cheaper rates. The standard ticket rate for adults is RM70, but Malaysians can enjoy a discounted rate at RM55 if pre-booked online. If you're coming with your family, consider purchasing the family package – fit for a family of four.
Zafigo tip: Berjaya Times Square Theme Park recently introduced the world's first waterless aquarium, a VR experience that uses holograms of marine life! Pretty cool, isn't it? Entry tickets to the waterless aquarium start from RM18 and can be bought here.
Get your tickets here.
Address: No 09-103, 9th Floor, Berjaya Times Square, Jalan Imbi, 55100 Kuala Lumpur
Contact: +603 2117 3118
Operating hours: Weekdays, 12pm to 8pm; Weekends & public holidays, 11am to 8pm
Sunway Lagoon, Selangor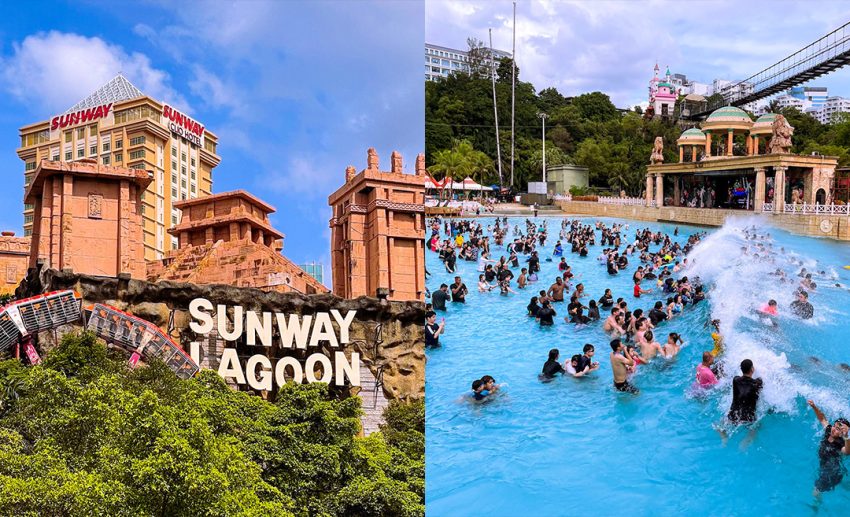 Need someplace to have fun while you beat the heat? Then there's no better excuse to visit Sunway Lagoon, a one-stop location for family-friendly fun boasting over 90 attractions across 88 acres of land!
The water theme park comprises six adventure zones: the Water Park, Amusement Park, Wildlife Park, Extreme Park, Scream Park, and the Nickelodeon Lost Lagoon, Asia's first Nickelodeon theme park.
Of course, when you plan to visit Sunway Lagoon, remember to pack swimming essentials such as your swimsuit, sunscreen, towels, and waterproof bags to keep your valuables dry. Almost all the rides and attractions here will get you wet, so you'll probably be running around the park in your swimsuit all day!
The highlights of Sunway Lagoon are the Vuvuzela, the world's largest vortex water ride that is 11-storeys high within the Water Park; the Monsoon 360, where a trapdoor opens beneath you as you plunge into a vertical free fall at Nickelodeon Lost Lagoon; and the G-Force X, Asia's highest slingshot ride that propels you into the air at 120 km/h in just two seconds!
The Scream Park at Sunway Lagoon is one of the much-raved horror experiences you can get in Malaysia! Every October, there will be a Nights of Fright event where you can scream your heart out at the various haunted attractions and scare zones. Although the Scream Park is currently closed, we heard that they'll be reopening just in time for Halloween for Nights of Fright 8!
Glamping in a water park, anyone? Sunway Lagoon has recently introduced Camp Out packages where you can play at the park in the morning and have a cosy camping session right inside their park during nighttime! Prices start from RM498 onwards.
Zafigo tip: When visiting on the weekend, you'll want to consider purchasing a Quack Xpress — an express pass that enables you to skip the queue at up to 20 selected rides throughout the park. Save your time at just RM80, and you'll get to cover more attractions!
Get your tickets here.
Address: 3, Jalan PJS 11/11, Bandar Sunway, 47500 Subang Jaya, Selangor
Contact: +603 5639 0000
Operating hours: Wednesday to Monday, 10am – 6pm
ESCAPE, Penang
Hidden in the forests of Penang is ESCAPE, an outdoor adventure theme park and waterpark that's big on reintroducing the joys of yesteryear with its back-to-basics themed attractions.
Most of their attractions do not have an age limit, as it is designed to suit a wide range of age groups, abilities, and energy levels. Consisting of three different sections: Adventureplay, Gravityplay, and Waterplay, the park boasts 40 attractions of fun for all ages.
Let's be honest here – all the attractions at ESCAPE are such fun that it's hard to pick the best! If we really had to choose, we'll go for Atan's Jump and Banana Flip, both located within the Waterplay zone. Atan's Jump is a diving platform of varying heights (up to 25m!), while the Banana Flip is a dual slide that releases you from a trapdoor, leading to a near-vertical drop.
ESCAPE holds a Guinness World Record of the World's Longest Water Tube Slide, aptly named The Longest and is located within the Gravityplay area. At 1.111km long, the ride starts at a 70-metre elevation and winds through the rainforest for a four-minute ride. Not only is this ride record-breaking, but it's also an engineering feat, as it was installed without heavy machinery and no trees were cut down to make way for this ride.
The recent addition of a 1.135km-long zip coaster on 12 April 2022 landed ESCAPE its second Guinness World Record, making it the World's Longest Zip Coaster! You'll start at the same spot from The Longest, and as you zip through trees, you'll have a bird's eye view of the park below. If you're scared of facing it alone, there's no need to worry as you'll be ziplining in tandem with a friend!
You can join in on their BASE CAMP activity at night, where you'll camp under the stars amidst the rainforest. Prices start from RM167 for adults and RM111 for children between four to 12 years old. By booking the BASE CAMP experience, you'll get a 2-Day Pass to the park alongside access to the BBQ pit, campsite, shower, toilet facilities and WiFi.
Zafigo tip: If you plan to upgrade your experience at ESCAPE with a 2D1N camping experience with BASE CAMP, book directly from their website, as there's an online discount of up to 30% off! The earlier you book, the more you'll save!
Get your tickets here.
Address: 828, Jalan Teluk Bahang, Teluk Bahang, 11050 Tanjung Bungah, Penang
Contact: +6017 797 7529
Operating hours: Tuesday to Sunday from 10am – 6pm
LEGOLAND Malaysia Resort, Johor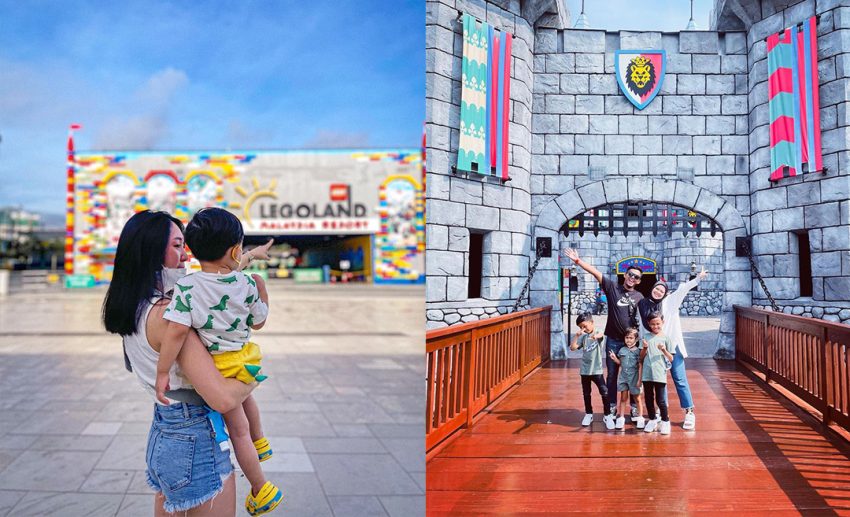 When LEGOLAND Malaysia Resort first opened its doors in 2012, it was the first international theme park to hit our shores, and has been growing in popularity amongst young families ever since! Built on land the size of 50 full-sized football pitches, it houses 15,000 LEGO® models made from over 60 million LEGO® bricks!
The LEGOLAND Malaysia Resort is divided into eight themed lands, a water park, an aquarium, and a hotel. The Beginning is where you'll find the ticketing counters and the largest souvenir store in the park. In contrast, at LEGO® Technic, you'll find the fastest rides: the world's first VR rollercoaster, The Great LEGO® RACE, and the newest addition to the park, PLANET LEGOLAND – an immersive LEGO® building experience.
The rest of the park is comprised of LEGO® Kingdoms, a medieval town filled with legendary folklore; Imagination, where kids get to play at DUPLO® inspired play zones; Land of Adventure, where young adventurers can explore ancient civilisations; LEGO® City, where anyone can learn how to drive a car or a boat; and lastly, LEGO® NINJAGO™ World, where young ones can unleash their inner ninja!
For a change of pace, visit the LEGOLAND Water Park, where you can bask in the LEGO® wave pool or float along the Build-A-Raft lazy river. Last but not least, SEA LIFE Malaysia is home to over 25 display tanks in 11 habitat zones, with the Japanese Spider Crab being a recent addition.
Zafigo tip: We highly recommend booking a stay at the Legoland Hotel to make your trip to Legoland more complete. We don't want to spoil it too much, but little ones will be in for a treat with a treasure hunt inside the room!
Get your tickets here.
Address: 7 Jalan LEGOLAND, Bandar Medini Iskandar Malaysia, 79250 Iskandar Puteri (Nusajaya), Johor
Contact: +607 597 8888
Operating hours: Daily, 10am to 6pm