Let's admit it, we all go weak in the knees for pretty things. If there's one thing that catches every Malaysian's attention, it's an aesthetically-pleasing space. Even more so on when we're looking for the next best place to shoot our #OOTDs! In short, we're always on the hunt for the newest pretty space to fill our 'gram with. 
It also goes without saying that indulging ourselves in food is one of our favourite things to do. So, when you put together a beautiful space with delicious food and a great atmosphere, what more can we ask for? 
Subscribe to our new 

Telegram

 channel for the latest updates.
1. Dou Dou Bake
View this post on Instagram
This has got to be one of the most talked-about cafes in the Klang Valley right now. Tucked away in a neighbourhood in Petaling Jaya, Dou Dou Bake is a real gem. The space has a clean, minimalist, and industrial vibe that will leave you feeling serene. Their speciality? The sourdough bread that's baked fresh daily. One thing to note is that on busier days, the wait for a table can be up to two hours long. 
Address 38, Jalan SS 4c/5, Taman Rasa Sayang, 47301 Petaling Jaya
Opening hours Open daily, 7am to 11pm
Phone 011-6963 5817
Instagram | Facebook 
2. Daun KL
View this post on Instagram
You can never go wrong with rattan, and Daun KL does it so well. Just like its sister cafe, Pokok KL, Daun is simple and places focus on making their industrial interiors feel lush with greenery. However, in terms of offerings, Daun is a desserts-centric offshoot that offers a wide array of cakes and pastries to satisfy your sweet tooth. We especially love the Sirap Bandung Cake with jelly layers. 
Address Level 2, MAHSA Avenue, Block B, Jalan Elmu, 59100 Kuala Lumpur
Opening hours Tuesday to Sunday, closed on Mondays. 10am  to 6pm
Instagram | Facebook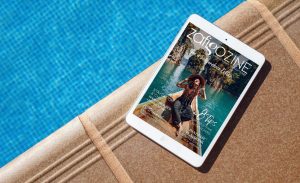 Download our second edition of ZafigoZine for FREE today!
In the #Independence Edition, we give you inspiration for domestic travel within Malaysia – whether you're
taking a road trip to a different state
 or
staycationing right where you are and more.
3. Apollo Dining
View this post on Instagram

Apollo is the contemporary restaurant of our dreams! This stunning restaurant's structure is carried by beautiful tall arches and punctuated with pastel hues and metallic accents throughout, giving the dining hall so much character. You can bet that every corner has something unique about it, and more importantly, they're picturesque. In line with its contemporary interior, Apollo serves fusion food that will impress (and look pretty on your timeline). 
Address 28, Jalan Kemuja, Bangsar, 59000, Kuala Lumpur
Opening hours Tuesday to Sunday, closed on Mondays. 11:30am to 3:30pm and 6pm to 11pm
Instagram | Website
4. Lucky Coffee Bar
View this post on Instagram

Located off Bukit Bintang in the hip new KLoe Hotel, Lucky Coffee Bar is a laidback cafe that'll make you feel like you're hanging out at a friend's place. And as tempting as it is to tuck into every delicious morsel on display in their pastry and cake stands, don't pass on the coffee. One of our favourites is their Cereal Milk Latte. Yup, cereal milk. After you're done with your cuppa, you should also take the opportunity to explore KLoe Hotel (which will provide you with even more 'gram-worthy photo ops). 
Address KLoe Hotel. 227, Bukit Bintang, 55100, Kuala Lumpur
Opening hours Open daily, 7am-5pm
Instagram | Facebook 
5. Plant & Pot Studio
View this post on Instagram
Aching to be surrounded by thriving foliage while you feast on delicious food? Head over to Plant & Pot Studio – where they've successfully brought the outdoors indoors – and dine in the space that they dub the 'jungle cafe'.  A fitting name, as the studio is teeming with an endless array of plants. Suffice to say, this plant boutique cum cafe will leave any urban dweller feeling rejuvenated and satisfied. 
Address 78, Jalan Puteri 5/5, Bandar Puteri, 47100, Puchong
Opening hours Open daily, 9am to 6pm
Phone 018-919 6311
Instagram | Facebook | Website
Follow Zafigo on Instagram, Facebook, and Twitter. Sign up to our bi-weekly newsletter and get your dose of travel tales, tips, updates, and inspiration to fuel your next adventure!