What's good for savoury foods and in sweet treats? As at home in a beverage as it is in a dish? Hey, you can even find a variation of it in skincare! If you didn't already know what we're going on about, it's santan — or coconut milk.
Santan is a creamy coconut milk is made of grated pulp from mature coconuts often found in Southeast Asian cooking and is a staple in Malaysian households. This traditional, rich, fatty white liquid gold adds so much flavour to any dish and can be used in so many ways. Often used in curries, broths, homemade jams and desserts, its taste is unmistakable. If you have the chance, here are some santan dishes you ought to try when in this part of the world.
1. Nasi lemak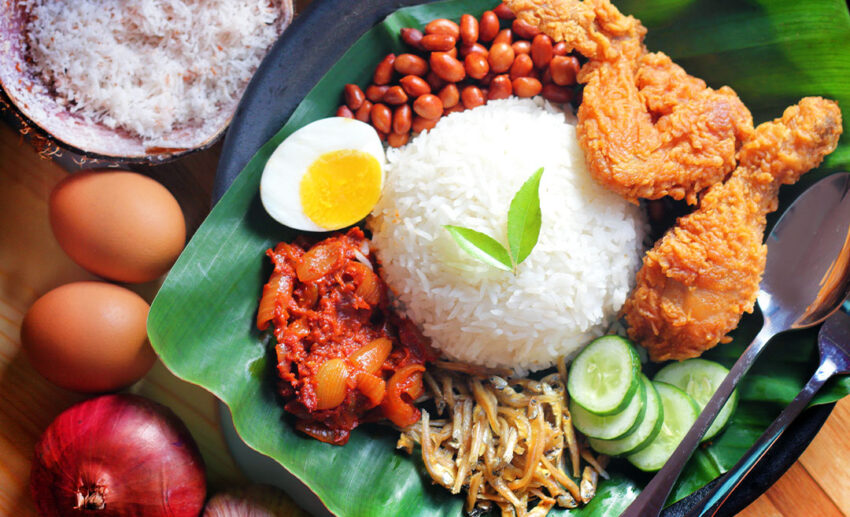 Let's kick off the list with Malaysia's national dish, nasi lemak. Traditionally, it's made up of fragrant rice cooked in santan and pandan leaf, giving the rice a distinct flavour and smell. It is accompanied by a spicy sambal sauce, fried peanuts and anchovies, a boiled or fried egg, and some slices of cucumber.
You will find many variations of this dish all over the country but the rice itself is generally made with the same coconut milk and pandan combo. It is eaten as a breakfast meal, lunch, or dinner — any time is a good time for nasi lemak!
For a more filling plate, fried chicken, fish, prawns, squid, beef rendang and more are added to the side.
2. Dodol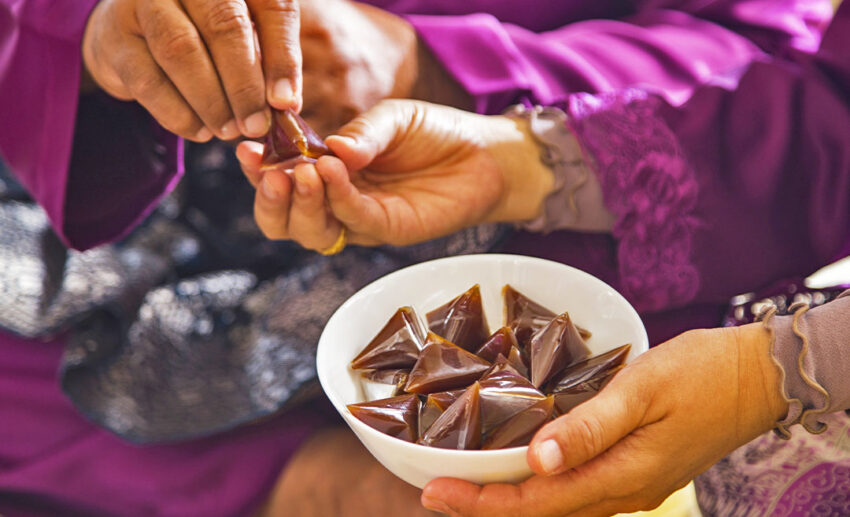 If you have a sweet tooth, you need to get your hands on a dodol. They are traditional Indonesian toffee-like desserts made of santan, palm sugar, and glutinous rice flour as the main ingredients.
Different parts of Southeast Asia have adapted the dish to their liking. Here in Malaysia, they come in a variety of flavours such as dodol kelapa (coconut), dodol pisang (banana), dodol kopi (coffee), dodol pandan, dodol nanas (pineapple), and dodol mangga (mango). You'll find them mainly in the states of Melaka, Johor, Perak, and Negeri Sembilan. They come wrapped in little triangular sachets ready to be eaten and make for tasty souvenirs.
3. Mango sticky rice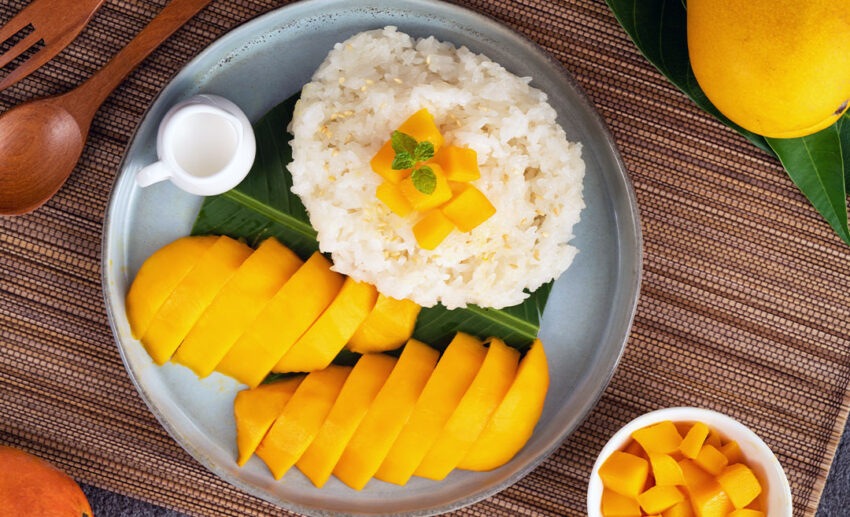 This Thai dessert hardly needs an introduction; it's known all over Southeast Asia and can be found almost anywhere in Malaysia these days. There's nothing quite as perfect as using the mangoes of Thailand for this dessert, but many places here do a pretty good job of replicating this sweet and creamy treat.
What it is — perfectly sliced mangoes laid on top of warm steamed coconut-infused glutinous rice, doused in even more santan, and then topped with dry fried yellow mung beans. If you haven't already tried it, put is down on your list of food to try the next time you're in Thailand. We promise you it'll have you coming back for more.
4. Curry laksa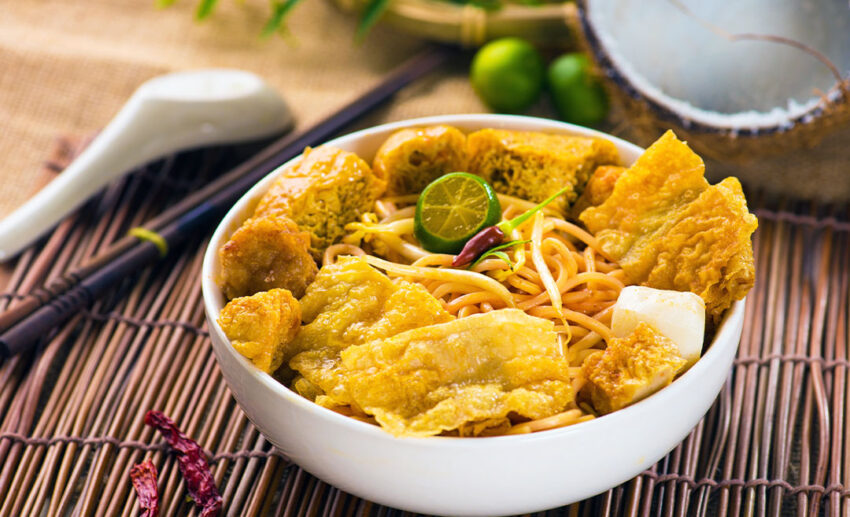 Santan was made for the rich, creamy broths of curry laksa dishes. The Malaysian and Singaporean curry laksa is a coconut-based broth, flavoured by laksa paste which is a thick chilli paste made from a blend of garlic, galangal or ginger, lemongrass, dried shrimp, chillies, and a mix of spices, giving the soup a bright orange colour.
The curry broth is poured over a bowl of noodles, bean sprouts, a boiled egg, chillies, cockles, char siew (barbecued pork) or shredded chicken, fried tofu, fresh herbs, and lime wedges. This dish is perfect on cold rainy days or when you need a taste of all things Malaysian, packed into one flavourful bowl.
5. Cendol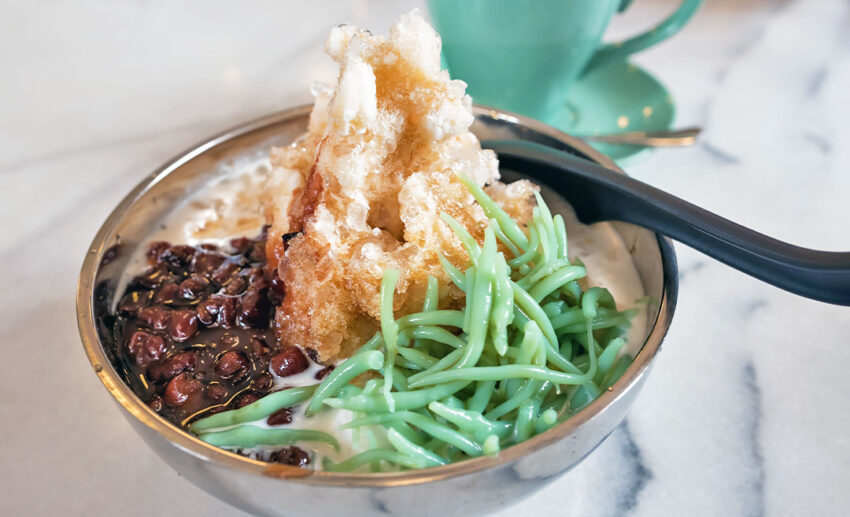 On sunny days, head to a cendol street stand and order yourself a glass, bowl, or bag of this sweet icy desert. When made in Malaysia, it contains strings of bright green pandan-flavoured rice flour jelly noodles, more santan, palm sugar syrup, creamed corn, and kidney beans over shaved ice.
You will also get a version known as Cendol Durian here, that Malaysians love. And yes you guessed it, giant golden nuggets of durian are placed directly into an icy cold bowl of cendol, infusing the syrup in durian flavour.
Cendol is found in many parts of Malaysia, Indonesia, Singapore, Brunei, East Timor, and Thailand, all made slightly differently in different places.
6. Kaya balls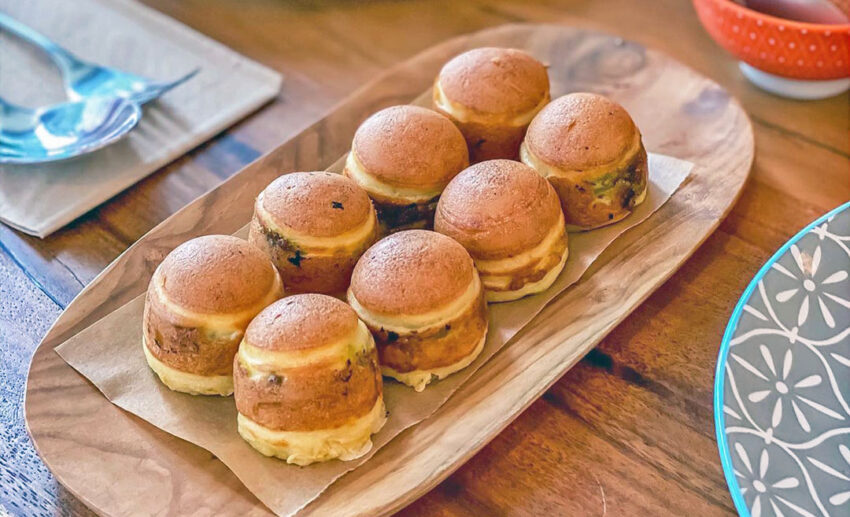 Kaya is a coconut jam found in many places throughout Southeast Asia. The spread is made of coconut milk, eggs, sugar, and is sometimes flavoured with pandan leaves, giving the kaya pandan its signature green colour.
As good as this spread is on fluffy toast, kaya balls are the perfect street food sweet treat. Think of takoyaki, except instead of octopus, the batter is filled with a warm, melted kaya jam. They're delicious, inexpensive, and make the perfect all-day snack.
7. Sago gula Melaka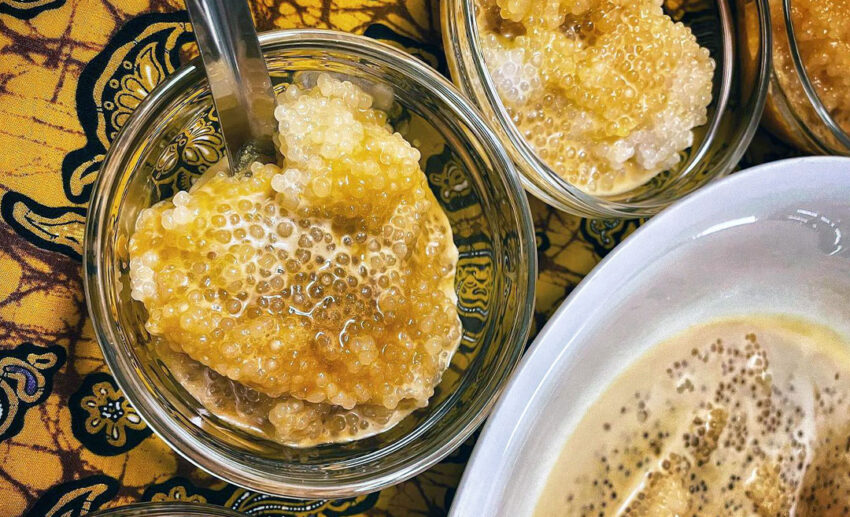 Made of four main ingredients, sago, gula Melaka (palm sugar), santan, and pandan leaves, this Malaysian desert is a must when visiting the country. Appearing on the surface like translucent pearls of sago held together in a bath of coconut milk and pandan, the pudding is served chilled before pouring the warm caramel-like gula Melaka syrup over it.
8. Tom kha gai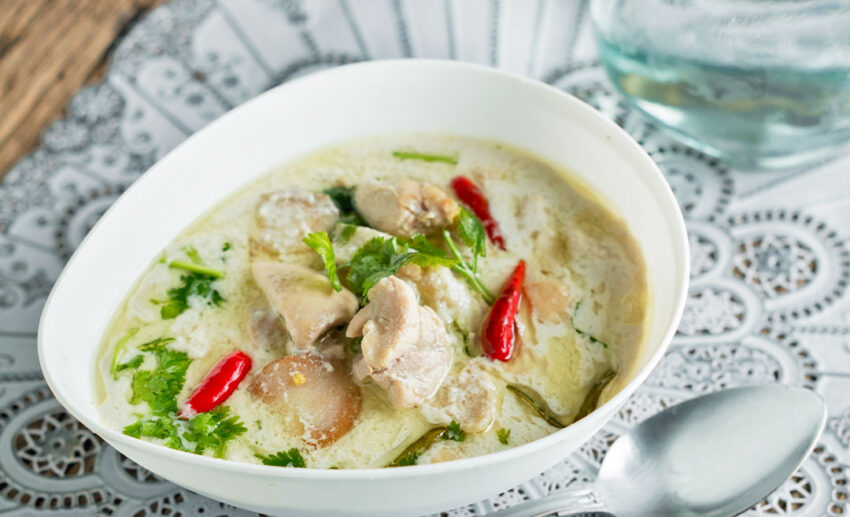 Let's head back to Thailand for another delicious santan-based broth dish. Tom kha gai is a spicy and sour coconut chicken soup made from Thai curry paste, santan, galangal, lemongrass, mushrooms, kaffir lime leaves, and chicken.
Taste-wise, this dish is an explosion of sweet, tart, salty, spicy, and citrus flavours. It's a light broth and yet entirely wholesome ,making it the perfect comfort meal. Unlike a curry laksa, the coconut-based broth is much paler in colour, but still packs a punch in spice and flavour.