One of the best ways to experience a country, its people, and culture is through its food. Asia offers a variety of exciting, mind-blowing dishes to try, and often, the best meals are found in little hole-in-the-wall places with plastic chairs and a hand-painted sign up front. Consider this your ultimate guide to the dishes you simply must tuck into on your next trip to Asia:
Som tam
This deliciously refreshing salad has a base of unripe/green papaya with fish sauce and shrimp paste balanced with some chilli, lime, and palm sugar. Other ingredients often include green beans, basil, garlic, and cashew or peanuts. Although it's mostly found in Thailand, you can also find variations in Laos, Vietnam, Malaysia, and Cambodia.
Chilli crab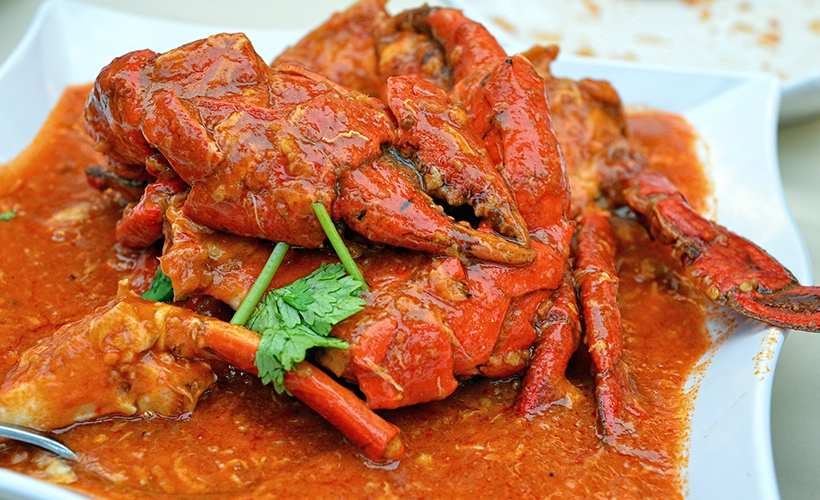 Chilli crab is a popular dish found in Chinese seafood joints throughout Malaysia and Singapore. It's usually a whole crab (you're often given a choice as to what type you'd like) in a starchy sauce made from tomato, chilli, garlic, and ginger. The dish is messy to eat and perfect to stick your fingers in. It is usually accompanied by steamed or fried Chinese buns (man tao) to soak up the sauce.
Beef rendang
A traditional dish in Indonesian and Malay dish, beef rendang combines a number of flavours. Some ingredients include ginger, turmeric, chillies, garlic, lemongrass, cardamom, cloves, cinnamon, and lots of coconut milk. The dish is cooked for hours over a low fire so that the beef absorbs the flavours and reduces down into a thick sauce. Once the sauce cooks away completely, leaving the beef to caramelise and develop a smoky flavour.
Satay (or sate)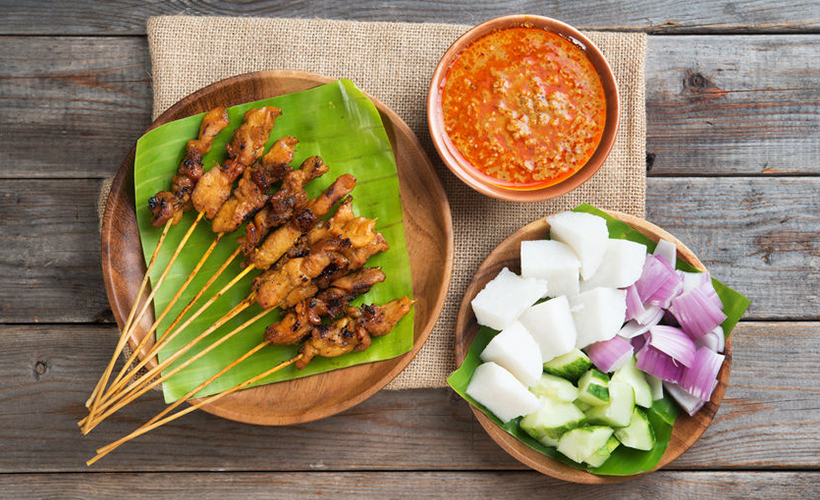 Satay is easily found throughout Asia. It's made of marinated meat, skewered and grilled over charcoal or open fires. Often, chicken, beef, and lamb are used, though sometimes you'll also find variants with gizzards, rabbit, or organs like liver. These skewers are usually served with a peanut sauce.
Momo
Momos are influenced by Chinese cuisine but is essentially a South Asian dish that originates from Nepal. These meat or vegetable dumplings are served with chilli sauce, dark soy sauce, and a side of soup.
Sushi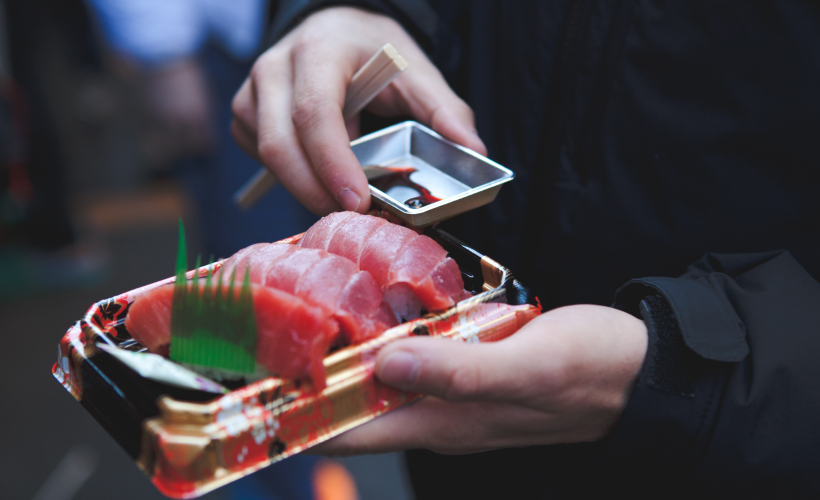 Needless to say, sushi is popular all over the world. When travelling through Asia, where better to eat sushi than the birthplace of this amazing delicacy – Japan. A bite-sized bed of fluffy vinegared rice is topped with ingredients that includes fresh fish, fish roe, and vegetables, and wrapped with dried seaweed. While in Japan, be sure to have the more traditional variants of sushi – the freshness of the fish has a sweetness and texture that can't be beat.  
Candied haws
Candied haws is a traditional candied snack also known as bing tanghulu. Often mistaken for regular candied fruit, bing tanghulu is made from Chinese hawthorns, skewered and covered in a sugar syrup, and left to harden. You'll find these everywhere in China.
Dim sum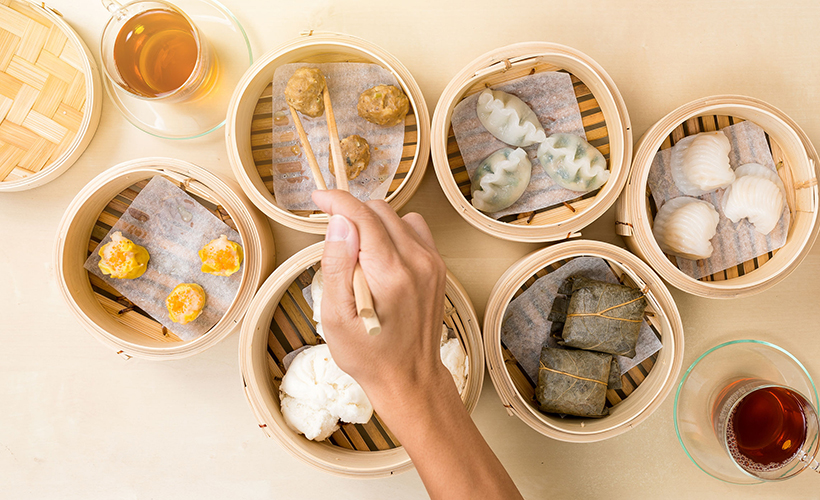 Dim sum translates to 'a little token' and refers to small portions of food presented in bamboo steamer baskets. The meal often includes steamed buns and dishes served on small plates that can include rolls, paus, meatballs, sweet desserts, cakes, tarts, puddings, and steamed dumplings. Popular throughout East Asia, in Hong Kong, you can combine a dim sum meal with a local tea tasting.
Shan noodles
Shan noodles are found at street food stalls and tea houses throughout Myanmar. The dish comprises of thin rice noodles topped with spiced meat and usually served with soup, beansprouts, deep-fried pork skins, and tofu fritter on the side.
Nasi campur
Nasi campur is a popular dish throughout Southeast Asia. It literally translates to 'mixed rice' in Malay, and serves as a staple cheap and cheerful meal. Canteens and roadside food stalls often offer a wide variety of meat and veggie dishes that you can have with your rice.  
Fish head hurry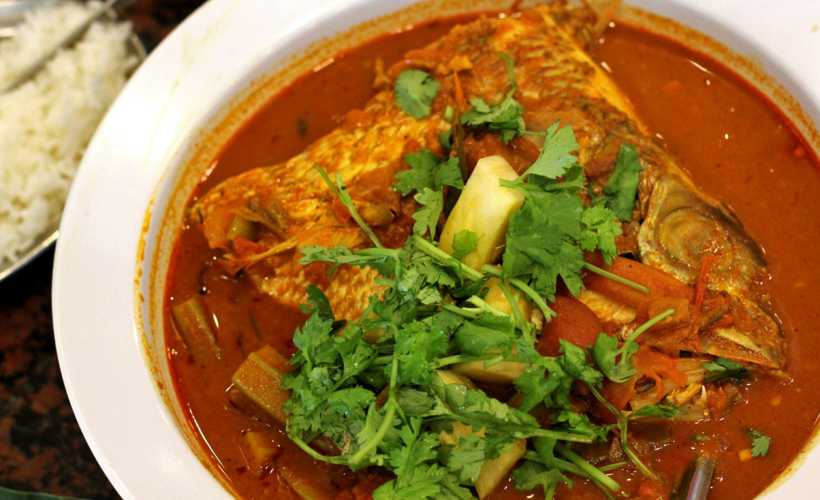 Popular in Malaysian and Singaporean cuisine, fish head curry has its roots in Chinese and Indian fare. It sees the Chinese delicacy of red snapper fish head stewed in a Kerala-style curry to create a mouth-watering meal.
Bulgogi
In some restaurants in Korea, diners cook their own meat over charcoal grills built into the tables. While ribs and fine meat cuts are a popular table-top barbecue choice, bulgogi is another popular staple. This marinated beef is cooked in a broth with mushrooms and glass noodles and enjoyed with a bowl of rice.
Bun cha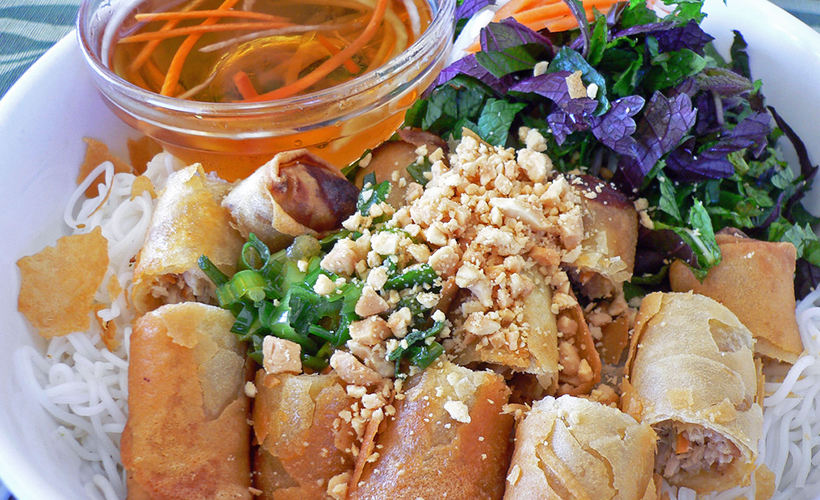 A Vietnamese favourite! Cha is grilled fatty pork and bun is noodles. Together, this delectable noodle dish is mixed with fresh herbs and a sweet and salty dipping sauce with a bit of chilli (nuoc cham).
Egg tarts
Contrary to many Macanese dishes that are influenced by Chinese cuisine, Macau's egg tarts are a product of Portuguese rule. This famous pastry sees a creamy egg custard enclosed in a crispy, flaky pastry with caramelised sugar on top. A visit to Lord Stow's is an absolute must when you're on the island.
Beef noodles
Large chunks of flavourful and soft, flaky beef served over a bed of noodles and a little vegetables and potatoes? Yes, please! Taiwan's take on beef noodles is so loved that there's even an annual festival dedicated to it in Taipei.
Mango Sticky Rice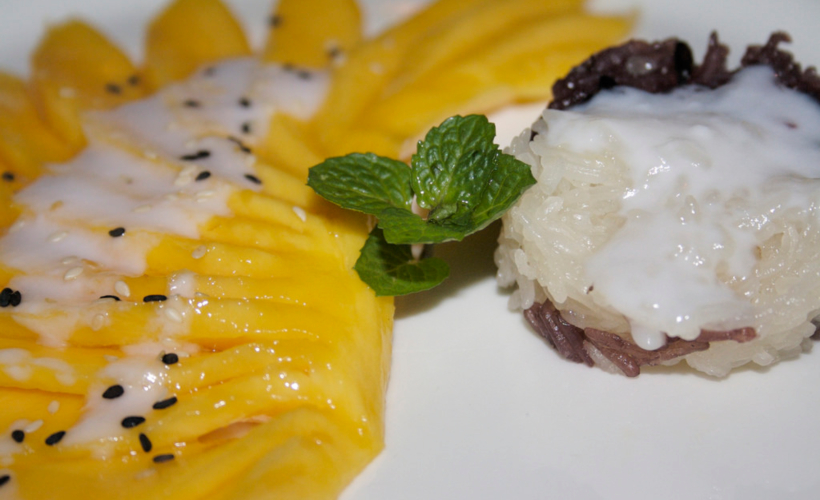 Probably Thailand's most famous dessert. This sweet delight is fresh Thai mango slices layered over coconut sticky rice and enjoyed with splashes of a coconut milk syrup. The harmony of sweet, rich, and milky is both decadent and divine.
Jianbing
Jianbing is a traditional Chinese street food that's technically a breakfast crepe. You'll find this hearty dish easily throughout the country as it's hailed as one of China's most popular street breakfasts. They are thin egg crepes folded in with scallions and chilli sauce stuffed with various fillings.
Massaman curry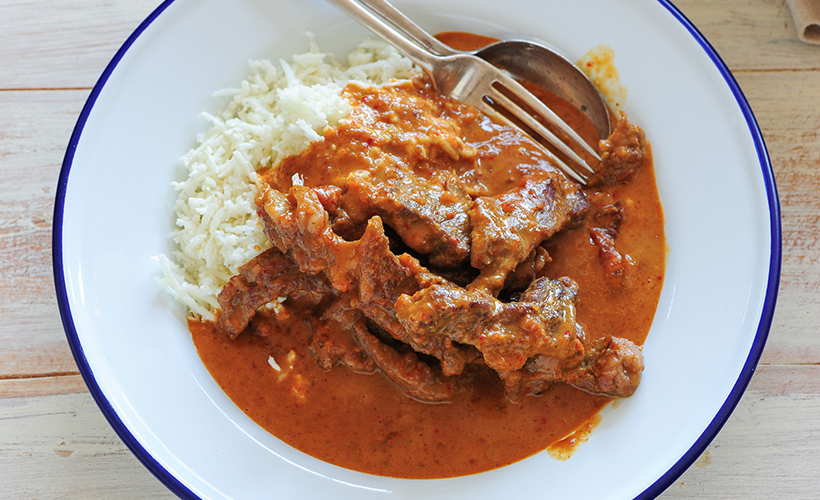 This rich curry is a traditional Thai dish. Unlike most Thai curries and dishes in general, it's relatively mild. It's made with a meat such as chicken or beef and potatoes along with pan-fried peanuts. Spices like cardamom, cinnamon, cloves, and nutmeg get thrown into the mix too.
Gulab jamun
Made from deep-fried curdled milk solids, this Indian dessert is a hit among sweet tooths. The deep-fried balls are soaked in a cardamom and rosewater sugar syrup making it super super sweet. They're best described as sugary, spongy dough-like dumplings.
Pho
Pho is pronounced 'feh' and is a rice noodle soup made with either chicken or beef broth. Possibly Vietnam's most famous dish alongside banh mi, this hot and hearty meal features a variety of herbs and spices including Thai basil, chillies, and a squeeze of lime along with various parts and cuts of beef.
Bicol express
Although a Pinoy classic, this pork dish from the Philippines is surprisingly spicy unlike other local dishes. Popular throughout the archipelago, it's made in a traditional Bicolano style. The viand is infused with garlic, chilli, ginger, and shrimp paste before being simmered in coconut milk and served with a side of rice.
Peking  duck
Especially popular in China and Hong Kong, this comprises of an oven-roasted duck prepared to crispy perfection with a thin, crispy skin and soft, moist meat. The duck meat is shredded and eaten wrapped in thin pancakes with cucumber, scallions, dried chili in oil, and hoisin sauce.
Summer rolls
The Vietnamese spring roll, or gỏi cuốn, is also known as a summer roll. Packed with fresh vegetables, you can also enjoy these rolls with a choice of meat, vermicelli (rice) noodles, and fresh herbs rolled tightly in rice paper. The rolls are served with a peanut sauce known as nuoc leo.
Dum aloo
A traditional part of Kashmiri Pandit cuisine, this dish originates from India, and is also popular in Nepal, Tibet, and Bhutan. A potato-based dish, small golden-friend potatoes and sautéed onions are cooked in a deliciously-spiced tomato gravy.
Fruit rojak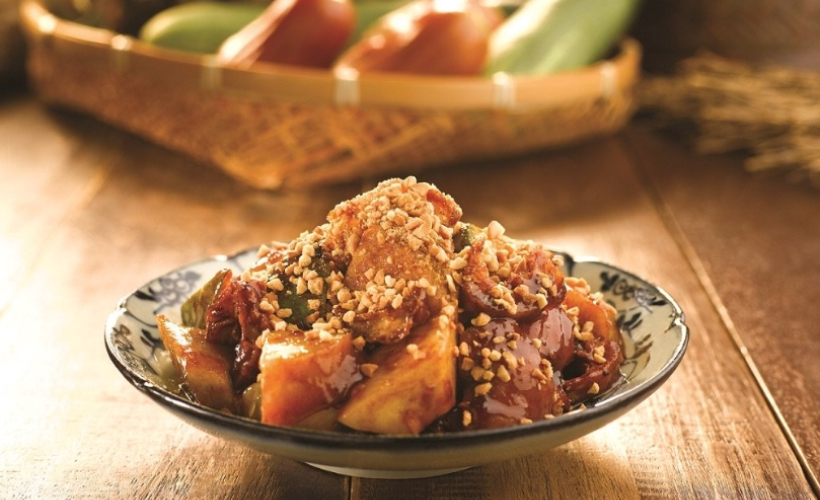 This treat is a mixture of cut seasonal fruit topped with a chilli and tamarind dressing. It's mostly found in Indonesia and Malaysia in roadside stalls or food trucks, but also popular in Singapore.
Khao jee sandwich
This street food in Laos has its roots in French colonial influences. Also known as the Lao baguette, there's a wide variety of fillings you can have in your sandwich, though common favourites are pork liver pate, steamed pork (known as 'moo yor'), carrot, radish, and cucumber.
Takoyaki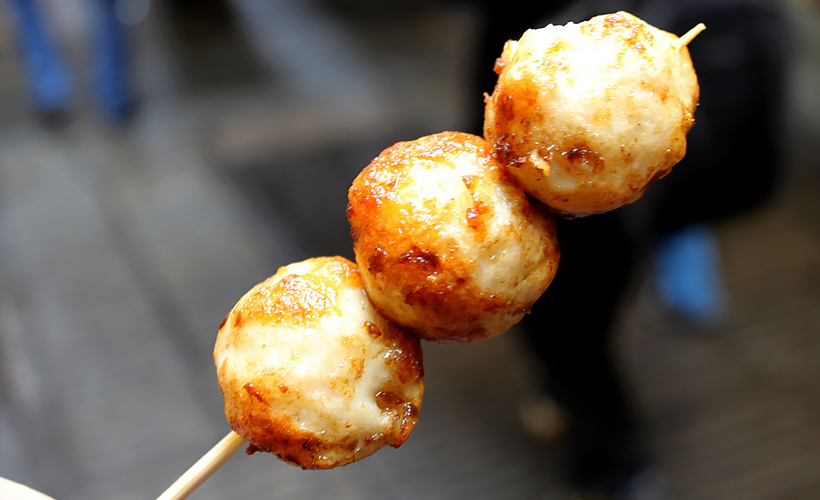 Commonly found at street food stalls in Japan, Takoyaki is diced octopus dough balls willed with spring onions, pickled ginger, and tempura scraps. They're served in a 'boat' and topped with mayonnaise and a sauce similar to soy sauce.
Fish amok
Although other meats can be used to prepare this steamy dish, the favourite in Cambodia is fish. This meal is prepared by infusing fresh fish with coconut cream, ginger, galangal, turmeric, lemongrass, kaffir lime leaves, and Khmer curry paste before steaming it in banana leaves.
Larb moo salad
A popular Thai street dish, larb moo is a spicy salad made from minced pork stir-fried with lime juice, chili flakes, fish sauce, and herbs like mint leaves. This spicy pork salad is enjoyed with sticky rice.
Curry mee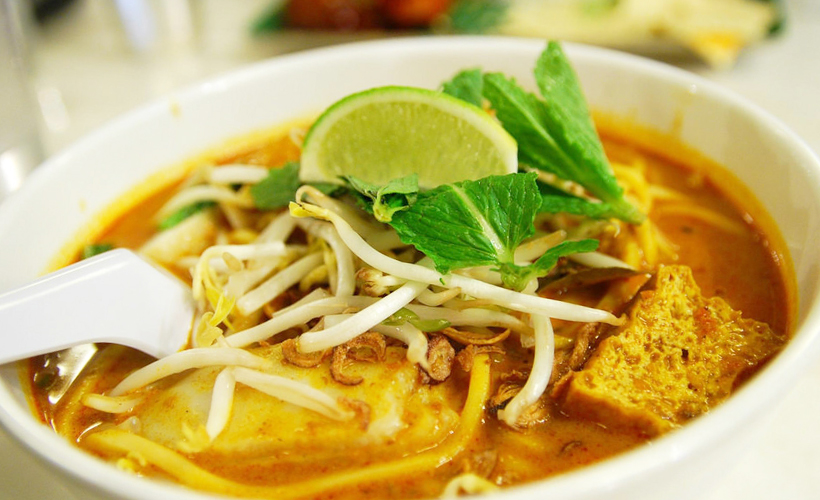 Curry mee is a Malaysian staple made with of a spicy coconut curry soup served with egg noodles, fried tofu, beansprouts, and (sometimes) cubes of congealed pigs blood or chicken strips. While some restaurants may serve the non-halal version of this dish, there are many that serve the halal version with the chicken strips.
Tandoori chicken
Tandoori chicken is an Indian dish. Several spices that give it its signature orange tinge are added to chicken pieces which are then marinated overnight. The chicken is skewered the next day and cooked in a large earthenware oven. Finally, it's smoked, leaving the chicken soft on the inside and crispy on the outside. Tandoori is best enjoyed with a mint dip and naan.
Khao soi curry
Served in northern Thailand, Laos, and Myanmar, khao soi is a coconut curry noodle soup made with aromatic and dry spices. The curry usually includes either chicken or beef, and is served with soft egg noodles and topped with crispy egg noodles to add a bit of crunch to the meal.
Adobo
Adobo is a product of the Spanish colonisation of the Philippines. Meat (chicken, pork, or both) is cooked over medium heat after being marinated in a sauce that includes palm vinegar (suka), oil, ginger, garlic, black pepper, and soy sauce.
Halo-halo and ais kacang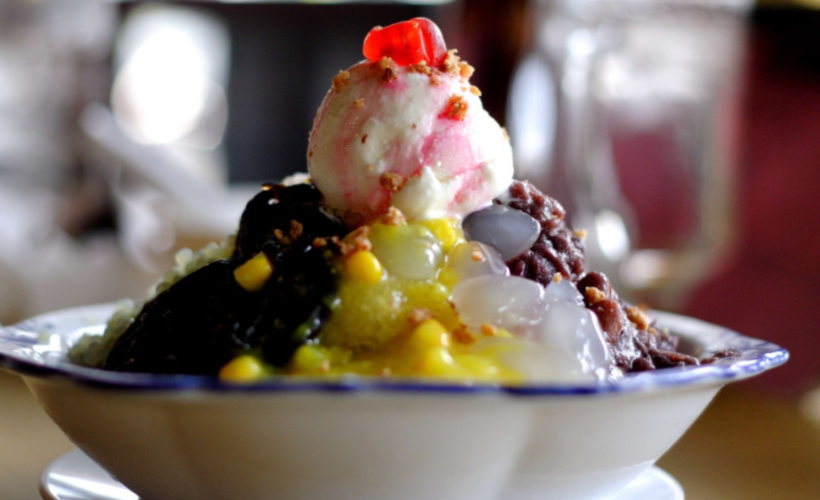 Halo-halo literally translates to 'mix-mix' and is a common treat in the Philippines. It's exactly what the name suggests: a whole bunch of sweet things mixed with shaved ice and topped with evaporated milk. Although the toppings vary, halo-halo usually has yam (ube), jelly, coconut, jackfruit, bananas, yam ice cream, and crème caramel (leche flan).
A similar dessert called ais kacang is found in Malaysia, Singapore, and Brunei. Perfect on a hot day, this variation sees red beans, sweet corn, grass jelly, and cubes of agar jelly as the toppings over a bed of shaved ice that's been topped with evaporated milk, palm sugar syrup and rose syrup.
Turon
A popular street food in the Philippines, this snack is made by wrapping bananas, jackfruit, and brown sugar in a thin pastry like a spring roll. The roll is deep fried until the sugar melts and coats the outside with a caramel syrup. The rolls are served with ice cream.
Laksa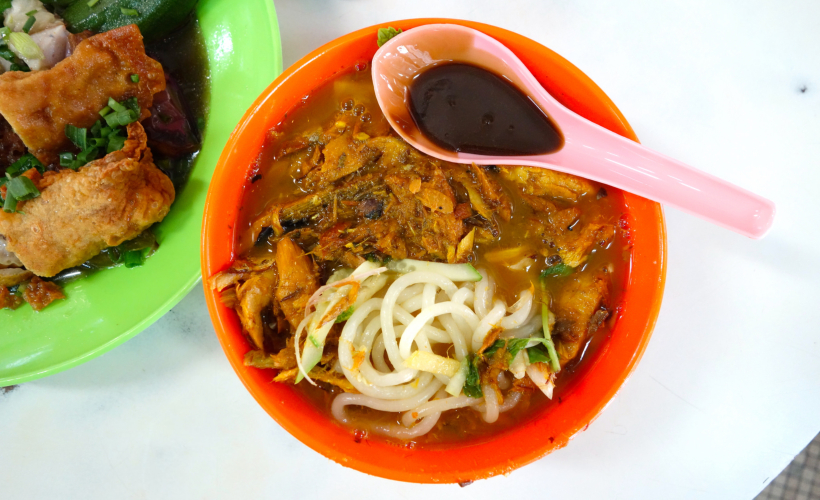 This staple is found throughout Malaysia and Indonesia. It's base is a hearty and spicy broth made with coconut milk, curry, fish cake, shrimp, beansprouts, lemon grass, citrus, noodles, egg, and tofu. Sometimes the seafood is substituted with chicken. The soup can be watery or thicker with as little liquid as possible. Depending on the type of laksa it is, the soup can also be curry-like (kari laksa) or tangy and fishy (assam laksa)
Fish Balls
Fish balls are made from minced fish meat mixed with vinegar, garlic, sweet soy sauce, and spring onions and then shaped into balls. It is usually eaten in soups or skewered. They can be cooked, fried, or steamed and served in street stalls or food trucks throughout Asia. Common countries to spot them in are Thailand, Malaysia, Taiwan, Hong Kong, and so on.
Bánh xèo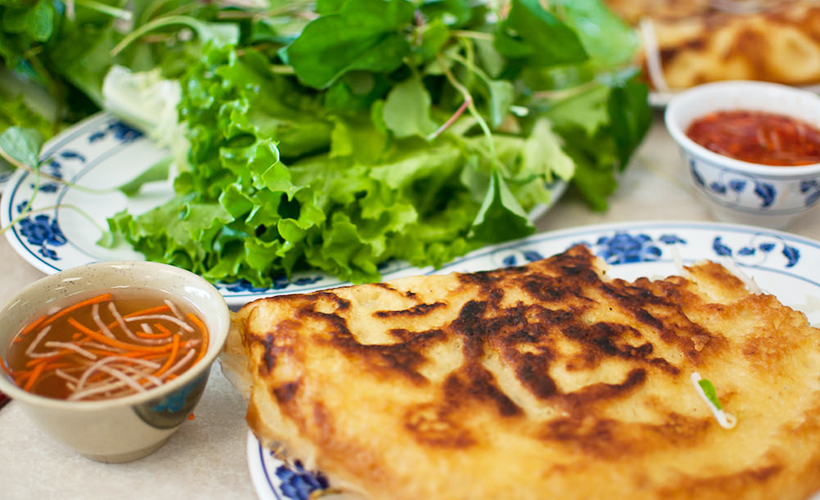 Keep an eye out for this delicious crispy pork and shrimp pancake when you're in Vietnam. Literally meaning 'sizzling pancake', Shrimp and minced pork are fried and stuffed into a rice and turmeric and then topped with beansprouts and fresh herbs, and dipped in nước chấm sauce to round it off. It's a great snack for when you're exploring. There are also vegetarian options for this.
Babi guling and lechon
Both are slow-roasted pork dishes. Babi guling is found throughout Indonesia and includes flavours like ginger, galangal, chilly, shrimp paste, and a variety of spices from turmeric to black pepper. Lechon is a similar suckling pig dish found in the Philippines. Both spit roasts have an amazingly crispy skin. To achieve this, babi guling is glazed with coconut water while lechon is glazed with Sprite.  
Pad ka prao gai
This fragrant meal of basil and minced chicken stir-fried with garlic and chillies can be found all throughout Thailand. The dish is usually served with rice and a fried egg. If you're not a fan of spicy food, be sure to ask your server to tone down on the spiciness.
Yum woon sen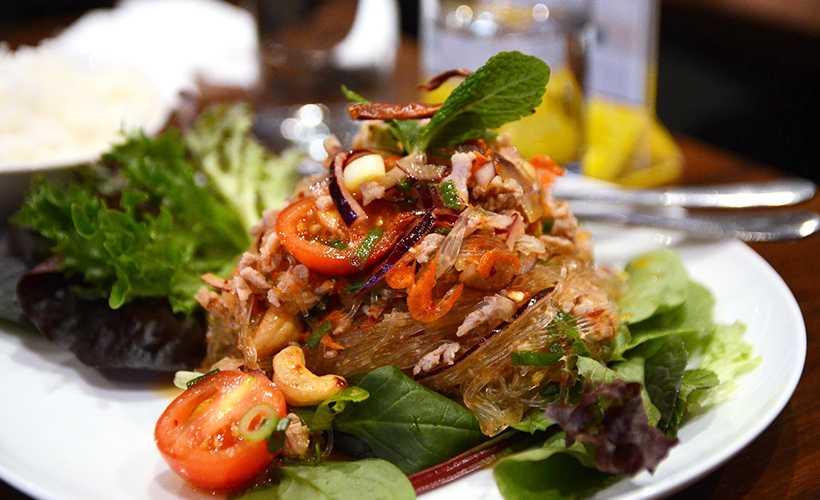 Also known in Thailand as glass noodle salad. This is a super spicy dish of glass noodles mixed with fresh vegetables, peanuts, coriander, and lots of chillies. The sauce is made with Thai fish sauce, lime juice, and sugar.
Panipuri
Found throughout the Indian subcontinent, panipuri is a popular street snack made from unleavened bread that's been hollowed out and deep-fried until crispy. It's then filled with potato, chickpeas, coriander, chilli, and chutney. Finally, flavoured water is drizzled over it for extra flavour.
Masala dosa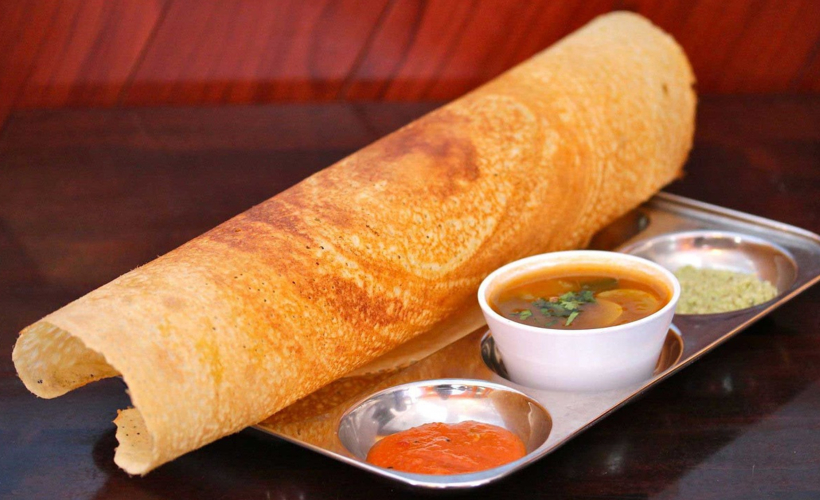 This is a breakfast food found in Southern India. Dosa is a pancake-like bread made by soaking rice and lentils overnight and then blending it into a batter. Once cooked, it's stuffed with potatoes spiced with fenugreek and curry leaves. You can also opt for a plain dosa. Dosas are served with chutneys and sambar (a lentil-based stew cooked with tamarind).
Dan bing
Similar to China's jianbing, this popular Taiwanese breakfast is a crêpe made from water, flour, and corn starch. It's cooked and layered with beaten egg and toppings that can include spring onions, chicken, bacon, cheese, basil, tuna mayonnaise, and fried chicken.
Pajeon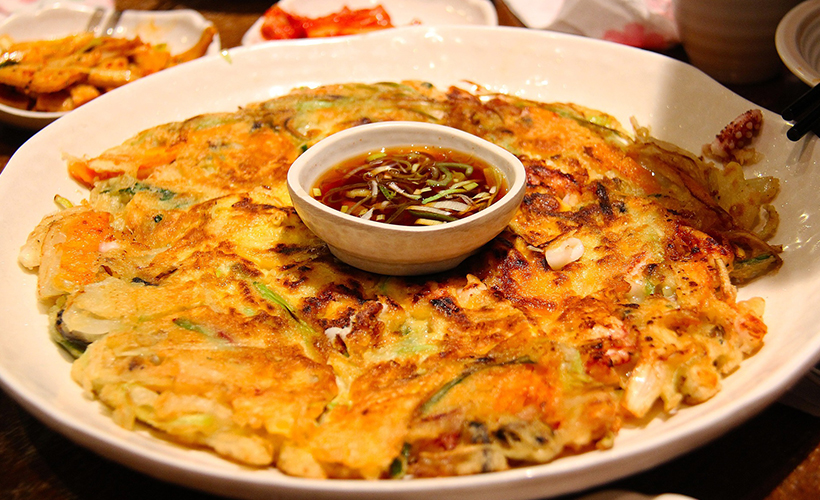 Pajeon is a Korean favourite. This green onion pancake has scallion as a prominent ingredient, although jeons (the 'pa' means scallion) do come in many variations. While tasty in its classic form, do consider trying its variations that come with kimchi (spicy pickled cabbage), shellfish, squid, or meat.
There's no doubt that after a trip through Asia, you might come back a few kilos heavier. That's okay though. It's just a sign of a trip well enjoyed (and eaten)!
Get all the latest travel stories from Zafigo. Follow us on Facebook, Twitter, and Instagram.