The Beach introduced global movie audiences to the delights of travelling in Thailand. In the movie, adapted from the Alex Garland novel, young, exuberant travellers set off on a journey of a lifetime in pursuit of paradise. Like the movie's protagonists, I too have been seeking my small patch of paradise every time I visit Thailand.
The cost of overtourism
Thousands have set off with the same aim, and it is my experience that once you discover paradise, it is time to move on. The paradise portrayed in travel websites and brochures are now crowded and far from what most would envisage.
This became very apparent a few years ago when Maya Bay, showcased in The Beach, became so overcrowded that the authorities had to shut the beach down. While it has reopened with strict new rules in place, it sent a chilling warning to the travel industry.
So, do travel with care and be aware of the effects of overtourism, as Krabi is one of the most over-touristed destinations in the world.
Getting into coastal Krabi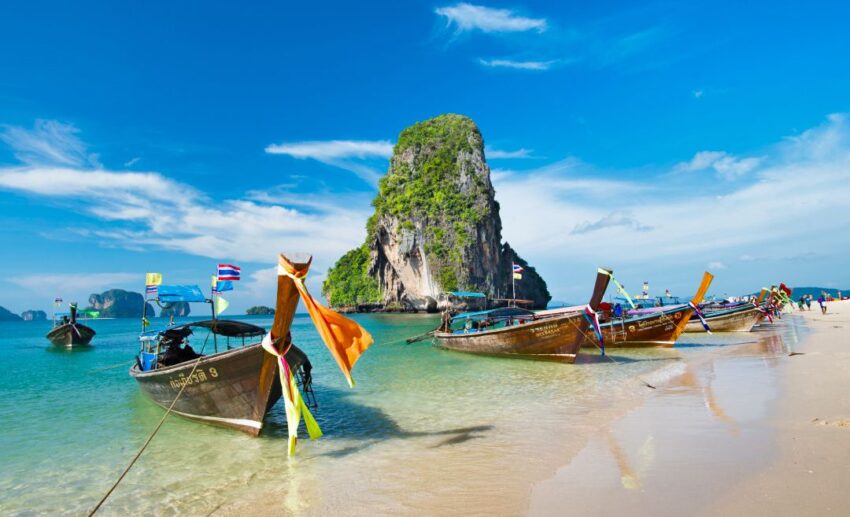 My first journey to Krabi two decades ago involved an overnight train from Kuala Lumpur to Hat Yai on the Thai border and then a mini-van adventure of several hours to the beaches of Krabi. Accommodation and services on this journey were limited and rustic.
Now, Malaysian travellers can fly directly into Krabi International Airport on one of two daily AirAsia flights, with plane rides lasting just a little over an hour from Kuala Lumpur. The new Krabi airport has obviously been built with a bright future in mind, as most of the seven air bridges are currently underutilised.
Domestic flights outnumber international arrivals with AirAsia (Thailand), for example, flying in daily from Bangkok and Chiang Mai. Other domestic carriers include Lion Thai, Nok Air, Thai Smiles, and Bangkok Airways, so travellers planning to explore Thailand could use Krabi as their gateway airport.
What I like about small airports is that the arrival procedures are much easier than at larger airports such as Phuket. Adventurous travellers may want to fly into one airport and out of the other while taking either a road or sea journey between the two.
Krabi is located halfway between Phuket and Hat Yai on the Andaman Sea side of Thailand. Phuket is a three-hour drive to the west, and it's possible to combine the two destinations on an extended holiday.
Facilities at Krabi Airport are limited, but new arrivals can hire a car (THB700-900, MYR93-119 per day), take a taxi to popular beach destinations like Ao Nang (THB600, MYR79), or use Grab's e-hailing service.
Krabi's charms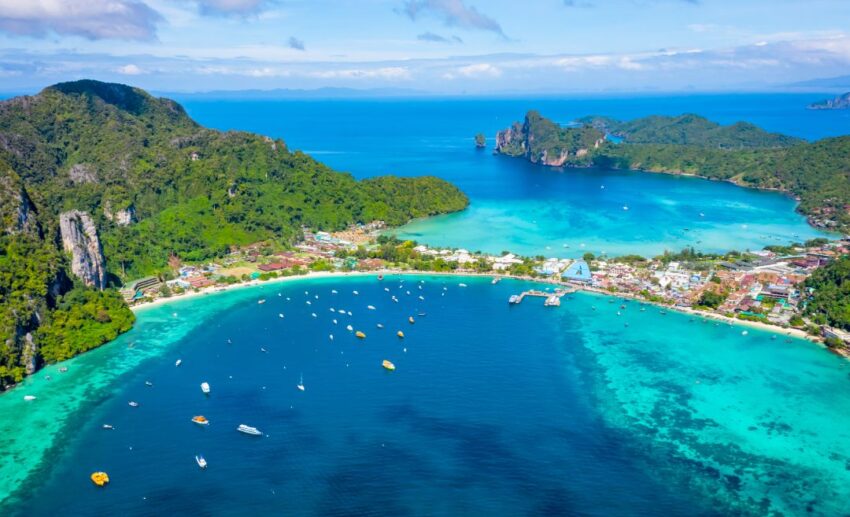 The Krabi district has a riverside town and beaches centred on Ao Nang. Krabi Town is sufficiently pleasant, and the township is located on a river, some distance from the beaches. If it's a beach holiday you're seeking, head over to Krabi's coastal side instead.
Modern-day Krabi has countless hotel options and all the services that tourists clamber for while on holidays. Intrepid travellers will seek out a variety of budget accommodations, while luxurious resorts provide all the facilities for you to check-in and chill out by the pool.
Hitting the beaches
Ao Nang, Krabi's main beach, is a one-kilometre-long stretch of golden sand, which, like most beaches in the area, is tidal. So, at low tide, it's quite shallow. Swaying casuarina trees line the beach, casting shade over the street lining the beach.
No resorts are located on this beach, and the main road can be hectic but not troublesome to cross. Being crowded, Ao Nang is perfect for partygoers who must be close to the action. It has recognisable fast food chains, international coffee outlets, and Irish bars. As a general rule, the further from Ao Nang Beach, the cheaper the accommodation.
Tonsai and Railay Beaches, to the southeast, are accessible by boat and are both better beaches, with some resorts having direct beach access. Both beaches are less crowded, although they are popular with day trippers who travel here to swim in the sea and rock climb on the steep limestone outcrops.
Resort living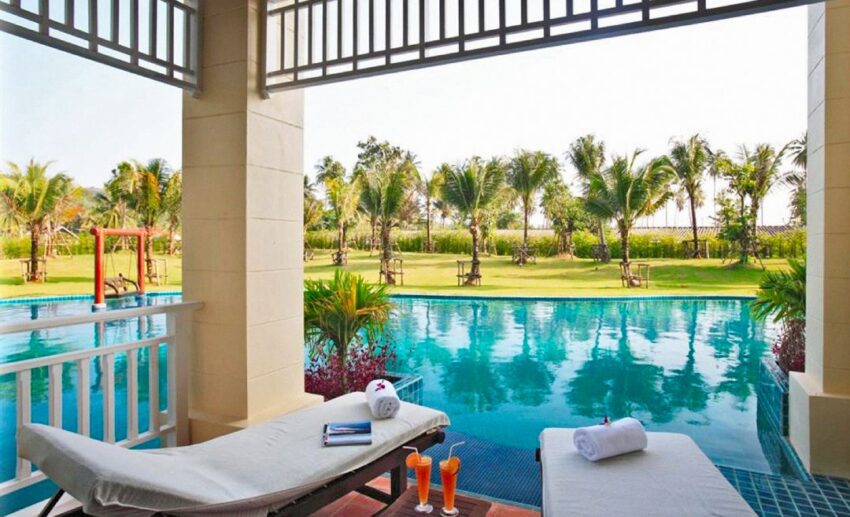 The Krabi beachfront extends for 25 km northward, up to the Banyan Tree Krabi Resort and Dragon Crest Mountain, which is located within a national park. Those seeking something closer to paradise should consider resorts away from the main beaches.
The beaches and resorts become more solitary and sedate the further north you travel from Ao Nang. It is amazing what an extra 25 kilometres can provide in holiday enjoyment, as I discovered in choosing the Sofitel Krabi Phokeethra Resort and Spa.
Guests arriving at the Sofitel can expect either a bonjour or kop khun krap greeting at this outpost of the French-owned Accor property. Sofitel is one of the few resorts along the more remote Klong Muang Beach, yet it is just a 20-minute drive from Ao Nang.
It combines a plethora of recreational activities that include a nine-hole golf course. Its colonial-style architecture creates a welcoming old-world charm, ideal for those who appreciate a less-hurried pace of life. Many rooms overlook the Andaman Sea, with some providing direct swim-up room access to the huge pool.
There's a comprehensive range of family pursuits, including tai chi, water polo, aqua fitness, Thai boxing, cooking classes, as well as treatments at Le Spa.
Island hopping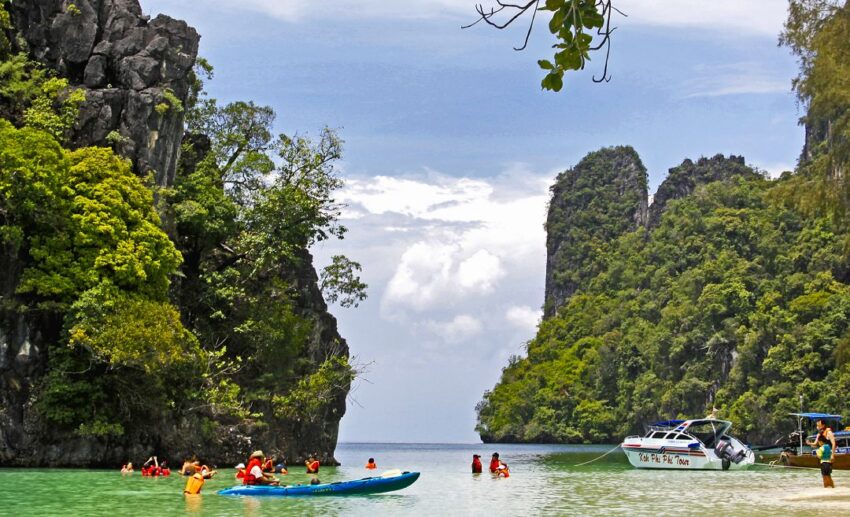 One of the most popular activities in Krabi is to island hop to other beaches and several offshore islands. Day trips to some of the islands like Koh Poda, Koh Kai (Chicken Island), and Koh Tub enable you to enjoy the real beauty of this part of the Andaman Sea.
Koh Hong is located a short distance offshore, and some resorts offer complimentary all-day island trips. Its shaded, tree-lined beaches make this a perfect family destination, especially as colourful fish are abundant in the shallow waters. Energetic visitors can also kayak around the beautiful coves and inlets on the more deserted parts of the island.
While Krabi has been well and truly discovered, it's still less crowded than Phuket, Pattaya, and Koh Samui. Its towering limestone cliffs with offshore islands perched over turquoise waters become illuminated with fiery sunsets on most afternoons, suggesting that paradise hasn't been lost – at least not yet.