Thailand, also known as the 'Land of Smiles', is one of the world's favourite holiday destinations. It offers a heady mix of beaches, islands, tropical forests, mountains, cultures, sensational shopping, and appealing resorts.
Golf is one of the reasons that tourists travel to Thailand, with some travelling there specifically to play several rounds, while others find time for a game between all their holiday activities.
While every golfer will have their favourite golf courses, I've selected ten courses offering various degrees of difficulty, ease of access, and rewarding exercise in a tropical setting.
Bangkok Golf Club
This 6,549-yard, par-72 course is located at Pathum Thani, just 30 minutes from Don Mueang International Airport, making it perfect for golfers seeking a challenging course with easy flight access.
The 151-yard, fifth hole is one of the most demanding, requiring pin-point accuracy to land on the island green with lightning-fast turf. This course proves that golf is a never-ending challenge, and if you're up to it, the course is illuminated, enabling a round late into the evening.
Where to stay: While Tinidee Hotel is located next to the course, I suggest staying at the nearby and impressive Novotel Future Park Rangsit. It welcomes golfers with superb facilities, an excellent Italian restaurant, and inviting happy-hour prices. It's opposite a large shopping centre near Don Mueang too.
Banyan Golf Club Hua Hin
Just a few hours southwest of Bangkok and with several golf courses, Hua Hin is a popular golf destination. This 18-hole, par-72, 7,361-yard course on a former pineapple farm is highly regarded in Thailand. Golfers can admire the mountain and ocean views from various holes.
With six tee boxes, the course is friendly to golfers of varied abilities. Golf carts are fitted with the latest Visage GPS technology in multiple languages to help golfers navigate the picturesque course, with vistas off to the mountains in neighbouring Myanmar.
The clubhouse combines Thai design and global dining offerings at Mulligan's Pub with a refreshing selection of local and premium draft beers, a reputable whisky collection, and inviting dishes at Terrace Restaurant.
Where to stay: Stay at Mövenpick Asara Resort & Spa Hua Hin and soak up the luxurious amenities at this seaside resort.
Chiang Mai Highlands Golf & Spa Resort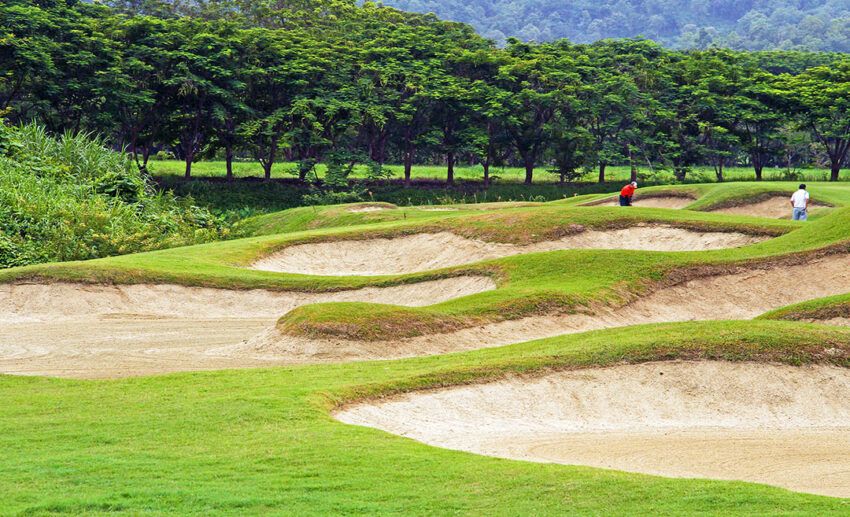 Golfers can admire the magnificent mountain views while they play at the 27-hole Chiang Mai Highlands Golf and Spa Resort. This acclaimed course has received many accolades, including being awarded Best Golf Resort in Asia by The Asian Golf Awards, selected for its tranquillity, elevated aspect, and cool weather.
There are three courses at the resort, namely Valley Course (A), Highlands Course (B), and Mountain Course (C). Award-winning golf course architects Schimidt-Curley strategically placed 130 bunkers around the course, with those on hole 3A of the Valley Course as challenging as they get.
Where to stay: Stay at hotels like the Meliá Chiang Mai to enjoy its central location and wonderful rooftop attraction, Mai The Sky Bar.
Khao Yai Country Club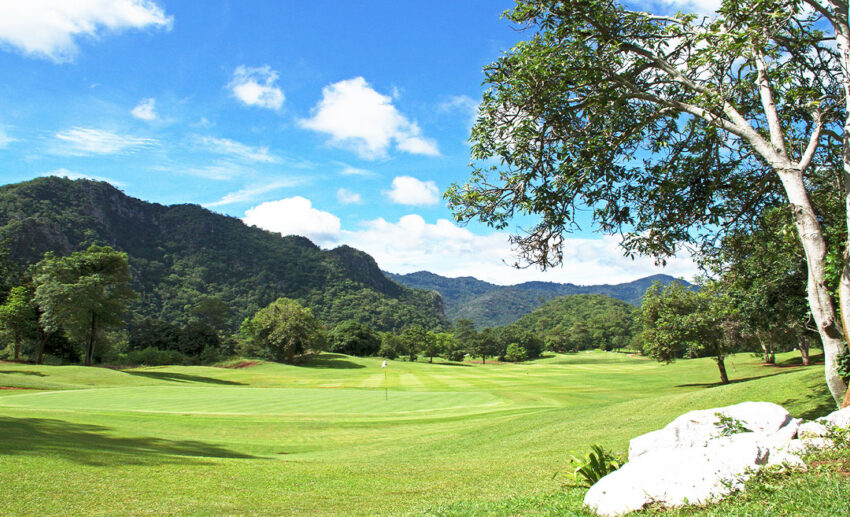 Khao Yai, a two-hour drive northeast of Bangkok, is home to half a dozen golf courses, including the 18-hole, 7,058-yard Khao Yai Country Club. The rolling limestone hills of Khao Yai National Park surround the scenic course.
Once branded Mission Hills and designed by Arnold Palmer some 25 years ago, golfers are assured of high standards on this undulating course. Holes 10 and 11 play into one of the valleys and are two of the best back-to-back holes in the region.
Where to stay: Enjoy golf while relaxing at the romantic, Tuscan-inspired Mövenpick Resort Khao Yai.
#Travel tip: Khao Yai is also the centre for the burgeoning GranMonte Vineyard and Winery, one of Thailand's most respected wine producers. Worth a visit for wine lovers!
Laguna Golf Phuket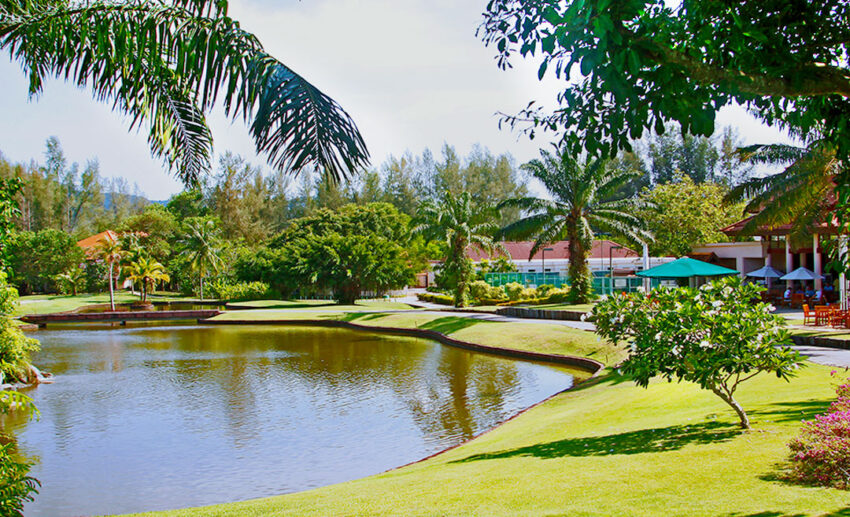 One of Phuket's oldest courses, Laguna Golf Phuket, is central to an expansive integrated tourism precinct with several resorts and many recreational facilities. The course itself is a fast-paced layout featuring undulating fairways that meander through the stunning lagoons and former coconut estates of Bang Tao.
The 554-yard, par-five ninth hole is one of two signature holes on the course; the long par-three 16th hole is the other. Being mostly flat, it's a relatively easy course to navigate, and there are rest facilities every three holes.
Where to stay: The Hilton Garden Inn Phuket Bang Tao offers golf packages, including room, breakfast, and golf transfers.
North Hill Golf Club Chiang Mai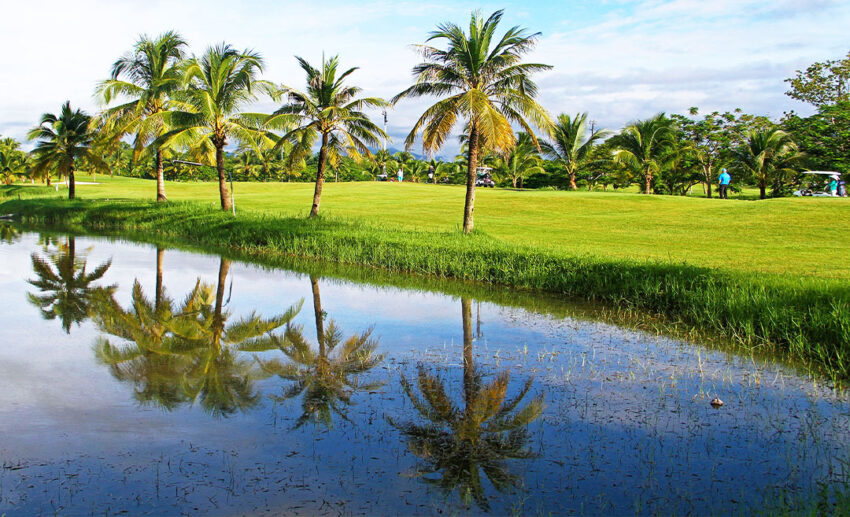 North Hill Golf appeals for many reasons, with its proximity to Chiang Mai International Airport being a big plus for those arriving on a direct flight.
Golfers quickly appreciate the importance of water on this 18-hole course, with the 453-metre-long first hole running parallel to a lake. The second and sixth holes on the course are the only ones free of water obstacles.
Straight shooters will feel right at home playing this friendly and mostly flat course of 6,207 metres, but accuracy is important in avoiding water hazards. Night golf is also offered.
Where to stay: Accommodation at North Hill City Resort includes a pool, restaurant, sky bar, and 42 rooms.
Santiburi Samui Country Club, Koh Samui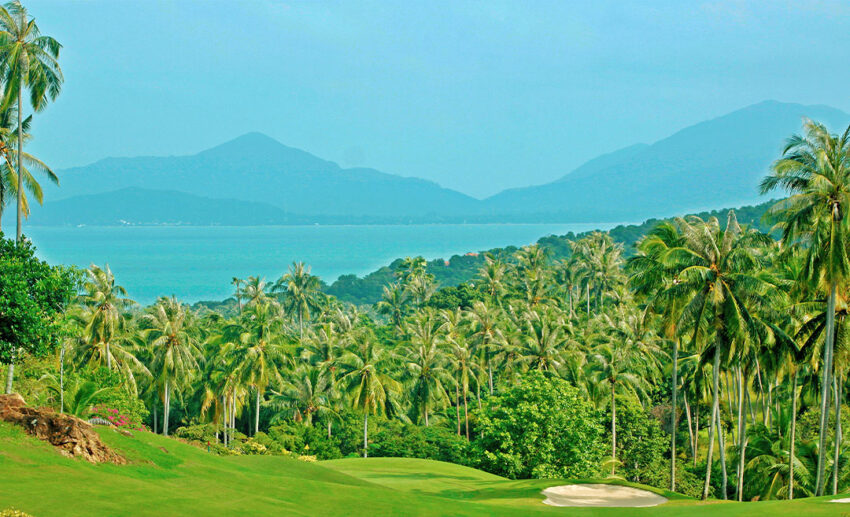 All golfers want to play at one of the region's finest and only 18-hole course on Koh Samui, the Santiburi Samui Country Club. It's situated on one of the island's highest points and is mostly covered in coconut trees, one of Koh Samui's important agricultural commodities.
This course of 6,930 yards (gold tees) and 4,717 yards (red tees) has a reputation as a hard and frustrating course. Losing balls is something that golfers need to factor into their game. Wind and dramatic rises and falls along a few holes add to the challenge of playing here. With such an undulating course, it's no surprise that buggies are a prerequisite.
Siam Country Club, Pattaya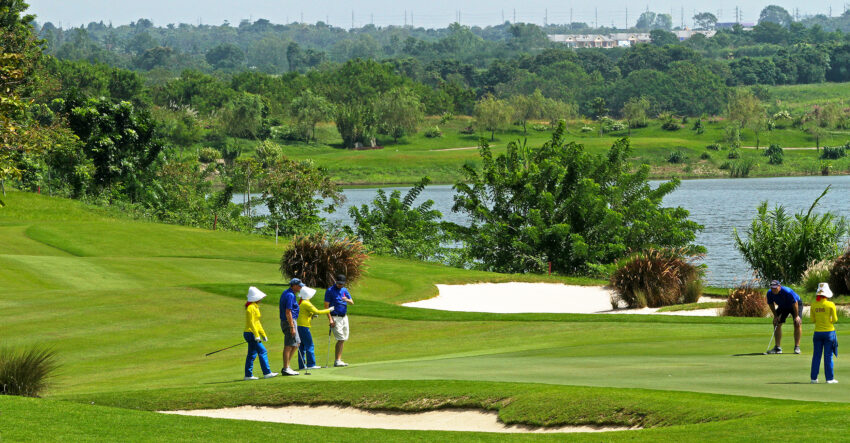 There are five courses on offer at this vast real estate. Although the Old Course is popular with everyone, neither the Plantation nor the Waterside Courses are to be neglected.
The Old Course's signature hole is the ninth, which rises gently to a hill with a Buddha structure. Naturally, this is the hardest of the courses to get a tee time for, with advanced bookings recommended.
The Plantation Course features 27 holes, par-108 and is more hilly and challenging than the Old Course. This course has no water, but the contoured fairways make it challenging.
Waterside is a new course that first welcomed golfers in 2014. This course is great for those new to the game, with the red tees ensuring everyone has a leisurely but enjoyable game. However, it's not as easy as it looks as the wind comes into play around its lakeside holes.
Springfield Royal Country Club, Hua Hin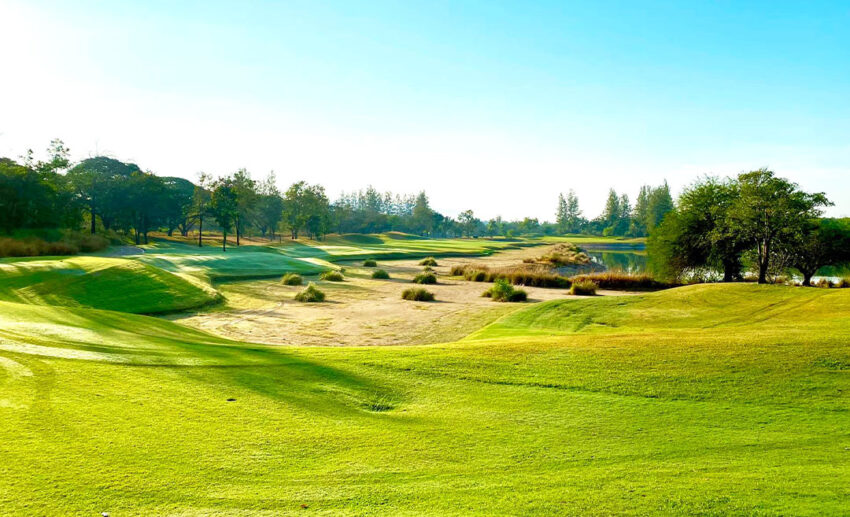 Dating back to 1993, Springfield Royal Country Club is one of Hua Hin's pioneer courses. The Jack Nicklaus-designed courses are the reason why golfers are attracted to Springfield. Rolling hills demarcating the Myanmar border are clearly visible.
With its challenging signature par-three sixth hole, it's easy to see why the course is ranked among Thailand's top courses. Golfers appreciate that this is a championship course and not a resort course.
Where to stay: Hua Hin appeals with its variety of accommodations, including the SO Sofitel Hua Hin, with its extensive range of seafront recreation facilities.
Summit Green Valley Chiang Mai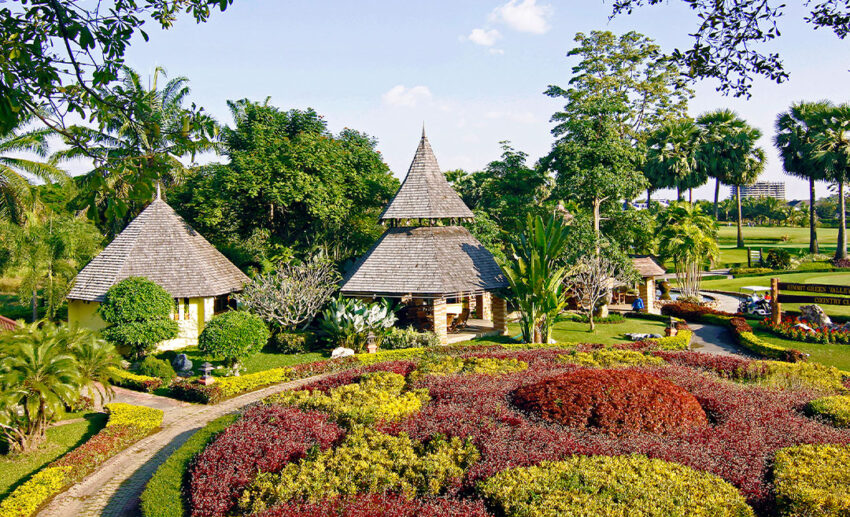 Opened in 1990, the Summit Green Valley is table-flat with water features on most holes. Wayward shots that end up in the rough make the course challenging for those new to the game. The greens can also be difficult, as bunker placement means that approach shots need to be accurate.
The signature par-four ninth hole is encircled by water hazards, and sand covers much of the left-hand side. However, the 430-metre 13th hole is the most difficult one, with water and bunkers waiting to entrap wayward balls.