Whether you're a solo traveller, honeymooner, or part of a fun-loving group, Chiang Mai has got it all for food (and more). From fabulous thrifting experiences to mouthwatering cuisine, captivating historical buildings, temples, and breathtaking scenery, this place truly has something for all travellers. It's clear to see why Chiang Mai is quickly becoming one of Thailand's must-see destinations.
Now, let's talk about food, because don't we always? Finding halal eateries can sometimes be quite a task for Muslim travellers, but now, Muslim-friendly options are gaining popularity worldwide, and Thailand is no exception. While these culinary gems may not be all over social media, they're halal and worth visiting if you're in the mood for some good food.
1. Takawa Halal Cuisine
A quick 15-minute drive from Chiang Mai town will take you to Takawa Halal Cuisine, a food spot serving up some authentic Thai dishes. A delightful two-course meal will only set you back around THB300 (roughly RM40) per person!
Let's talk about their mouthwatering Morning Glory Spicy Salad, an absolute must-try. It's a perfect blend of crunchy, spicy, and sweet flavours that will leave your taste buds dancing with joy. But of course, try more than just that!
Address: Chiang Mai Land 10 Alley, Tambon Chang Khlan, Mueang Chiang Mai District, Chiang Mai 50100, Thailand
Contact: +66 88 267 6660
2. Mat'am Ikhwan Chiang Mai
This little gem is a haven for all foodies, offering various affordable and delectable Thai dishes, including classic favourites like pad Thai, banana pancakes, burgers, and som tam. Conveniently situated near Al Jamiah Mosque, this eatery is easy to find.
What makes Mat'am Ikhwan even more remarkable is the heartwarming story behind it. The owner is a true social entrepreneur with a noble mission – supporting widows, orphans, and the less fortunate. So, when you choose to dine here, you're not only treating your taste buds but also contributing to a worthy cause indirectly. We're all for ethical travel!
Address: หน้ามัสยิด, 1/13 Changklan Rd, Tambon Chang Khlan, อ.เมือง, Chiang Mai 50100, Thailand
Contact: +66 85 583 8375
3. Khao Soi Islam Noodles
Discover the ultimate halal street food paradise at Charoen Prathet 1 Alley! This vibrant spot offers many mouthwatering dishes from street vendors, restaurants, and weekend markets.
Don't miss out on Khao Soi Islam Noodles, a famous spot serving must-try northern Thai noodles with drinks and samosas – all for under THB200 (roughly RM27). Just be sure to check for road closures during events, and consider a tuk-tuk ride due to the narrow roads.
Address: 24 Charoen Prathet 1 Alley, Tambon Chang Moi, Mueang Chiang Mai District, Chiang Mai 50100, Thailand
Contact: +66 82 392 0142
4. The Baragus
Hankering for some delicious meat dishes during your trip? Look no further than The Baragus for an unforgettable shabu shabu experience – a must-try in Chiang Mai! This place stands out as an authentic halal cuisine spot so you can indulge worry-free.
Prepare to be delighted by their extensive menu, offering a tempting selection of set meats, seafood, and a la carte dishes. Their duck rice is out of this world, so order that if you can!
Address: Nong Pa Khrang Sub-district, Mueang Chiang Mai District, Chiang Mai 50000, Thailand
Contact: +66 53 248 801
5. Chef's Table by All About Beef
More meat lovers, rejoice! At Chef's Table, you're in for an extraordinary fine dining treat, lovingly crafted by a talented family of cooks. Get ready to take your senses on a culinary ride by Chef Nai, the acclaimed winner of Iron Chef Thailand.
This is no ordinary dining experience – each dish is carefully created with the finest meats and has a unique story. Starting at just THB1690 per person (roughly RM225), you'll be treated to a delightful feast from delectable starters to irresistible desserts. But be sure to make reservations beforehand.
Address: 182/3 Chiang Mai Road, Chang Moi Sub-district, Amphoe Mueang Chiang Mai, Chiang Mai 50300, Thailand
Contact: +66 93 137 2784
6. Mira Cuisine
Discover Mira Cuisine, your go-to spot for affordable dim sum by the pool! With picnic-style dining perfect for big groups, you can expect a variety of Western and Thai dishes, and desserts. It's also just 20 minutes from Old Town Chiang Mai. Plus, they even have a comfy prayer room.
Address: ท่าศาลา 74/5-6 Ban Pea Rd, Tambon Tha Sala, Mueang Chiang Mai District, Chiang Mai 50000, Thailand
Contact: +66 63 114 8431
7. Feen Caffeine Cafe & Bistro
Blending Western and Indian favourites, this delightful eatery known as Feen Caffeine Cafe & Bistro should be added to your food list whilst in Chiang Mai. Think grilled salmon, Australian steak, beef curry, and more. Feen Cafe not only boasts a delectable menu but also shines for its coffee selections; and they open as early as 7:30am.
With a relaxed and casual dining vibe, this cosy place allows you to enjoy a game of chess while waiting for your food to arrive. So, if you're looking for a delightful fusion dining experience, make your way to Feen Caffeine Cafe & Bistro – it's the perfect blend of flavour and fun!
Address: 326/3 Chiang Mai-Lamphun Rd, Tambon Wat Ket, Mueang Chiang Mai District, Chang Wat Chiang Mai 50000, Thailand
Contact: +66 90 330 1621
8. Hakusai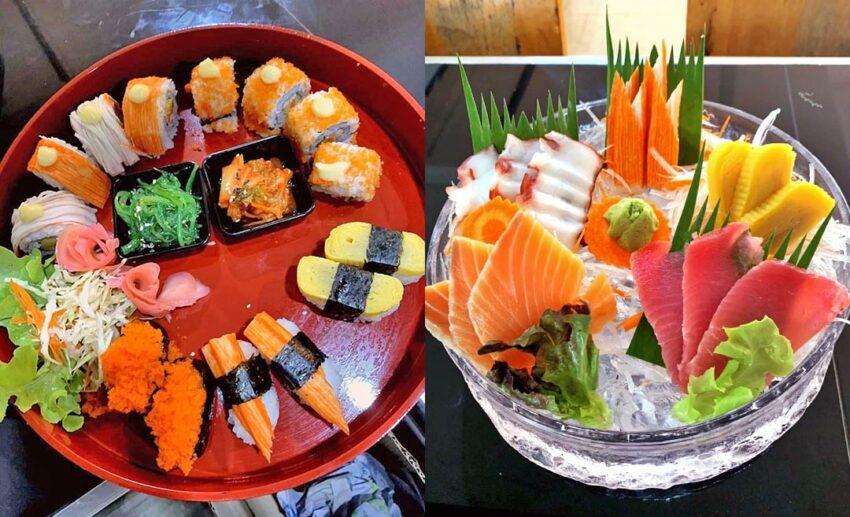 If you're craving halal Japanese cuisine like sushi and sashimi, look no further than Hakusai! The speciality Chinese cabbage is a crowd favourite, and their mouthwatering salmon sushi selections are too tempting to resist.
Stepping into Hakusai will transport you to Japan with its traditional tatami seating and soothing neutral interior. Authentic Japanese dining in Chiang Mai doesn't get any better than this!
Address: VX3P+89V, San Phi Suea, Mueang Chiang Mai District, Chiang Mai 50180, Thailand
Contact: +66 81 952 2452