For my family and I, a trip to Langkawi is nothing new. But a certain draw to the magical island keeps us coming back. Perhaps it's the tax-free chocolates and crockery, but it's more likely the tax-free alcohol. Whatever it is, exciting activities abound all around the large resort island, making it one of Malaysia's foremost holiday destinations. After all, whether you're a nature lover, a beach bunny, or looking for a hedonistic escape, this sun-soaked destination will have something in store.
If Langkawi is the 'Jewel of Kedah', then the newly-opened Parkroyal Langkawi Resort in Pantai Tengah adds a lot of sparkle. It's a gem of a resort that only just opened its doors in February of this year, and even then, it's already teeming with happy holidaymakers. Here's how my family and I spent (almost) 100 hours of fun at the resort. Read on, and you may land yourself a 72-hour stay of your own for free!
Day 1 – Settling in
Our day starts early with an 8am run to KLIA to catch our flight. The timing works out perfectly though, as once we land, our driver collects us to run some errands. By 12:30pm we're having a lovely lunch along Pantai Tengah — at Boat Restaurant, a family favourite for their Guinness Chicken dish — before heading to Parkroyal, that's actually within walking distance.
The usual check-in time at the hotel is 3pm, as with most other properties. However, the hotel is kind enough to get our villa ready early, and by 2pm we've dropped our bags while the little one squeals for a swim. While making our way to our villa, we notice that although the property isn't sprawling, it's still a large hotel with over 300 rooms and suites.
But first, we must explore the one-bedroom villa. Equipped with a small private pool and a direct connection to the beach, this respite is already hard to beat. But what makes it better is that the bedroom itself is located on the first floor, with the living area, dining table, kitchenette (equipped enough for cooking small meals), and a water closet make up the ground floor. What this means for a small family like mine is that we get to enjoy the evening without worrying that we'll wake the little one at night. But if she needs us at any point, we're right there for her.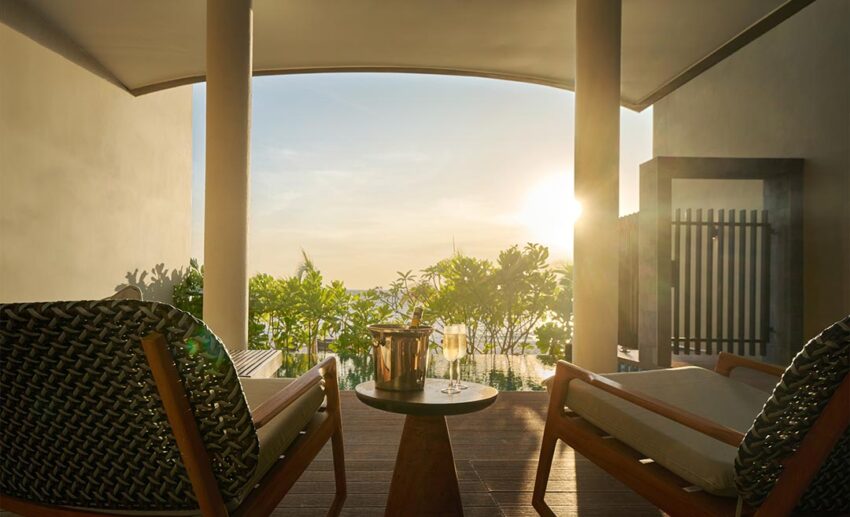 Another perk of the master bedroom and bathroom being on a higher plane is the sweeping vista you get to enjoy from the balcony. It's breathtaking, especially during sunset when the Straits of Malacca are imbued with hues of orange, pink, and purple.
You'll also be glad to hear of this next luxury feature that the villas at Parkroyal Langkawi Resort boast — each of the property's seven villas has a butler service. So efficient is Saran that he turns up for the entire family when we need him. And if he's not there, he's a quick call or WhatsApp message away. Of course, he goes off duty, but he informs me every evening, which I appreciate. And it helps me know when not to bother him.
Even without Saran around, the service throughout our entire stay is top-notch. The staff are attentive, warm, friendly, and are among the core reasons that checking in here was such a pleasure.
We culminate our arrival with a swim and more food with family.
Day 2 – The fun stretch
After a good night's rest, we start the day with a hearty breakfast at Cassia, the hotel's coffeehouse. Breakfast comes included with the room; boy, what a spread it is! From early morning up until 11am, sink your teeth into a plethora of Asian and Western fare. Like a breakfast tour around the world, your favourite early morning eats are all present — nasi lemak, roti canai (extra garing just the way we like it), congee and its myriad accompaniments, a buffet of cereal, cheese boards, egg station, and countless more items. It gets extremely busy, so note the high traffic times and come before or after.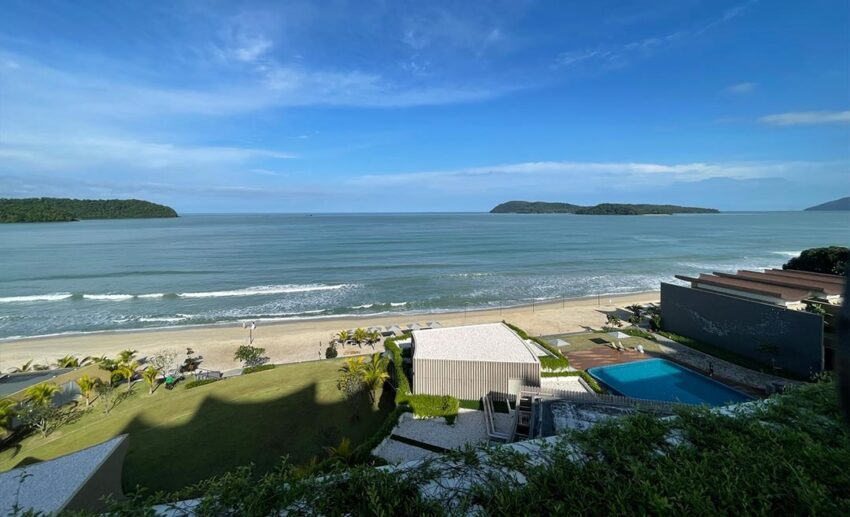 If you're wondering why I've called this section the fun stretch, that's because the Parkroyal Langkawi Resort is along the busiest stretch on the island. On the beach, Pantai Tengah and Pantai Cenang are separated by a massive rock, breaking the stretch in two. So while you get the quietude and seclusion of a more exclusive stretch, you're still right next to the action in Cenang.
The Parkroyal Langkawi Resort is the only major chain hotel along this main stretch, making it an immediately popular choice for travellers. Among the numerous food joints, bars, and restaurants along the stretch are other fun attractions, such as Underwater World — a must whenever we're in town. This is always followed by a round of chocolate and kitchenware shopping. It may seem random, but it's totally worth it being tax-free.
There's other shopping to enjoy, such as if you're looking to cop new swimwear or local resortwear.
We then spend the rest of the day enjoying the resort and its myriad amenities before settling for the night.
Day 3 – More fun in the sun (and out of it)
As I'd said, the Parkroyal Langkawi Resort is family-friendly. It's day three, and we've thoroughly enjoyed the sprawling ocean-facing pool that comes with (a poolside bar and) a mini splash park fitted with slides, water cannons, and sprinklers for the kids. Though truth be told, this big kid enjoyed it just as much! It helps that our villa is right next to the pool, making it easy to run between our own private plunge pool and the larger shared one.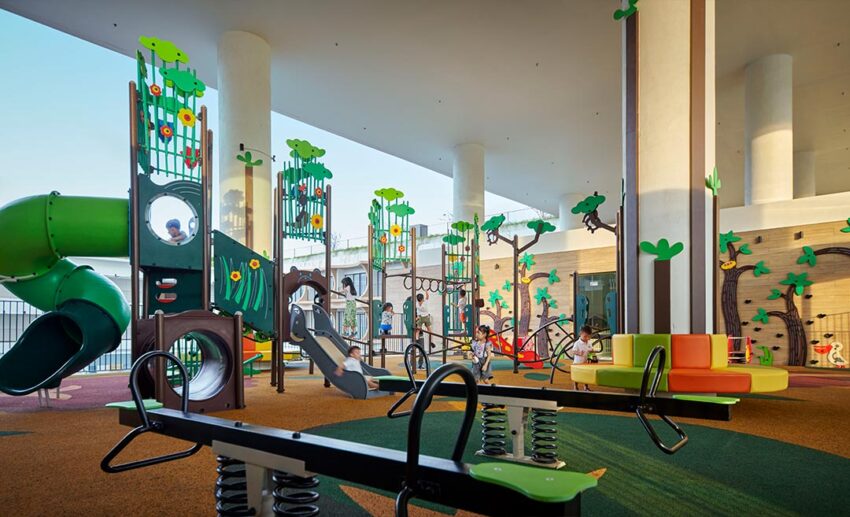 Of course, the little ones can't spend the entire day in the water as much as they'd like to. There are other ways to expend the kids' energy: heading to the Jungle Camp! Suffice to say, the space is a safe and kid-friendly paradise with a large outdoor covered jungle gym and indoor playroom where a schedule of activities can be enjoyed. From colouring to sand art to origami, the staff here are also kind and attentive to the kids. The only thing missing is a babysitting service.
Naturally, the hotel didn't forget about fun for the grownups. Up on Level 5 of the property is an adults-only infinity Skypool overlooking the beach and ocean where you can relax and spend your day(s) in peace, away from the hullabaloo of the excitement below. Also away from the din and noise is the property's Suasana Spa, where you can indulge all your senses in the most pampering of traditional Malaysian rituals. But if more fun and adrenaline are what you seek, then head over to the gym for a good sweat sesh or play a game or two in the Activity Centre with foosball tables, pool tables, and more.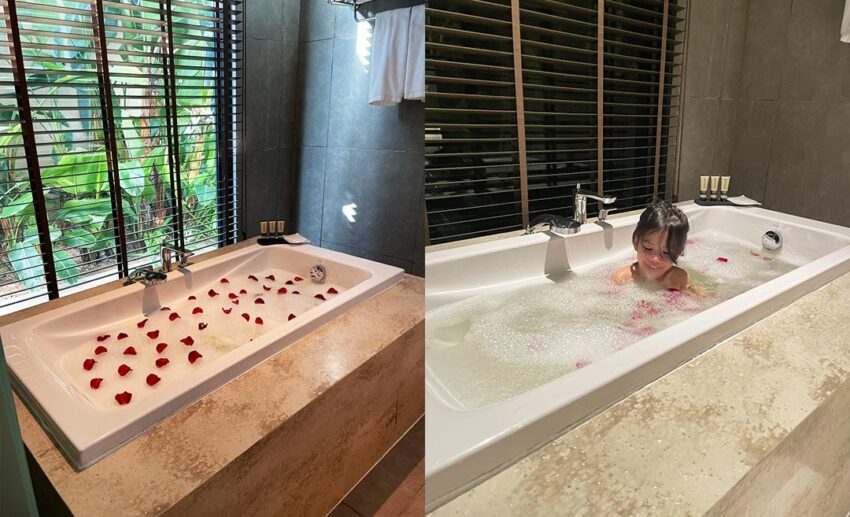 Then, I suddenly get a message from Saran asking if I'd like to relax with a bubble bath. Obviously, I say yes, and the butler-drawn bath is rosy perfection, which my daughter got to enjoy (lucky girl).
We culminate the day with a seafood buffet dinner on the beach that's nothing short of delish. The highlight here is the seemingly endless supply of lobster, freshly-caught fish, and surprisingly the ultra-tender lamb! With our bellies and hearts full, off to bed, we go!
Day 4
Sadly, it's nearly time to check out, but not before we're treated to a hearty breakfast spread in our villa! Villa guests can take their meal at Cassia or in the villa itself, and we opt for the latter to max out our day. We have an evening flight, so spend the entire morning taking a last dip in the pool and hitting the beach one more time.
Then, the time comes to bid adieu to our home away from home in Langkawi. Our hosts graciously see us off while Saran treats the little one to a farewell gift and chocolates (among the treats he's been sneaking over to her throughout our stay).
If you too, would like to enjoy a break here (and you should), two offers are currently being held till the end of the year. The Dine & Dream Escape is a weekday retreat for anyone seeking relaxation from everyday life. The package includes a choice of luxurious accommodation, a daily breakfast buffet and daily dinner at Cassia Restaurant for two adults, and is valid for Sunday to Thursday. Meanwhile, the Sea-scape Haven is curated for weekend staycations, offering a lavish accommodation of the guests' choice, a daily breakfast buffet, a one-time Seafood Buffet (either on Friday or Saturday), and a complimentary 30-minute shoulder and neck massage for two adults.
But if you'd like to cop a stay on the house, read on…
The giveaway
We're hosting our biggest giveaway yet, courtesy of Parkroyal Langkawi Resort. Stand a chance to win a three-day and two-night stay at the palatial Deluxe Ocean View Suite worth RM5,060. All you have to do is answer the two questions and follow the steps in this form.
Win a 3D2N stay at Parkroyal Langkawi Resort!
Terms & conditions:
Applicable for residents in Malaysia aged 18 and above.
Spam/giveaway accounts will be disqualified from the giveaway.
The giveaway ends on 30 August 2023 at 23:59.
One (1) winner will be announced on 1 September 2023 in the comments section of the giveaway post and on Instagram Stories.
The winner will be selected by Zafigo and all decisions are final.
Winners will need to DM their full name, phone number, address, and email to Zafigo.
Zafigo will arrange shipping of this giveaway's voucher to the winner.
Prizes are not exchangeable for cash/credit/other items or vouchers, in part or in full. The voucher cannot be sold.
By participating in the giveaway and being selected as the winner, you consent that your name, content, and any photos or videos related to this giveaway be published on Zafigo's social media channels and any other publications.
Zafigo reserves the right to cancel and/or change the terms and conditions, prizes, and plans at their discretion without any prior notice.
Zafigo is not responsible for any claims incurred by the winner due to the cancellation/changes of the giveaway.