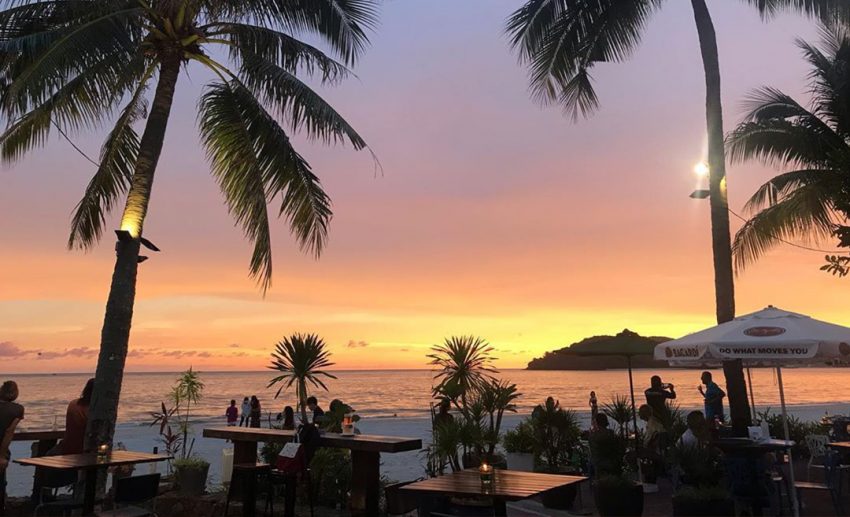 Subscribe to our new 

Telegram

 channel for the latest updates.
Picture this: You're reclining on a lounge chair, staring at the lapping waves of a crystalline ocean, digging your toes into soft, white sand. Meanwhile, the sweltering heat of a tropical sun hits you but is immediately made up for with a cool sea breeze. The only thing missing is a drink in hand, am I right? Well, when you're in beautiful Langkawi, you can make this fantasy a reality – drink included – at one of the island's numerous bars. 
Whichever part of Langkawi you're on, you can count on the fact that there's a bar worth visiting. But know that not all bars are created equal. We've handpicked the seven that we feel have the best vibes, the best menu offerings, and the best views. Although, you'll notice that a number of them are concentrated along the busy Pantai Cenang stretch, but that's to be expected (pub crawl, anyone?). 
For those of you who enjoy a tipple, you'll be happy to know that Langkawi is a tax-free haven, meaning that the drinks come cheap. That said, even if you're a teetotaller, come for the views and the mocktails – we promise you won't regret it!
Also, here's a handy little story key for the bars listed below:
$ – Wallet-friendly
$$ – Moderately-priced
$$$ – Boujie (but worth it!)
Horizon Bar, The Ritz-Carlton, Pantai Kok – $$$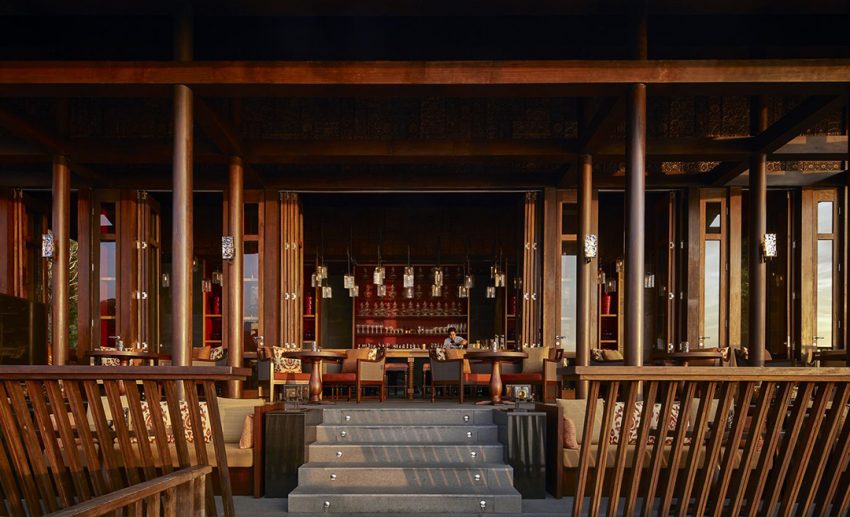 What's in a name? At Horizon, it's easy to see. Easily the most picturesque bar on Langkawi, Horizon is perched atop a rock overlooking the Andaman Sea. As you enter, you'll immediately see the outdoor bar overlooking the ocean. Look to your left, there's an infinity pool looming over the crashing waves below, giving the panorama behind it an effect where you can't tell where the pool ends and the ocean begins. Behind you, a stunning wooden building replete with hand-carved wooden panels in a distinctively Balinese design flown in from the island. The rest of the way, you're faced with pristine shoreline and a killer view.
Of course, as stunning as the outdoor area is, what matters more is what you can come to expect. We had the opportunity to partake in 'Nature in Glass', a 60- to 90-minute experience with Horizon's Master Mixologist, where he shares his trade secrets on how to create the perfect drink. While our session comprised of learning how to make two cocktails and two mocktails, the most exciting of the four was the lesson on how to mix his (and Horizon's) signature drink – the Hornbill. While this experience is designed especially for in-house guests, even if you're just dropping by for sundowners, the unique mixes highlighting local ingredients like pandan, tropical herbs, and local fruits makes the visit worthwhile. 
Once the sun sets, adjourn to the wooden building behind the bar, where you can tuck into scrumptious Thai eats at the indoor tavern. And of course, continue with a nightcap or two over some great conversations. 
Address: PO Box 199, Jalan Pantai Kok, Teluk Nibong, Langkawi, 07000, Kedah
Opening hours: Wednesday to Sunday, closed on Mondays and Tuesdays. 12pm to 11pm
Instagram | Facebook | Website
Monsoon Sky Bar, Ambong Pool Villas, Pantai Tengah – $$$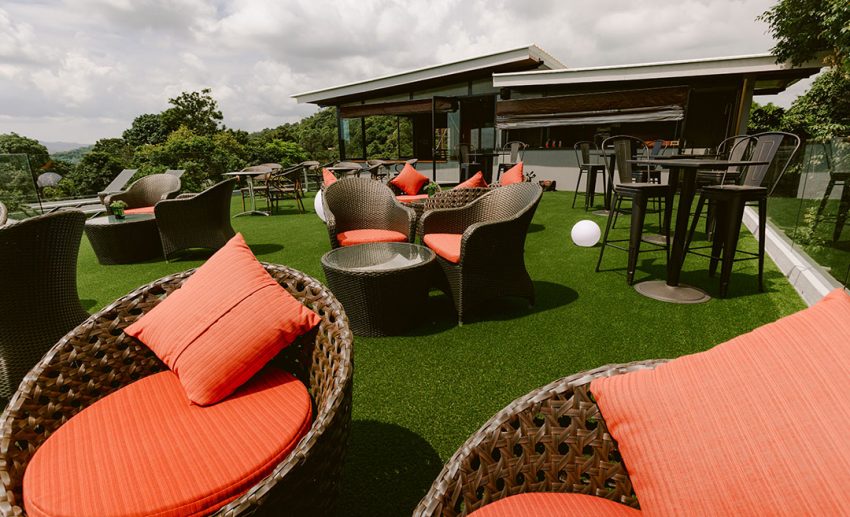 On a clear day, catching the sunset at Monsoon while overlooking the Andaman Sea is a feast for the senses – beautiful view, the sounds of rustling leaves in the rainforest below, the taste of a perfectly mixed cocktail, and a sea breeze brushing up against your skin. The best time to visit is definitely right before sunset, at 6:45pm, when you can welcome the twilight and wind down at the end of a long day. 
Situated at the Ambong Pool Villas which we also got to stay at, Monsoon is a hidden gem atop a hill. Although it's not along the beach, you still get a majestic view of Pantai Tengah's surrounding islands and what's definitely the most beautiful sunset panorama in all of Langkawi. 
When it comes to drinks, Monsoon puts out some rather interesting concoctions. For instance, their signature cocktail – the Ambong Sundowner – is a heady mix of tequila, angostura bitters, egg white, and cloves set against the sweetness of strawberry puree and pineapple juice, before being rounded off with a splash of apple cider vinegar. If you prefer something creamier, give the South West Monsoon a go. It's a delectable combination featuring whiskey, Bailey's, milk tea, and pandan syrup. Side note: the mocktail menu doesn't disappoint either.
Address: Jalan Teluk Baru, Pantai Tengah, 07000, Langkawi, Kedah
Opening hours: Open daily. 6pm to midnight
Thirstday Bar and Restaurant, Pantai Cenang – $$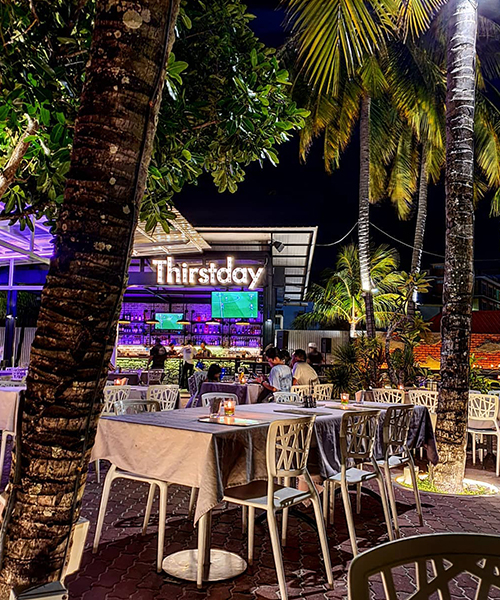 Even though Langkawi's most famed seafood restaurant Orkid Ria is closed until further notice (gee thanks, 'Rona!), their sister café-cum-bar just behind it is open (woohoo!). So, not only can you get a taste of some of the tasty dishes featured on Orkid Ria's menu, but you can also feast while having a tipple!
Thirstday has a really relaxed vibe, and is smack bang in the centre of the bustling Pantai Cenang strip. A family-run spot, the bar is owned by two brothers (sons of the owner of Orkid Ria) who managed to convince their father to let them turn the beachfront portion of the restaurant into a bar. And the back-of-the-restaurant, beachfront joint has been thriving ever since! 
While their cocktail menu isn't as creative as some other bars, you can always count on the classics here, like a good old G n' T or Espresso Martini. You'll be pleased to know that most of the alcoholic beverages here hover at the RM20 to RM30 mark. Price point aside, Thirstday is worth a visit any time of day but is especially delightful come sundown. 
Address: Lot 1225, Pantai Cenang, 07000, Langkawi, Kedah
Opening hours: Open daily. 3pm to 1am
Yellow Beach Café, Pantai Cenang – $$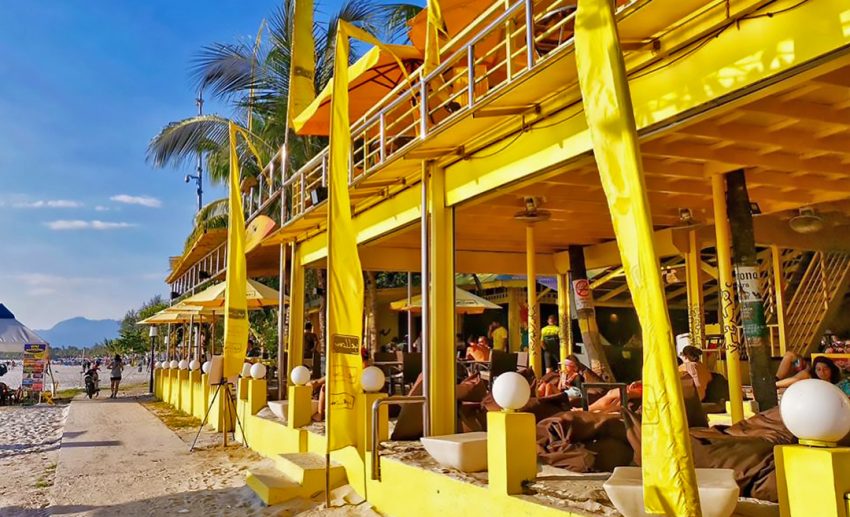 Best described as vibrant and quirky, Yellow is reminiscent of a surfer's beach shack, not that that's a bad thing. Rather, it adds to the laidback appeal. Slump back and relax in bean bags strewn across the beach as you wile the last few hours of a day with a drink in hand – whether it be juice or cocktail, the choice is yours!
Of course, it's hard to miss the recurring interior theme here – the colour yellow. The walls, décor, chairs, and even the hammocks come in the bar's eponymous shade. When set against a beautiful, blazing orange sun, we reckon the setting comes together harmoniously. 
Design and drinks aside, you can enjoy a reasonably wide array of food at Yellow, so expect to spend a fair amount of time when here. You'll find a reasonably-priced western menu on offer here like steak, pizzas, and even a croque madame.  
Address: PO Box 121, Pantai Cenang, 07000, Langkawi, Kedah
Opening hours: Wednesday to Monday, closed on Tuesdays. 3pm to 1am
Kalut Bar, Mali Mali Beach Resort, Pantai Cenang – $
Relatively quiet during the day, Kalut comes alive at night. This is easily of the hippest nightspots to be at, with regular fire shows, parties, and the like. So, do bear in mind that while sundowners at this vibrantly decked out bar are a more chilled out affair, after the sun sets, it's straight-up hedonism until late into the night.
Another thing that also stands out about Kalut is the exceptional service. Happy and friendly, you'll see staff zipping furiously between myriad-hued bean bags along the beach, ready to service their guests one of their signature buckets of booze. Yes, you read that right. A cheeky bucket of either whiskey, gin, vodka, or rum with a mixer goes for a mere RM44. 
Address: Mali Mali Beach Resort, 2, Jalan Pantai Cenang, 07000, Langkawi, Kedah
Opening hours: Open daily. 11am to 1am
Cellar Bank, Kuah – $$$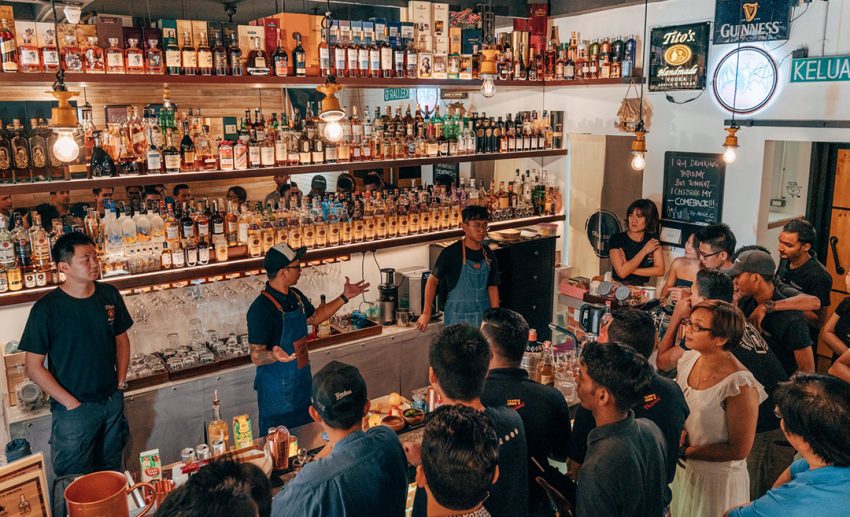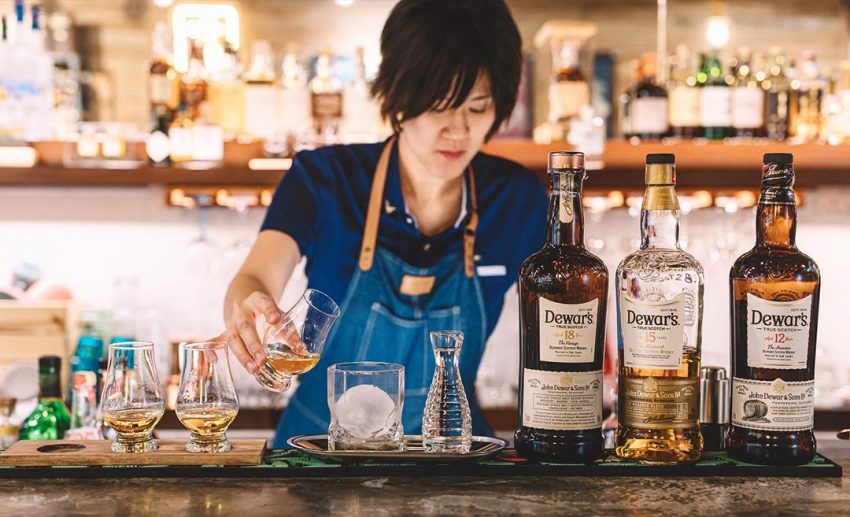 Poised as one of the more premium spaces for a night out, this speakeasy in the Kuah area describes itself as a friendly and intimate whiskey bar. The keyword here is 'speakeasy', so expected limited seating. Cellar Bank is a small and cosy joint, but with a wide offering of premium spirits. 
When it comes to the staff, you can bet that all of them are knowledgeable, and they're more than happy to help you decide on a drink depending on your personal preferences. They're also excellent mixologists themselves. Speaking of which, Cellar Bank regularly works with the country's best local mixologists, bringing them in from all over for short stints. Just follow them on their social media to stay up-to-date on the bar's current happenings. As you can tell, Cellar Bank has whiskey down to an art and a science. 
Address: 25, Jalan Pandak Mayah, 5 Complex Cayman, 07000, Langkawi, Kedah
Opening hours: Open daily. 11am to 1am
CBa, Pelangi Beach Resort & Spa, Pantai Cenang – $$
Both a restaurant and a bar, CBa (originally known as Cenang Bar) has evolved into an airy beachfront bar with casual indoor dining and beachfront dining areas. It's the perfect choice for when you're looking to have sundowners that continue into a hearty dinner by the beach. It's also rather romantic, really. 
Despite being part of a 5-Star property, CBa maintains reasonable prices. For instance, they're currently hosting Sunset Seats & Happy Hour Treats. What this means is a whopping 30 per cent off selected beverages while a pint of Carlsberg goes for only RM9 from 12pm to 10pm! For food, this happy hour features the Chef's Daily Special at RM25 or a three-course meal for RM55 from 6pm to 10pm.  
Address: 25, Jalan Pandak Mayah, 5 Complex Cayman, 07000, Langkawi, Kedah
Opening hours: Open daily. 11am to 1am
Instagram | Facebook | Website 
Follow Zafigo on Instagram, Facebook, and Twitter. Sign up to our bi-weekly newsletter and get your dose of travel tales, tips, updates, and inspiration to fuel your next adventure!