When it comes to travel, there are two things that most people desire: practicality and style. Samsonite, a renowned luggage and travel accessories leader, has always provided both to travellers.
This year, they've taken their offerings to the next level by introducing the Samsonite Minter Collection, which seamlessly blends fashion-forward design and cutting-edge technology.
This collection has come to life in 3D at Pavilion Elite and CuBig KLCC Junction in Kuala Lumpur from 1 to 30 November 2023––offering a truly immersive and exciting shopping experience for travellers and style enthusiasts alike.
Immersive 3D shopping experience
With a focus on aesthetics and practicality, this collection caters to the modern traveller's needs. These 3D billboards highlight feature-packed baggage that is safe, eco-friendly, and designed for frequent travellers.
The luggage comes in three vibrant colours: ivory, scarlet, and navy. It is finished with the smooth lines of the fine vertical grooves and the curves of the aluminium trimming. Do note that Malaysia only carries the red, black, and navy variants.
A range of options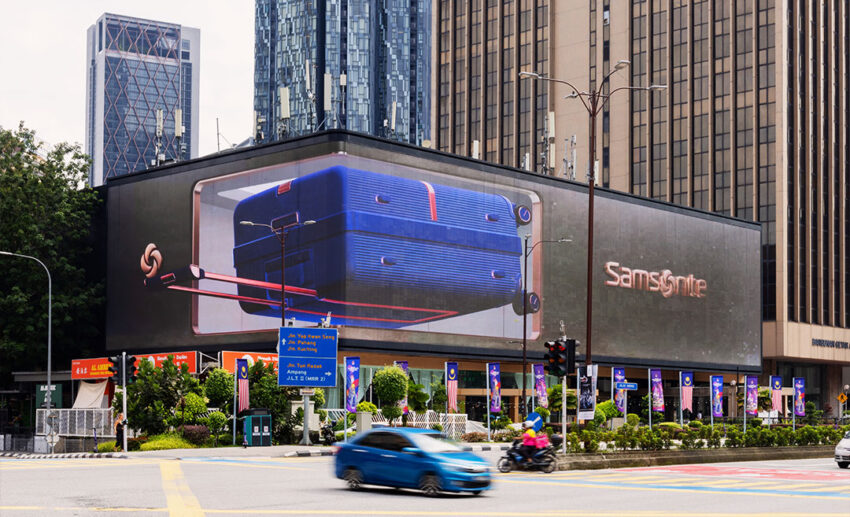 With its shock-absorbing suspension system and integrated ball bearings, the Aero-TracTMII Suspension Wheel System offers smooth, manoeuvrable handling along with a lowered noise and vibration level for a smooth and effortless riding experience.
In addition to the front hanging hook's practicality, the TSA008 combination lock and anti-theft double zipper improve security, giving you peace of mind wherever you are in the world.
Travellers can lessen their carbon footprint by taking advantage of the elegant exterior and the premium jacquard lining throughout the interior, made from 100% post-consumer recycled PET bottles thanks to RECYCLEXTM technology. A detachable divider and an extensible body complete this thoughtful assortment.
The Samsonite Minter Collection offers a range of sizes to cater to different travel needs and preferences. Three sizes are available for the collection: 55, 69, and 75 cm, with prices of RM1,659, RM1,829, and RM1,999, respectively.
Visit their website for more information on the collection and locations in your area.