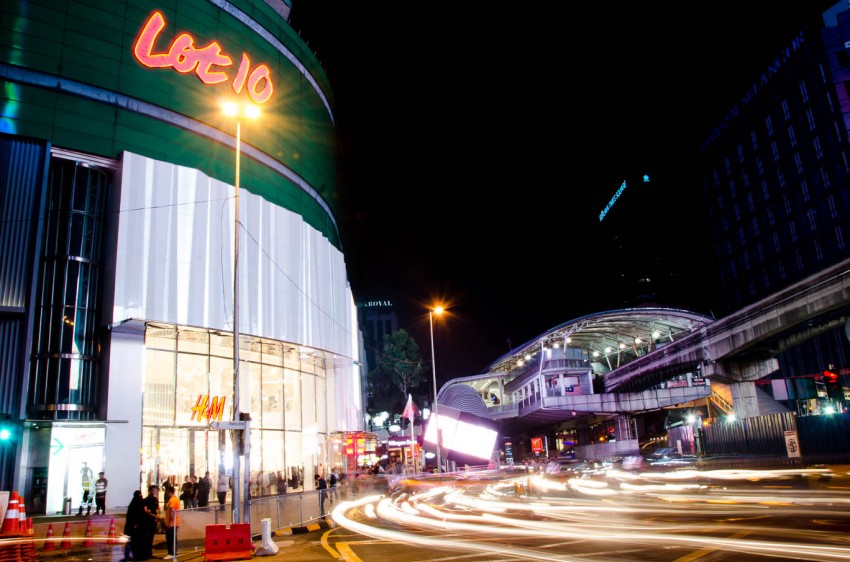 Mention shopping in Kuala Lumpur and someone will surely suggest Bukit Bintang in turn.
Also known as KL's Golden Triangle this area in the city is known for its trendy malls and is one of the most accessible thanks to its proximity to the KL Monorail service. The quick trains will take you from KL Sentral station in Brickfields to the Bukit Bintang Station in a mere 10-15 minutes.
Avoid going to the area via cab unless you absolutely have no other option. Traffic around the area is always busy and tends to be gridlocked during rush hours and lunch time.
Lot 10
The original stop for high-end shopping, it has now been taken over by Pavilion as the premier high-end shopping destination. It is, however, still worth a visit for anchor tenants that include H&M, Isetan and the Hutong food court. While the interior may look a little shabby, don't let that put you off. Also worth a visit is Malaysian-born designer Zang Toi's outlet on the 4th floor.
Pavilion
The jewel of Bukit Bintang's high-end malls, its outlets might be high-rent but it attracts all comers with its varied attractions that cater to mid-and-high end tastes. Besides luxury brands such as Louis Vuitton, Pavilion also has a Tokyo Street dedicated to Japanese food and merchandise, spas and its own Tourist Privileges service. The latter will give you special offers and discounts.
Sungei Wang Plaza
If you want crazy, colourful cheap shopping then Sungei Wang might be the place for you. A warren of little outlets squeezed together, you'll find budget buys mostly sourced from China and Hong Kong. Venture upstairs and you'll find tailors and venture downstairs and you'll find cheap eats to sustain you as you hunt for bargains.
Low Yat Plaza
This haven for IT gadgets deserves a writeup of its own, but suffice to say if you need your tech needs met, don't bother going anywhere else in the Bukit Bintang area.
Berjaya Times Square
While the other malls are all accessible via the Bukit Bintang monorail stop, you would need to access this mall by stopping at Imbi instead. A sprawling complex, Berjaya Time Square is what you'd get if you put Sungei Wang in a really big building and attach it to a hotel. The hotel is one of the better business stays in the city, being central and having the monorail right on your doorstep is a big plus. While the other malls are far more popular, if you happen to be in the area the mall is worth visiting though you could skip it and instead walk over to the food stalls at nearby Jalan Alor.
Staying safe
This area can be chaotic due to the constant traffic. Be careful with your handbag as it is also a magnet for snatch thieves and pickpockets, the latter often frequenting rail station with women and foreigners being popular targets. The many back alleys should be avoided where possible, keep to the main roads and well-lit areas. If approached by strangers on the street, don't feel you have to be nice to them; feel free to walk away quickly if you feel nervous or wary.
As long as you stay conscious of your surroundings you should be able to enjoy a stress-free experience. Remember to wear comfortable shoes, sunglasses and perhaps a portable umbrella. But if caught in bad weather, pop into the nearest convenience stores which will most likely have cheap, throwaway rain ponchos for under RM5. Happy shopping!