Nestled in the waters of the Andaman Sea, Langkawi is a tropical paradise that beckons travellers with its captivating beauty. Known for its stunning landscapes, pristine beaches, and lush rainforests, Langkawi offers a remarkable escape from the hustle and bustle of daily life. Whether you're a nature lover, an adventure seeker, or a relaxation enthusiast, Langkawi has something enchanting to offer. Let's explore seven must-visit destinations that will leave you in awe:
Maha Tower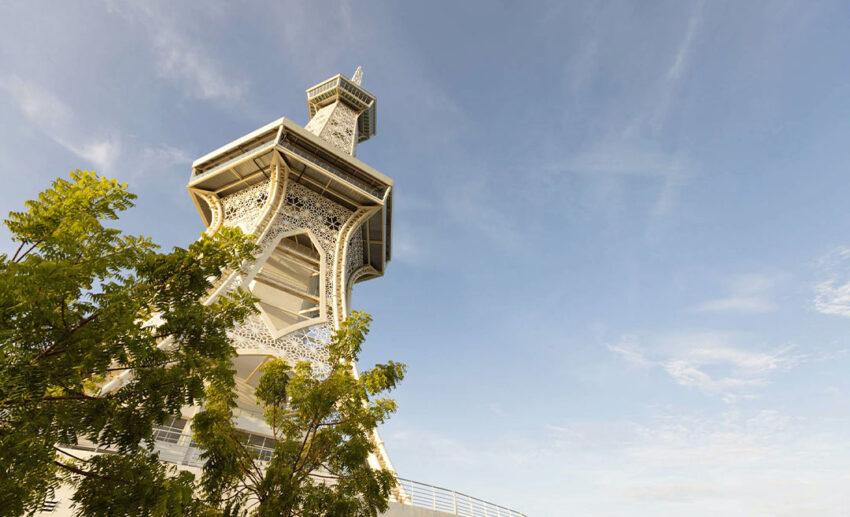 Visit the impressive Maha Tower, which at 138 metres is the tallest structure in Langkawi. The tower is the focal point of the Langkawi City concept and features a wide variety of first-rate amenities, from conference rooms to a water park.
Immerse yourself in Langkawi's rich cultural history while admiring the beautiful skyline and the sparkling waters that surround it. The Maha Tower is a must-see location with its distinctive fusion of modernism and history that will leave you feeling enthralled by the island's pulsating heartbeat.
Dream Forest Park & Dream Forest Book Village
Dream Forest is the first fully immersive night experience in Malaysia, and it will transport you to a magical realm. The park, which was designed by Puan Sri Tiara Jacquelina and the distinguished Enfiniti team, uses audio, lighting, and projection mapping on the trees to bring local myths and tales to life. Visitors can anticipate seeing Dayang Bunting, Merong Mahawangsa, and the Giants of Langkawi while also taking in the breathtaking natural splendour of the rainforest.
In addition to the park's engaging activities, Dream Forest Book Village gives guests a chance to unwind in a stunning natural environment. The village has picnic areas, a vintage bookshop truck, a space for events, and food and retail establishments with carefully chosen Malaysian products.
Poetry readings, dance performances, and other cultural events are frequently held in the grounds or at the 120-seat Amphitheatre.
Eagle's Nest Skywalk Langkawi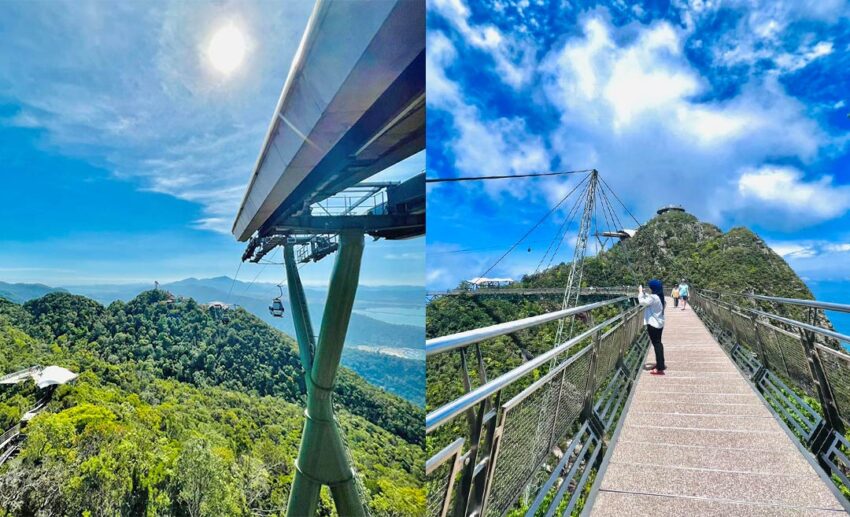 Fly through the air and climb 550-million-year-old rocks on SkyCab, a cable vehicle system in the oldest section of Southeast Asia. The Base Station, situated at the foot of Machincang Mountain, allows visitors to reach the mountain's chilly summit quickly and easily via the thrilling cable car trip, during which they may have a view of the local flora and animals.
The Top Station, located 708 metres above sea level, features two observation platforms with breathtaking vistas of deep chasms, overhanging cliff walls, and lonely pinnacles, as well as a 360-degree panorama of the Langkawi islands and Southern Thailand. The Top Station is one of Machincang's most distinctive and exhilarating features, and the full journey takes just 15 minutes.
This magnificent building, which is clearly apparent from a distance, will welcome visitors in the third quarter of 2023.
Kubang Badak Mangrove Reserve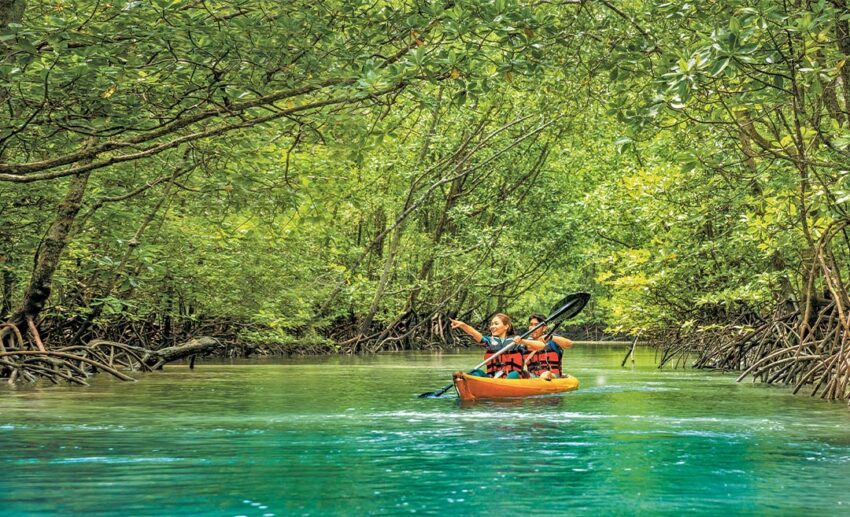 Get out on the water and experience the Kubang Badak Mangrove Reserve in a whole new light. Explore the region's lovely fishing villages and rich history, which includes geology from 500 million years ago and settlement by Siamese people. Rough jetties of the Kubang Badak River can be accessed by foot.
Hike through the jungle to the Pinang Cave, where more than a thousand stinky bats seek shade from the day. While floating along the river, keep an eye out for the beautiful white-bellied sea eagles and brahminy kites that dive for fish.
As you get closer to the Andaman Sea, the scenery radically changes, going from flat plains of mangrove trees to steep islands. Don't pass up the chance to see this wonderful location's stunning fauna and natural beauty.
Pulau Tuba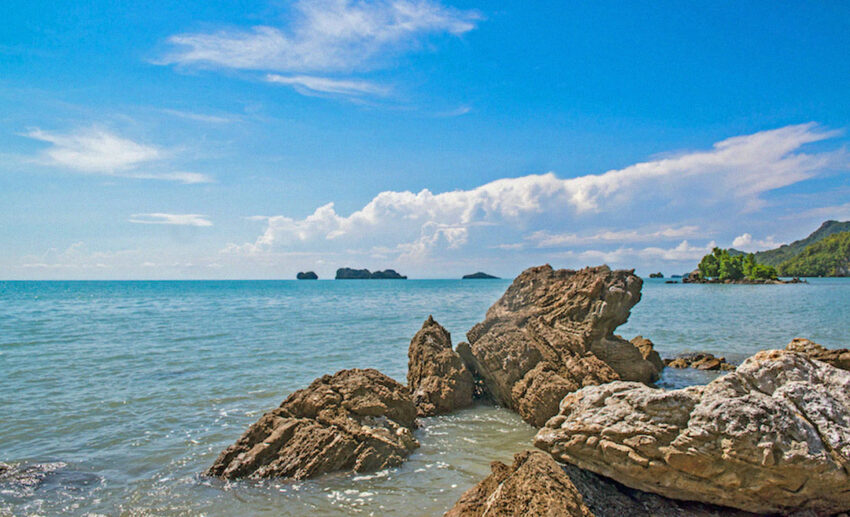 Get away from it all on the tranquil island of Pulau Tuba, located just off the coast of Langkawi. Swim in the clean seas and relax on the lovely beaches in the warm sunshine. Discover the quaint fishing communities and get to know the people.
The hospitable residents of this historic fishing community still rely on wells for water and regularly venture into the surrounding forest in search of wild edibles and medicinal plants. The unusual tuba plant, whose roots the locals use to catch fish, as well as the sight of hornbills flying all around, will interest you. You'll feel renewed and invigorated by the gorgeous, tranquil environment.
Telaga Tujuh Waterfalls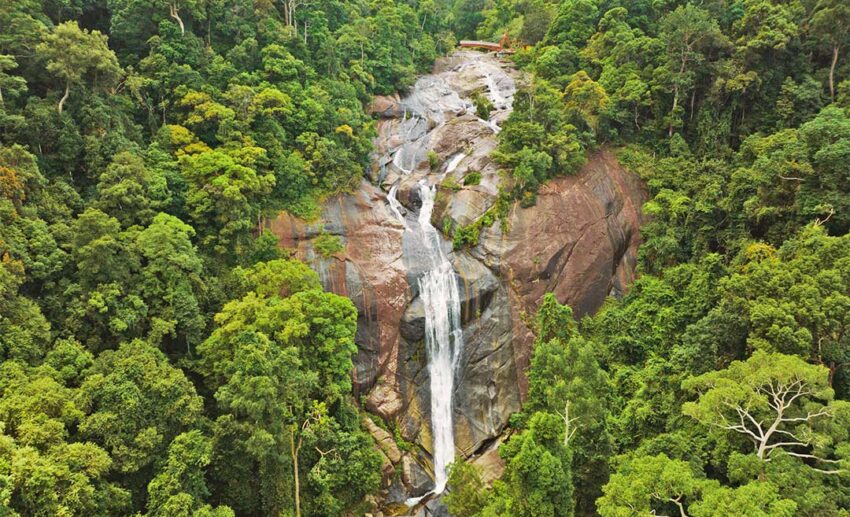 The Telaga Tujuh Waterfalls, located in Langkawi's Machinchang Cambrian Geoforest Park, are a breathtaking natural wonder that shouldn't be missed. They are a collection of pools with varying depths, shapes, and sizes connected by a river, creating a smooth natural waterslide along the slippery rock. The upper and lower pools, the two parts of the falls that are separated by a flowing river, are called after the seven natural pools that connect them.
Hikers in the tropical jungle are likely to see cheeky monkeys swinging from tree to tree as they explore the area. After climbing about 200 stairs to reach the lower pools, you'll be rewarded with a stunning view of the vertical waterfall and a sizeable plunge pool at the base of a treacherous rock face.
However, for ardent hikers, the adventure continues with a climb of 638 steps to reach the upper pools. It's the ideal location to unwind, relax, and get in touch with nature because of its breathtaking natural beauty and peaceful atmosphere.
Ayer Hangat Village
Sedimentary rocks buried beneath the island's surface and heated by geothermal activity created these salty hot springs. Unique minerals and nutrients found in the water and algae in the springs of Ayer Hangat Village are believed to treat skin diseases like dermatitis and lessen joint discomfort. There are just three other saltwater hot springs like this one in the entire globe, according to local sources. Three different public springs, ranging in temperature from chilly to 42 degrees celsius, are available to guests, or they can rent a private jacuzzi to relax their entire bodies in.
Malay massage, where skilled therapists deftly kneed at pressure spots to energise and relax both muscles and skin, can only be experienced in Ayer Hangat Village on Langkawi. The springs are built around a traditional-style village house where visitors may observe cultural events including weddings, dances, and music performances and sample local cuisine such sweet cakes called kuih. Set to open this month, it's definitely worth stopping by.