If you're headed off somewhere for the extended Malaysia Day weekend, then you're going to love this upcoming collab between Malaysia Airlines and Mandarin Oriental KL. Conversely, when it comes to travelling, one of the most exciting aspects of a journey is experiencing the culture and cuisine of your destination. Malaysia, a vibrant and diverse country known for its rich culinary heritage, now offers travellers a unique opportunity to embark on a gastronomic adventure right from the moment you step off the plane.
Malaysia Airlines, in collaboration with the prestigious Mandarin Oriental Kuala Lumpur, has introduced a partnership that promises to elevate the travel experience for its Golden Lounge guests in KL International Airport, Terminal 1 through a curated Malaysian culinary journey — and it's only happening on Malaysia Day weekend!
Passengers at the Golden Lounge Satellite, Golden Lounge Regional, and Golden Lounge Domestic will have the chance to enjoy a variety of dishes from authentic Malay, Chinese, and Indian cuisines that capture the essence of Malaysia's rich and diverse cultural heritage from 15 to 17 September 2023.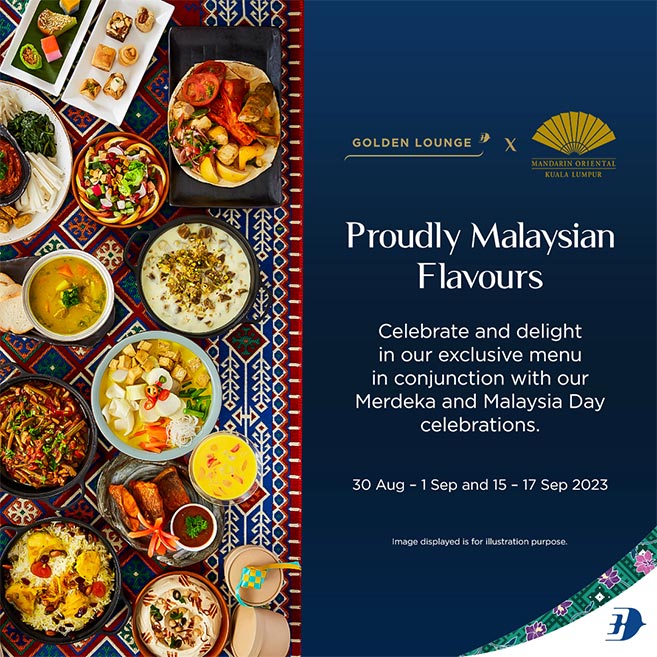 Sink your teeth into traditional green mango salad, aromatic oxtail, and spicy soup will be some of the dishes offered. Following that, passengers can enjoy Wok-Fried Marinated Lamb Shoulder with Dried Chilies and Garlic Chips, Roast Chicken in Tomato Masala, and Wok-Fried Udon Noodles with Prawns and Egg. Finally, they can indulge in a Chilled Mango Puree with Vanilla Ice Cream, Sago, and Pomelo to finish the meal.
Besides passengers and frequent flyer members flying Business Class, Enrich Platinum, First Class on codeshare flights (flights operated by Malaysia Airlines), Oneworld First Class, and Oneworld Emerald can savour the signature meals while taking in the picturesque view from the lounges prior to departure. The Journify mobile app or website offers Economy Class travellers the option to purchase entry to the Golden Lounge.
Recently, the airline made headlines when it transitioned away from its longstanding partnership with Brahim's, a well-known name in in-flight catering. Now, Malaysia Airlines has embarked on a culinary journey with eight diverse in-flight catering firms, promising passengers an even wider array of culinary delights — this looks like a promising start.
So, if you're travelling through Kuala Lumpur on Malaysia Day weekend, be sure to arrive early and indulge in this exquisite pre-flight dining experience — a tantalising preview of the culinary delights that await you in Malaysia.
Malaysia Airlines
Mandarin Oriental Kuala Lumpur