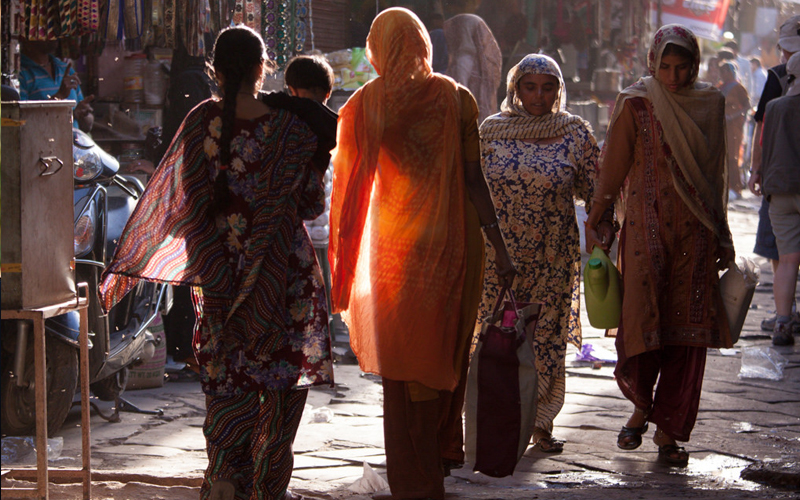 Women travellers to India should not wear skirts or dresses "for their own safety", according to India's Tourism Minister Mahesh Sharma. The minister made the comment during a press conference on tourist security in the city of Agra, site of Taj Mahal, in a move that has prompted wide criticism about the nation's culture of victim blaming.
During the press conference, Sharma said tourists arriving in India were issued welcome kits that included safety advice for women."We give welcome kits to tourists when they land at the airport. The kit includes a card with do's and don'ts such as, do not venture out alone at night in small towns, do not wear skirts; take a picture of the registration number of the vehicle you use and send it to a friend…" The Indian Express quoted him saying.
He then added: "For their own safety, women foreign tourists should not wear short dresses and skirts … Indian culture is different from the western."
Welcome kit for female tourists
According to The Guardian, the welcome kit is geared at female travellers. It was introduced last year to address the problem of declining female tourism after the high-profile gang-rape and murder of 23-year-old Delhi medical student Jyoti Singh. The gruesome murder was followed by an increasing number of attacks on female tourists.
CNN notes that the welcome kit makes no mention of skirts. In the section on clothing, the pamphlet reads "Some parts of India, particularly the smaller towns and villages, still have traditional styles of dressing. Do find out about local customs and traditions or concerned authorities before visiting such places." It also suggests travellers to cover their heads or remove their shoes at religious places.
This is not Sharma's first provocative statement on how women should behave to stay safe. Last year, he was reportedly quoted saying that Indian women should not go out at night, "Girls wanting a night out may be all right elsewhere but it is not part of Indian culture."
Criticisms
Critics, including Chief Minister of Delhi Arvind Kejriwal have lambasted the minister. Residents are seen ridiculing him on social media. They opined that his comments shift the duty to stay safe on women rather than on a government that is not doing enough to protect its women.
"It was very stupid, not a fully thought-through statement," said Ranjana Kumari, the director of the Delhi-based Centre for Social Research, a think tank focusing on gender equality in India. She told The Guardian that it reflected the syndrome of blaming women for what they wore and where they were but the problems are within the perpetrators. "It's important for [Sharma] to have said how to punish the perpetrators of crime and stop the nonsense of ogling women and following them. Why should any girls come to India when it is becoming famous for not being safe to girls?"
Following the criticisms, Sharma later backtracked on his comment. "I am a father of daughters… I have not said what one person should wear or not wear, neither it is desired nor I am authorised to say so. I have only said this as an advice when they visit to religious place," The New York Times quoted him saying.
India' problem with misogyny
India has been intensely debating on how to respond to and prevent sexual assault since the 2012 gang-rape. It has toughened sentences for rape and introduced fast-track courts for sexual assault trials, but it is not enough.
According to The Guardian, India's national crime statistics show 92 women are raped each day in India, mostly in rural areas, though the figure is widely believed to be an underestimate. Street harassment and violence, sometimes called "eve-teasing", is even more common, experienced by 79% of Indian women.
Comparatively, The Indian Express reports that Delhi had an average of six rapes and 15 molestations per day in 2015, the highest rate in 15 years. The New York Times reports that in 2014, India reported 36,375 rapes against women.
The victims are not limited to local women. Over the years, there have also been many reports of attacks against female tourists, with the most recent in July 2016 when an Israeli national was sexually assaulted by a gang of men in the Himalayan resort town of Manali.
What should women wear?
Sharma's comments may have drawn flak but it does not veer too far off from what experienced women travellers would advice other women to wear in the country. In an interview with the New York Times, two India-regulars Sachi Maclachlan, 27, and Jessica Ault, 31, recommend women to dress traditionally and modestly as "a way of survival". However, this notion is motivated more by respecting local culture than by safety.
For Ault, Sharma's comments suggest that a woman would invite sexual assault based on what she was wearing. Maclachlan said the problem runs deeper than the clothes women choose to wear. Despite wearing traditional Indian clothes, she was still harassed and touched in the streets on several occasions.
Ault agrees, saying that "She can be in a burqa, she can be in a sari or she can be in a short skirt and still get raped."
Reporting via The Guardian, CNN, New York Times, Indian Express, The Independent, Al Jazeera 


Read more safety tips for India: