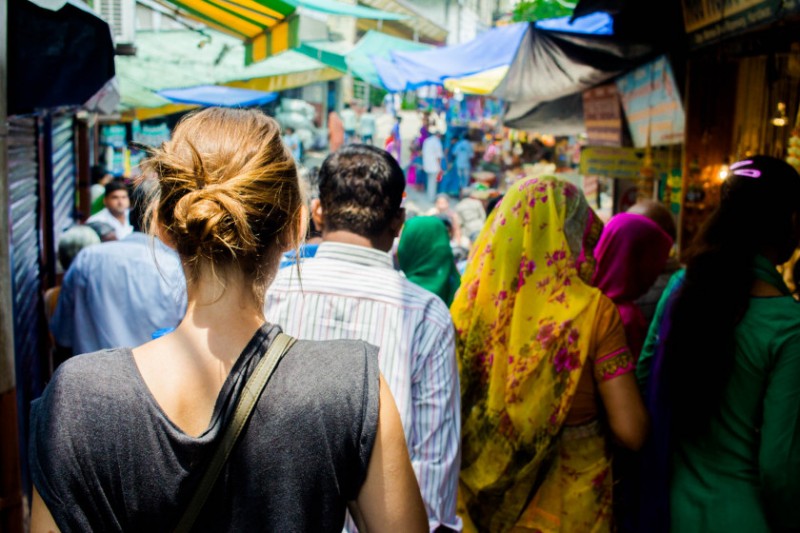 Heading to India for the first time and not sure what to expect? Travelette Kathi recently made the trip to India with her best friend in tow and explored Delhi, Rajasthan and Uttarakhand for 10 days.
"…there's the media telling the nightmarish stories of everyday sexism and barbarities committed against girls and women. They make India sound like the last place you would want to go as a woman, but you know what? I decided not to buy into that. There is good and evil happening everywhere in the world, whether you see it on the front pages, or not. Too often the news overlook the beauty of our planet and its people", said Kathi.
Here in this article, Kathi shares the lessons she learnt from her maiden trip to this gorgeous cultural nation and how you can make the most out of your first visit. Here are 5 of her tips:
Book an airport pickup in advance

Arriving at Delhi airport has a particularly bad reputation amongst female travellers, but I did not really understand what all the fuss is about. Because we were flying in from different cities, we obviously arrived at different times – me in the afternoon and my friend very early the next morning. Our initial plan had entailed only 2 or 3 hours difference, and we were advised 'under no circumstance sit around the airport to wait for each other'. While I might have not enjoyed sitting in the arrival hall by myself for hours, I can say, that in the area of the luggage belts, this would not have caused any problems at all – there were no weirdos or pushy people anywhere in sight.

As we ended up booking different flights in the end, it never came that far, so I requested two airport pickups which were happily organised by our hotel in Delhi, Shanti Home. The cost came to about 800 rupees per pick up, roughly twice the price of a regular taxi, but so worth it. I spotted my driver – rather the sign with my name on – as soon as the sliding doors opened up into the arrival hall. This way arriving at Delhi airport was a piece of cake.

At the hotel I was greeted with a flower necklace and a glass of cold iced tea – just what you need to ease you into your Indian adventure.

Don't even think about driving yourself

You'll notice within seconds after driving off from the airport: Indian traffic is mental. First, there is the variety of vehicles and other things on the roads: cars, trucks, busses, tuktuks, motorbikes, vespas, tractors, bicycle rickshaws, normal bicycles, ox-drawn carts, horse-drawn carts, camel-drawn carts, donkeys, dogs, goats, pedestrians and of course the worst of them all, cows. Second, there is the sheer absence of obedience to traffic rules. Where there are 3 lanes marked on the road, there are usually 5 or six lanes actually trying to squeeze their way forward. Honking means 'Stay where you are, I'm coming' or 'Get out of the way, I'm coming' – it really depends.

Thirdly, there is the condition of the roads itself – holes and bumps everywhere. Sometimes the motorway turns into a gravel road, or gets flooded, you never know. You obviously shouldn't run over a cow either, even if it is lounging in the middle of the road. At least these things take care of speeding. In conclusion: don't drive yourself, it would be insane.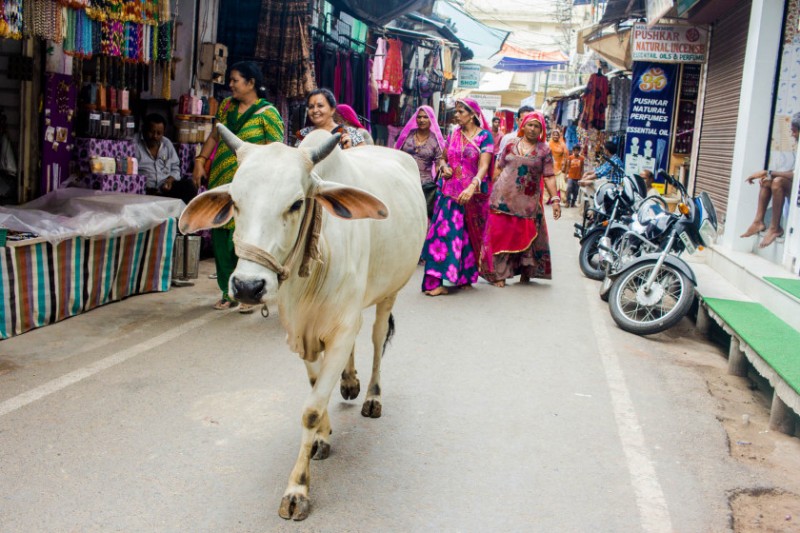 Book a private driver

Hardly anybody considers renting a car anyways, but would rather take public transport to get around. However, if you only stay for a limited period of time, I can highly recommend to book a private driver. I got this piece of advice from a good friend who used to live in Delhi and she recommended to book with Cozy Travels. For 14.500 rupees we had a car taking us around for five days, which included the car, the man driving it, all taxes and tolls, and fuel. He also took care of his own meals and accommodation, which made this just the cheapest, easiest and most comfortable way to get around.

Quickly we grew fond of our driver Suares, who took us from Delhi to Pushkar, Jaipur, Agra and back. He watched over us when we used a cash machine in Agra; he brought us to an amazing artisan crafts bazaar in Jaipur; he taught us how to haggle with tuktuk drivers; and he organized a guide for us at Taj Mahal. Without him, our trip around Rajasthan would have been a lot less safe and a lit more clueless. Best value ever!

Don't underestimate the distances

After our first eight-hour-drive from Delhi to Pushkar I knew not to trust the directions of Google Maps (it said it would only take 6-7 hours). As I said, traffic is crazy and roads are bad, so you will hardly ever be somewhere as fast as expected; it's best to add an additional hour or two, when you plan. Also make sure not to underestimate how far distances in India are – it is obviously massive and you certainly don't want to spend half your holiday in a car/on a bus or train. Even consider flying, as domestic flights are actually not that expensive.

Stay at nice hotels where you feel REALLY comfortable

We booked most of our hotels with Tripzuki, an online platform for boutique hotels all over India, but also relied on a few personal recommendations from friends and readers. My overall advice is to go with accommodation you think you will feel comfortable and safe in. If you are not a hostel kind of person, do you really want to spend your nights in 12-bed dorms? Wouldn't you feel better in a private room, guest house or a hotel? Especially during the first few days, we were so overwhelmed with our experiences on the streets, it felt like heaven to return to our cozy hotel in Pushkar, where we had a big room, comfy outdoor seating and a calm rooftop restaurant – funnily enough, it was called Inn Seventh Heaven.

A nice hotel should be your safe haven for you to retreat to, when everything else gets too much. As a first-time traveller to India, this is worth more than the price of the room could be.
Kathi has 5 more lessons and tips to share about travelling to India for the first time. Read them here.
Read full article:
How to get the most out of your first time in India
Reposted from: Travelettes
Picture credits: Travelettes, Travelettes

More from Zafigo:
The biggest fears women face when travelling and how to get over them
You need to experience these cultural festivals in Asia at least once
Get all the latest travel updates from Zafigo. Follow us on Facebook, Twitter, and Instagram.