If you've been to Downtown Kuala Lumpur (DTKL) of late, you'll see that it's well on its way to becoming a more vibrant place. In the coming months, you'll see pockets of creative and cultural activity pop up even more as Kuala Lumpur City Hall (DBKL) and Think City inked their third MoU on 8 February 2023 to speed up their partnership in reviving DTKL as a creative and cultural district.
The aim of this dedicated partnership is to accelerate efforts to pool ideas, resources, and ecosystem partners to make the city liveable, sustainable, and prosperous.
Kuala Lumpur's (KL) mayor, Datuk Seri Mahadi Che Ngah said the revitalisation of DTKL is crucial in making it a city that is relevant in a changing world. Skyscrapers and massive business areas are not the only indicators of a world-class metropolis.
Giving KL's hidden gems new life
To be liveable, a city must be accessible to all segments of society, which necessitates things like increasing funding for urban greening, improving access to public transportation, developing plans to mitigate the effects of climate change, and focusing on revitalising downtown areas and historic neighbourhoods.
From Bilbao and Barcelona in Spain to Sharjah in the United Arab Emirates, Delhi in India, West Kowloon in Hong Kong, and Bras Basah in Singapore, creative and cultural districts have tremendous potential in contributing significantly to the national economy.
To reach similar heights, DBKL and Think City have launched over 165 projects and 120 cultural events, workshops, and engagements, including laneway improvement, adaptive reuse, green transformation, and space activation, throughout their eight-year cooperation.
Supporting the community
At the end of the day, it's also about supporting KL's community. The Kuala Lumpur KLCCD Strategic Master Plan recommends this approach for cultural and creative industry development such as developing cultural and creative spaces and facilities, promoting cultural and creative activities and events, and supporting local artists and creative professionals through job creation and income-generating.
Initiatives under the signing of the MOU can supplement the government's efforts to transform federal territories into smart cities by 2030. These programmes include the use of electric buses in KL, Wangsa Maju as a pilot low-carbon city, further installation of closed-circuit cameras (CCTV) in KL and Putrajaya, and the installation of WiFi in people's homes.
A ceremony honouring the 12 grantees from the Downtown Kuala Lumpur Grants Programme's second round was also held recently. The supported initiatives include migrant and refugee walking and food tours, performance space enhancement, greening transformation, film workshops, and more.
Visit this link for more on the Kuala Lumpur Creative and Cultural District Strategic Master Plan.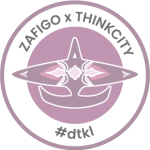 The heart of the old city, Downtown Kuala Lumpur (DTKL) is an old district pulsating with new life, merging then and now. DTKL has all the trappings of a bustling metropolis, but with a hint of history. Discover DTKL with Zafigo and Think City better and more safely right here.