One of the best parts about Chinese New Year (CNY) is catching up with family and friends. This year, it's of course, the super long public holiday we get to enjoy. So why not make the most of it?
The reunion dinners and festivities may be over, there's still the rest of your break left to enjoy. As we enter the Year of the Rabbit, gather your loved ones around the TV to watch a movie or go all out for a movie marathon. Netflix has released hundreds of iconic movies just in time for the celebrations too.
Not sure where to start? Well, we don't blame you, so here's a little guide for your Netflix binge-watching session based on the Chinese zodiac elements.
Before that, to determine your element, look at the final digit of your birth year and match it to its element:
If your birth year ends with 0 or 1, your element is metal
If your birth year ends with 2 or 3, your element is water
If your birth year ends with 4 or 5, your element is wood
If your birth year ends with 6 or 7, your element is fire
If your birth year ends with 8 or 9, your element is earth
1. Metal
Those born under the Metal element are the ones you go to if you want a job done right. They are determined and self-reliant, and they get a kick out of doing a good job. When their standards aren't reached, they might be domineering and judgmental.
This is why it's so crucial for Metal people to occasionally step outside the confines of their own high standards. Movies like First Love, More than Blue: The Series, and Lighting Up the Stars are all great tearjerkers, while lighter materials like Business Proposal, Hometown Cha-Cha-Cha, and Emily in Paris will help them lighten up.
2. Water
If you were born under the Water Zodiac Sign, chances are that you're naturally imaginative and inventive. This sign is often reserved and prefer their own company when it comes to social interactions, but they are sympathetic and eager to listen to people who are important to them. However, they are sensitive and keep their thoughts and emotions to themselves, so don't be surprised if they retreat into their shell to unwind.
Water types can refuel by escaping into the fantastical worlds of The Witcher: Blood Origin and Alchemy of Souls, or by watching Stephen Chow's legendary comedies like Royal Tramp, From Beijing with Love, and The Sixty Million Dollar Man, which are known for making audiences laugh out loud.
3. Wood
People born in this element are strong and wise, much like a tree. They are ambitious and mature for their age, constantly seeking new challenges and learning opportunities.
Sometimes, wood types can come out as too competitive or uncaring in their pursuit of progress and the opportunities it can bring. However, they appreciate a good mental workout, so crime novels like Glass Onion: A Knives Out Mystery and The Post-Truth World, or exciting dramas like Kaleidoscope and the Infernal Affairs Trilogy, can be just the thing to keep them on their toes.
4. Fire
It's getting hot in here! Those who are born with the Fire element crave nothing more than to experience new and exciting things. Once the flame is lit, they are unstoppable in their pursuit of what they want because they are passionate, courageous, and highly motivated.
Since they want to be surrounded by others and are very attached to their loved ones, fire types also shine brightly in their social relationship. If you find yourself bored alone, spooky picks like Guillermo del Toro's Cabinet of Curiosities and Junji Ito Maniac: Japanese Tales of the Macabre are the only friends you need for an exciting, heart-racing night in. Quality time with the family can be well spent watching family-friendly adventures for all ages such as Kung Fu Panda: The Dragon Knight, Roald Dahl's Matilda the Musical, and Slumberland.
5. Earth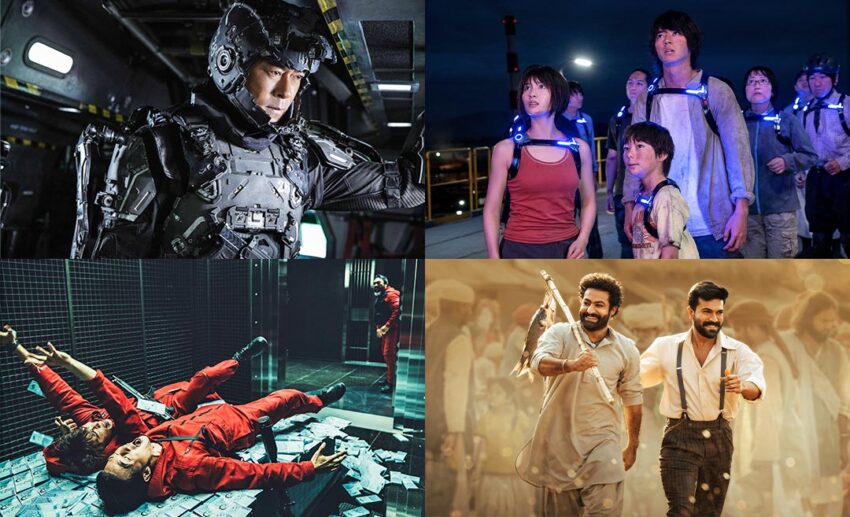 Individuals born in the Earth element are grounded and collected in the face of chaos, making them excellent problem solvers. You can depend on them to complete tasks properly, promptly, and according to the book since they are persistently responsible and patient.
However, Earth types may lack spontaneity and a feeling of adventure due to their practical nature, so they are recommended to test the waters with or at least get their adrenaline pumping vicariously through action-packed options like RRR, Alice in Borderland, Money Heist: Korea — Joint Economic Area, and Warriors of the Future.
*All images courtesy of Netflix.