Resorts World Genting (RWG) will usher in the Year of the Rabbit in style with a plethora of festivities and attractions dedicated to the Chinese New Year (CNY). Happening until 5 February 2023, visitors to Malaysia's Premier Integrated Resort in the highlands above the skies can enjoy a stunning and prosperous CNY celebration.
Here's a look at what's happening.
Must-visit attractions
RWG's Kimhua Atrium, Gohtong Jaya Baru, Skytropolis, Central Park, and Madison Square will be converted into spectacular festive areas and walkways decorated with traditional red lanterns, fairy lights, and an abundance of cherry blossom trees, so get ready to revel in the glory of the season. Take selfies in front of iconic artworks like the nine-metre-tall golden tree in Madison Square or the cute moonbunny figurines in Kimhua Atrium.
Take a stroll through RWG, and enjoy the snowy new year
Participate in the rabbit-themed procession along Gohtong Walk, a picturesque 1.28-kilometre festive route that visits eight landmarks, including SkyAvenue Gateway, SkySymphony, Gohtong Jaya Baru, Skytropolis, Kimhua Atrium, Arena of Stars, Madison Square, and Central Park.
To get a feel for what it's like to celebrate the Lunar New Year in Beijing in the snow, join the over 300,000 people who have visited Central Park just to watch the snowflakes float slowly down from above the rooftops.
Shop at the Flower Market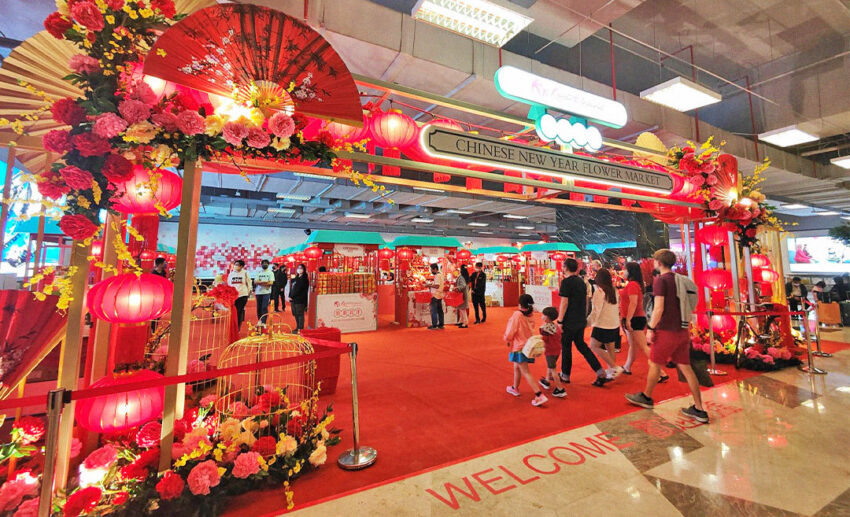 RWG's annual CNY Flower Market 2023 is open from 10am to 10pm at the Transportation Hub close to the Crockfords Hotel — and today's the last day! This is a colourful bazaar not to be missed, with offerings such as auspicious flowers and plants, adorable stuffed rabbits, and celebratory treats like sweet mandarin oranges, dried oysters and scallops, abalone, birds' nest, bak kwa, cakes, sweets, nuts, and pre-packaged gift baskets.
Glorious food
Feast on lavish holiday menus prepared by RWG that are sure to please even the pickiest eaters. From now until 20 January 2023, Genting Palace's Sau Kong Cau set meals start at RM1,688 for a table of 10. Another offer to look for from now till 5 February 2023 are the yee sang sets by Genting Palace at Highlands Hotel and Seasons at Genting Grand consisting of jellyfish, salmon, and abalone for just RM108.
From 21 January to 5 February, enjoy festive special set and a la carte menus at Genting Palace featuring Alaskan crab with mango salad, braised scallop and shellfish soup with black truffle and crab roe, Mongolian charbroiled pig ribs, and double-boiled bird's nest soup with American ginseng. As holiday specials, Seasons is serving up some hearty fare like double-boiled baby abalone and dried scallops in chicken soup and stir-fried Iberico pork tenderloin.
If you're a hotpot lover, during this same time, Genting Garden Hotpot offers dinner sets for RM599 (for four pax) with exquisite broths. The Food Factory will also provide holiday lunch and dinner buffets from 22 to 31 January. Try the Huat Burger (RM20) from Vila Festa, the Mini Yee Sang Shake (RM18) from Buck's Café, and EXO's Monk Jump Over the Wall Soup (RM32)for quick snacks at Genting SkyWorlds Theme Park.
Lion and dragon dance shows
The Arena of Stars will be the epicentre of magnificent holiday entertainment, complete with state-of-the-art sound systems, brilliant lights, and incredibly talented performers, including the eight-piece Chinese Drums extravaganza Frhythms Percussion. The real highlight, however, will be the acrobatic Lion Dance performances by the Defending Champion of the World Lion Dance Championship.
Starting from 22 to 25 January 2023, the Kun Seng Keng Lion and Dragon Dance Association in Muar, Johor will perform, followed by the National Champion, Khuan Loke Lion Dance, from Selangor from 26 to 29 January 2023 at regular intervals — 3pm, 6pm, and 8pm.
Meet and greet session the mascots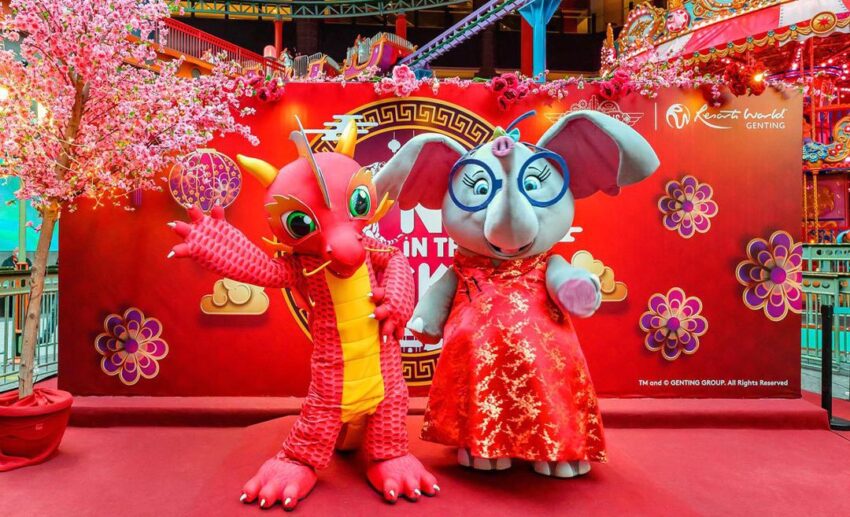 Along with all the fun things to do, Genting's Highland Heroes will be there in full regalia for CNY to pass out plenty of good fortune. Until 5 February 2023, every Wednesday through Sunday, Skytropolis will host a CNY-themed photo booth and mascot interaction.
In addition to Highland Heroes, the colourful MoonBunny gang will be visiting Kimhua Atrium on Wednesdays through Sundays to spread joy to the locals with their unique designs, personalities, and shining red space helmets. So cute!
If you can't get enough of the mascots, MoonBunny t-shirts, hoodies, plushies, cube-shaped pillows, pom-pom keychains, postcard and sticker sets, tote bags, and DIY batik paint kits are available now through February 2023.
All events celebrating Chinese New Year in the Sky are completely free of charge. Check out their website for more details.