Sugar, spice, and everything nice. These are the ingredients you need to create the perfect Chinese New Year (CNY) spread. With the festivities being just a week away, you're probably already scratching your head thinking of what to serve your guests and family. But with so many delicious CNY meal packages offered for takeout or delivery, there's no need to spend hours in the kitchen cooking for a crowd — keep the focus on hosting.
To help you kick off the holiday season with gourmand hits across the board, we've compiled a list of delicious sweets and savoury delights.
Maria's SteakCafe's auspicious set menus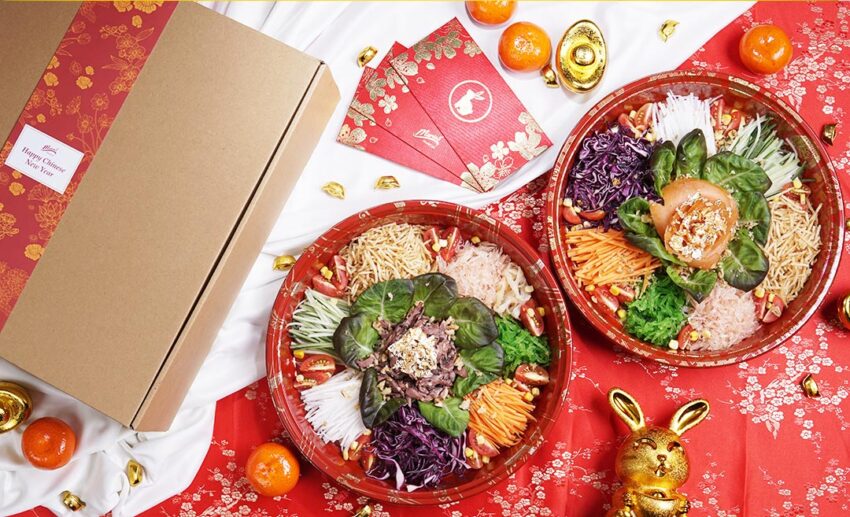 Maria's SteakCafe's Abundance and Prosperity Sets are perfect for those who desire something other than traditional Chinese cuisine for a family reunion, but still want to honour the holiday with some customs.
The sets will commence with their signature Yee Sang to toss for a great year! You can choose to start the dinner with either the famous Smoked Salmon Yee Sang or Pulled Beef, a variation on the classic raw fish salad. Slow-cooked until tender and juicy, the Pulled Beef is shredded so that it may be easily combined with the toppings to create an explosion of flavour.
The Abundance Set at Maria's SteakCafe starts at RM788 and is perfect for smaller gatherings of four to six people, while the Prosperity Set can accommodate larger groups of up to 10 pax. Enjoy your CNY supper with Maria's famous Ribeye, soft baby cutlet, and spaghetti seafood Aglio Olio, which are served with spicy mussels, Caesar salad, and creamy mushroom soup to whet your appetite. As a natural conclusion to such a flawless meal, a slice of prune loaf is served as dessert.
For those who prefer something other than grainfed ribeye, Maria's SteakCafe has a wide variety of premium steaks, from Australia Black Angus to Wagyu MB9, with a wine list to match. Each set will include a Maria's SteakCafe Red Packet and will be available for in-store pickup, dine-in, or delivery until 5 February 2023.
Elevete Patisserie's parcels of sweetness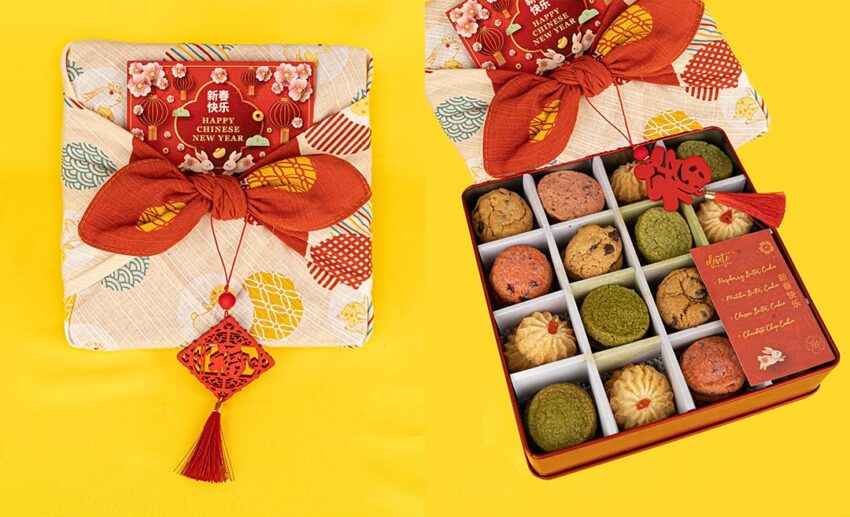 Planning to host a CNY open house? Well then, Elevete has all the cookies you could possible need — and more! Whether for gifting or to serve at your own gatherings, you can't go wrong with these three seasonal options.
The Festive Joy CNY Cookie Box (RM88) is an excellent option for giving cookies as a gift, as it comes beautifully packaged in a reusable furoshiki cloth or simply displaying them around your home for guests to nibble on. The assortment of cookies in the tin includes Cranberry Butter Cookies, Matcha Butter Cookies, Traditional Butter Cookies, and Chocolate Chip Cookies.
Their next set, Spring into Prosperity (RM118), are a wonderful example of East-meets-West. The box comes in a see-through box also lovingly enveloped in a furoshiki fabric that can be reused. Kumquat Coconut Tart, Raspberry Peach Tart, Coconut Bunny, Sakura Madeleine, Pineapple Fatcaron, Mango Passion Fruit Fatcaron, and Pineapple Butter Bite Sized Cake are what you can expect in the spread.
The Gift of Fortune (RM238), inspired by the lucky pineapple, is a basket full of delicious, buttery baked goods. It comes with a 7-inch Prosperity Pineapple Cake, 50 Signature Pineapple Tarts, plus a variety of tasty cookies. There are also Almond Matcha Cookie Sticks and Raspberry Crunchy Cookies to form the perfect accompaniment. you can also treat your guests and those you're gifting to a gourmet take on the ubiquitous Pocky or Pepero stick, created from scratch with the finest ingredients.
Note that pre-orders should be made by 4pm for same-day delivery/pickup and deliveries. These sets are available online until 4 February 2023.
Get a bit of everything at the Tastefully Food Expo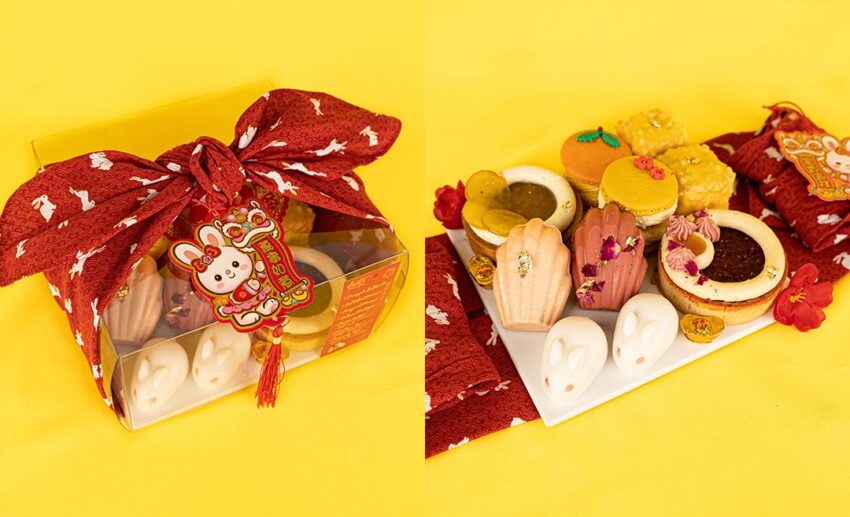 The Midvalley Exhibition Centre in Kuala Lumpur will host Tastefully Expo Malaysia, the largest food and beverage expo in Malaysia, from 13 to 15 January 2023. And if you're looking to explore something new and fresh, then this weekend is your chance to go discover something new!
We particularly like this — Signature Market, in celebration of the exhibition, has introduced the Signature Market x Tastefully Blooming Prosperity Gift Box which features products worth RM60 but will be offered for just RM9.88 (talk about ong)! The limited-edition set may be ordered on the official website and picked up at the redemption counter during the expo.