If you're planning a reunion dinner for Chinese New Year 2023, but don't feel like cooking, consider making reservations at one of these hotel restaurants instead.
This year's Chinese New Year (CNY) celebrations will be exceptionally special because it will be the first fully open reunion meal since the pandemic. With no dining restrictions to worry about, why not treat the family to a special meal to mark the occasion?
Many major hotels in Malaysia provide month-long festive menus and special delicacies for the new year, from multi-course meals, and a la carte options to lavish buffets. For a prosperous year of the rabbit this 2023, wine and dine your way at these hotels.
1. The Ritz-Carlton, Langkawi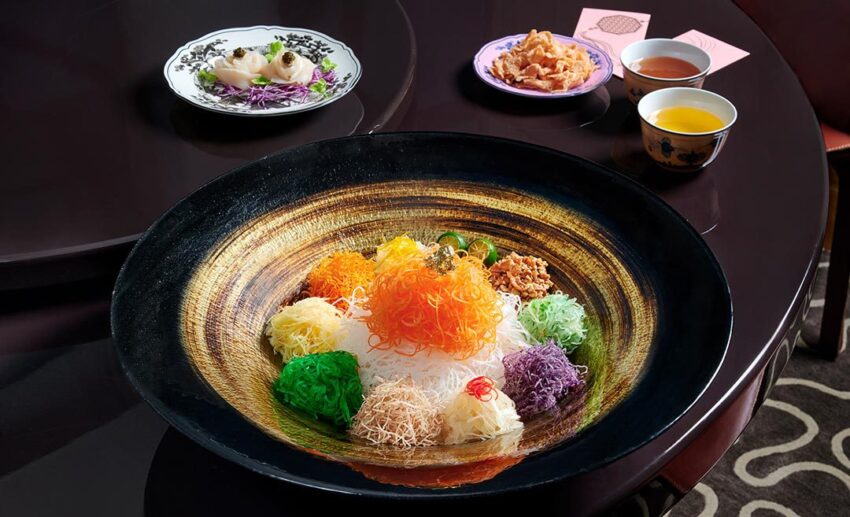 Holidaying this CNY? Hai Yan extends an invitation to a lavish banquet dinner with a special view of the Andaman Sea from its perch on stilts above enormous rocks that protrude from the water. Choose from two delicious set dinners by Chef Yong Jia Go.
The handpicked set meals start at RM888 per adult and include delicacies such as Claypot Brown Rice with Baked Cod Fish, Steamed Live Dragon Grouper with Superior Soya Sauce, and Wok Fried Wagyu Beef Marbled 6-7 with Honey-Pepper Sauce. Hai Yan's Dim Sum Feast for lunch will feature prawn dumplings with black truffles, steamed cod fish dumplings, abalone puffs, and more!
2. W Kuala Lumpur
W Kuala Lumpur celebrates the Lunar New Year with Chef Tan Kim Weng's best picks and sets, including Braised 'Monk Jump Over the Wall' Superior Chicken Soup, Stewed Money Bag with Sliced Abalone, Sea Cucumber, Sun-Dried Oyster and Sea Moss, and Sweetened Yam Cream Soup with Peach Gum, Sago Pearl, and Rice Dumpling. Along with Dim Sum, Dessert, and a la carte options at Yen, the hotel provides two Reunion set meals. For just the meal, the set menu costs RM238 per person up to RM428 per person. 
3. Sheraton Imperial Kuala Lumpur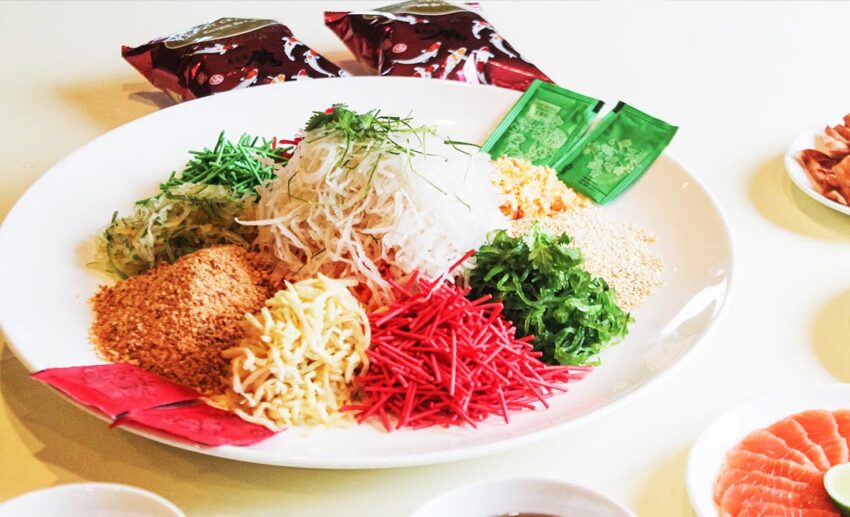 Gather with family and friends at the Hao Yun Feast at the Sheraton Imperial Kuala Lumpur's Celestial Court to celebrate a happy reunion. Chef Ho Boon's hallmark dishes, such as Wok Seared Beef Tenderloin Cube, Celestial Court Fried Rice with Homemade Sauce and Seafood, mouth-watering Curry Egg Noodle with Shrimps Dumpling, Steamed Red Grouper with Golden Garlic, and many more are the options available at the newly-reopened Chinese restaurant. The pricing of the set menu ranges from RM1730 nett for a party of six to RM3120 nett for a group of ten or more.
4. Sheraton Petaling Jaya
Yue's Chef Lim Huang Hock is dedicated to preserving time-tested recipes and ingredients. Yue's Lunar Set Menus showcase the heart of Cantonese tradition with hearty soups, fresh seafood, stir-fries, and sweet finishes.
A variety of Yue's signature dishes are available for guests to enjoy, including Traditional Yee Sang with Deep-fried Soft-Shell Crab, Steamed Chicken with Chinese Herbs and Lotus Leaf, Stir-fried Prawn Meat with Lotus Root and Pandan Cream, Osmanthus with Lemongrass and Tragacanth Gum Jelly, and then some.
Yue's set meals are perfect for family get-togethers and business dinners alike, starting at RM2388 for a table of 10 or RM268 per person.
5. Le Meridien Putrajaya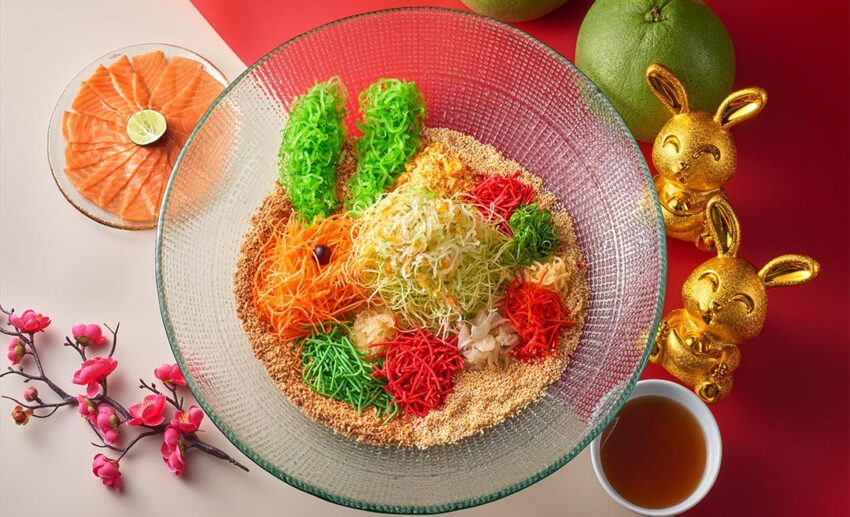 The Tuan Yuan celebration at Le Mei at the Le Méridien Putrajaya offers a modern take on traditional Chinese food. Diners can choose from dishes like Hong Kong-style poached free-range chicken with sand ginger and double-boiled silkie fowl soup with abalone, porcini mushrooms, and dried scallops, or Fried Organic Brown Rice with Sakura Shrimp, Seafood, and Foie Gras, all handpicked by Chef Lim and his crew.
The cost of the set menus for tables of 10 diners begins at RM1440 while the Latest Recipe's Chinese New Year Dinner Buffet is priced at RM188 (adults) and RM94 (child).
6. The RuMa Hotel and Residences
Not feeling like a traditional reunion meal or wanting to celebrate the new year over something a little lighter? Then head over to The RuMa Hotel and Residences. The LIBRARI's Spring Afternoon Tea celebrates the Lunar New Year with a wonderful ice-cream pairing created by in-house ice- cream expert.
A treat unlike any other, indulge in savoury and sweet ice cream pairings like Truffle and Béarnaise Ice-Cream and Rhubarb and Mascarpone Ice-Cream. A free bottle of Kronenbourg 1664 ROSÉ beer is also included with the purchase of the Spring Afternoon Tea. This one-of-a-kind dining opportunity is available every day from 2pm to 5pm for RM 158 per person or RM298 for two pax.
7. Marriott Putrajaya
Summer Palace Chinese Restaurant has brought back their classic trademark meal for the new year of the rabbit, with prices ranging from RM1888 to RM2988 for a table of 10.
Impress your loved ones with dishes like braised Fish Maw Soup with Crab Meat, Dried Scallops, Fish Lips, Roasted Duck Marinated with Oriental Herbs, Five Spices, and Truffle Sauce, Fragrant Fried Lobster Tail with Yunnan Black Bean Sauce, Deep Fried Rice Cracker Cake with Purple Potato and other delectable bites.