A celebration is always a good excuse for hosting parties. With 2022 finally culminating in a few short weeks, we sure as hell are revelling in the end of a tumultuous two years, ready to put the past behind us and ringing in 2023 with all the hope she promises to bring. Especially since 2022 wasn't so bad after all (hello, revenge travelling!).
But if you've never been one to host, fret not, we've got you covered.
Any good host will tell you that it doesn't take much to wow your guests or make them comfortable – imagine the things that you'd appreciate when in someone else's home and implement that into your own. The devil is really in the details, and one of the best ways to break it down is to cater to all the senses. Ultimately, hosting others should be a holistic experience. Inundate the senses with all things wonderful, and there's your wow! Here are some ideas to help you become the hostess with the mostest:
For smelling
Unless you're baking cookies, there are a number of ways you can ensure your home smells divine. Smell is the first thing to hit your senses as soon as you enter a new space, and it's said that the olfactive sense is one of the strongest (we eat more with our noses than we do with our tongue).
Smell is also evocative of memory. Don't believe us? Hotel chains all have signature scents. For instance, every Shangri-La property you go to has the same smell – something they've chosen to make you feel welcome and at home. So choose your fragrances wisely.
So stick to the aromas that remind you of Christmas – mint, cinnamon, apples, and florals all come to mind. And in terms of scenting the atmosphere, there are two easy ways to do it — with candles or a wall plug. For candles, a sizeable three-wick one will help take you through the season (we love the Frosted Cranberry from Bath & Body Works).
In terms of choosing the type of fragrance to go for, plug-ins like the Wallflowers from Bath & Body Works are the most convenient, as they're subtle and dissipate a regular stream of perfume. Side note: we love the scent Crushed Candy Cane! Suffice to say, they're our go-to for affordable and fun home fragrances.
Reed diffusers only work well in small spaces (like bathrooms). While candles, although pretty, will require you to give them some attention (which you may or may not be able to give while hosting).
Finally, besides your living areas and dining room, don't forget to scent your powder room and water closets. Any deodorising fragrance will do, but do steer clear of too-lemony and strong citrus aromatics as those smell too much of toilet. Instead, consider scents with lavender or citruses like yuzu as opposed to lemon. A charcoal deodoriser is also a good option. You may want to also consider some post-poo drops, like this Poo-Pourri Before-You-Go toilet spray, to keep your guests from feeling self-conscious.
For seeing
When it comes to sight, there are two main ways to induce a little shock and awe – with abundant decorations and/or a table spread. Think of your hosting space – whether it's your living area, lanai, reception, great room, pool, or garden – as a blank canvas with which to work.
Come up with themes. For the most part, most home décor is usually quite neutral, allowing a strong theme to shine through. It can be based on colour, characters, films/books, eras, or moods. Heck, you could even base it off a fruit (turns out that watermelon themes are hella cute)!
For the festive season, Christmas and new year décor is easy to come by – head to Spotlight, Daiso, SSF, Mr DIY, and Lazada for some cheap and cheerful finds. Just remember to keep the lighting warm for a more sophisticated feel.
You can also treat your large TV screen like an animated photo frame. Just play a holiday classic (we've got an awesome list of Christmas movies), mute it, and it'll look great in the background as opposed to a large and empty black screen.
As for your dining area, besides laying food flat out across the table, arrange the food how you would a vase of flowers. Think of levels. If you're not able to invest in some tiered serving platters, simply turn a bowl over and place your serving plate on it to create height. Also, make the most visually-appealing dish in your spread the centrepiece (usually a cake) and place it on a stand. If you have cute glass jars or vases, fill them up (I usually put Christmas tree décor in mine). Flowers and leaves (like palms) also make nice, inexpensive touches, and they're free if you have a garden. As for getting the serving plates to match if they don't, don't sweat it, just make it seem intentional.
When it comes to food flow, divide your table into parts, a section for starters that moves into mains, and eventually fruits and dessert. If you're hosting just drinks, consider filling up the table with a grazing platter and beer bites – inebriated guests are usually also guests who have the munchies. But don't limit yourself to only setting up your dining table. Coffee tables and side tables deserve just as much attention too.
For hearing
Music is food for the soul and a brilliant means of setting the ambience. Below are some festive playlists on good old' Spotify. Alternatively, if you don't have Spotify, YouTube has many awesome playlists too. Just remember, keep the music loud enough that it fills the room, but soft enough to allow people to carry a conversation without shouting at each other.
Christmas Classics
The perfect playlist for those who love to kick it old school. These classic hits include 'Winter Wonderland' by Bing Crosby, 'Santa Baby' by Eartha Kitt, and 'Have Yourself A Merry Little Christmas' by Judy Garland.
Christmas Pop
This mix has some head-bopping holiday tunes and features hits including Ariana Grande's rendition of 'Santa Tell Me', 'Last Christmas' by Wham!, and of course, everyone's favourite 'All I Want For Christmas Is You' by Mariah Carey.
New Year's Eve Party Bangers!
A thoroughly fun and eclectic playlist thoughtfully put together by the good people at Spotify. It features oldie-but-good jams like Whitney Houston's 'I Wanna Dance With Somebody' and Basement Jaxx's 'Romeo' interspersed with newer hits like Ariana Grande's 'Thank U, Next'.
100 Greatest Christmas Songs Ever
Hours and hours of Christmas tunes for your listening pleasure! It has all the classics and new tunes of the first two playlists listed above. Think Michael Buble. Listen to it here.
New Year's Eve Party Music
Kick it old school with these timeless tunes. We're talking the likes of Elton John's 'I'm Still Standing', Kool & The Gang's 'Celebration', and The Pointer Sister's 'I'm So Excited'. Basically, all the kinds of hits you'll want to hear to bid (this rather difficult) 2020 adieu and usher in 2021. Listen to it here.
For touching
Texture is everything when it comes to touching. Adequate and comfortable seating is ideal, but if a sofa built for 10 isn't an option, cushioned stools will suffice. Then, there's the topic of serving ware. As much as possible, keep from using disposable plastic and utensils and plates. Not only are they terrible for the environment, but they also break easily and are quite horrible to eat off of.
If you don't have enough proper plates and utensils for the number of guests expected, or you simply don't want to do so much washing up after, opt for disposable serving ware in biodegradable material. Spotlight has a number of options like wheat straw bowls. As an added bonus, they're a lot more durable than those floppy paper plates and snappy plastic forks.
Since it's Christmas, why not also touch the hearts of your guests by giving them gifts? Think of the feel-good factor as a sixth sense, so here are 10 lovely gift ideas you can cop from homegrown brands. You get to support a small business while putting a smile on your loved ones' faces — it's the gift that keeps on giving!
Beauty products also make for great stocking stuffers. If you're feeling generous, wrap gift sets and place them under the tree for each guest. In the event you have quite a number of guests and would like to stretch the budget out, buy several beauty sets, open them up, and allow each guest an item each. Let them treat the Christmas stockings hanging around like a bit of a lucky dip before they head home.
For other stocking stuffer ideas, we've got a listicle just for you too.
Tip: If you've got a mixed group, focus on giving out skincare that's unisex. If you've just got your gal pals over, makeup is always a lovely addition. Another good unisex gift idea is tees! An oversized top is a wardrobe staple for any woman, while men can appreciate an everyday tee.
For tasting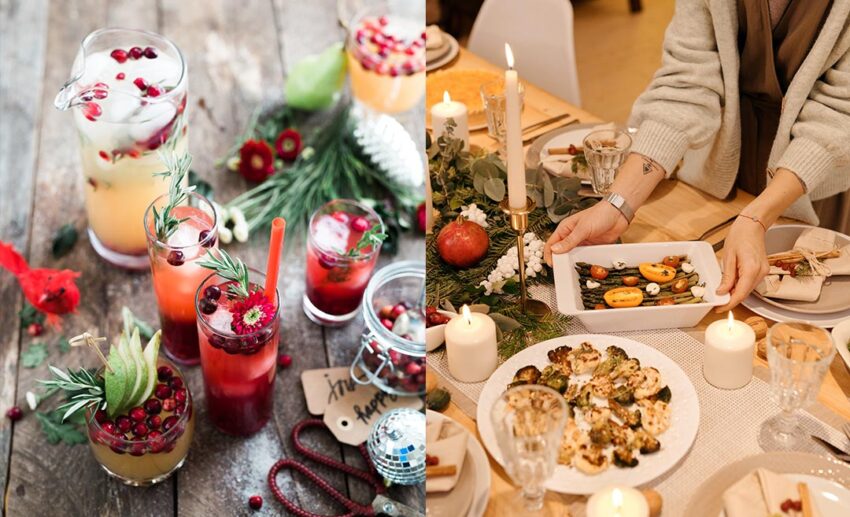 Last, but certainly not least, the food! While a kitchen is the heart and soul of the home, food and drink is the heart and soul of a party – see the connection? Honestly, the best advice we can give you for hosting is that even if things fall apart in the other departments – you can't be bothered with décor, don't have the budget to splurge on candles and numerous reed diffusers, and so on – focus your efforts on the heart and soul of the party. Because as long as there's good food (and copious amounts of booze), your party will most certainly be a success.
Whatever you choose to serve this season, it's important to be considerate of your guests' dietary requirements. Some may abstain from pork or beef, while others may have allergies they need to be careful about. It's also difficult keeping up with everyone's needs, so a sure-fire way to ensure everyone gets fed is to offer variety – even in small amounts. Check out this awesome list of festive eats that we've pulled together for some ideas on what to order if you plan on catering. They're mostly small businesses and one of them even supports refugee cooks.
Have we covered all the bases? What are some of your hosting hacks that you'd like to share? Leave a comment to help spread the cheer. Merry Christmas and happy new year!