We're all no strangers to the destination wedding. As perennial travellers, it's likely that close friend(s) or family member(s) have had one and we've experienced what a thrill it can be. So now, perhaps you want one of your own. Planning a destination wedding in Ontario, Canada will provide you with a unique travel experience along with the most picturesque start to your life together. As you embark on this journey, the task of finding the ideal venue might seem daunting amidst an array of beautiful sites.
Selecting the right location is essential, as it sets the atmosphere for your unforgettable celebration. Fortunately, we've compiled a list of crucial factors to help you narrow down and choose from Ontario's enchanting venues as part of your wedding adventure. In fact, most of these tips apply to any destination wedding venue hunt!
1. Time management
One of the first steps in wedding planning is selecting the venue, so you'll want to get started as soon as possible. The picturesque Canadian province of Ontario is home to many beautiful venues in popular locations, like Niagara Falls.
Your dream venue might be high in demand, and you don't want to reach out to them only to find out they're fully booked for the next year. So, the earlier the better! Moreover, it will be effective for you to have a timetable for all of your wedding-related tasks and stick to the dates you have planned as much as possible.
2. Location, location, location
Naturally, your first step should be to decide where and when the event will take place when planning a wedding. Have you always dreamed of having a stylish wedding in a downtown venue with a sleek modern aesthetic? What about a rustic winery in the countryside?
For example, if we consider Ontario mansion wedding venues, you can find elegant and breathtaking options that cater to various themes and party sizes. Keep in mind the charm, history, and picturesque surroundings when searching for such a venue to make your special day an unforgettable one.
Next, do you want two separate locations for the ceremony and reception? Where is it located and how easy is it to reach it? Are directions straightforward enough for guests from out of town? It's important for you to be able to answer these questions and to be aware of the accessibility of your venue especially if you're having a destination wedding.
3. You've got to have style
When choosing the wedding venue, you should at least have a general idea of what the theme of your wedding will be. Your theme won't be suitable to every wedding venue. In order to achieve a seamless aesthetic, consider how all the elements of your wedding will fit together, from the venue to the decorations and the menu. For example, a bohemian wedding in a hotel seems odd, doesn't it? Best for it to be outdoors.
4. Show me the money
There's nothing more frustrating when you find what seems like the perfect wedding venue, only to find that your wedding budget doesn't allow for it later. Not to be in this scenario, determine how much you can spend on the venue alone, as well as how much to allocate to the rest of your wedding.
Depending on the venue, some event services may be included in the overall cost, whereas some may be billed separately. When you have to rent tables, chairs, a dance floor, lighting, and other items on the day of the event, your expenses can quickly add up.
5. So, who's coming?
It's important to know how many guests you'll be inviting to your wedding before choosing a venue. In this way, you'll be able to find a location that'll be a good fit for the number of guests you expect. Besides, guest size is a significant factor determining the price.
It's also quite important to have an estimate of how many people are likely to attend your celebration so that you can figure out how tables will be arranged as well as how to best make use of your available space.
6. Getting there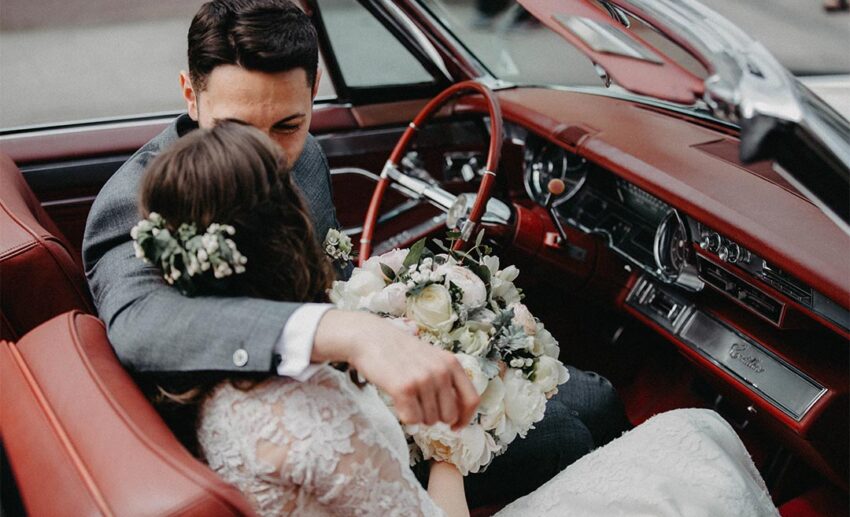 The transportation aspect includes ensuring that there will be ample parking space without your guests having to walk a mile to your ceremony site and back, as well as checking with local hotels to ensure there will be vacancies (you could even consider working out discounted group room rates).
That said, driving is only a factor for local guests. Since this is a destination wedding, your guests will likely not have cars, thus organising a shuttle from the hotel to the wedding venue or ensuring the location is easily accessible by public transport or e-hailing is important for their comfort and security.
7. Weather
In Ontario, you might be surprised by the province's excessive weather conditions. According to the season you prefer to get married in, you might want to consider the weather forecast on your preferred date. And you can always have a plan B in case of bad weather on your big day. Ask the venues if they have any options for these kinds of situations.
Overall, Ontario has so many opportunities to offer when it comes to weddings if you know what you are looking for. They include every type of venue you could wish for, like farms and barns, wineries, galleries, beaches, and more. We're sure that you'll find the one that reflects you the best so long as you follow these tips. Now go and enjoy the most amazing wedding day ever!