As a woman traveller, who's sometimes out and about alone, safety remains one of the key considerations when planning a commute. Cases of women passengers being robbed or harassed by the drivers of unisex ride-sharing platforms have made travel safety an even more pressing issue. In Kuala Lumpur, for example, a pregnant woman was robbed by an Uber driver and his accomplice, leading to her suffering a miscarriage.
Addressing this need, ride-sharing services meant just for women have cropped up in major metropolitans around the world. It started with Pink Lady in London in 2005, and as of 2013, there are 15 such services in 10 countries. Here are six of the newest women-only ride-sharing services, so the next time you're visiting these cities and need a comfortable and safe ride, you know who to call.
Kuala Lumpur, Malaysia: Riding Pink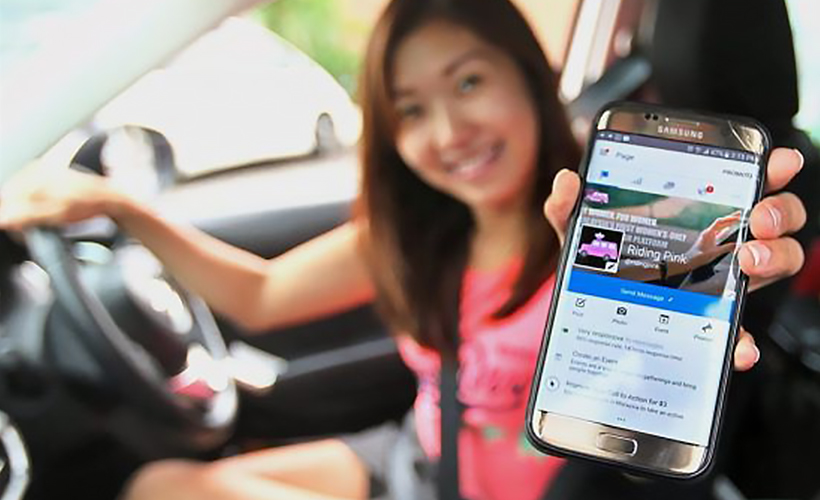 Full-time mother Denise Teoh understands what a struggle it is for women to find jobs that allow for flexible working hours. Having given up the rat race to stay home and take care of her two boys, the former auditor wanted to create a platform that not only catered to others like herself but also provide a service that will benefit other women as well. Riding Pink was launched last year as Malaysia's first women-only transportation service.
What we like about it:
• Users first need to create an account, providing personal information such as MyKad number – for Malaysians; non-Malaysians have to provide passport or student/employment pass number – and a profile photo. The Riding Pink team will then assess your application before activating your account and letting you book a ride.
• All of their drivers are women, comprising mostly of stay-at-home mothers, single parents, and working mothers needing an additional source of income.
• Rides are pre-booked one day in advance, and you can also schedule recurring rides.
---
Need more transportation options? Read:
---
Karachi, Pakistan: Pink Taxi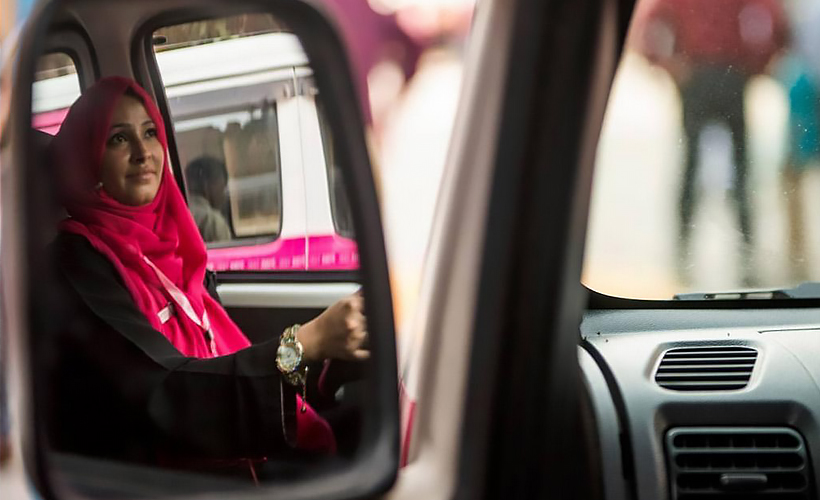 All of Pink Taxi's vehicles are painted pink while its women drivers don pink headscarves. Since March of this year, Karachi's streets have seen a steady flow of Pink Taxi, the city's first ride-sharing service that's exclusively for women. Founded by Ambreen Sheikh and her husband Zahid Sheikh, Pink Taxi prefers the term 'pilots' for their drivers, who comprise students and housewives between the ages of 19 and 50, hailing from middle and lower-middle income groups. Pink Taxi is providing a safe environment for both the pilots (to earn extra income to help their families) and the women commuters.
After Karachi, Pink Taxi is expected to be available in Lahore and Islamabad within the next few months.
What we like about it:
• Besides the app (downloadable here), users can also order a ride by phone to their call centre, via SMS to their helpline, or hail one of their taxis on the road. A four-digit pin is issued for phone and SMS bookings, which is used for verification with the driver and to then initiate the ride. To hail a Pink Taxi on the road, commuters need to provide their names and contact numbers which the pilots need to feed into the system.
• The company provides accidental insurance coverage, and their vehicles are equipped with fire extinguishers and First Aid kits.
---
Photo journalist Rahul Aijaz takes time off from his chaotic routine to capture some moments of peace in his city:
---
Melbourne, Australia: Shebah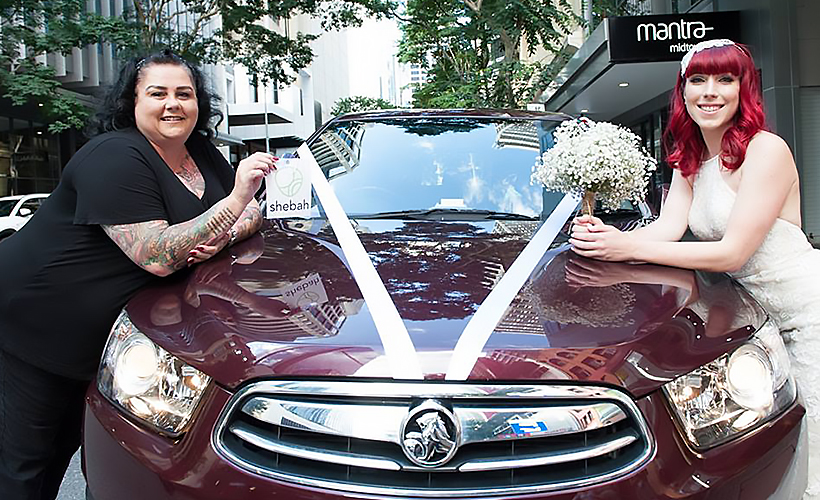 Many women, like writer and comedian George McEncroe, have heard (or experienced for themselves) various shocking stories about the appalling, sometimes creepy, service and attitude that male cabbies and ride-sharing drivers have. McEncroe went one step further, founding Shebah as "unapologetically a female service" that welcomes all women. Currently, Shebah is available in Sydney, Melbourne, Geelong, Brisbane, Gold Coast, and Sunshine Coast. Shebah will soon spread her love to Perth, Darwin, and Adelaide.
What we like about it:
• Shebah employs only women drivers and accepts ALL women passengers, including transgender women.
• Many of their vehicles are fitted with child and baby seats, or you can request one upon booking.
• They can cater for passengers with pets too; ask in advance and they will find a pet-friendly car to transport you and your fur kid, and may even provide a basket or blanket as carrier during the ride.
• Male passengers are accepted, depending on circumstances: Boys under 12 (can travel unaccompanied); boys under 18 (if accompanied by their mother or a female guardian); adult male travelling with his female partner and baby and heading to the airport (only if the ride is pre-booked via Shebah's Facebook page and the driver is agreeable).
• The first one percent of all fares are donated to charity.
Orange County/Long Beach, USA: See Jane Go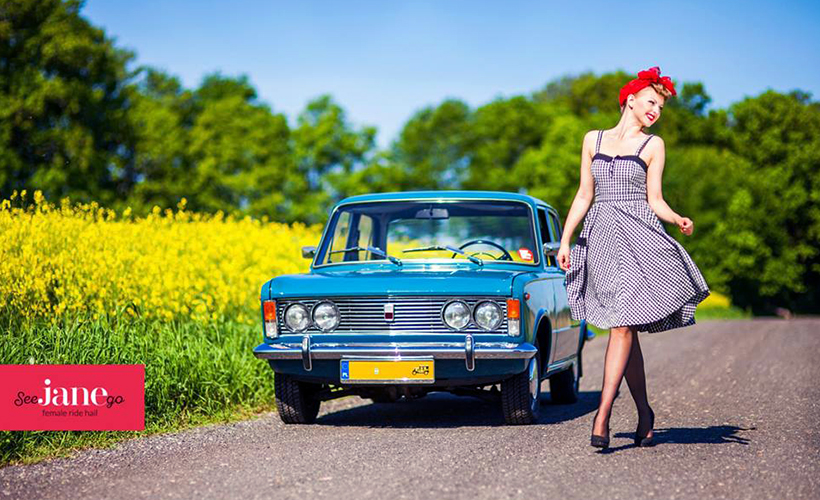 Safety is something that not only women worry about – men like William Jordan do too. Uncomfortable at the thought of his daughters getting into a car with a strange man, the father-of-two launched See Jane Go. Based in California, the service is currently available in Orange County and Long Beach.
What we like about it:
• Their core values (or Jane's Values) read like a list of empowering affirmations that promote equality, rights to stay safe, and encourage kindness and compassion.
• The company channels two percent of its nett revenue towards causes that are empowering women, such as Laura's House, that works towards ending domestic violence.
• Users can not only rate their drivers but also mark their favourites. So the next time you hail a ride, you have a better chance of being paired with your choice of Jane.
• Men are welcome only if accompanied by a woman rider, and as long as she vouches for him. She is also responsible for ensuring he keeps to Jane's rules.
Boston, USA: Safr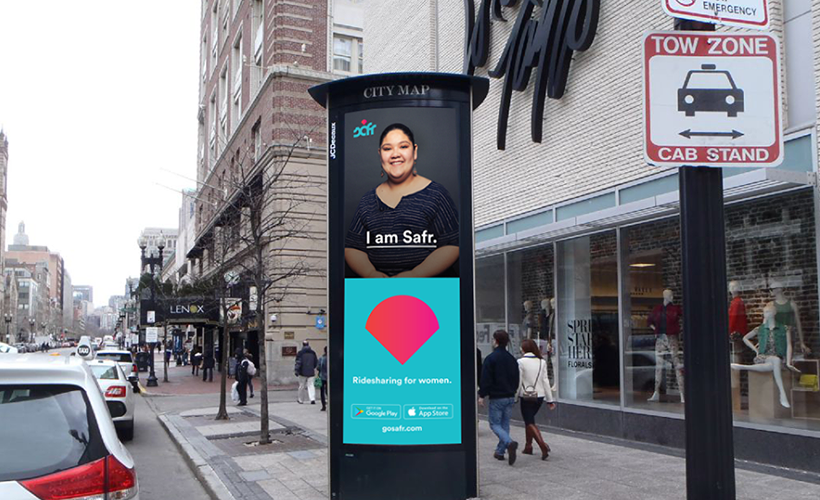 From Chariots for Women to SafeHer and now finally launched as Safr, this Boston-based ride-sharing platform promises safety and the empowerment of women along with cheaper fares as compared with other similar services. Founder Michael Pelletz was formerly an Uber driver who came up with the idea after dropping off an intoxicated male passenger and realised why his wife had been reluctant about becoming a driver as well.
What we like about it:
• Every driver is vetted through a face-to-face interview and driving session. Drivers also have to take a bystander awareness and ride safety training session.
• Safr's real-time monitoring means rides are tracked 24/7.
• Each ride is assigned a colour, which is made known to both passenger and driver. This detail must be verified by both parties before starting the ride, to ensure that you are getting into the car that has been assigned to you.
Melbourne, Australia: SheSafe
Although yet to launch – they are at the final stages of testing their app – SheSafe already has women in Australia excited over their ride-sharing services, which not only serves women but also has a Child Safety Policy in place. For its founder and mother-of-two Emma Buchanan, the most important thing is that women and young girls should not have to feel scared about commuting by car. In this case, it will always be with a female driver, who has undergone a full background check. SheSafe will roll out in Melbourne before expanding to other Australian cities.
What we like about it:
• All drivers must obtain a Police Check and a Working With Children Certificate, besides having a 100-point driver ID. They also need to read, understand and sign the company's Child Safety Policy (which can be downloaded from SheSafe's website) before they can start working.
• According to a post on their Facebook page, SheSafe drivers will be the highest paid in the ride-sharing industry.
• A percentage from every fare will be donated to these three charities that work to help women and children in Australia: Breast Cancer Network Australia, Emerge Women and Children's Support Network, and The Sisterhood for St Vincent's Hospital.
Cover image credit: Go Safr/Facebook