So, your man proposed, you said 'yes' (with tears running down your face but, like, elegantly), had your wedding photoshoot, and it's time to throw a bridal shower party. The question would be… where?
Although the responsibility of planning a bridal shower should fall to your bridesmaids, it doesn't hurt to drop a few hints about where you'd like to go. While on a hunt for unique venues around Klang Valley, we came across several beautiful places which have the potential to hold a picture perfect, intimate bridal shower.
Here's a list of eight venues that not only serve delicious food, but are also suitable for a bridal shower, in no particular order:
1. Bo All Day Dining, The LINC KL
Bo All Day Dining is a diner hidden in the heart of Kuala Lumpur (KL), offering excellent hospitality and a wide variety of delicious dishes in a gorgeous tropical garden setting. The decor screams old-school glamour without being overly pretentious, with a design concept heavily inspired by Malaysia's rainforest. You and your bridal team can channel your inner 'Audrey Hepburn', dress up, and be seen here.
It's not hard to decide what to eat here because the menu is kept focused and consistent. However, if you still require recommendations, try the 10" artisanal wood-fired oven pizzas and Bo's Signature Rotisserie Roast. Reservation is highly advisable as the restaurant usually gets packed with the brunch crowd.
Address: Lot 1-10/1-11, No 360 The Linc, Jalan Tun Razak, 50400 Kuala Lumpur
Contact: +6012 678 0983
2. Nathalie Gourmet Studio, Publika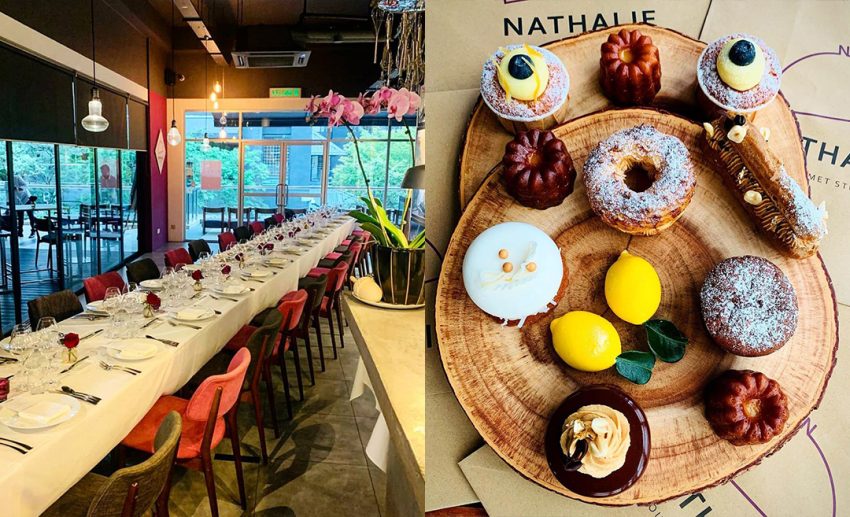 A hidden gem in Publika, Nathalie Gourmet Studio is better known for their macarons and French delights. It offers a cosy space for intimate events as you feast on their delicious and innovative cuisine.
Nathalie Gourmet Studio places its skills, vast catering knowledge, and impassioned commitment at your disposal for all your bridal shower needs. Their studio will be ideal if you're looking for a bespoke experience. You can even get Chef Nathalie to teach you and your girlfriends the art of cooking and show you where the magic happens!
Address: A4.1.05, First Floor, Block A4, Publika, Solaris Dutamas, 1, Jalan Dutamas, 50480, Kuala Lumpur
Contact: +6017 963 2010
3. De.Wan 1958 by Chef Wan, The LINC KL
Malaysia's most celebrated culinary icon, Datuk Dr Chef Wan, needs no introduction. So if you're looking for a venue for your bridal shower and love Malaysian cuisine, De.Wan 1958 by Chef Wan is the right venue to create the exact atmosphere you've dreamed of.
The chef's reputation for unparalleled quality alone deserves a spot on this list; hence, you can never go wrong when choosing to dine here. The decor is colourful, whimsical, and elegant, reflecting the chef's individuality. The menu highlights refined Malaysian dishes such as ayam masak merah (a type of spicy chicken casserole) and asam lemak ikan (a type of curry coconut), and the best thing is the restaurant provides free-flow basmati rice! Bring on the feast!
Address: Lot 2-2, Level 2, The LINC KL, 360 Jalan Tun Razak 50400 Kuala Lumpur
Contact: 1-700-82-1558
4. The Orchid Conservatory, The Majestic Hotel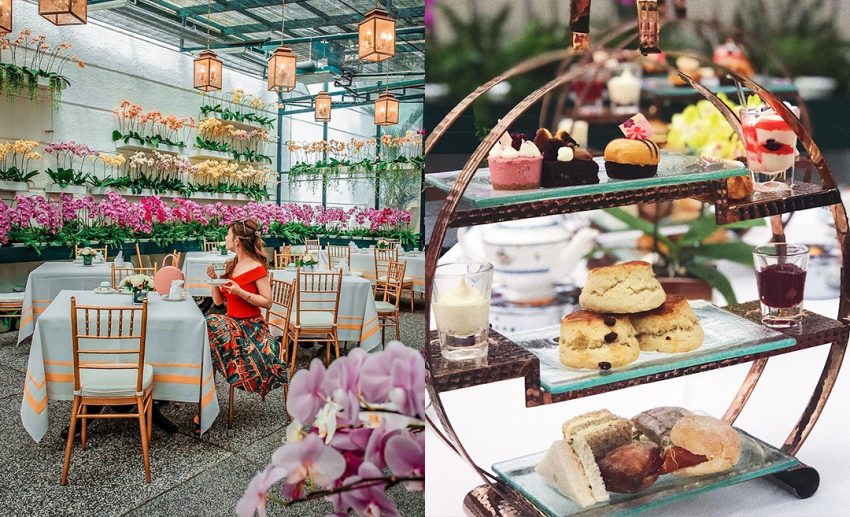 If you're looking to throw a chic Parisian tea party for your bridal shower, then look no further than the Orchid Conservatory Room at The Majestic Hotel KL. Upon entering the room, you and your flower-loving girlfriends will surely smile at the sight of the gorgeous orchidscape, which comprises a seasonal range of the Phalaenopsis variety. With natural light shining through the glass atrium walls, this room sets an ethereal ambiance.
The gorgeous orchids are complemented by an array of delicate pastries, finger sandwiches, and extensive choices of aromatic tea, all blending harmoniously. So, what are you waiting for? Make a reservation and impress everyone invited!
Address: 5 Jalan Sultan Hishamuddin, Tasik Perdana, 50000 Kuala Lumpur
Contact: +603 2785 8000
5. La Cocina, Subang Jaya
For you foodies looking for non-traditional cuisine, then La Cocina, a Spanish restaurant in Subang Jaya, is your place. Serving up affordable Spanish cuisine, indulge yourself in tapas and seafood paella. The food at La Cocina is prepared from the highest quality ingredients, such as Spanish saffron, the world's most expensive spice.
What makes this venue even more perfect for a bridal shower is the private room that's available upon request. Therefore, while you feast on some good food, you're also guaranteed to have privacy, making your celebration an intimate and exclusive one.
Address: No 1 USJ 10/1E, Taipan Business Centre, 47610 Subang Jaya, Selangor
Contact: +603 5621 2395
6. Viola Flower Cafe, Bukit Jalil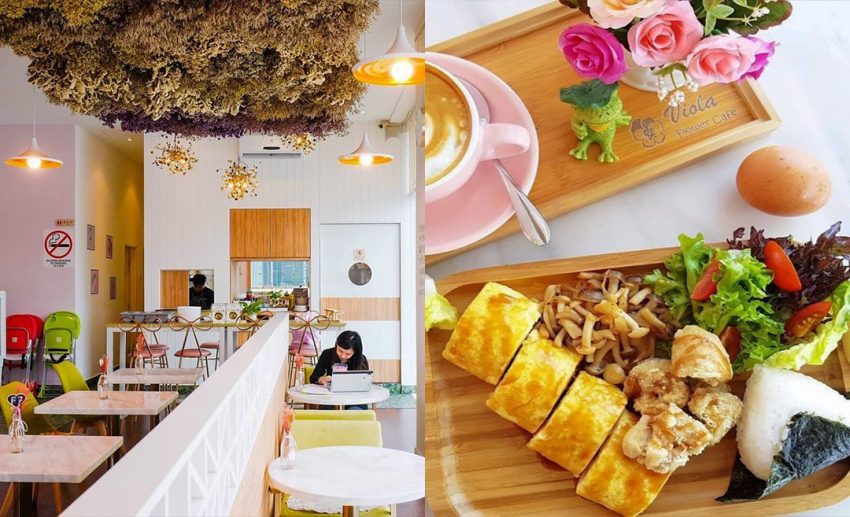 If you're into flowers but feel that The Orchid Conservatory at Majestic KL is a little too pricey, Viola Flower Cafe in Bukit Jalil is your next best bet to host a bridal shower. Serving a fusion of Japanese and Western fare, which includes the most adorable desserts, this café has a beautiful ceiling replete with naturally-dried flowers that evoke the spirit of eternal spring.
They also has a private event space with a complimentary backdrop for a party. Dessert counters and additional decorations are also available and can be customised to your liking. The party rate starts at MYR25per person, thus not leaving a dent in your bank account!
Address: H1-03 Jalan Persiaran Jalil 1, Bukit Jalil City, 57000 Kuala Lumpur
Contact: +603 2733 5718
7. The Farm Foodcraft, Bangsar South
If you want a place with a great ambience and farm-fresh food, then The Farm Foodcraft might be up your alley. First of all, it is just gorgeous: it is adorned with natural light, bright (which is important if you're looking to snap some photos with your pals), and filled with plants. All the food here is guaranteed fresh, mainly because most ingredients are grown in their urban farm on site.
With a wide enough selection of food to please carnivores, vegans, and everyone in between, you can rest assured that the entire bridal party can dine on healthy comfort food while surrounded by spectacular decor. Do take note that the menu changes every three months.
Address: Level Ground, The Sphere, Bangsar South City 59200 Kuala Lumpur
Contact: +6014 993 3880
8. Vogue Lounge KL, Bangsar South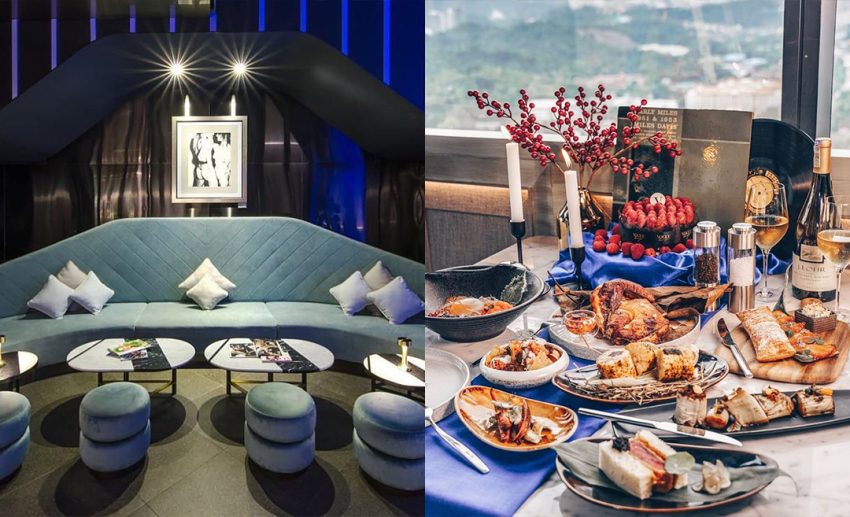 If you're looking for an atas (premium) vibe to impress your fashionista friends, Vogue Lounge KL is there for you. It's the only Conde Nast Restaurant in the region, promising a stylish sanctuary to see and be seen.
Indulge yourself with a playful twist of French and Japanese cuisine, and be entertained by exciting late-night entertainment from the likes of DJs or vocal performers, and even fashion shows!
Address: Level 38, Menara SuezCap 1, KL Gateway, Jalan Kerinchi, 59200 Kuala Lumpur
Contact: +603 2771 1530