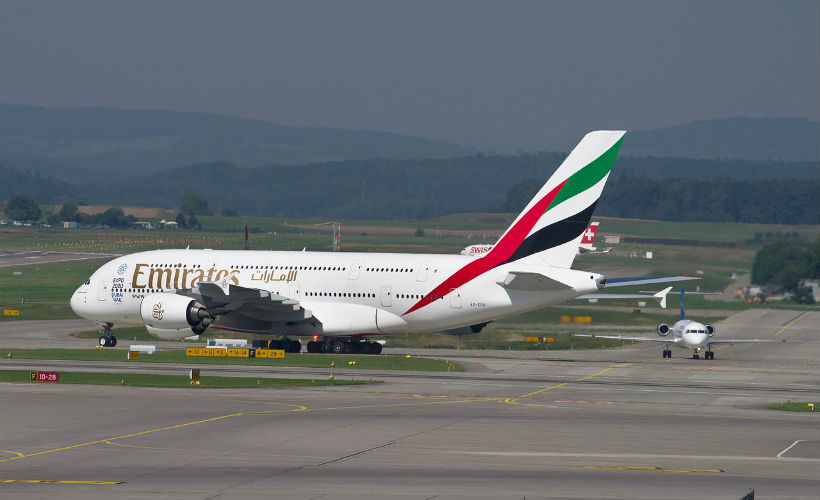 What is your favourite thing to do on a long flight? Do you enjoy reading books off your kindle or going snap happy with an SLR of the vistas you witness from your plane seats? Or perhaps you enjoy hours of working on your laptop uninterrupted? If your answer is 'yes' to any of those, it may be time invest in a phone with a longer battery life, and to start reading books the old school way.
In a dramatic move to improve air traffic security, the US and UK have announced a ban on laptops, tablets and other electronic items in cabin baggage on flights from Turkey and a host of other countries in the Middle East and North Africa.
The electronics ban, which was announced a few months following Trump's infamous travel ban on Muslim-majority countries, has been effective since 21st March 2017. It requires passengers boarding flight to the US and UK from listed countries to place electronic items other than their mobile phones in their check-in luggage. These restrictions will apply until further notice, reported The Guardian.
While the UK ban applies to six airports, the US has placed the ban on 10 airports including Dubai International, one of the world's busiest international airport.
The ban is proving to be a major pain for airlines and customers, especially business travellers, who often work during transit and long layovers. Several airlines have tweeted about the inconvenience passengers are due to face in light of the electronics ban, not to mention the drop in their own business.
Royal Jordanian Airlines has even suggested the top 12 things to do on a 12-hour flight without laptops or tablets in a Twitter post that has since been re-tweeted over 5, 300 times!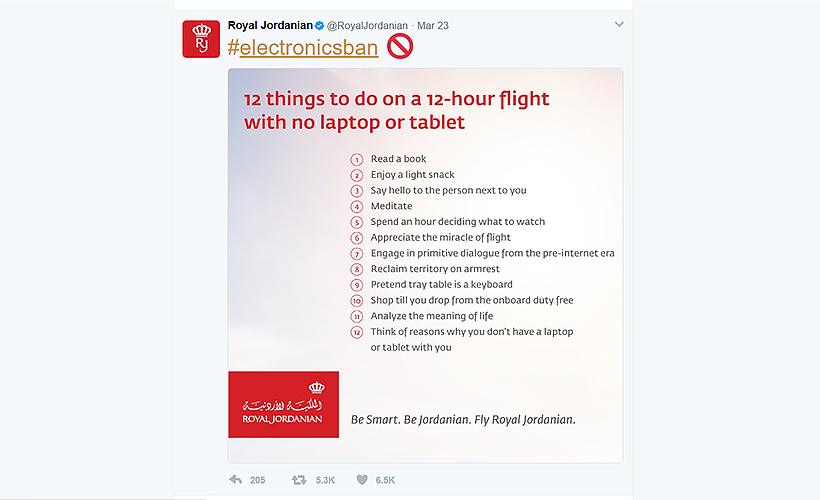 The industry's top airlines including Emirates, Etihad, Qatar Airways and Turkish Airlines are now working towards finding smart solutions to counter the ban.
To accommodate the ever-growing needs of its customers, UAE-based airline Emirates, has started to loan tablets to their premium class passenger for free, so that they can continue their work on board.
Passengers travelling on Emirates' premium class will be supplied with Microsoft Surface tablets equipped with Microsoft Office 2016. So all they need to do is bring their work along on a personal USB drive which they can then plug into a loaned tablet and have access to all necessary files.
This luxury will be available to all premium class passengers on US-bound non-stop flights from the UAE to Emirates US destinations.
To ensure smoother operations and deliver better customer service, Emirates also provides all its passengers (economy and premium) with complimentary packing and shipping services at airport gates, so passengers can continue to use their electronic devices after check-in and right up to boarding. They can reclaim their devices on arrival in the US by showing their ID and boarding passes to the Emirates cabin crew.
This also means that passengers flying to the US through Dubai can use their electronic devices on the first leg of the journey.
Flights bound to the UK from the UAE will not be affected by the ban.
Catching up Emirates Airlines is Qatar Airways who are providing premium class passengers with laptops on loan. Abu Dhabi's Etihad Airways too is supplying passengers with free iPads and Wi-Fi.
Here's a recap about the electronics ban and some things you need to know if you happen to fly across the Atlantic:
What electronic items can you bring with you on a flight?
The US ban is wide and states "Electronic devices larger than a cell phone/smart phone will not be allowed to be carried on board the aircraft in carry-on luggage or other accessible property." Anything larger will have to be checked into the hold.
On the other hand, the UK has provided passengers with these parameters: 16cm (6.3ins) long, 9.3cm (3.6ins) wide or 1.5cm (0.6ins) deep. Devices that fit the mentioned criteria will be allowed in the cabin, which means passengers can bring larger phones such as the iPhone Plus into the cabin.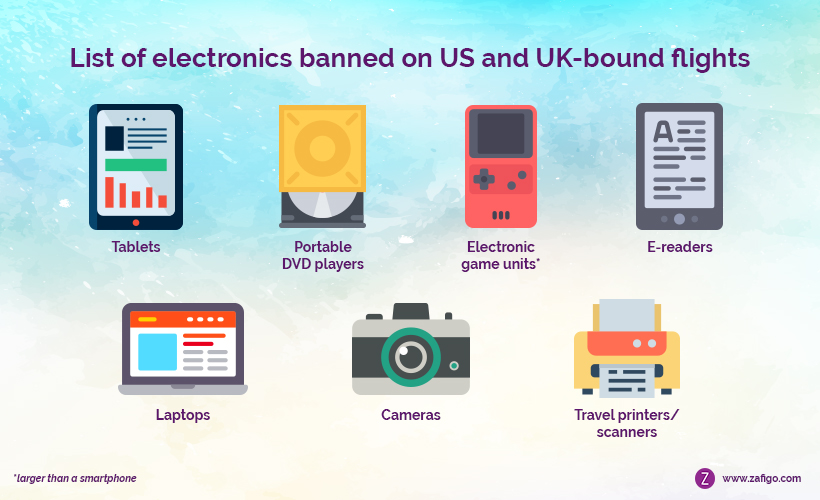 Which are the countries and airports affected?
As mentioned earlier, the US ban affects 10 airports in eight Muslim-majority countries where as the UK ban affects flights coming in from six Muslim-majority countries.
The airlines affected by the ban include industry giants such as Emirates, Qatar Airways and Turkish Airlines.
Passengers flying to the US or UK from either of these airports will have to observe the restrictions of the electronics ban.
 What if you have a connecting flight from the affected airports to the US or UK?
Irrespective of where you take-off from, if you have a connecting flight from one of the affected countries, you will still have to comply with the ban.
For example, if you are travelling from to New York from Kuala Lumpur and have a layover in Doha, you will have to pack all your major electronic devices excluding your cell phone in your hold luggage straight from Kuala Lumpur. You will only be able to retrieve your electronic devices once you arrive in New York.
What is the reason for the ban?
The US Department of Homeland security says that the ban has been put in place due to reports that state militant groups are now using electronic gadgets to smuggle in explosive devices. The statement also states that this is a necessary step, as terrorists continue to target commercial aviation and search for innovative ways to hide explosives in consumer goods.
To support this, the Homeland Security has cited examples of recent attacks on airlines including the unsuccessful Somali attempt where a laptop was used to hide explosives.
Experts say that the electronics ban may hit airline profits as risks include decreasing passengers and reduced customer satisfaction.
The US ban has created confusion among passengers as they try to understand what is permissible and what is not. The main question that arises from the current dilemma is whether placing electronic devices in checked-in luggage as opposed to the cabin will really make a difference.