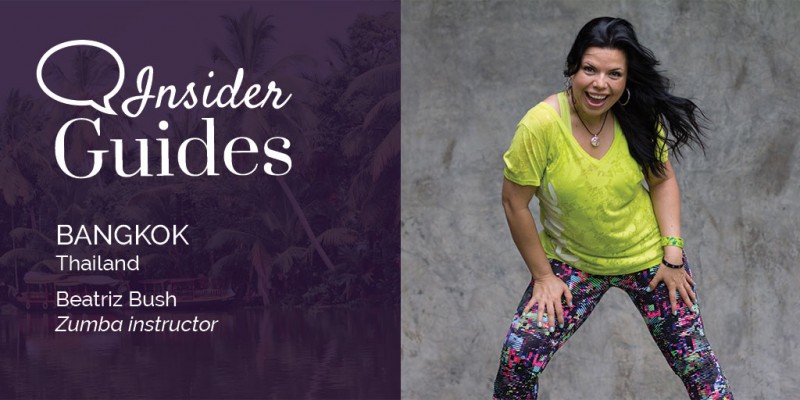 In Insider Guides (formerly known as Voices of Zafigo) we ask local women to give us their top recommendations on a particular subject or area of interest in their city. Want to be featured in the next Insider Guides? Drop us an email at editor@zafigo.com with the subject line 'I want to be an Insider Guide for my city'.
---
Beatriz Bush and her husband were looking for an opportunity to explore South East Asia a little more when they decided to spend some time in Bangkok. Originally planning on staying six months, the city grabbed ahold of them and suddenly three years have passed. Beatriz's hometowns are Guatemala City, Guatemala and Raleigh, USA, giving her a diverse perspective of this fun city.
On many weekends and evenings, Beatriz can be found teaching Zumba®, a popular aerobic fitness programme inspired by Latin American dance styles and music. As a passionate fan of dance, Beatriz teaches women from all over the world and has three great tips for dancers, both new and veterans, visiting Bangkok.
Check out a Zumba class
[responsive-video identifier="b5zsQ2hhHnc"]
"Looking for something new to add to your exercise regime and want to expand your dance skills? Check out a Zumba® class! The benefits include weight loss (burn between 400-800 calories per class), stress relief, improved balance and coordination, toning, growing confidence, and better posture. You will also make new friends because we are a Zumba® family."
Tip: Learn more about Zumba at www.ZumbaBangkok.com and sign up for classes at www.meetup.com/ZumbainBangkok
Burn up the dance floor
"Sometimes I take my husband to La Rueda Dance Studio on Sukhumvit Soi 18 because they offer 1-hour Salsa lessons for just THB100, and that includes a drink. It is a great deal and a fun way to learn or practice salsa. I also love going to Havana Social on Friday or Saturday nights because they have amazing music! Also, Above 11 has Latin Dance every Wednesday night."
Tip: Get all the details at Salsabangkok.com, including information on other dance classes and dance nights in Bangkok, and on Salsabangkok Fiesta 2016 (4-6 November), the longest running Salsa festival in South East Asia.
Catch a Thai dance performance
"Dance has a long history in Thailand. There is Khon, a classical mask dance, and Likay, a folk dance. My favorite place to see Thai dance performances is at Siam Niramit, a popular destination for tourists.
If you're here in September and October, I recommend getting tickets for the 18th annual International Festival of Dance and Music (8 September – 18 October 2016), where over 20 performances will take place over five weeks. The schedule includes a diversity of dance styles, from ballet to Chinese acrobatics, and feature dancers from various countries."
For more on the dance scene in Bangkok, you can get in touch with Beatriz on Facebook and Instagram.

Read Next: