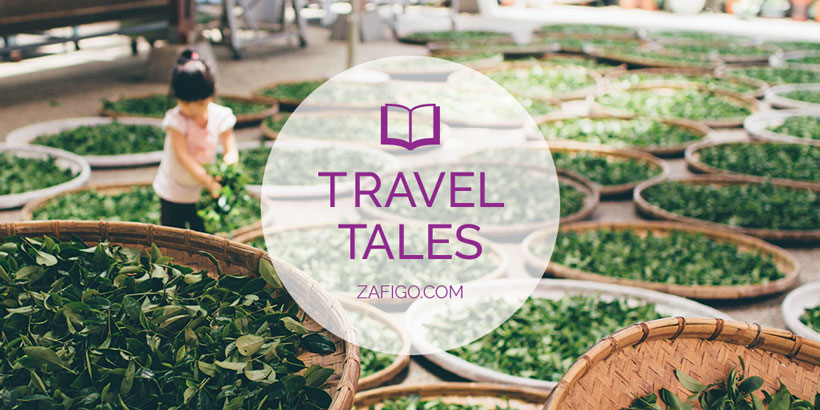 So much more than the reputation that precedes it, Vang Vieng was once notorious for being a hedonistic party pit-stop along the banana pancake trail. Often frequented by young travellers in pursuit of its debauched and often deadly tubing excursions, a government crackdown in 2012 led to the closing of its many riverside bars due to the devastating consequences of drunken revelry.
The town has since rebranded itself as a hub for adventure travel with greater focus placed on its astounding waterfalls, caves, mountains and jungles. While remnants of its formerly uninhibited past still remain in Vang Vieng's small but thriving nightlife, they do little to interfere with its picture perfect backdrop and old world charm.
To avoid traveller's remorse, the best way to experience Vang Vieng is to bypass the town centre and head directly to the countryside for a healthy dose of its local culture, natural surroundings and idyllic rural views. Here are four things that stood out during my time there:
Cave your way through town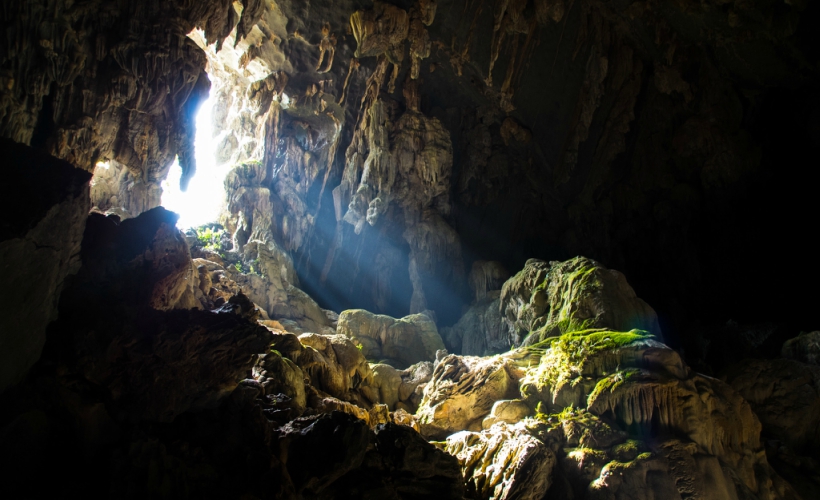 Vang Vieng's caves are a thing of mythical proportions and with so many dotting its mountainous landscape, it's sacrilege to give them a miss. A personal favourite is definitely Tham Nam. The perfect retreat from Laos' muggy climate, you access this cave by renting a tube and pulling yourself along a rope on a path of rivers to get through the entire length of the cave. It's an easy, laidback experience that will appeal to to anyone who's ever wanted to give rock climbing a shot but lack the stamina and upper body strength.
Another popular spot is the Blue Lagoon and Tham Pu Kham caves. The lagoon itself is nestled amid a shady retreat and gets its source from the cool, clear water that streams down the surrounding mountain side. It's a welcoming sight after you're done trekking and perspiring through the labyrinth of curves, crevices and chambers within the cave itself.
Hit up a hot air balloon ride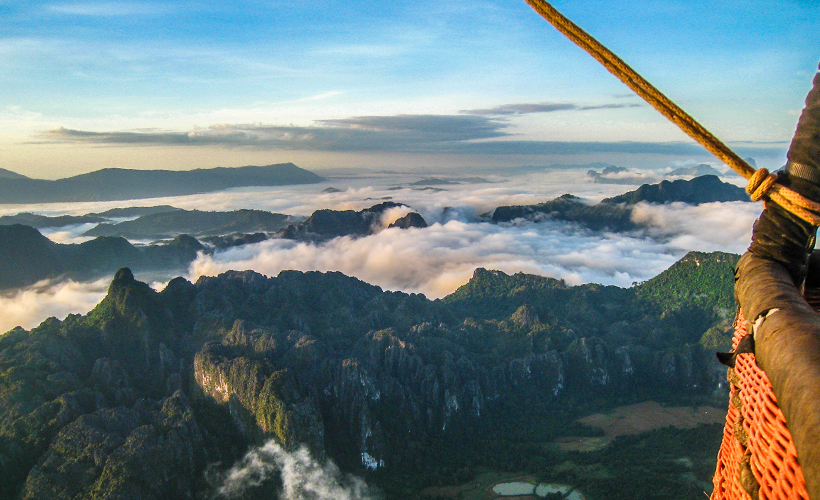 Skip the partying a night before or power through till sunrise for a hot air balloon ride that'll take you high into the clouds and give you the best view of all that Vang Vieng has to offer. You'll float over the infamous limestone karsts and paddy fields, get a bird's eye view of the sacred temples, possibly weep at the sheer beauty of your misty, dreamlike surrounding and potentially make everyone around you uncomfortable. But it's all good because when you're 900 feet up in the air and at eye-level with a canvas so divine it could have been painted by Mother Earth herself, maybe the only appropriate thing to do is to cry and everyone else is just doing it wrong.

Go chase waterfalls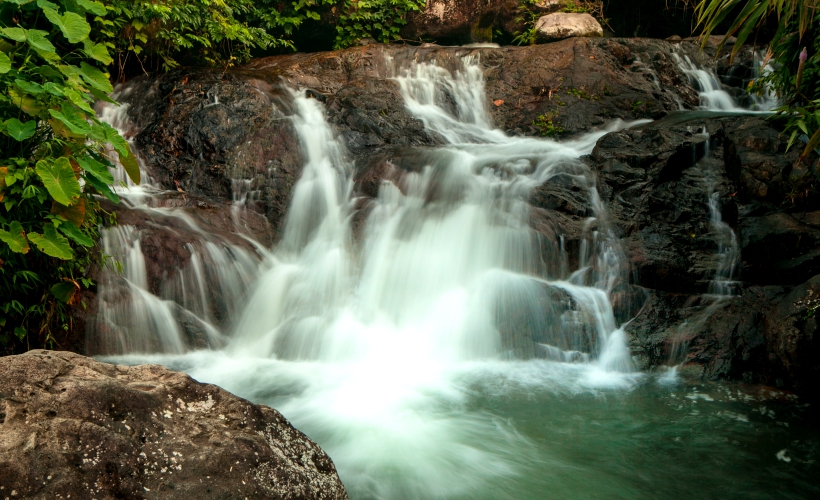 Being one of Vang Vieng's key tourist spots, the Blue Lagoon has a tendency to get a little packed. So if you're in the mood for a dip but don't want to deal with a crowd of pasty backpackers, make a detour to Kaeng Nyui Waterfall and find sanctuary in the water rushing down its 30-metre drop. It's a 20-minute drive from the town centre, but if you're the adventurous sort, you can opt for a more challenging bike or motorcycle ride.
A LAK10,000 (approximately USD1.20) admission is charged upon entry and then you're free to wander past the peaceful streams. You'll come across a number of smaller cascades and a wee waterfall called Kenlon Falls located at the base that tumbles into a nice little pool for you to frolic about in. The pièce de résistance awaits you after a 10-minute walk. Bear in mind that the falls can barely squeeze out a trickle during dry season so the best time to visit the falls is during the rainier months from June to October.
Tube down the Nam Song River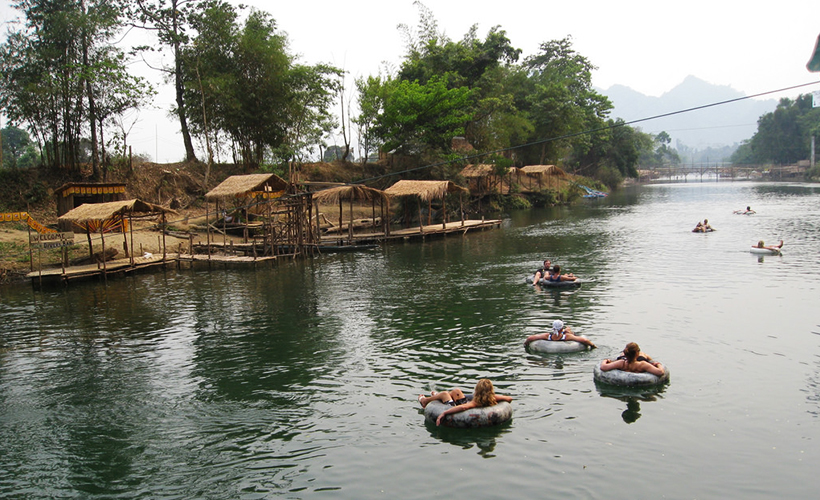 The tubing of today is a far cry from the insanity of years past, but it still promises plenty of good times. You can snag an inflatable tube at any one of the rental offices in town before heading to the start of the route via buggy. Once there, you pretty much find a way to lower yourself into the tube as elegantly as you can manage and then let the gentle current of the Nam Song do all the work as it cradles you down the river. Admire the scenery, stop at one of the few bars along the riverbank for a couple of 'dranks', partake in any of the games going on and make it to the end of the route by 6pm – splattered in body paint and with a whole new set of friends.
Pro tip:
Start your trip earlier in the day to avoid having to rush to meet closing time and have a dry bag on hand to stash your belongings.
---
 Read our last Travel Tale:
---
Here's your chance to get published on Zafigo! We want your most interesting Travel Tales, from memorable adventures to heartwarming encounters, scrumptious local food to surreal experiences, and everything in between.
They can be in any form and length –short stories, top tips, diary entries, even poems and videos. Zafigo is read by women travellers the world over, so your stories will be shared to all corners of the globe.
Email your stories to [email protected] with the subject line 'Travel Tales'. Include your profile photo and contact details. Published stories will receive a token sum.
Get all the latest travel stories from Zafigo. Follow us on Facebook, Twitter, and Instagram.