When it comes to work, it's all business for Nadia Nasimuddin. Besides carrying on her father's business legacy alongside her siblings, Nadia herself has founded and run her own companies, including the ever-popular Dotty's (a kid-friendly family restaurant), POP Neutral (a mum-focused body and skincare brand), and Portluxe (a preloved luxury boutique).
As you can tell, even from her business portfolio, family is at the heart of everything for Nadia. Of course, it's not all work and no play for the businesswoman and mum-of-four. Nadia often travels with her husband, Hamzah, and four kids in tow. And that's what we're here for today.
Travel is an enriching experience for all of us, but even more so for children, who are sponges that absorb everything you culturally immerse them into. "The kids usually research about our holiday destination — especially Aidan. He knows more than we do sometimes. There are also things that they learn in school that they look forward to seeing and understanding more about when we travel to certain places," she says.
So where are her favourite places to bring her culturally curious and fun-loving family? And how does she do it while still looking fly in her holiday photos? Well, she's taken the time to clue us in.
1. What are your top tips for a stress-free escape when travelling with multiple littles?
Plan everything in advance! If you're travelling by flight, try selecting a flight time that suits their routine and pre-plan their holiday activities so they have things to look forward to (and you won't need to drag them along). Also, create a list of things to pack for the flight/car journey, during the stay, and emergency kits and medicines. You can't be too prepared!
2. Is there such a thing as too young to start travelling?
I think, typically, a paediatrician would suggest to wait until their one or two-month vaccines are administered. It's best to consult your doctor as each child is different, but I took most of them for their first short- and long-haul flights when they were around three months onwards.
3. What do you love about travelling with the children?
All the memories we create! Although there are places we've been to several times, and they don't even remember much. It's mainly for Hamzah and I, I guess. But we want to embrace all the memories we make with them and would do it all over again.
4. What are your tips for long-haul flights with kids?
I have a whole bag of snacks for each child to keep them still. I also download their favourite shows from Netflix and YouTube as you don't really know what shows/films you're going to get on the in-flight entertainment console.
It's also important to always have an extra change of clothes and medicines on board a flight. Like I said, you can't be too prepared!
5. Favourite country to travel with the little ones in tow.
Probably the US and UK because I grew up travelling to those places a lot. I like to recreate some of those memories, but this time with my own kids.
6. Where in Malaysia is your favourite place to travel to with the kids?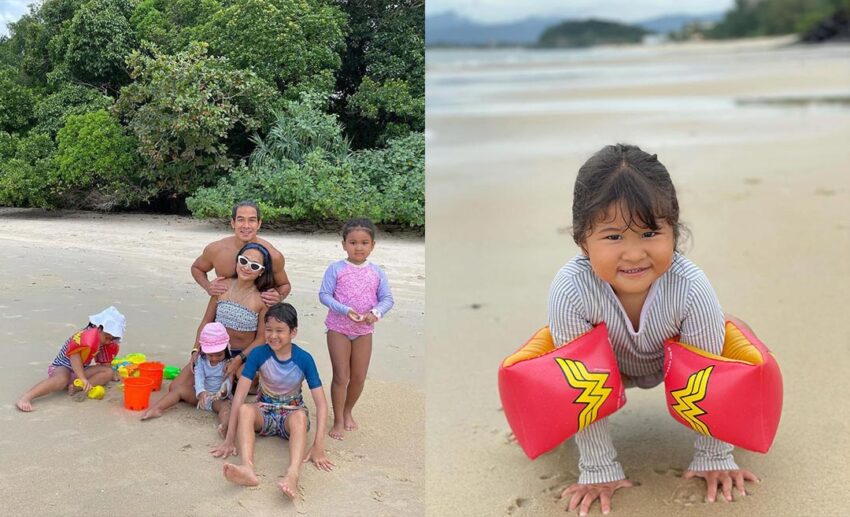 Redang and Langkawi! They don't require much entertaining on beach holidays. Children will happily spend all day at the beach and tire themselves out naturally. And that's a win! After the pandemic, just being outdoors with the kids is so wonderful.
7. Where would you say is the most family-friendly resort?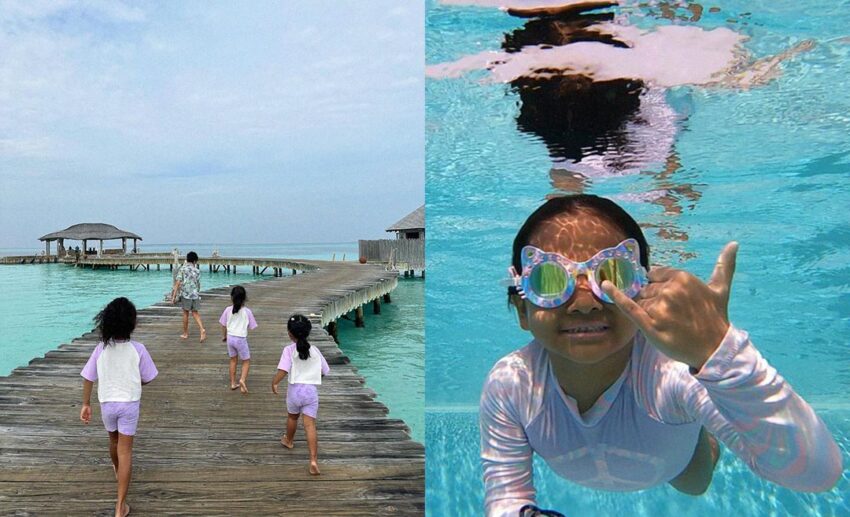 Any resort with a kids club, facilities, and a good variety of food on the kids' menu.
The Soneva Jani Maldives kids den is probably the best kids club we've ever been to as it caters to kids from babies and toddlers to teenagers! For something closer to home, the Shangri-La Singapore has a great kids club too, and the location's so central it's easy to get around.
8. City, mountain, or beach?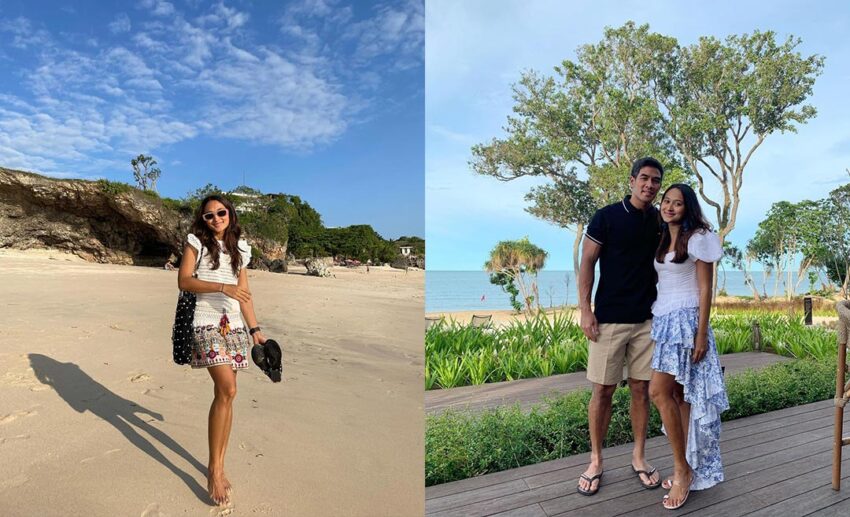 Beach, I think… We just love being by the ocean so much. It gives us some kind of serenity.
9. Plane, rail, or road trip?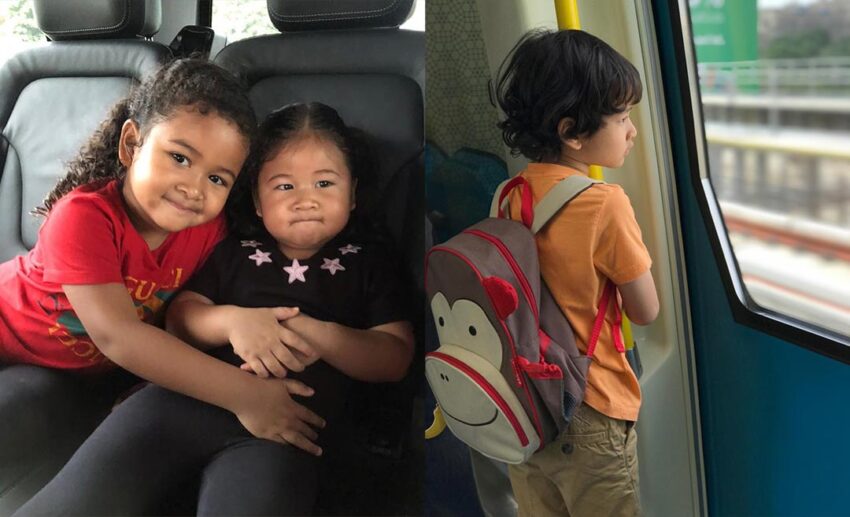 A definite yes to plane and road trips! But when it comes to rail journeys, we prefer shorter ones. Ultimately, I love any kind of travel with the family and particularly enjoy just the bond-building of doing everything with them, having conversations, and proper quality time.
10. Does your family have a favourite theme park to visit?
When it comes to theme parks around the world, hands down, any Disneyland or Universal Studios! There's so much magic in seeing your favourite characters come to life — especially for the children! Mickey and Minnie are probably our most favourite characters in Disneyland.
When it comes to our favourite rides, however, we have too many! But between us all, the common favourite would be It's a Small World at Disneyland. But they also love the Monster Inc and Spider-Man rides. For Universal Studios, it would be the Universal Studio Tour, The Simpsons Ride, and The Secret Life of Pets: Off the Leash.
11. Where do you think is the most underrated travel destination?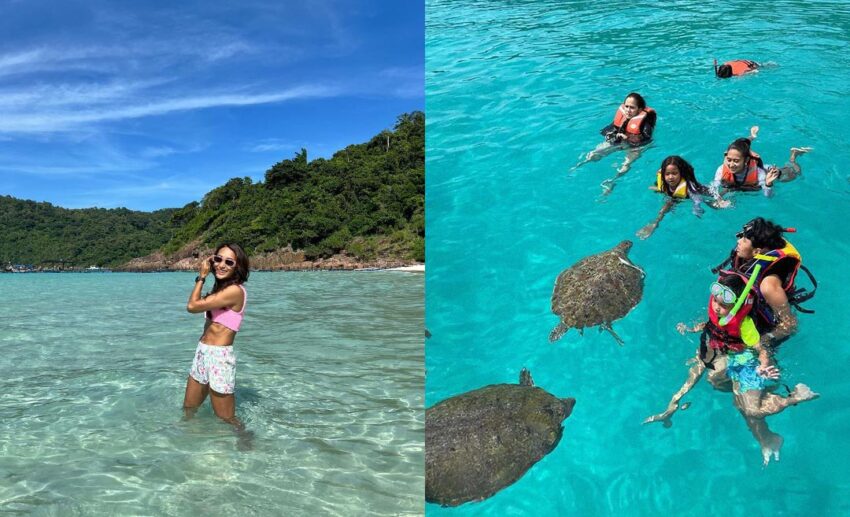 Our beautiful Redang Island, for sure. The soft sandy beach and clear water are to die for! We don't have to travel to Maldives when we've got Redang just here. Our favourite activities on Redang are swimming, snorkelling, and building sandcastles.
*All images courtesy of Nadia Nasimuddin.