Being low-key big fans of Sausage KL, we of course jumped at the opportunity when they asked us to review their food! For those of you not in the know, Sausage KL Cafe & Deli is THE place for a good plate of English breakfast. They make their own sausages and meats for the deli, which they also serve at the cafe.
So, if you're looking for a proper English breakfast, complete with black pudding and all the trimmings, then this is the place to go. We visited their Jalan Ampang outlet, which is their headquarters when it comes to artisanal meat making. Located inside Holiday Place Hotel, it's a quiet place for a chill brunch. For families with children, we'd recommend the 1 Mont Kiara outlet as it has a kid's play area, making dining less of a hassle for parents.
Tipple before toasts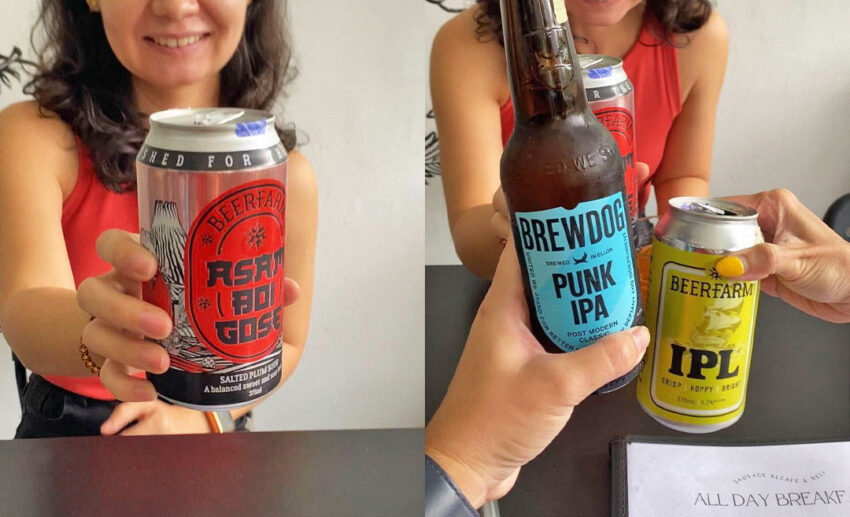 As a little treat, we started off our adventure here with some craft beers, the most notable one being the Asam Boi Gose by Beerfarm — an Australian made beer with a little Asian twist. Definitely something to try if you're a fan of asam boi. There are also fresh juices available if you'd like a refreshing drink to go with your meal. Or, go classic and get an English tea!
The main event: a proper breakfast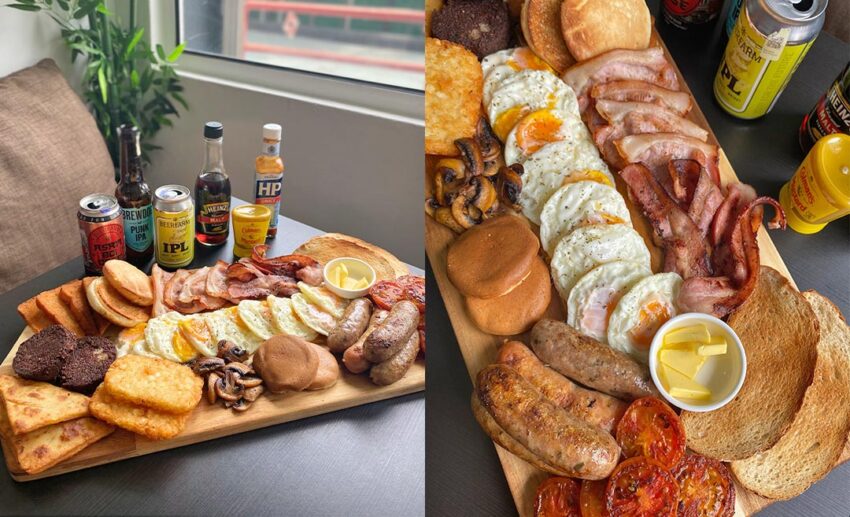 A meal is not a meal at Sausage KL without a proper breakfast. We went with The Family Feast, which feeds about four people, and is great if you're indecisive. It has about every breakfast thing imaginable on the menu. To give you a gist on how giant this platter is, here's what's on the board:
Four homemade pork sausages, four rashers of streaky bacon, four rashers of back bacon, two slices of black pudding, two hash browns, two tattie scones, two fried bread, two toasts, two pancakes, toasted English muffin, eight eggs cooked sunny side up, baked beans, sautéed mushrooms, and four chargrilled tomatoes.
Everything was cooked to perfection, from the mushrooms to the pancakes, and of course the rashers of bacon. It was my first time trying black pudding, and I'm happy to report that it did not taste like what it's made of! (It's made of pig's blood.) The fried bread was such a treat, we couldn't help but spoil ourselves. It is, however, best enjoyed in moderation as it's deep fried.
You must be wondering, what about the sausages? Well, they're exactly as advertised! We had the Linconshire and Cajun pork sausages — the hog casings provided a nice crunch to each bite, and the texture was super meaty. They're made with just the right amount of salt, without added preservatives or chemicals, making it great for anyone, including children.
Let's get this gammon
Matt, the owner, suggested we try one of their mains, the Gammon Steak. The 10mm steak paired so well with the grilled pineapple rings, it was like an explosion of texture and flavours in our mouths. If you like a meaty steak that gives you a good bite, this will be a great choice of main for you, paired with fries and two sunny side up eggs.
The good goods & delicious dessert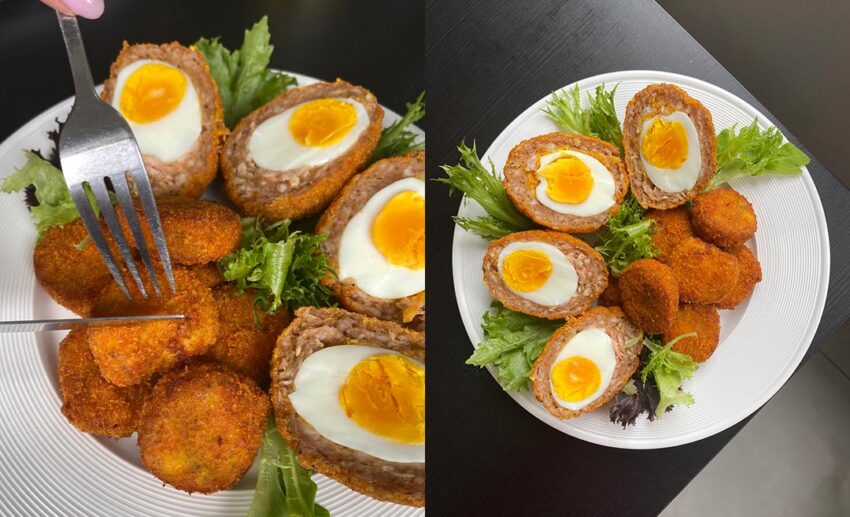 For small bites, we gave their scotch eggs and chicken nuggets a try as well, seeing that they were regular favourites on their deli menu. We immediately saw why folks come back for more! The scotch eggs were generously surrounded by pork sausage meat, and breaded for crunchiness on the outside.
Their chicken nuggets are parent-approved by the fellow mothers on our team. It tastes just like what you'd expect from a nugget, but filled with the goodness of chicken, carrots, broccoli, garlic, shallots, and cheddar cheese. Shhh, don't let the kids know! Both the scotch egg and nuggets are available in a gluten-free option upon request.
We ended our feast with banoffee pie slices, which is a weekend special item! But they can make it on weekdays too if you make a special request. Although it's a rich dessert made of bananas, whipped cream, thick caramel sauce, and a buttery biscuit base, it was delicious and smooth to the palate. It wasn't overpoweringly rich or sweet thanks to the lightness of the whipped cream.
Doing damage at the deli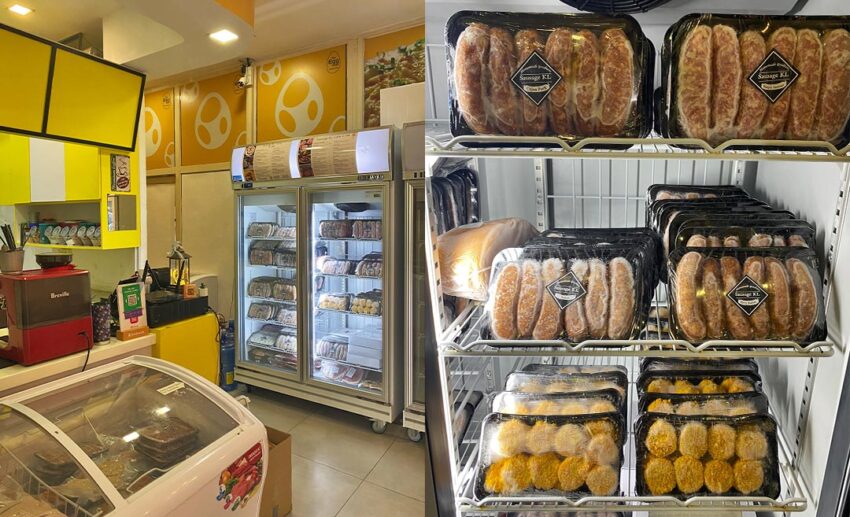 Of course, we couldn't leave without doing some damage at the deli. Their deli menu is pretty extensive, with more than a dozen sausage flavours, patties, meats, baked goodies, and meat pies! We took home the Jalapeno & Cheese sausages, which are their best-sellers, and the mums couldn't resist the chicken nuggets.
All in all, Sausage KL is a great place for dining with family, or rather for anybody who loves brunch and breakfast all day! If you're not a breakfast person, they also have burgers (featuring their homemade patties) which we heard are good too.
There's something for everyone here!
Sausage KL Cafe & Deli
Address: G5 Holiday Place Hotel, Jalan Ampang, Taman U Thant, 55000 Kuala Lumpur, Federal Territory of Kuala Lumpur
Sausage KL Cafe @ 1 Mont Kiara
Address: 1 Mont Kiara Mall, Jalan Kiara, Mont Kiara, 50480 Kuala Lumpur
Contact: +6017-605 6457