Anyone who's grown up here or lived in Malaysia long enough will have heard the adage, 'Niat itu penting' at some point. Translating to 'intention matters', it's a widely used phrase to say that when you do something, your sincerity can sometimes matter more than the deed itself. That said, we also know that no good deed goes unpunished.
I can tell you that the process of setting up a picnic at Ninja Private Kitchen in Sekinchan is, well, punishing. I saw it for myself, but it's for a good cause. Anyway, first let's backtrack a little (okay fine, a lot). I first met Zung, the Founder of Ninja Private Kitchen, well over a decade ago, and he's one of the most amazing photographers I've had the immense pleasure of being captured by over the years. From political luminaries to socialites, Zung has travelled to over 100 countries worldwide, photographing the likes of Donald Trump and the Dalai Lama. His heart, however, remains in Malaysia. More specifically, in Sekinchan, having grown up in the tiny township.
Upon hearing that the next four weeks would be the pre-harvest season of Ninja Private Kitchen's surrounding paddy fields, I knew I had to go. Also, Zung is in town! He's not easy to catch, so the timing is serendipitous. Perfect even. So off I go, daughter and nanny in tow, accompanied by our Head of Design and her own daughter of the same age to have the best picnic ever.
The road to Ninja Private Kitchen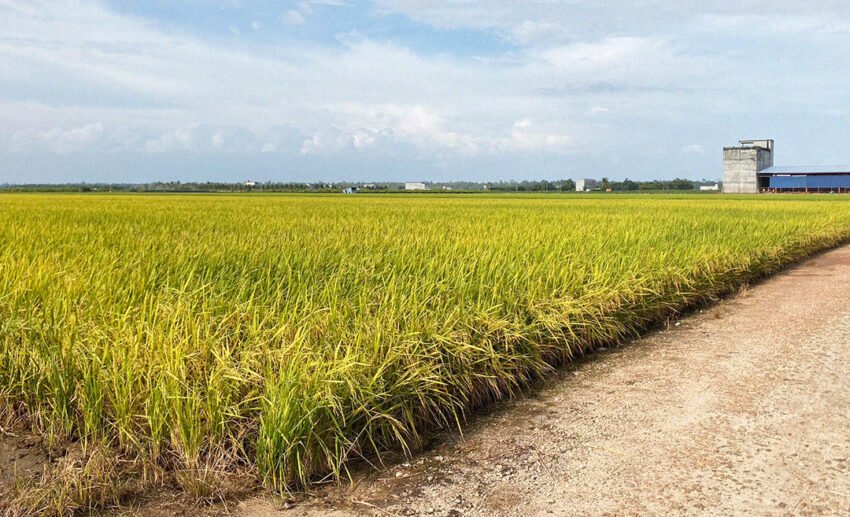 Hosting only sunset picnics here, Ninja Private Kitchen is at a secret location, which they only disclose once a reservation has been made. Since Sekinchan is still within Selangor, a day trip is doable, and the drive will take roughly 1.5 to 2 hours each way.
If you're coming with kids, like us, consider spending the night. It does come up to nearly four hours spent on the road, which can be taxing on the little ones, if not yourself. Here's a list of stays in Sekingchan and the Kuala Selangor area to consider.
After some time on the highway and what seems like the longest stretch of road ever, we finally turn off into an area that opens up to never-ending fields of green and gold. Along the way, we see people cycling through acres of paddy on excursions of their own, stopping here and there to take photos of the breathtaking expanse before them.
Thankfully, finding Ninja Private Kitchen is easy enough with the ultra-detailed instructions shared. And so our magical sunset experience finally begins.
The setup
Not quite a restaurant but more of a unique dining experience, Ninja Private Kitchen's quirky tablescape is what sets the tone for a picturesque picnic. And it sure does show in the images we captured! Vintage mementos, batik tablecloths, and even live betta fish adorn the dining tables beneath the 'open' teepees by the field.
Then, nearby, hay stacks dot an open space, as do other interesting props, including a retro bicycle and bamboo tub. Here's where you can clamber on, pretend to ride, and pose to your heart's content as Zung and/or his team go snap happy. Of course, they're there to give you directions too, and if you want some of the most bomb photos you'll ever have, you'll do wise to listen to them.
"We're not a Four Seasons hotel, but you could say we're a four seasons paddy field. There's beauty in every stage and colour that it goes through," says Zung. And he's right. During our visit, we're blessed with open skies and cerulean fields that simmer down into an opulent yellow as golden hour descends.
Unsurprisingly, all our images turn out beautiful. Dare I say even majestic for some? While we were here to have a fun-filled afternoon as two mother-daughter duos, Ninja Private Kitchen is a great location for birthday parties, hen dos, or any other girly outing you have in mind. There are also professional photography packages you can add on to your dining experience, making it a great place to snap those pre-wedding photos or annual family portraits. Or heck, swing by for bestie shots even!
As I've mentioned, setting up is no easy task. At the end of each day, all the hay stacks are wrapped, the props nicely packed, and the tables and chairs put away, all to be set up again the next day. Cooking isn't done on-site either, as the team wants to maintain the natural beauty of the fields. Cooking on site also means potentially polluting the fields, which goes against the very ethos of why they're all here.
The menu
While Zung may insist that they're not selling food but rather an experience, the omakase Teochew picnic here has won the acclaim of National Geographic and even a creative dining award from the World Gourmet Awards. So you can count on the food being good.
When we arrive, we're greeted with a welcome drink — a freshly-squeezed shot of guava juice from fruit plucked that very morning. Between picture-taking and running after the kids who are having the time of their lives and simply thriving amid the lush nature (read: jumping in the mud Peppa Pig style), we're finally seated and about to tuck into our meal. Zung and his team take the time to go through each course, explaining that whatever is served is always what's available nearby. Since Zung's highlighting Sekingchan, he makes sure to showcase its produce too.
Next up is grilled corn that's so sweet and fresh from having been plucked on the same day. Two other small courses accompany this — the spicy lala (clam) soup (possibly the dish of the day for me) and homemade fishcakes (easily the dish of the day for my daughter). The next dish to be served is Teochew-style stuffed crabs that are quite literally bursting with umami.
Then, we gorge on the main event — a homemade pandan nasi lemak topped with seafood sambal and a platter of the grilled catches of the day. We're treated to what's touted as the best bawal hitam in Selangor, flounder, 'slipper' fish, and sotong katak (squid). Everything is locally caught, of course, lending support to the fishermen nearby.
What's interesting to note is that none of the seafood is seasoned so that the platter's accompanying sauce shines. What is it? A homemade assam sauce — a secret recipe that no one other than the chef knows. What I can tell you is that it was good, and I doused my fish in it.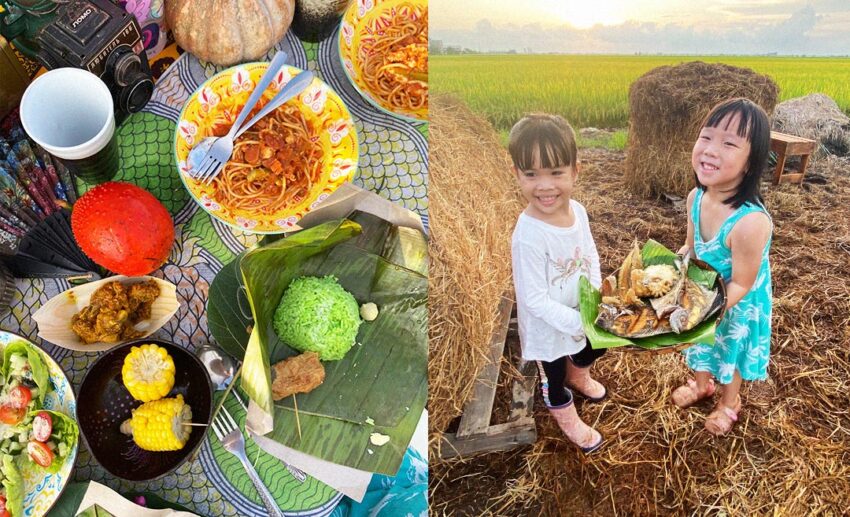 For the kids' mains, they had sausage pasta in a tomato-based sauce since they were too young for anything spicy. This a lovely and appreciated consideration by the Ninja Private Kitchen team. If you have dietary requirements, feel free to let them know. They only ask that you tell them beforehand so they can prepare your food accordingly.
To end things on a sweet note, we're served slices of golden dragon mango — the most expensive mangoes grown in Sekinchan. This particular mango only fruits two seasons a year, making it a bit of a rare find. Admittedly, it's not as sweet as your Pakistani mangoes or Perlis' harum manis, but they're exceedingly juicy.
Before you think it's over, things come full circle with another shot. This time, the parting drink is a glass of gac fruit enzymes. Brewed for two weeks with various citruses and lots of love, this fruit contains the nutrients of 50 tomatoes and 15 times the beta carotene of a carrot, making it good for your health and skin. Actually native to Vietnam, the gac fruits here are grown by a local fisherman as a means of extra income for when he can't catch fish (he grows habanero peppers too). Taste-wise, the fruit itself is deemed rather bland, being likened to cucumbers. By fermenting it, it becomes more palatable and tastes quite a lot like kombucha.
"We'd also like for people to know that we're pork- and lard-free, and we don't serve beef. We want to welcome people from all religions and walks of life. This is an inclusive space," Zung adds about his menu options. We're all for it!
The why
Everybody has their whys. Niat itu kan penting? It's easy to see that Ninja Private Kitchen is close to Zung's heart. Which makes sense, considering the field we're dining on belongs to his family. These are the fields his family and community have lovingly tended for decades. Perhaps even generations.
"I've been to over 100 countries, and it's mostly been for work. Because photography has brought me around the world, now I'd like to bring the world to Malaysia. This is my passion project; a tribute to my hometown and to Malaysia," he muses.
"I'm also doing this because I want to inspire Malaysians to do something more worthwhile. Money is important, but there are other things more important than money. Do something to contribute something to your country and community, and good things will follow you."
Suffice it to say, it's good vibes all around and palpable. Ninja Private Kitchen's team is made up of single moms, mostly local people, carpenters, young fishermen, and even special needs youth whom he can help upskill to improve their future job prospects. While setting up and running such an exercise can be arduous, it's certainly not a punishing deed. Rather, it's a fulfilling one.
And on that note, we culminate the evening by releasing paper lanterns imbued with well wishes for the new year into the cerulean sky. "Make three wishes before you let go. But don't be greedy! Make sure the last one is for your family, friends, colleagues, and anyone you care about," he insists with a chuckle. Well, as you wish, Zung.
What a perfect end to a day. And I got to feel it all with my best girls.