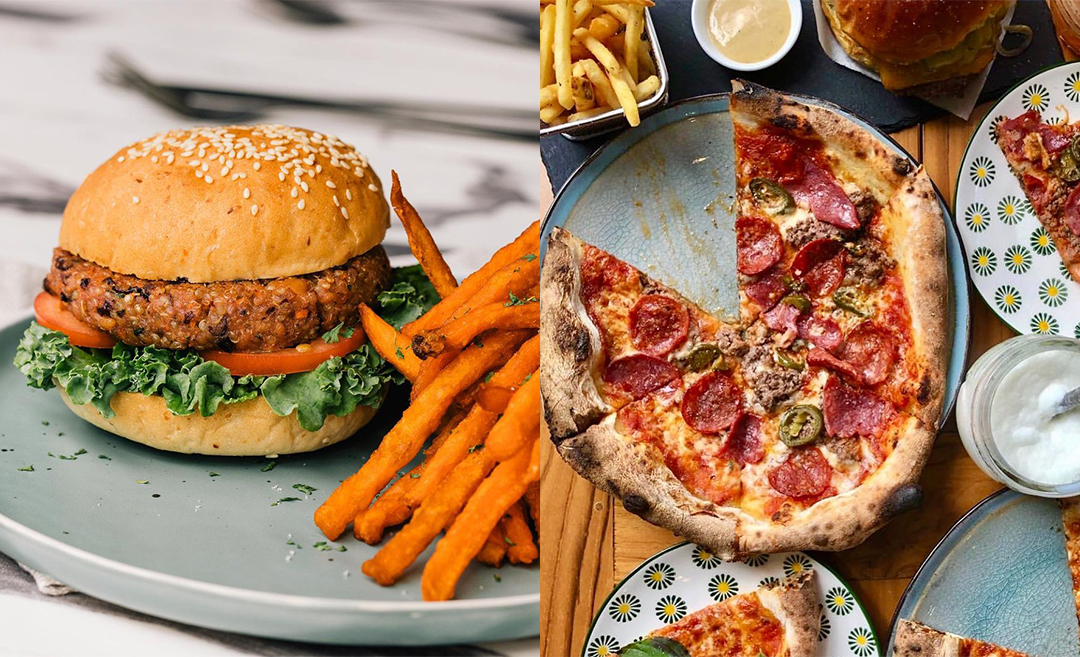 Subscribe to our new
Telegram
channel for the latest updates.
The whole of Malaysia is under MCO again! Whether you're still calling it MCO 3.0 or referring to it by newer monikers like MCO 4.0 or FMCO, it doesn't change the fact that we all need to #StayHomeStaySafe. But what does that mean for those of us who have special diets? While, yes, it's great that we can get dairy-free and gluten-free ingredients and staples online, having to work from home also gets tiring. Sometimes, those of us with special needs diets would like to be catered to as well.
Whilst a food intolerance attacks the gut, causing pain, in an extreme case, a food allergy can land you in the hospital! Food allergies usually manifest themselves as rashes, hives – or worse – anaphylactic shock. Knowing the ingredients that go into your meal is imperative. In case of severe allergic reactions, antihistamines (such as Telekast F) can be used under the guidance of a healthcare professional. Be sure to talk to your doctor about what's best for you to have on hand.
If you need a break from the tedious search and meal prep and inspiration for special diets, here's a list of allergy-friendly places that you can take away from or get delivered during this (F)MCO season. They're perfect for those who have special dietary needs, allergies, or if you're just worried about what this next round of MCO might do to your waistline (the food's all pretty healthy). Of course, you'll also have all these places to look forward to as dine-in options for when the lockdown is finally lifted.
*GF (gluten-free), DF (dairy-free), V (vegan)
1. Nourish by Kenny Hills Bakers (GF/DF/V)
View this post on Instagram
Nourish offers a lovely menu of brunch-style plates, hearty GF savoury pies, GF cakes, pastries, and DF lattes well-suited to its moniker. Order online here for delivery.



2. Sprout Fusion (GF/DF/V)
View this post on Instagram
Purely plant-based, so DF and egg-free folks celebrate! They also offer GF toasties, sandwiches, a vegan pavlova (screams internally), and smoothie bowls. Order online here for delivery.



3. RGB & The Bean Hive (GF/DF/V)
View this post on Instagram
A firm favourite among the Ampang crowd with its laid back kampung bungalow vibes and small play nook for kids. They offer some GF menu items, plenty of vegan choices (like vegan meatballs), and a seriously addictive house-made vegan smoky tempeh and plant cheese. A full array of plant mylks (plant-based milks) are also on offer for your cuppa. Order online here for delivery.



4. Fittie Sense (GF/DF/V)
Fittie Sense's menu is a plethora of give-me-one-of-everything! Countless GF mains and desserts, many DF and limited-time specials, and a pre-order for an Asian Tea Set that's so divine, you'll be salivating on screen. Order online here for delivery. Bonus: They also have pantry items available for delivery.



5. Ra-ft Cafe Bistro (GF/DF/V)
View this post on Instagram
With four outlets in Kuala Lumpur (KL), Ampang, Mont Kiara, Mutiara Damansara, and Sungai Buloh, Ra-Ft Cafe Bistro brings GF options Klang Valley-wide with their homemade GF vegan bread as a base for classic sandwiches and smorgasbord-style brunch sandwiches. Bread loaves are also available for order. Order online here for delivery.



6. Crust (GF/DF/V)
View this post on Instagram
The aptly named Crust, located at 163 Retail Park in Mont Kiara, is known for its sourdough wood-fired wheaten pizzas. They also offer plant-based cheese options and a GF pizza dough base for a RM9 top-up each. Pizzas are baked in the same wood-fired oven so coeliacs, take note that this may not be for you. Also available are burgers that you can get bunless with a lettuce wrap to be wheat-free. Order delivery by Whatsapp (012 223 1009) or on the Grab Food app if you're within radius.


7. Vin's Restaurant (GF/DF/V)
View this post on Instagram
Gluten-free eaters rejoice! You can have both pizza and pasta at Vin's which is located in TTDI and open seven days a week. Vin's also does regular wheaten pizza and pasta, so do speak to the restaurant regarding their cross-contamination procedures. Order online here for delivery or on the Grab Food app if you're within radius.



8. WOP Pizzeria (DF/V)
View this post on Instagram
WOP's 48-hour fermented wheat sourdough wood-fired pizzas are already amazing, but top that with their house-made plant-based cheese and you've got a pie match-made in DF heaven. Order online on Beepit, Air Asia Food or WhatsApp for delivery and also on the Grab food app if you're within radius.



9. Manja KL (GF/DF/V)
View this post on Instagram
From Chef Navin Karu, who is also the food innovator at Vin's Restaurant mentioned above, comes Manja at Old Malaya on Jalan Raja Chulan in KL. Prepare to be pampered with an exciting mix of local flavours in fascinating new ways – such as their signature Bayam Escargot on Truffle Toast pictured above and GF Rice Churros for dessert. GF folks have raved about Manja being super accommodating to their dietary needs, and with several plant-based options on their regular menu, DF and egg-free folks are well -situated too. Order online on here for delivery and also on the Grab food app if you're within radius.



10. Ganga Café (GF/DF/V)
View this post on Instagram
The Ganga Cafe is a hot favourite for Indian cuisine with the local and ex-pat GF community. A decent part of the menu is GF with presentations such as Millet Chapati, Sorghum Chapati, and Missi Roti – a chickpea-based flatbread. All-time local staple dosa (or thosai), that's naturally GF (except for the rava variety), is also a great choice. Being a purely vegetarian restaurant, DF folk are also accounted for with many options available. Order via the Grab Food app if you are within the radius of Bangsar.