Many residents of KL-ites are unaware of the numerous exciting attractions our city has to offer. I, too, am among those individuals. Although I haven't had the opportunity to visit the exclusive branch of Golden Screen Cinemas' Aurum Theatre, I have heard a lot about this popular destination for movie enthusiasts seeking a luxurious cinema experience.
And it wasn't until recently that I learned about Jin Gastrobar — a cool watering hole with an industrial-chic decor within the cinema itself. It sounded so intriguing that I simply had to check it out when I was extended an invite.
Setting you up for a good time
It's clear that the setup is designed to impress, especially those who enjoy food and Instagram. The industrial decor and dim lighting lend the space a moody, laid-back vibe, perfect for a night out with friends or a romantic date. The atmosphere at Jin Gastrobar is also worth noting. As previously mentioned, the restaurant is situated inside the Aurum Theatre, allowing you to relish your meal while immersing yourself in the lively atmosphere of the mall.
This lounge bar is also a great place to unwind after a long day at work; the chilled-like ambience and dim lighting create a cosy, relaxed vibe ideal for unwinding with friends or colleagues. The menu is so diverse, and the cocktails are so inventive that they provide a much-needed respite from the stresses of the workday.
Jin Gastrobar also interestingly works for a romantic evening out. The moody, industrial decor and intimate seating arrangements create an atmosphere perfect for getting close to your loved one. Another plus? The delectable tapas-style dishes are perfect for sharing with your companions, creating a fun and interactive dining atmosphere that encourages conversation and bonding.
Let's get talking about the food
It seems like the most frequently asked question by Malaysians is, "What should we have for lunch or dinner?" And when it comes to going to the movies, having some tasty food is a must. Luckily, Jin Gastrobar has got you covered with a wide range of options. Whether you're in the mood for a quick bite or a full-on feast, there's something on the menu that's sure to satisfy your cravings.
To begin our culinary adventure, we tried the Trio of Fries (RM25), which includes seasoned varieties of smoked paprika, parmesan with truffle oil and rosemary, and Cajun sweet potato. As someone who prefers simplicity, this starter was an instant favourite for me. I really enjoyed the fries! They had a great crunch and were super flavourful. The sauces that came with them were a perfect pairing.
We also sampled a light snack called Baked Chicken Cheese Balls. They are freshly made in-house and filled with tasty mozzarella cheese. The cheese, while delicious, was a bit too filling for me, but if you don't mind the richness, I'd say this is the perfect snack to order and share.
For our main course, we ordered the Chicken Schnitzel (RM38) and Truffle Parmigiana Pasta (RM38). Let's start with the chicken dish: generously-crumbed chicken breast fillets on a bed of creamy mashed potatoes served with a side of Spanish anchovies and rocket salad. We suggest sharing the chicken dish if you have a smaller appetite, as the portion is quite generous.
If you're a casual eater, try their Hound Dog with Crispy Fries (RM28). You're in for a real treat with this delicious chicken hot dog smothered in gooey melted cheese and topped with sweet caramelised bananas, served alongside some crispy, golden fries. After enjoying this mouth-watering meal, you'll feel completely satisfied and content. If you're looking for something more filling, try their A5 Miyazaki Wagyu Sirloin (RM598). It comes with asparagus, figs, broccolini, tomatoes, and purple cauliflower.
Now, that's what we call a gourmet meal! I really wanted to try the Foie Gras with Beef Jus Risotto (RM80), but unfortunately, I didn't have the time or enough space in my stomach to do so.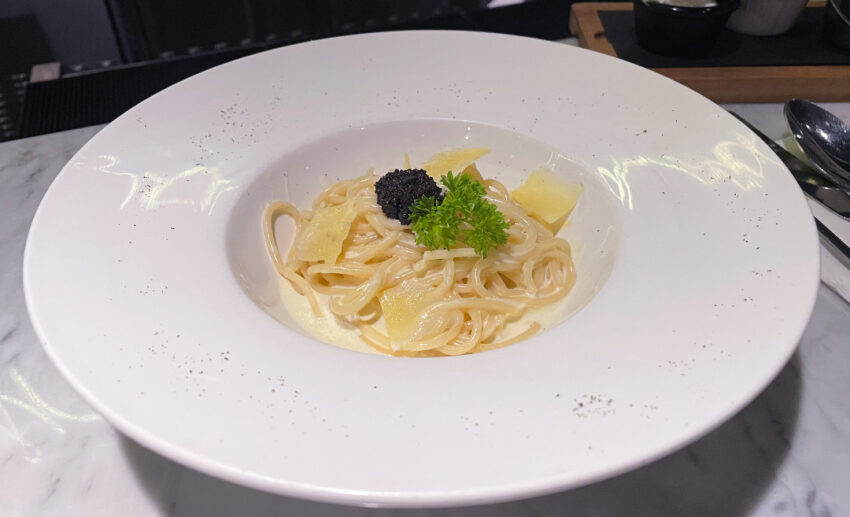 Now on to the Truffle Parmigiana Pasta. Not all pasta dishes are made equal, and being one of my favourite foods ever, I have pretty high standards for this form of carb. This dish was pretty decent and hearty, and the truffle pate was definitely the icing on the… pasta. For what you're paying, this gourmet meal is worth the order. Other plates of pasta worth noting are the Seafood Aglio Olio (RM38) and Capellini Moo Choo (RM45), which is the priciest on the menu but worth the splurge on if you love crabmeat and salmon roe!
The dessert menu at Jin Gastrobar is pretty extensive for an in-cinema restaurant, and it includes sweet treats like Original and Royal Chocolate Cheesecake (RM19), Chocolate Lava Cake (RM19), Apple Strudel with Vanilla Ice Cream (RM19), and Churros with Strawberries & Chocolate Sauce (RM25). We had the pleasure of indulging in the churros, which were served with whipped cream. It's rare to find churros with the perfect level of crunchiness, but Jin Gastrobar has somehow mastered it. They hit the sweet spot quite literally!
What about the drinks?
Jin Gastrobar is not just popular for its food, but also for its impressive drinks menu. This includes a variety of creative cocktails and an extensive wine selection. I couldn't resist ordering one of their signature cocktails — the Raspberry and Peach Gintonica. The perfect concoction of premium gin, tonic, peach bitters, and lychee liqueur is the perfect end to a working or hot day. No need to stress if you're not a fan of alcohol; there are plenty of choices for coffee, tea, and other drinks you'll surely enjoy!
Whether you're looking for a casual night out with friends or a special evening with your significant other, Jin Gastrobar has something for everyone. With its delicious food, impressive drinks menu, and cool, laid-back atmosphere, it's no wonder that Jin Gastrobar has quickly become one of the hottest new spots in town.
*All images courtesy of author.