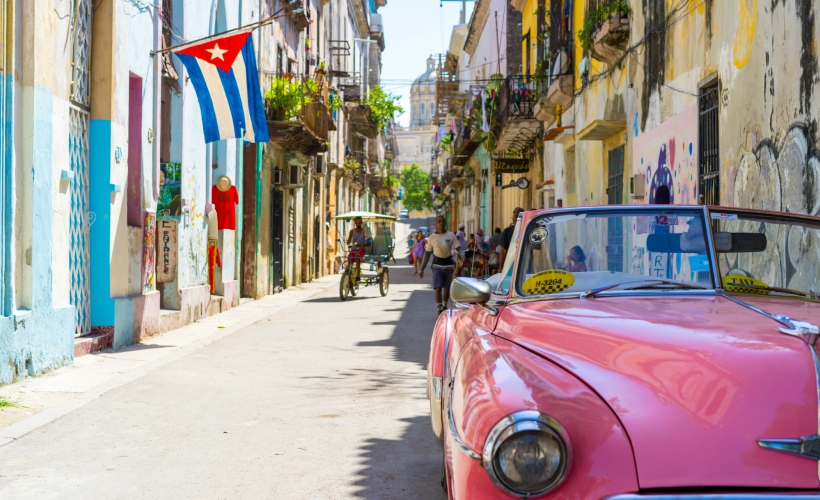 Although the buzz of Christmas and New Year's Eve has long died down, we in Malaysia are fortunate enough to have other celebrations all year round, the closest of course, being the upcoming Chinese New Year (CNY) festivities.
As with most celebrations that involve family reunions of any sort, it's also time to brace yourself for the following questions:
"Eh, you getting married soon?"
"Got promoted or not last year?"
"My neighbour's sister's daughter just bought a 1500 square foot property in KL. When you buying one, ah?"
"I saw your new car. Isn't this last year's model?"
For those of you who want to avoid extreme personal invasion by relatives you rarely see, here are some awesome road trips you could take instead.
Pulau Ketam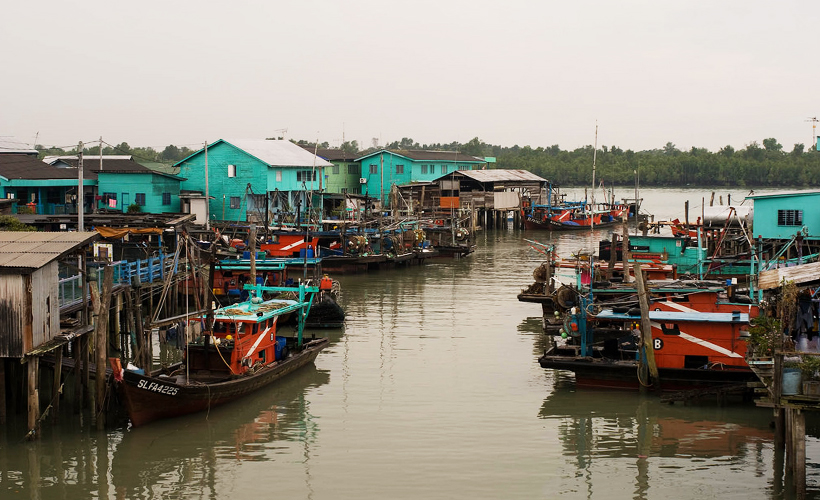 A 45-minute ferry ride from Port Klang will bring you to Pulau Ketam, a quaint Chinese fishing village known for, as the name suggests, succulent and fresh crabs (or ketam in Malay). What draws visitors to this little sea village is the laidback kampung (village) life still clearly apparent on the island.
You can easily explore the island by renting a bike or keep yourself occupied with a lesson in fish farming. However, the best thing to do at Pulau Ketam is to try the delicious seafood served fresh at the many restaurants located along the pier. Chili crabs, butter prawns, oysters in fluffy egg omelettes and cold pitchers of bamboo juice will keep you busy (and surely very happy) enough for a successful road trip.
Kuala Selangor
Fancy a little romantic drive with your beloved against a backdrop of the setting sun and twinkling fireflies? Head to Kuala Selangor's Kampung Kuantan Firefly Park. Popular with tourists and nature enthusiasts, this park enthralls visitors with a unique sight – thousands of fireflies nestled among the park's mangrove trees.
To get a great view, you need to wait until the sun has set completely, and then book a boat ride from the jetty that takes you on a short tour of the river and the mangroves, which are lit up like miniature Christmas trees sans stockings.
If you have more time on hand, you can arrive early and take time to explore the town, its sundry shops (they sell the best dried seafood snacks) and sit down to a fresh seafood meal in Kuala Selangor's many restaurants before heading back home.
Sungai Chiling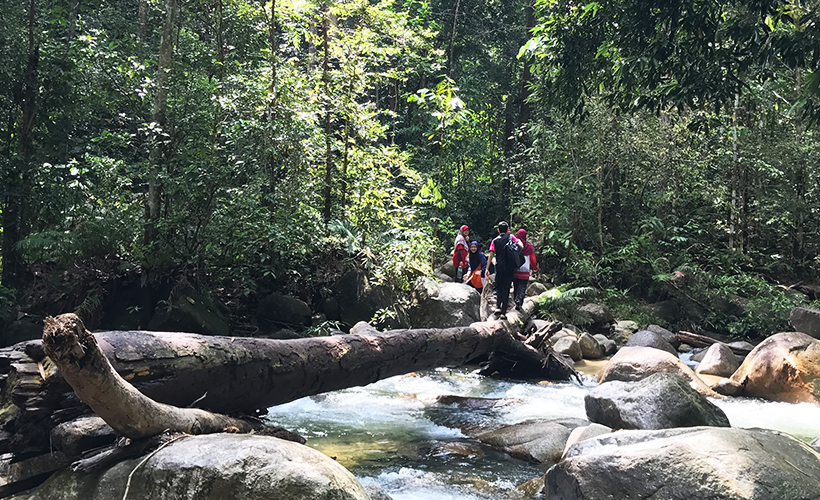 If you're up for an adventurous hike amid cool springs and flipping fishes, Sungai Chiling will take you by surprise. Located along the road to Fraser's Hill, the path to Sungai Chiling's vertical waterfall is filled with multiple fast-current springs and home to the many fishes that breed in the waters here. If you're used to seeing fishes in glass cases, this hike will be a refreshing change.
The hike ends with a cascading waterfall and a freshwater pond, ideal to take a dip in. Just remember not to feed or disturb the fishes, and you will be able to cross the streams easily, except for maybe a gentle nibble or two on your toes.
Pulau Pemanggial
What better thing to do this CNY than escape off to a magical land with turquoise seas and white sandy beaches? Fill up your petrol tanks and gear up for a long drive to Mersing, located on the east coast of Johor. A 45-minute boat ride from Mersing will get to the shores of Pulau Pemanggial, one of Malaysia's best kept secrets. Clear seas, corals and yards of uninterrupted coastline make this island perfect for diving and fishing. You can also choose to hike the hills surrounding the island for a mesmerising view of the far-reaching ocean. What a grand tale to share with relatives over the next reunion dinner.
Perlis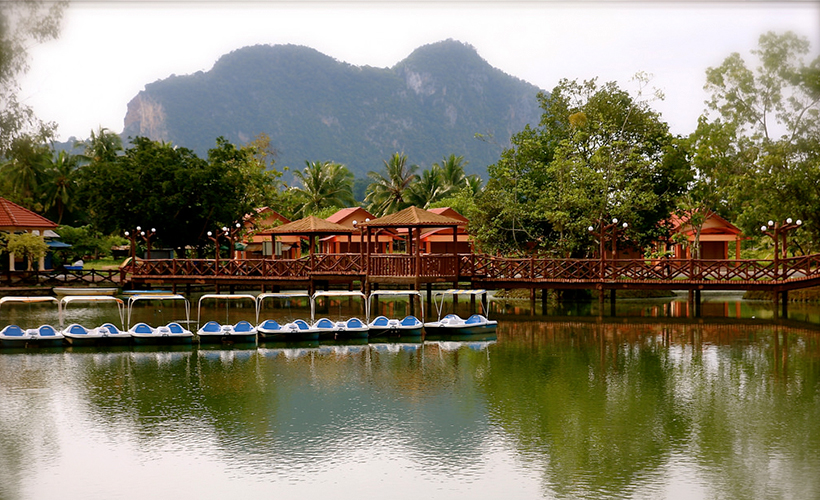 Heavily influenced by traces of Thai culture and architecture, Perlis is Malaysia's smallest state and shares a border with her northern neighbour, Thailand. Along with the melodious juxtaposition of cross-border cultures that continues to amuse travellers, top attractions in Perlis include Masjid Al Hussain (known as the floating mosque), Tasik Melati Recreational Park and the Gua Kelam caves.
If the long drive to Perlis gets your muscles flexed up, you can choose to spend the evening at a cozy homestay and drive into Kedah the following morning for yet another day of discovery on the road.
Taiping
While the food in Taiping is not as popular as the neighbouring town of Ipoh, there's no reason why a road trip to Taiping won't be filled with gastronomic exploits. Fresh popiahs (spring rolls), fragrant chicken rice, deep fried tofu pops, flavourful noodle soups, smokey char kuey teow (fried flat rice noodles) and pisang goreng (banana fritters) are just among some of the dishes that make a trip here worth the drive.
Beside the local fare, Taiping is slowly becoming a hub of hipster cafes including an old coffee mill, Antong Coffee Mill, that now harbours the district's best coffee shop. Along with specks of colonial architecture, Taiping is known for its lush lake gardens, mangrove forests and the Perak Museum that displays indigenous arts and crafts.
Penang
Regardless of nosy relatives and a barrage of irrelevant questions, CNY remains one of the grandest celebrations in Malaysia. Drive up to the island state of Penang to participate in the CNY festivities and check out the popular local heritage sites. This year, Penang's iconic Kek Lok Si temple will transform into a fairytale land with thousands of LED lights in a bid to welcome the new year of the earth dog, according to The Star.
Along with beautiful red lanterns that will dot the island, Penang will also play host to perhaps the country's largest CNY street party with live performances and food stalls to be held on February 25, 2018. With celebrations this grand, you know this is an event that's not to be missed!
PS: We have also put up a guide on how you can explore Penang like a local and avoid tourist traps!
Sekinchan
A quiet kampung, Sekinchan is for those who really need time away for some peaceful retrospection. Besides visiting the green paddy fields and a fishing harbour, there isn't much to do here, which makes it the perfect destination for some aimless walking or catching a corner table at a local seafood restaurant and watching the fishermen go about their day. A little drive around Sekinchan will take you to the Pantai Redang beach where you can snack on some crispy prawn crackers and watch the sunset before driving back to Kuala Lumpur.
Malacca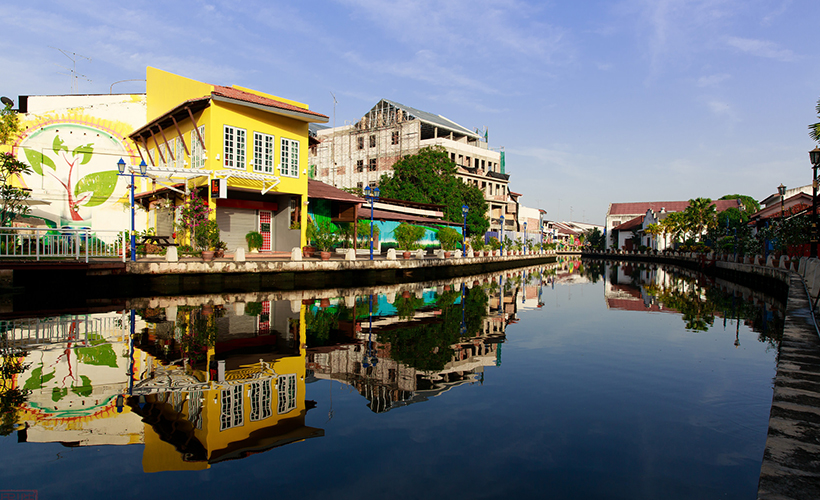 If you're eager to escape the city, but still keen to revel in the CNY celebrations, a trip to Malacca is highly recommended. Although most popular food haunts might be closed on the first and second days of the new year, celebrations start from the third day onwards, and you can witness some spectacular lion dance performances at shop fronts, at the main harbour or in malls. The night market at Jonker Street will also see fireworks, live performances and dazzling red decorations along with some great Nyonya (Peranakan or Straits-born Chinese) street eats.
Enjoy your endeavours on the road and remember to drive safe, always. Happy New Year!