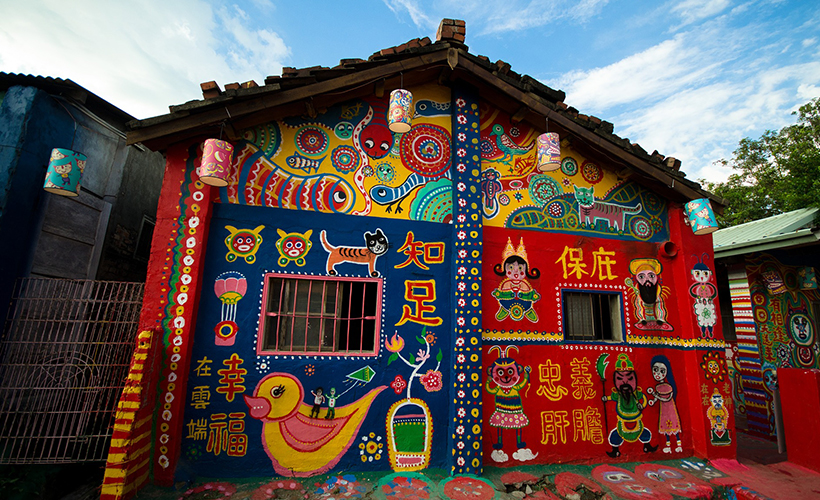 Huang Yung-Fu is coming close to being a centenarian. He's a retired soldier who fought in the Republic of China's army and fled to Taiwan in the 1940s. Mr Huang is also lovingly known as 'Rainbow Grandpa', and he lives in the Nantun district of Taichung City in Taiwan. This is the story of how he saved his little town.
Painting the blues away
There are many reasons to visit Taiwan. This Rainbow Village is a bonus. A few years ago, the town erected around 1,200 low-cost homes for veterans and their families. These homes became run down and developers purchased the land and offered to purchase the homes from the residents.
Soon, there were only 11 houses left in the area. Huang Yung-Fu's house was one of them. He didn't want to move as this was the only home he's ever known in Taiwan. As Mr Huang was one of the last villagers left, he quickly became bored and decided to take up painting. A skill his father taught him when he was five years old, but one he hadn't practised since he was a child.
He started painting various vibrantly-hued figures and creatures on the walls of his home. Mr Huang was also asked to paint some of his neighbours' homes and he was happy to ease his boredom. Painting homes soon became a labour of love.
Today, he wakes up every morning at 3am to decorate the town that became his home in the '40s. He paints homes and doors, roofs, and even walkways. Animals, flowers, cartoons, celebrity singers, and sportsmen decorate every surface imaginable.
Town hero
Mr Huang's work was discovered by students from a local university and quickly gained more attention. The town has become one of the most visited touristic attractions in Taichung with more than a million visitors annually.
As the popularity of the Rainbow Family Village grew, and more and more tourists visited the area, the government decided to cease their plans of demolishing the remaining houses in the town. There are even talks of making Rainbow Family Village a designated cultural area.
Making the trip
Heading to the Rainbow Family Village is a perfect day trip from Taipei. You can get from Taipei to Taichung via the Taipei High-Speed Rail. Then, from Taichung, visitors can take a taxi or Uber, jump on a bus, or take a 45-minute walk to get to the village.
The village is open every day from 8AM to 6PM, and if you're lucky, you might get to meet Rainbow Grandpa himself. It takes about an hour to wander through the village and admire all the artwork. It's best to aim to arrive as the village opens or to visit on a weekday to avoid the crowds.
Rainbow Family Village is more than just an interesting place to visit. It's the physical evidence of a man's labour of love. It draws visitors from all over the world, hoping to meet this inspiring man, and to add a little bit of joy and colour to their travels.
[zf_post_boxes widget_hide_desc="true" num_post="3″ post_id="10152, 20138, 17535″]
Get all the latest travel stories from Zafigo. Follow us on Facebook, Twitter, and Instagram.