8 January 2020
Miércoles
2:20PM
Holaaa. Feliz año nuevo (or Happy New Year)!
My new year was filled with lots of fireworks and people blowing up dolls and releasing Chinese lanterns. Quite a safety hazard as some lanterns flew horizontally towards people's head, rather than upwards into the sky. I don't think I've ever been by the beach on 31 December. It's nice to still be experiencing many firsts at this age. On 1 January, I witnessed a woman getting caught up in the waves and trapped by the current and then saved by a lifeguard. The waves here are massive and they can come out of nowhere. It was quite a sight for the first day of the year. Made me wonder how she felt. And him too.
When I first got here on 1 December, it was real tranquilo. The beach was relatively empty. When you took surf lessons, it was one on one; you never had to line up to enter a club; it was a good amount of people. Since then, week by week, more and more travellers swarmed in, prices have doubled up, and summer is officially here.
I've been volunteering at the same place, Hostel Esperanto, for over a month. Purposely so because I wanted to be in a familiar place with familiar faces over Christmas and New Years. My Spanish is now at a level where I can work in reception, without going, "Qué?" (What?) a million times. So, yay. I much prefer handling reception over housekeeping. The great thing about Esperanto is that we tend to get long-term guests. While some intentionally book a bed for a month, every other traveller who did not have a fixed plan ended up extending their stay for days or weeks. It's so easy to get comfortable, or more like, dangerously trapped. There was one guy, Adam, who stayed with us for six weeks before finally renting an apartment for another month. Most of our guests were English-speaking, which made it super easy for me to find people to hang out with. Of course, it was always also very sad finding people I like and then watching them leave.
Similar to many other backpacker hubs, Montañita was once just a quiet fishing village. I'm not sure what happened seven or eight years ago, but since then, somehow, surfers, hippies, and party people have found their way here, and even world famous DJs come here to play. For at least half of the week, all night long, sometimes well into the afternoon even, you can hear the constant bass thumping of techno beats coming out from one building – Lost Beach Club. In 2019, DJ Mag rated Lost Beach as the 35th best in the world; jumping up nine ranks from 2018, and eight ranks from 2017. All the walls, inside and out, have been painted with 3D paint, and took the artist six years to complete this psychedelic masterpiece. The sound system does not shy away from quality either; it was installed by the same guy who set up the sound in a superclub in Ibiza, known as Space.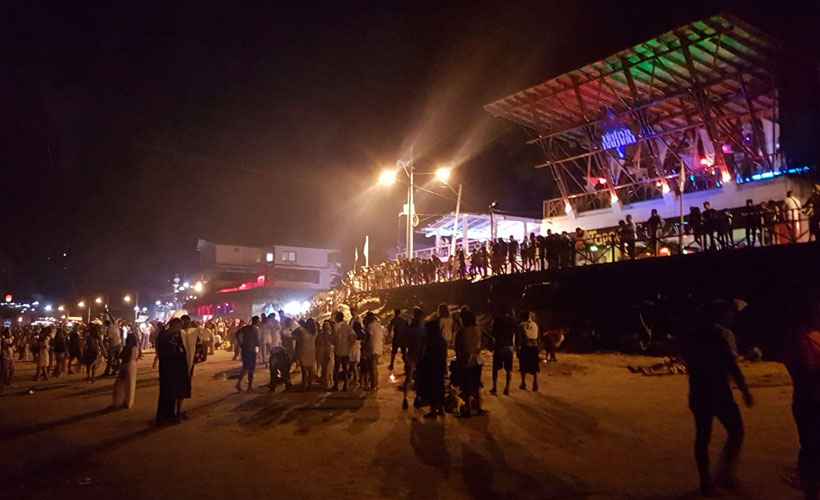 While techno is far from being my favourite genre, I still go every week as it is a great (and necessary) escape from the all-too-familiar reggaeton music on repeat. Every other club, bar, or stall of any kind plays the exact same music. Walking out of Lost Beach at 8AM (when it closes) is a funny sight. There's still a bunch of people on the beach, some dancing to their own speakers, some passed out, others just chilling. By then, my legs feel like jelly, but the sea breeze feels great, and I am grateful my bed is a mere 200 metres away.
Before coming here, I told myself, "I am going to learn how to surf!" At almost every hour of the day, there are surfers of every level hitting the waves. A two-hour lesson with an instructor costs USD25, with board rentals at USD5 for two hours. Many get their first-time experience here and most end up loving it. That's also because most people, based on my observation, are able to stand up after a few tries. My first lesson resulted in my instructor repeatedly telling me not to stress out, not to overthink, just try and have fun. Two hours later, I guess he felt bad for me and offered a free lesson the following day. I did not succeed in catching my balance even once.
The next day, my lesson was with five other girls and an additional instructor. The different guy tried to teach me this time. By this point, they were pretty much simply holding the board in place so I can get in position. I wasn't required to ride the waves or paddle properly. He would push the board and tell me to get up when the time was right. Ugh. Couchsurfing is far easier. Over two hours later and he was like, "Why can't you stand up? There's no such thing as difficult. It's everyone else's first time too." Clearly, that did not in any way make me feel better. I obviously felt like a bigger loser because everyone else was a first-timer. Annoyed me, even more, when someone tried to encourage me by saying, "You just need to believe that you can! It's all in your mind!" Three hours later, at the very end of our session, I stood up. Twice. And decided to stop there. I have not revisited the surfboard since.
There were six volunteers when I started. All mostly spoke Spanish except for one, Jurica from Croatia. Naturally, we found each other the easiest to talk to. From the moment he shared his self-made passion fruit mousse with me, we started spending a lot of time together. As commented by one of the guests, "Every time I see you guys, you're either cooking or eating." It was fantastic. Every day we would plan what to eat, inclusive of savoury and sweet. The dessert-making made me the happiest. Before we bonded, I'd make the simplest of meals, but Jurica's passion for food influenced my cooking. Even after he left, I continued investing more time and ingredients in making indulgent dishes. All of which I would enjoy in bed, while watching a show on my laptop.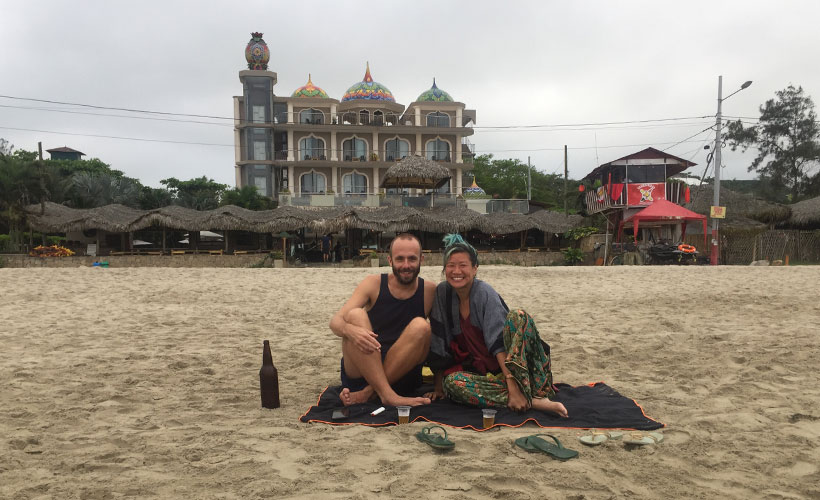 I wonder how the rules got set for Montañita because there are many exceptions. You can get away with things you would never think of doing in the streets back home in KL (I'll leave that to your own translation/imagination). I would liken the general behaviour to people at a music festival, or perhaps people in Berlin. Police are around, but I've never seen them bother anyone. I have seen other vigilantes though. I'm not sure if they're self-appointed or chosen by a council of sorts, but they wear black ski masks and carry a baton as they walk around at night. They looked rather worrying, so I was surprised when a couple of them smiled with a hola once. I heard that their role is to get rid of the crazies or the baddies. If they notice anyone acting insane, looking dangerous, or behaving in a possibly threatening manner, that person would get beaten up and exiled. So I guess the only rule here, really, is don't cause a scene.
For the most part, I believe it's relatively safe. It's just that in the first week of being here, I was told two first-hand stories about getting robbed. One friend got robbed by two girls. Because they were females, he didn't fight back as they pushed him over and kicked him on the ground before stealing his money, phone, and cards (he was inebriated, but still). Another friend got stopped by three dudes on a bike who held him at gunpoint, got him to lie on his belly, and then yelled for money. My friend was on an evening jog, so he had nothing on him. These two stories were enough to make me paranoid. Since then, I'd leave my phone in the hostel when I went out, even during the day. I'd only exit with minimal amounts of money in my pocket. So now I don't have many photos because I rarely had my phone with me. I didn't feel in danger at any point, but I guess the same applies to anywhere, just stick to groups once it gets dark.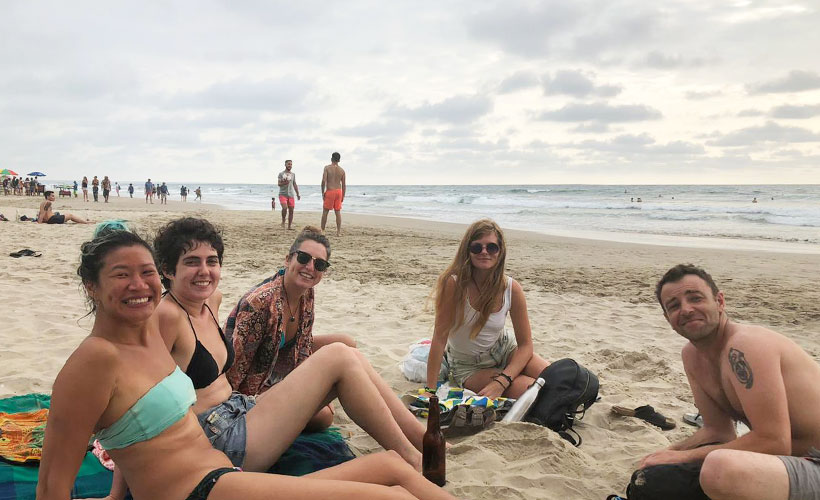 I could stay here for longer. Life is too easy. Unfortunately, it's also costly. Not counting transportation, USD10 would typically last me a week in South America. In Montañita, that's easily gone in a day. The good life ain't free. For this reason alone, I desperately need to tear myself away before my finances run out. Although, I must admit it truly is silly how now that I know I'm leaving soon, I make sure I head to the beach every single day, and meet up with people every single night. I'm cherishing my time more, knowing it's coming to an end. I need to learn how to better appreciate life while it's happening and not only when it's almost over. It's definitely hitting me now how I've taken so many days for granted. I also most certainly could have gotten tanner than this.
Bueno. All I have to say is, if you ever get the chance, and if you think this might be your scene, don't miss out on partying in Montañita. It really is something else. ¡Abrazos y Besos!
¡Ciao!
Con cariño,
Petrina
Cover photo: Outside Lost Beach Club with Seamus and Adam from Ireland
All photos courtesy of the author.
32207, 24224, 27405
Get all the latest travel stories from Zafigo. Follow us on Facebook, Twitter, and Instagram