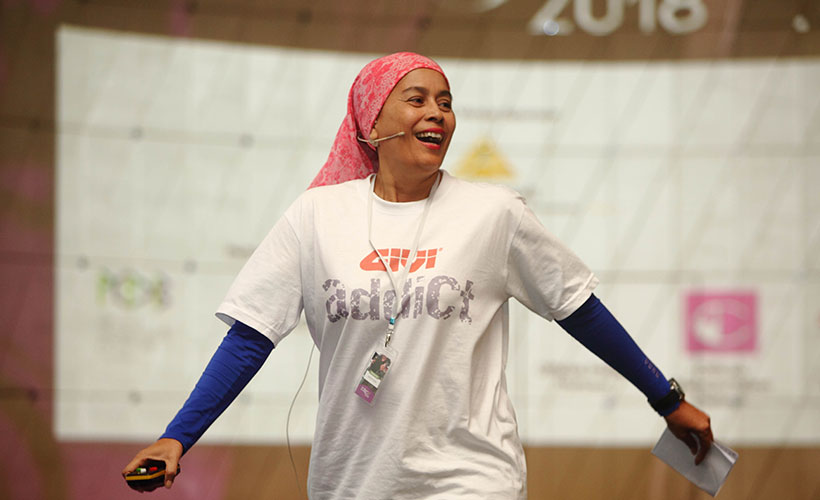 This is how one woman went from ordinary to an adventure rider. Anita Yusof described herself as a simple woman. She hadn't travelled on her own but she was in love with a Spanish man. She was eager to see him and so she set out to backpack around the world to meet him, and when they finally met, he wasn't the person she thought he would be.
She left who she thought was the love of her life in Europe but she had brought a newfound love for travelling back to Malaysia. Shortly after, she met someone whom she would marry and imagined spending the rest of her life with but it didn't work out the way she had planned. She slowly started losing grip of what she thought she knew and felt like she was going crazy.
Before she did though, she wanted to do something that was actually crazy, she said. She read a blog of a cyclist, Zahariz Khuzaimah, the host of Dengan Basikal Aku Menjalajah and had fallen in love with his photos from his trip to Kyrgyzstan and wanted to see the beautiful rivers and lakes for herself. What she realised later on though, was that these places were remote and undeveloped, and as a backpacker, she depended on public transportation.
After discussing how to get around, she was convinced that a motorbike would be her best possible option. She contacted a trainer to help but unbeknownst to him, she had no experience. He wasn't convinced to teach her because she didn't even have the basic skills down yet. Determined to prove him wrong, she went back two weeks after their meeting with a new motorbike; she had ridden it from Ipoh to his shop in Klang, and back to Ipoh.
Commendable for someone who had 0 experience in riding.
Shortly after, they set off on a 22-day adventure ride from Malaysia to Thailand to Myanmar, back to Thailand and Laos. She fell a total of 6 times which was expected given that she was incredibly new to adventure riding and had gone on difficult roads.
On the last day, he said to her "you are the worst adventure rider I have met in my entire life. This is not your cup of tea, sell your bike." But did she do as told? No. She knew she could do it if she had more time to practice, and she did exactly that.
She started going on her own solo riding trips to familiarise herself with the bike and what was needed to be a solo rider. And just three years after that, she travelled to four continents, 40 countries, in 370 days on her motorbike.
Her first trip saw a flight from KL to Seattle, US. Then she rode from there to Canada and Alaska, then back to the States where her adventure to Latin America began. She rode to Mexico, Guatemala, El Salvador, Honduras, Nicaragua, and Panama where she took a boat to Columbia. Then, from Columbia to Ecuador, Peru, Bolivia, Chile, and then to Ushuaia.
From there, she went back to Buenos Aires and flew to London where she rode to Paris, Spain, Portugal, Monaco, and Italy; and then a ferry ride to Croatia and back on the bike to Balkans, Bosnia, Montenegro, Albania, Macedonia, Greece, and then to Turkey where she rode to Iran and to all of the Stans. Then to Vladivostok, and to Russia, where she flew to Bangkok and rode back to Malaysia and arrived on September 16, Malaysia Day. And she did it all on her own, at the age of 48, despite what had been said about her.
Anita's objective of her dream ride wasn't just to witness God's beautiful creations. She was determined to contribute to her country and religion. She was named in The Malaysia Book of Records, the Asia Book of Records where she was the first Malaysian to be featured, and even earned herself a Givi ambassadorship.
Her success and story are inspiring, and the driving factors behind it were men who broke her heart and doubted her capabilities.
Watch her set below entitled Living Life In The Fast Lane: One Motorbike & The World below:
ZafigoX returns on 21 and 22 September 2019. Tickets are being sold from RM350 for a single standard 2-day all-access pass. Buy them today at Zafigo.
Get all the latest travel stories from Zafigo. Follow us on Facebook, Twitter, and Instagram.