For single working women, opportunities to travel the world are endless, and you're always looking to make the most of your time in a new country or city. If you are transferring to the Indian subcontinent, you may find yourself wondering how to meet interesting people of the opposite (or same) sex. Maybe you're looking for a date; maybe you're looking for a salsa partner; maybe you want to meet someone whose life story runs similar to yours. After all, with a billion people to boot, surely there are some candidates worth knowing? Then again, that means there are a billion people to navigate through. Where do you get started? We turn to the online world.
If hanging out with work colleagues doesn't cut it, or you're looking for someone who shares your love of Manga comics and gin, check out my two favourite digital contenders – TrulyMadly and Woo. Both apps are targeted at the urban professional, and designed as channels to date casually or find their life partner, thereby eradicating parental influence in matters of the heart.

Both apps run on algorithms designed to match people on the basis of personal interests, self-descriptions, location and an age range. Both apps verify each user's identity via their Facebook and LinkedIn profiles, both apps judiciously screen uploaded photos before displaying them – so no surprise shots of body parts you don't want to see here!
With a subconscious appreciation for caution, I've found that all it's taken is a few simple touches to make these apps stand out. One of them is showing you how many Facebook friends you have in common with your match. In that sense, both apps are a bit like bumping into a stranger at a friend's party and discovering you two have lots in common. Even if you know only a handful of people in your new city, you may be surprised by the alarming efficacy of the whole six degrees system.
In my experience, TrulyMadly and Woo are both great ways to meet interesting people. You're likely to meet guys you can share a beer or two with over a chat. Some matches are hits and some are misses, but that's par for the course. One safety feature I really appreciate in both apps is the inability to take screenshots, unlike Tinder.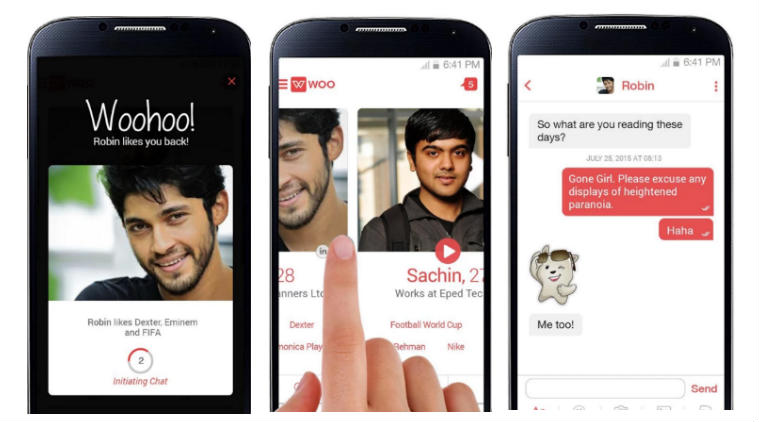 Remember that dating in the sub-continent is different from dating in other parts of the world (Quora has an entire Topic devoted to it here). Dating, match-making and matrimony are loosely interchangeable in India, and companies like Shaadi, JeevanSaathi and BharatMatrimony are first and foremost matrimonial platforms that do things the old-fashioned Indian way. Parents seek suitable life partners for their children, and verify the person's caste, creed, economic and social status. Only then is romance allowed to commence.
There are lots of single men on these matrimonial platforms looking for casual dates and hook-ups, but to be honest, the platforms aren't conducive to that sort of interaction. If a guy needs the false pretense of intended matrimony to forge a connection, he (a) may not be the kind of person we'd like to know further, and (b) is sorely out of touch with what we're seeking. Shock, horror! – the promise of marriage doesn't get all of us as revved as you think.
If you're not looking for romantic interest, look beyond your screen. FLOH calls itself a network for the urban, educated, single man or woman and it is just that – nothing more, nothing less. Membership gives you a chance to meet people over curated experiences and diverse events such as a treasure hunt across the city, a sailing session off the Gateway of India, a sushi-making workshop, or a cocktail-session with India's best bartender. It's a great platform to connect and make friends without the necessary implication of dating or marriage.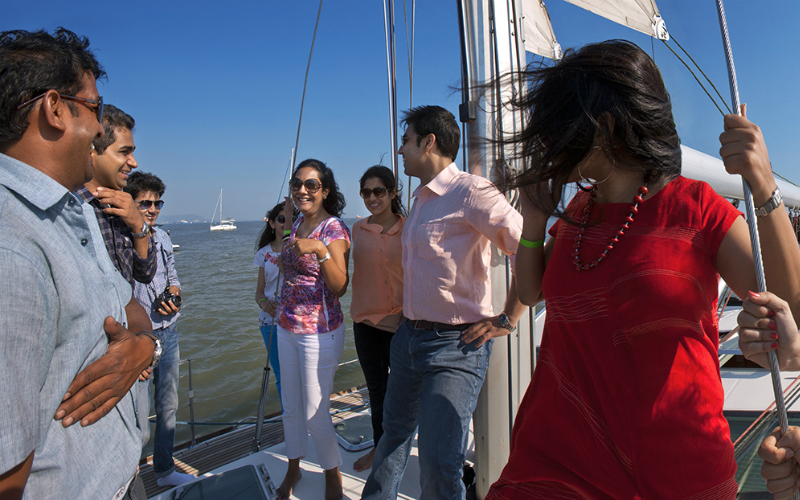 So far, so peachy? Here's where you need to be careful. For a lot of Indians, the technosexual revolution afforded by dating apps has them pushing the boundaries of centuries-old socio-cultural codes of conduct. Think Mel Gibson from Braveheart finally shaking off the preening eyes of over-involved parents, neighbours and strangers with a wedding kilt pressed and ready to go. It all spells one thing: FREEEEDOM!!
So if the guy you meet on Tinder seems overly eager to invite you home for dinner, don't be flattered. He's just enjoying his newly-discovered hobby of hooking up. The safest way to use Tinder is to go in bold as brass, and be prepared to see a penis picture when you least expect it. Oh, also to learn what MBA** stands for. Hint: It has nothing to do with business school.
That's not to say that all men on Tinder are simply chasing skirts. When using Tinder, err on the side of caution. If the guy you swiped right on insists on meeting up post 9PM and hitting the 24×7 Happy Hour bar, use your Spidey Sense. Choose a spot you are familiar with, and if he gives you the heebie-jeebies, don't hesitate to politely but firmly leave within the first half-hour. Unlike dates set up by friends or family, you are under no obligation to make conversation in this situation.
Above all, take everything and everyone with a healthy dose of salt. We Indians are emotional and dramatic people, and very often, we're led by our hearts and not our heads. Behaviour that may seem off-putting in the West, like phoning a person every day or meeting in a group of friends, is not uncommon here. The best advice to follow is the one your gut gives you. And remember – YOSO (You Only Swipe Once).
**MBA (Married But Available)

Read Next: