School's out. Parents, grandparents, housemaids are waiting by the main entrance of Lighthouse Academy to pick up their young ones. Chatter fills the air as students bid each other and their teachers goodbye for the day; some high-fives and hugs are exchanged. Melody Yap, the principal of this private school in Penang's Batu Ferringhi, watches over. As the students file past, she clues me in on every one of them. "Every child here, I can tell you their story and how far they've come," Melody says with a smile.
Melody's own story is nothing short of uplifting. The former school teacher from Singapore moved to Malaysia when her husband, Dr Chew Yu Gee, a paediatrician, took on a job at the Penang Adventist Hospital. Their eldest, Sky, was four at the time while their second son, Art, was nine months old. The rest of their children – Iise, Gem and Rayne – were born in Penang.
When Art was about three, Dr Chew realised that his development was a bit delayed. Tests and consultations with doctors in Singapore confirmed that he's on the autism spectrum. Melody quit teaching to devote her time to Art. "Back then, there weren't much resources or expertise. I had relied on my instincts a lot. We did consult a speech therapist, who taught me to ask him open-ended questions so he can learn to talk. I had to teach him to walk – I would get Sky to show him."
There were no special schools she could send him to, so Art attended regular classes. He was an average student who loved mathematics and jigsaw puzzles, but he was determined and dogged. "Everything was so hard for him. When he attended kindergarten, I would peek in on him sometimes. Often, I saw him alone, with no one to play with. It was painful to watch."
Having gone through that, Melody understands the challenges that the parents of special needs children face. Most importantly, she knows that with early intervention, the child can go on to live a normal life. Otherwise, they could lose all their potential.
Art is the perfect poster boy for that. "I cried when he got his SPM results," Melody recalls, her eyes tearing up for a moment. "He scored straight As." Today, Art is a doctor and father of one.
His story is part of the reason that led to the setting up of Lighthouse. Parents, inspired by Art's success, urged Melody to teach again or start a school but she was reluctant. "I was enjoying the tai tai* life, all my kids had grown up and I was already a grandmother." True to her faith, Melody turned to God for guidance. "I said to God, if you want me to do it, I will. But give me a team, as I can't do it on my own. Nothing happened for a while… I thought I was off the hook!"
At the time, Dr Chew had built their family home on a piece of two-acre land in Batu Ferringhi and had also planted a church within the same premise, adjacent to what he had intended to be Penang's first children's hospital by the sea. He was also running six other clinics until health concerns forced him to scale down his workload.
A businesswoman came to give a talk at the church one day. She opened up about her failed business and mentioned that her aim was to start a school someday. It turns out she was the team that Melody had prayed for, and Lighthouse came into being about six years ago.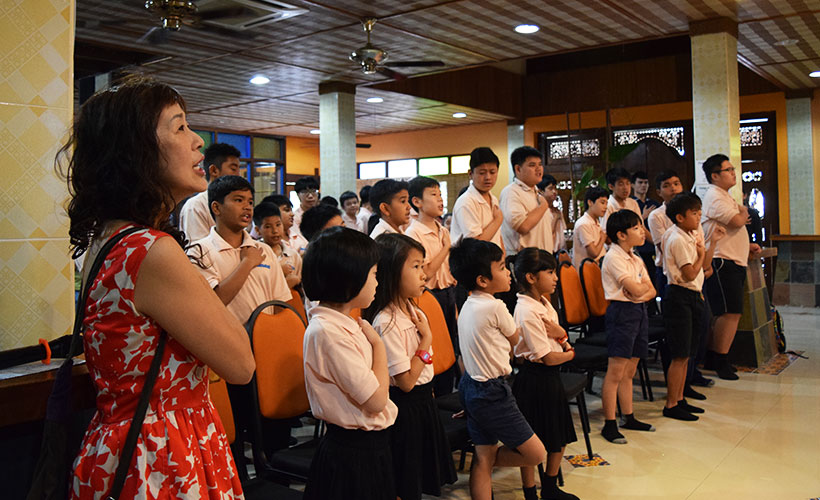 The school is currently staffed by 28 full-time teachers and enrols around 100 students, of which 30 are special needs children. The relatively low student-teacher ratio (about 8:1 for mainstream and 5:1 for special needs) means better individual attention for the kids, which bodes well for the learning process.
Lighthouse offers the ACE (Accelerated Christian Education) curriculum, but religion is not a pre-requisite; they accept all students, from pre-school to A-levels. from. Special needs students are taught using Applied Behaviour Analysis (ABA), a technique that helps children with autism and developmental disorders learn through positive reinforcement. Lessons are carried through a mix of sensory activities, including music. They also benefit from the Integrated Education Data (iEd) programme that's designed for well-rounded achievement and wellbeing.
Peek into classes in session and it's immediately obvious that Lighthouse is not a regular learning centre. There's none of the 'teacher-writes-on-chalkboard-while-students-take-notes' scenario. Instead, older students sit at cubicles lined up against the walls while the teachers move among them to guide and check on their work. Younger ones may learn through play, or do simple fun things like shaping playdough that's handmade by the teachers. Physical activities such as swimming is also part of their routine.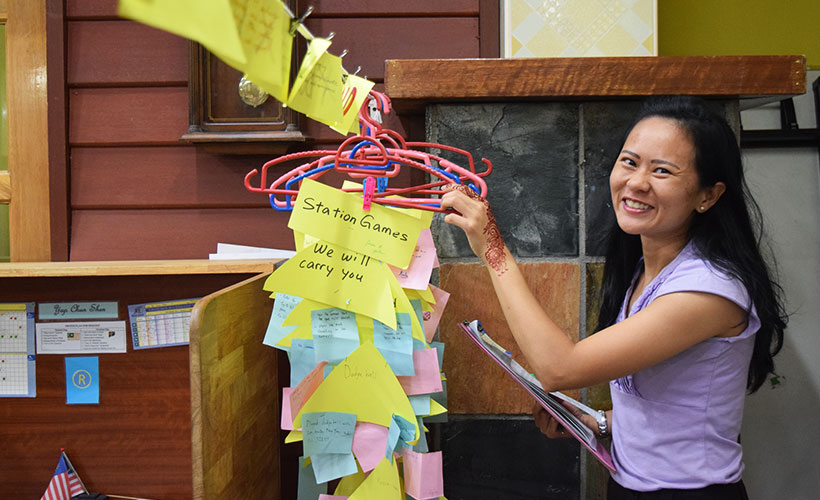 Most noticeably, there's a fluidity to everything – no rigid classroom settings, no fixed lessons (students work through the syllabus at his or her individual pace), classes are not defined by ages and there is no division between mainstream and special needs children. Melody believes that integration and balance are necessary. "Special needs students fare better overall when they mix with more mainstream students, while the latter learn to have bigger hearts."
After all, Lighthouse was so named "to symbolise hope and show the pathway" and offer an alternative to students who may not suit regular education. As a fun fact, Melody adds that the school looks out to the Pulau Tikus skerry, after which the popular Penang suburb was named and where an actual lighthouse stands.
The academy is, for its students and their families, a beacon of light for a promising future. For Melody, it's most fulfilling to see a child turn over a new leaf and do well, but hers is a never-ending task fraught with challenges and hardships. Chief among that is the monetary means to keep the school afloat. Electricity is the biggest expense, besides the equipment required for the sensory room. Occasionally, the academy flies in foreign consultants so the cost adds up to a neat sum. On top of that, not all students are charged full fees. "We decide on a case-by-case basis. Depending on their family's ability, some pay just a fraction and some are given scholarships."
Melody and Dr Chew pumped in millions of their own money to keep the school going, which was obviously not a viable long-term option and three years ago, they came very close to shutting down Lighthouse. Then came the idea to convert a part of their home into a small resort and channel the money to the school.
Lost Paradise Resort was thus born – the Chews call it the Reluctant Resort – and offers holidaymakers a choice between five types of rooms and suites. Amenities are basic but adequate, with some rooms affording sea views while suites are fitted with bathtubs. Most guests spend their time in the infinity pool or relax on lounge chairs that look out towards the Andaman Sea. Want to do something more active? Kayaks are provided. The landscaping and décor are colourful and eclectic, featuring a very mixed bag of influences and inspirations. Dr Chew designed the entire place himself, down to every last tile, outfitting it with bits and bobs he picked up on his travels.
Melody oversees the running of the resort too. As she and her staff have no hospitality experience, everything is a learning curve – which is apt, given that the resort shares premises with the academy and guests who stay at Lost Paradise are supporting Lighthouse's endeavours.
Between the school, the resort, her family and homes – at the back of her house, there are living quarters that serve as a halfway home for marginalised youth – Melody has her hands full. The youthful grandmother of three takes it in her stride, a picture of sunny disposition in her summer dresses and always with a flower in her hair.
"It's beautiful what we have going on here, it will pain me to have to close it down," she says wistfully. The resort is keeping the school going, but Lighthouse could always benefit from more funding. "I'm not an entrepreneur," she continues, "I just want to be obedient to the calling."
*Tai tai is a colloquial Chinese term for a married woman of leisure who lives a life of luxury.
For more information on the school and resort, visit www.lighthouseacademypenang.com and www.lostparadiseresort.net