To the local hill tribes of Lam Dong Province in Vietnam, Da Lat means 'river of the Lat tribe'. This regional capital also goes by other names. Some call it the Honeymoon Capital, the City of Eternal Spring, or the City in the Fog. The area is often referred to as Vietnam's vegetable garden as it produces broccoli, asparagus, artichokes, and a wide variety of European flowers. Speaking of Europe, the locals refer to Da Lat as 'Little Paris'.
Da Lat City was officially established in the late 1800s and was a popular destination for Europeans wanting to escape the heat of Ho Chi Minh City which was then known as Saigon. The temperature in Da Lat ranges between 15°C and 24°C – much cooler than other areas in Vietnam. Da Lat started out as an agricultural research station and later transformed into a resort town designed for rest and relaxation.
A dose of French history
How it came to be known as Little Paris is that in the city, you'll find 2,000 French villas built in the 1920s and 1930s scattered throughout the area. The French Quarter of Da Lat meanders along Tran Hung Dao Road that houses schools and churches along with these villas. The nearby Da Lat Cathedral was built between 1931 and 1942 and served as the place of worship for French colonists. Today, visitors can admire the spire and cockerel-shaped weathervane. The Cathedral is not open to the public except for services on the weekends.
Another must-visit in town is the Da Lat railway station. This was built in 1943 and the original ticket windows are still there, along with an old steam engine. Visitors (in groups of at least four) can take a ride in a train with a wood-burning locomotive and travel for five kilometres through the mountain pass to Trai Mar. The route along the railway is speckled with pine trees, vegetable farms, and tea plantations.
A touch of romance
As the Honeymoon Capital, Da Lat has a lot to offer in terms of romance – even the town's radio tower is fashioned after Paris' Eiffel Tower! Meanwhile, the Lake of Sighs is said to be a meeting place for star-crossed lovers who could never be together. Today, it's a popular area for couples to spend time together. You can rent a paddleboat to go out on the lake or take a drive around the lake in a horse-drawn carriage.
Da Lat also has a theme park called the Valley of Love. The park is surrounded by hills and sits on the edge of a lake amidst beautiful gardens. Valley of Love staff are also dressed as cowboys and you can take pony rides or take a swan-shaped pedal boat out on one of the lakes.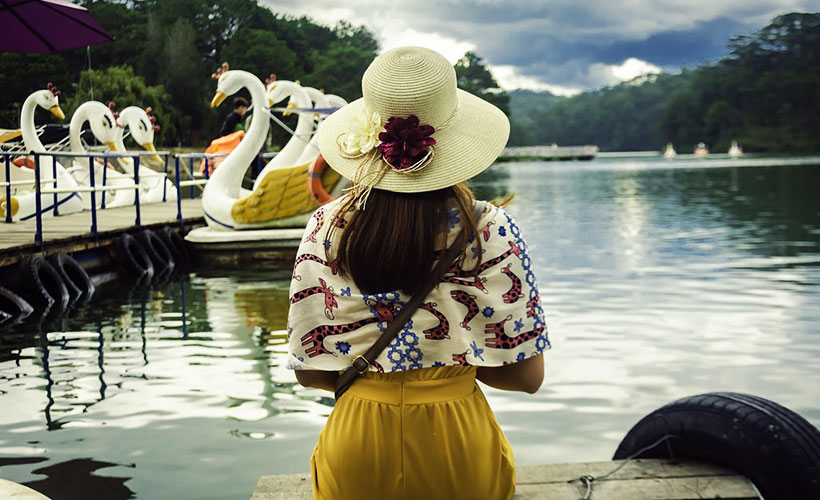 "
All I expected to take from the trip was Sapa's stunning rice terrace views, but there were more things to experience in this quaint village". Read this ? Life Lessons From Sapa, Vietnam
A treat for culture vultures
Besides the romantic outings, gain a deeper understanding of local culture by visiting the Summer Palace of Vietnam's last emperor, Bao Dai. Linh Phuoc Pagoda houses the tallest bell tower in Vietnam, while Lam Ty Ni Pagoda has an art gallery where you can purchase monastic artwork. Linh Son Pagoda is lesser-known, but is surrounded by tea and coffee plantations where visitors can see monks harvesting crops when they're in season. The newest temple in Da Lat can be reached by a cable car that offers stunning views.
A taste of nature
There are several waterfalls worth visiting in Da Lat. Datanla Waterfall is perhaps the most famous – and comes with the option of riding a roller coaster to the bottom of the falls. Other exciting activities here include canyoning and water sliding. A visit to Elephant Falls is perfect for those who are looking for something more off-the-beaten-path, while Pongour Waterfall impresses with a picturesque cascade that's 20 metres high. If you're willing to venture out of the city, the tallest waterfall in the region is Dambri Waterfall (90 metres tall) that's 75 kilometres from Da Lat.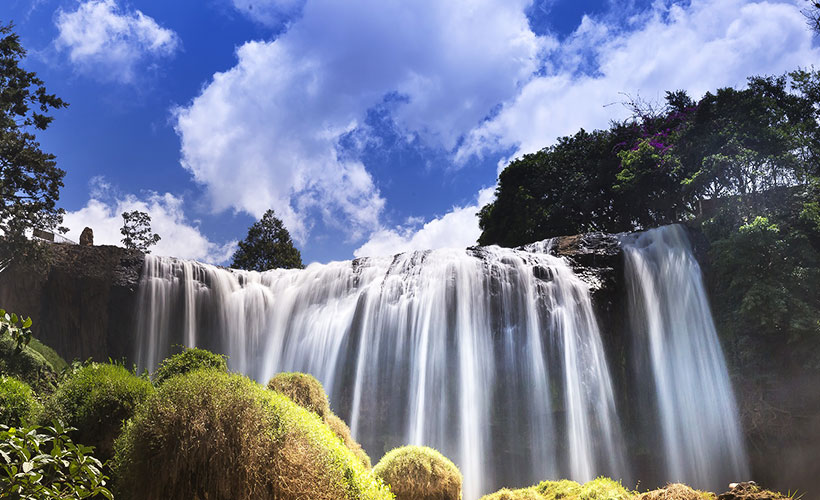 But wait, there's more! The Da Lat Flower Gardens spread over 7,000 square metres and showcases over 300 different kinds of flowers. Different flowers bloom at different times of the year, making the gardens a lovely place to visit at any time. The flowers are generally more vibrant during the dry season between November and March with an annual flower festival held each year in January.
Most visitors only spend about four days in Da Lat, but with so much to do and see in the area, one can easily spend more time here. Da Lat is a unique place that combines the feel of French colonialism with authentic Vietnamese culture and natural beauty – all with the added tinge of romance.
Get all the latest travel stories from Zafigo. Follow us on Facebook, Twitter, and Instagram