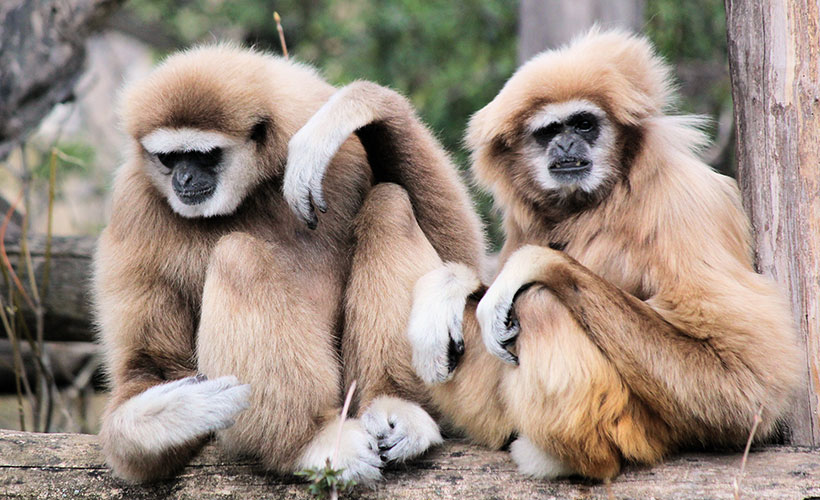 Bordering Thailand along the Mekong River of the Bokeo province in Laos is the tiny town of Huay Xai. While most people treat Huay Xai as a stopover to other destinations like Luang Prabang, if you're an outdoorsy or adventurous traveller, the town has a beautiful landscape that's great for hiking, kayaking, and biking. Oh, and not forgetting, you can also holiday with some super cute gibbons!
The Gibbon Experience is situated in the Nam Kan National Park near Huay Xai – a 136,000-hectare area that was officially given National Park status in 2008. Here, you'll find that the park offers unique accommodation with the chance to see gibbons in the wild.
They are self-described as a tourism-based conservation project with treehouses as accommodation. For safety, the treehouses are built high and overlook the forest canopy. Needless to say, it's a stunning view from the top. Especially when you can see the top of the forest from your bed.
Zipping about
---
Asia is so rich in biodiversity that it's filled with opportunities to experience its wildlife in many ways. Check out how you can do it in Sri Lanka:
---
While treetop respites are unique, what adds to making them special is that they are reached via zip lines. These zip lines have been installed throughout the vast park to reduce the need to walk up and down hills and the time it takes to get around. What once was an eight-hour walk now is a two-hour walk. The Gibbon Experience features a total of 15 kilometres of zip lines with the shortest being around 50 metres and the line nearly 600 metres long.
Helmets are always recommended. It's also important to double-check the knots of your harness and that your karabiner is securely closed. While visitors are accompanied by a guide, they are locals of a nearby village. Some guides speak English while others don't, and are referred to as more of an 'escort'.
The zip line wires need to be replaced often to ensure they're safe to use. In typical Laotian fashion, the old wires get recycled and used for other purposes (like these bombs). One such purpose is as part of a 60-metre long suspension bridge in Ban Donkham (also within Nam Kan National Park).
Top of the world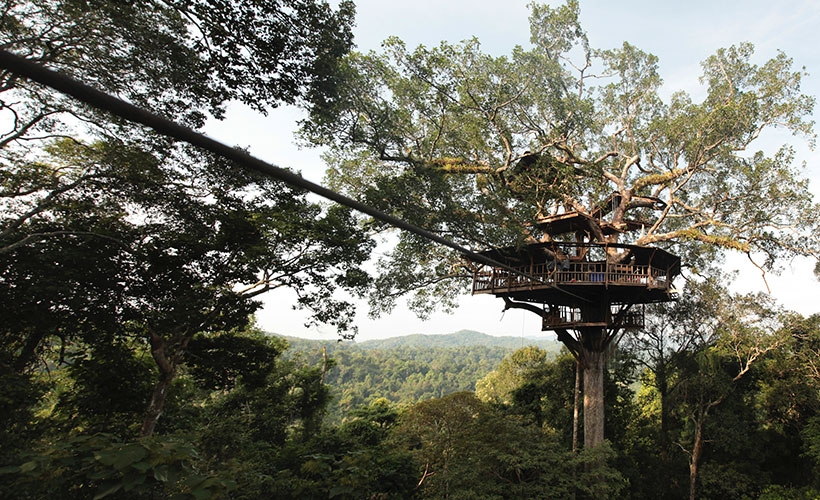 Back to the treehouses, The Gibbon Experience's accommodations are built at a world record height of between 30 and 40 metres. That's over 10 storeys high! The treehouses are built in different styles too, to best suit the trees and environment around them. The sizes also vary, with some being as large as luxury mansions of up to 160 square metres. You needn't rough it out entirely here either, as the treehouses are stocked with the necessities including solar electricity for lighting, cutlery, crockery, and beds.
That said, The Gibbon Experience doesn't provide a luxury experience. The main attraction of the trip is the raw, natural beauty and wildlife that you can immerse yourself in. It's an experience for adventurists with a passion for nature and its conservation.
Nam Kan National Park is also home to the Tree King. A gigantic resin tree (dipterocarpus alatus) towers over the surrounding forest at a height of 55 metres. The diameter of this giant tree is a whopping three metres at ground level. The Tree King is considered sacred, and religious rituals are often conducted in its honour.
Prime mates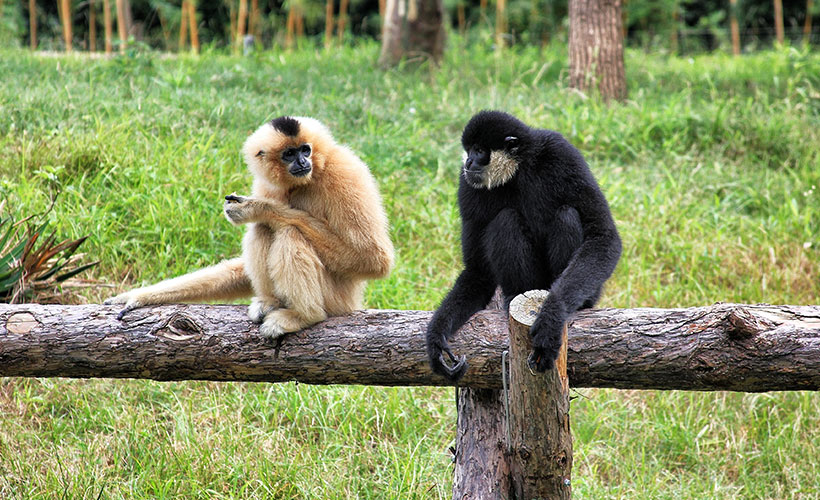 As can be expected, the natural beauty that surrounds The Gibbon Experience is amazing. The highlight of the area is the critically endangered western black crested gibbon, a subspecies of the black crested gibbons found primarily in Southern China, some areas in North-western Laos, and Northern Vietnam. There are only about 1,300 to 2,000 crested gibbons left worldwide. Currently, only 11 groups of these gibbons can currently be spotted within The Gibbon Experience, and it's thought to be the only viable population outside of Yunnan in Southern China.
So what does one look for when gibbon-spotting? Gibbons are apes rather than monkeys. The males are black with hairless faces, while the females a beige-yellow with hairless black faces and black patches on their chest, head, and abdomen. Their arms are super long – about twice as long as the primates are tall. Your best bet is to look for them swinging from branch to branch or sleeping in tall, thick trees near a food source.
While Gibbons are wild animals and sightings are not guaranteed, following their morning singing offers visitors better a chance of spotting them. On the other hand, rainy and cold weather could hush them up, making them more difficult to find. Besides the gibbons, visitors can look out for a variety of deer, leopards, tigers, wild pigs, Asian black bears, and over 100 species of birds.
Get all the latest travel stories from Zafigo. Follow us on Facebook, Twitter, and Instagram.