There's just something calming and soothing about being in water. Whether it's enjoying a bubble bath or diving into spectacular coral reefs, water has a special effect on all of us. Island getaways are the perfect means to feed a marine addiction, but what about those daredevils who want a little something extra?
Enter, water parks. They're the perfect means of aquatic escape for those adrenaline junkies, fitted with all forms of excitement ranging from plain amusement to downright terror. If you're wondering where to get your aqua-filled adrenaline fix, we've cherry-picked some of Asia's finest water parks:
Happy Magic Cube, China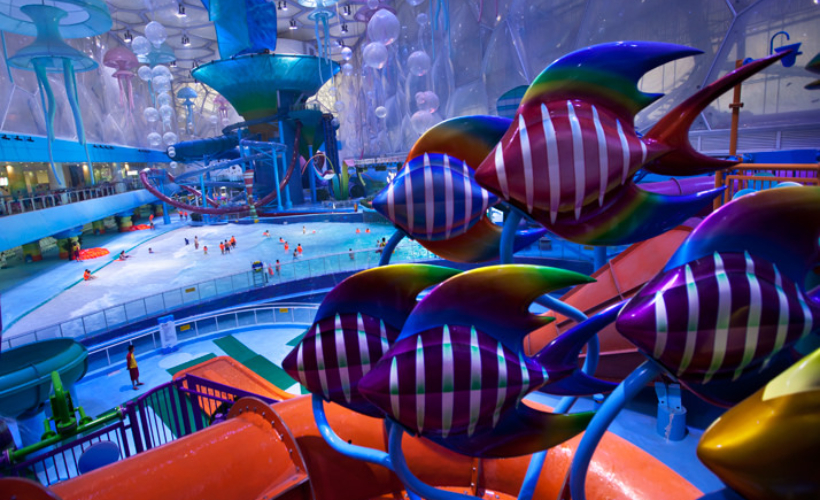 Nestled beside the iconic Olympic Bird's Nest stadium in Beijing, Happy Magic Cube is an indoor water park. Simply referred to as the 'Water Cube', this Australian-designed structure has been constructed to be extremely efficient, utilising a unique bubble design to prevent outdoor heat from entering the park. It even recycles rainwater to be redistributed within the park itself.
Water Cube has more than 50 slides and rides, and houses 18 other varied attractions. There's even an elevated restaurant and lounge for weary parents to recuperate at while keeping a watchful eye out on their children.
Caribbean Bay, South Korea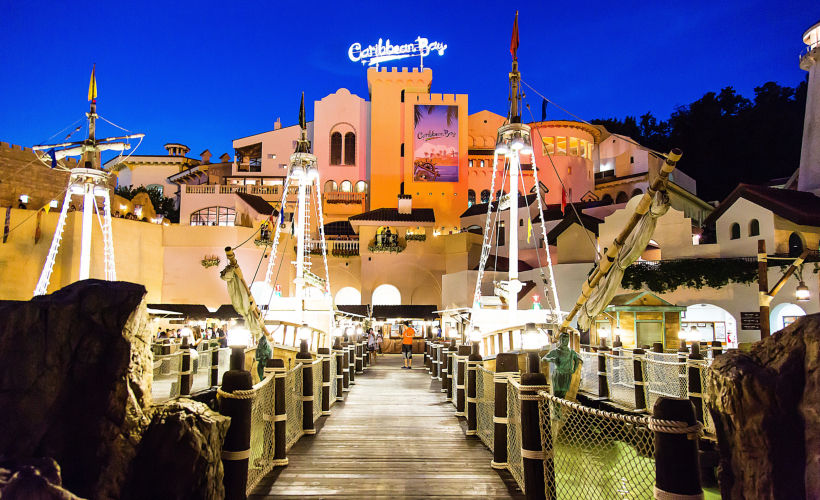 Ever fancied yourself sailing the Caribbean Sea alongside Captain Jack Sparrow and his band of merry wanderers? Well then, Caribbean Bay in Seoul might be just the place for you. Caribbean Bay is one of the largest water parks in the world and you'll immediately see that it's extremely committed to its Caribbean theme.
The park features a plethora of rides and pools like the Aqualoop, Wild Blaster, Tower Raft, Adventure Pool, Wave Pool, River Way, Bade Pool, and even has a diving pool for the more adventurous. Adult full day passes go for KRW74000 (approximately USD66), but it's well worth the money, as the park offers more than amusement rides. Caribbean Bay also has ample relaxation options, with indoor and outdoor hot spring waters and saunas all-year-round.
Waterbom Bali, Indonesia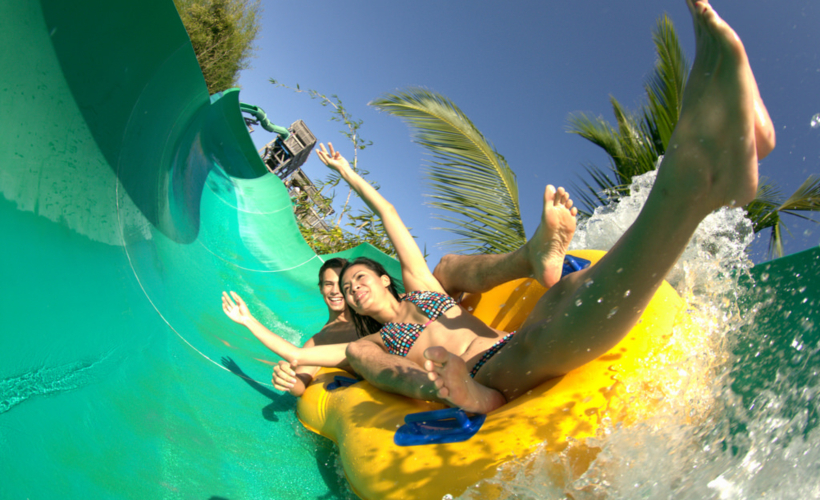 Tired of the same old views at Kuta Beach? Probably not, but you should really take a break from the beach and check out Waterbom Bali. The park is often lauded internationally for its stellar customer service and top notch facilities. Although not the largest park of its kind, Waterbom is unique in that it's been built with consideration for its surrounding tropical land, creating a closeness to nature rarely found in man-made parks.
Waterbom offers an abundance of spots to kick back at and relax in the shade, tropical drink in hand. The rides available include Constrictor, Green Viper, Python, Lazy River, Boomerang, Climax, Funtastic, Super Bowl, and more. Elaborate names for sure, but they live up to their monikers. Single day passes start from IDR355,000 (approximately USD24).
Ice Land, United Arab Emirates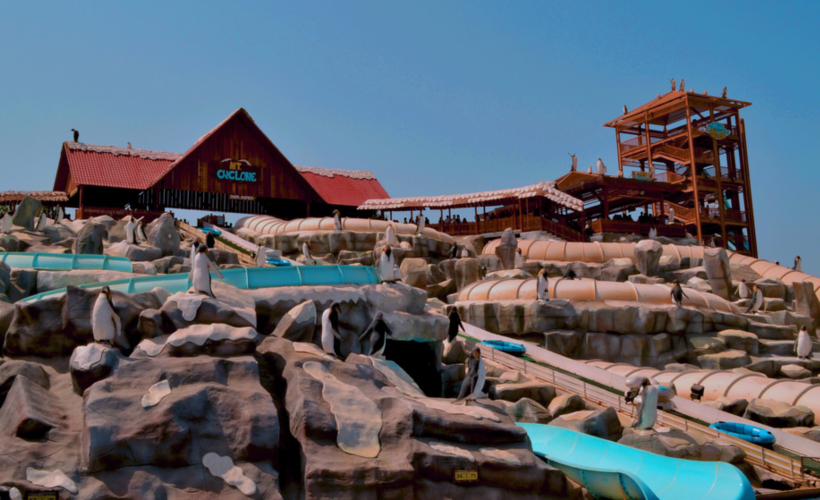 Situated in the desert, about an hour away from the glistening city of Dubai, is a water park unlike any other. Ice Land Water Park is a sprawling mass of frozen tundra and snow, filled with slides and rides to keep you entertained all day. The attention to detail is such that Ice Land is littered with hundreds of penguins. Not real penguins though; these ones are plastic.
Ice Land is beautifully decorated with amenities that place the park on par with the best of them. Its location in the Arabian Desert makes for an enchanting experience too, as the juxtaposition of ice and water surrounded by sandy desert creates a one-of-a-kind atmosphere. You can get year long passes (subject to availability) or single entry passes for AED75 (approximately USD20).
Yas Waterworld, United Arab Emirates
Located right smack in the heart of Abu Dhabi, Yas Waterworld definitely stands out. Adjacent to a Formula 1 track, Ferrari World, and shopping malls, the park may look out of place, but its spot is rather convenient. That said, its also definitely worth a visit. Yas Waterworld is a gigantic Arabian-themed water park that's sure to get your Aladdin fantasies going.
Being the country's first mega water park, Yas Waterworld offers dozens of rides and other attractions, each unique and fun-filled. In an attempt to stand out and stay true to its roots, the park offers a unique pearl-diving experience that showcases traditional Emirati pearl-diving culture. In truth, Yas Waterworld is a must-visit for any water park enthusiast. Adult passes are available from AED210 (approximately USD57) onwards.
Inflatable Island, Philippines
Did you know that this island located just off the capital city of Manila is Asia's biggest floating playground?  As long as you're on social media, you've seen the viral pics, vid, and 'grams of this pretty unicorn island. This amazing plastic play land, complete with inflatable slides, bridges, swings, towers, and something called a 'human launcher', covers nearly 36,600 square feet of water. To put that into perspective, that's about eight basketball courts placed side by side!
Besides the candy coloured unicorn obstacle course on the waters, there's also the Pink Bali Lounge on the shore, where a section of the beach is dotted with millennial pink and lavender loungers and umbrellas. For PHP499 (approximately USD9), you get access to the beach all day and an hour's worth of time on the inflatable and unicorn islands. Want more time? Splurge on a whole day pass, which lasts from 8am to 5.50pm, for only PHP849 (approximately USD16).
Get all the latest travel stories from Zafigo. Follow us on Facebook, Twitter, and Instagram.