When you're off on an adventure, capturing those precious moments is of utmost importance. But — there's always a but — let's be honest, constantly reaching for your phone to snap pictures or lugging around extra digital camera batteries can really waste your time. And hey, if you're aiming to minimise your screen time during your trip, it's even more of a hassle.
Why not spice up your vacation memories by going old-school with a film camera? Believe it or not, film photography has made an epic comeback, fuelled mainly by Instagram accounts and passionate photo lovers worldwide. It's a trend sweeping the globe as more and more folk are getting hooked on capturing some of their best moments in life on film. There's a certain indescribable magic that digital megapixels can't replicate.
So, if you're considering jumping on the bandwagon for your next holiday, here's a round-up of some of the best film cameras to carry along on your next holiday.
1. Olympus Mju II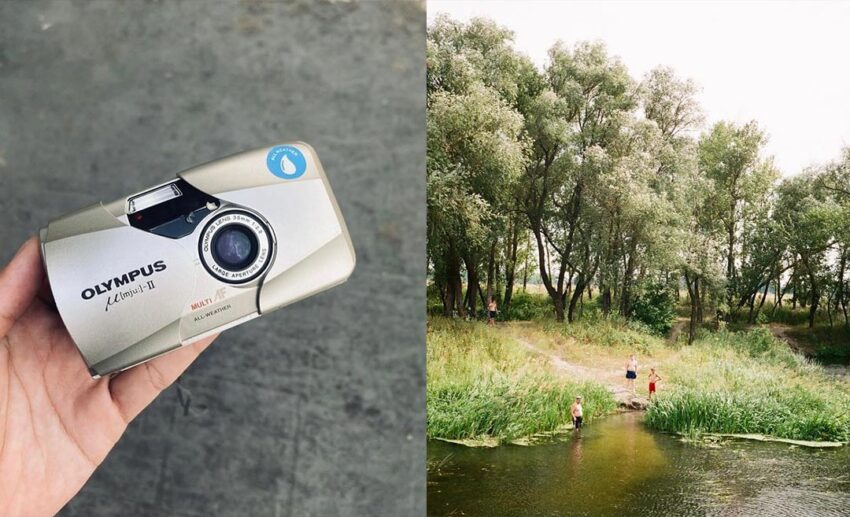 This compact 35mm point-and-shoot has become a cult classic in recent years, and it's not hard to see why. With its sleek design and exceptional lens, the Olympus Mju II stands head and shoulders above the competition.
Plus, it's got a nifty all-weather case, making it waterproof and ready to withstand a little rain or snow. Trust us when we tell you, this little powerhouse is a game-changer in the world of point-and-shoot cameras.
2. Minolta Riva Zoom
If you want a trendy and aesthetic film camera that's beginner-friendly, look no further than the Minolta Riva Zoom. This cute little device has got it all! Incredibly compact and slips easily into your pocket (or tiny crossbody), it is the ideal travel companion. And thanks to its metal construction, you won't have to worry about this sturdy gem shattering!
What we also love is its user-friendly design that stays away from overwhelming users with complicated options. Another cool thing? The awesome zoom lens mode is perfect for capturing those spontaneous street photography moments.
Buy on Film Never Die.
3. Canon Sure Shot Ace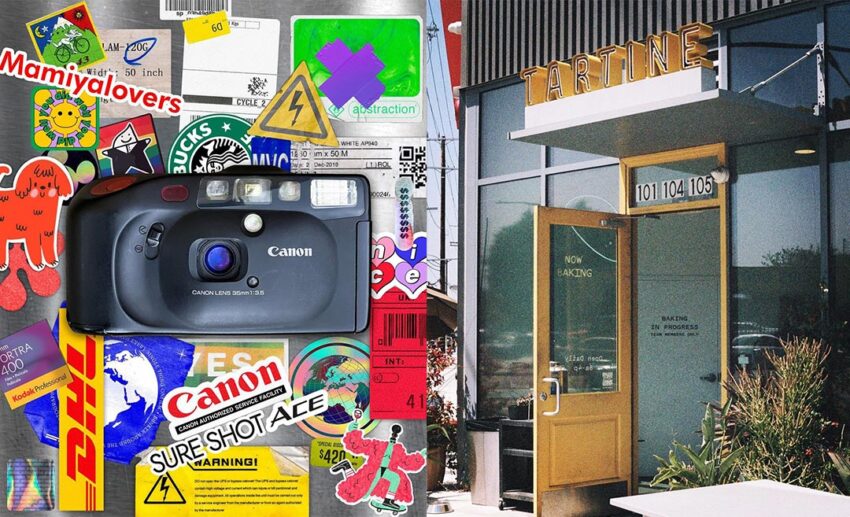 Canon Sure Shot Ace combines many unique features into one small device. With a waist-level viewfinder, remote shutter control, and a tilt feature on the camera's base — a fantastic alternative for getting in front of the camera and taking shots of yourself. Gone are the days of sheepishly asking a stranger to help take a photo. This handy camera also includes a high-quality lens and an integrated flash.
Buy on Lomography.
4. Kodak EKTAR H35 Half Frame Film Camera
Looking to reduce film consumption and embrace eco-friendly photography? Then check out the delightful Kodak EKTAR H35 Half Frame Camera. With this clever camera, you can make the most of your film roll by taking twice as many photos. It has 36 exposures, meaning you can take approximately 72 half-frame shots by doubling up.
It even comes equipped with a built-in flash, adding convenience to its compact and lightweight design. Whether strolling around the city or on your next island adventure, this camera is the perfect companion to tuck into any bag.
5. Simple Use Reloadable Film Camera Colour Negative
Get ready for an epic adventure with this pre-loaded, rugged, and waterproof Colour Negative 400 film camera. This product is perfect for adventurous individuals who enjoy exciting trips. It can endure harsh outdoor conditions and capture your analogue experiences in vivid colours.
Explore the depths and capture amazing underwater photos, along with engaging activities on land. With the convenience of reloading colour film at any moment, you can unleash your creativity with its fixed 31mm lens focal length.
Buy on Lomography or Amazon.
6. Canon Sure Shot Supreme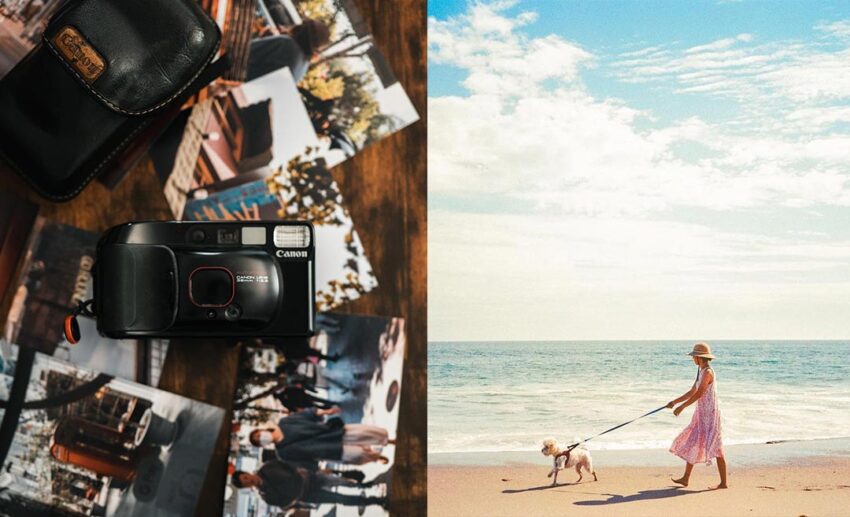 Get ready to capture stunning shots from your future holidays with the timeless Canon Sure Shot Supreme. This compact, high-quality point-and-shoot camera stole hearts when it was first introduced in 1986, and its popularity remains today.
Thanks to its user-friendly options, it became the go-to choice for vacationers and everyday photography enthusiasts looking for a reliable, portable companion. Another great thing is its handy hand grip that keeps your digits out of the lens's way, a feature often missing in other film cameras.
Buy on Analogthriftshop.